También puedes leer este artículo en:Español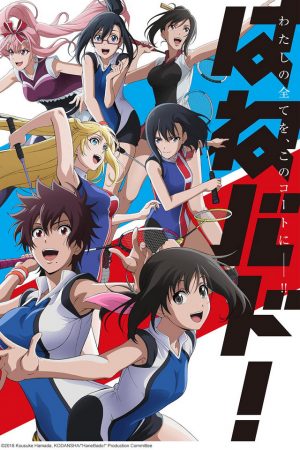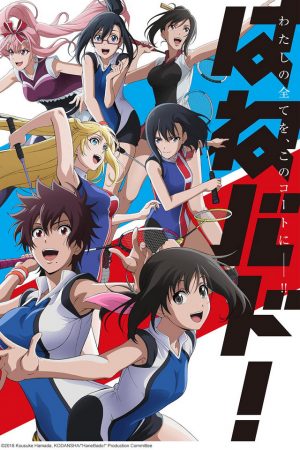 Hane Bado!

Genre:
Sports, Slice of Life
---
---
Honey's Highlights
ECCHI SPORTS ANIME!
Nice try. This is slice of life and sports. Just because there are girls, doesn't mean that it's pure ecchi. This is more positive like... Shakunetsu Takyuu Musume.
No, not like that. If you really want to compare hanebado to something, think of it like Haikyuu! or Baby Steps, but with girls. There's gunna be passionate fights and growth.
This is going to be more wholesome. I want to watch an uplifting sports anime.
Official Images / Key Visuals
Synopsis
These girls leap, jump, and dash…
The story is of the path of the badminton club of Prefectural Kitakomachi High School who are aiming for the inter-high school competition. She's got outstanding reflexes, but first-year Ayano Hanesaki is avoiding the badminton club for some reason. Third-year student Nagisa Aragaki, spending all her time practicing, aims to become the top player in Japan, and is at the center of this story. With their teammates and coach that support the club, and their rivals overflowing with individuality, all of them spin the story together.
Characters & Voice Actors List
Ayano Hanesaki

Voice Actor: Hitomi Oowada
---
Ayano was enrolled in special badminton classes when she was a child by her mother, who was a professional badminton player. As such, she is quite skilled now. Ayano has excellent reflexes and a sharp ability to read a situation making her a defensive player. She is also ambidextrous able to hit shots from both sides enabling her to have a diverse attacking ability. However, due a certain event, she has started to avoid badminton.
Nagisa Aragaki

Voice Actor: Miyuri Shimafukuro
---
Nagisa is the captain of the Kitakomachi High School's female badminton team. She is a player who, thanks to her height, has turned a jumping smash into her special attack of choice. She is skilled enough as a player to stand on the national stage, and she has appeared before at IH. In the past, she performed at the Japanese Junior Nationals as a player but she was absolutely shutout by Ayano in the match. Ever since then, she has been in a slump.
Satoko Izumi

Voice Actor: Yuuna Mimura
---
Satoko is the vice captain of the badminton team at Kitakomachi high School. She's a jack of all trades for the members of the team. She has a complex about the differences in skill between herself and both Ayano and Nagisa. However, using her accurate judgement and analysis skills, she too is starting to stand out herself. Satoko is the oldest of five children, and in lieu of her mother who works late, she takes vary of her younger brothers and sisters while doing the chores.
Kentarou Tachibana

Voice Actor: Nobuhiko Okamoto
---
Kentarou belongs to the physical education department at Azamino University. An alumnus of Kitakomachi High School, he was requested by the school to be the coach of the badminton team. He was previously a formidable player, but due to a knee injury, he gave up badminton.
Erena Fujisawa

Voice Actor: Konomi Kohara
---
Erena is the manager of the badminton club at Kitakomachi High school. She's Ayano's childhood friend as well as her classmate. She's aggressive and meddlesome acting as if she's Ayano's guardian. Before she officially became their manager, she was pushed around a lot by the club's members. She played basketball in middle school.
Uchika Hanesaki

Voice Actor: Sayaka Oohara
---
Uchika is Ayano's mother. She's quite the accomplished player with 10 successive championships under her belt as a female singles badminton player at the Japanese National Badminton Championships. She instilled badminton in Ayano from a young age and taught badminton which even attracted the attention of international players. Her maiden name is Shindou.
Miyako Taroumaru

Voice Actor: Mikako Komatsu
---
Miyako is the advisor for the Kitakomachi High School badminton club. She's the advisor to the club, but she's a complete amateur when it comes to badminton. Miyako's last name bothers her, so if you do call her by it, she gets angry.
Other Title
Hanebad
Theme Songs

Opening Song: Futari no Hane by YURiKA
Ending Song: High Stepper by Yuiko Oohara

Adaptation

Manga


Main Staff

Original Creator: Kousuke Hamada
Director: Shinpei Ezaki
Series Composition: Taku Kishimoto
Character Design: Satoshi Kimura
Sound Director: Kazuhiro Wakabayashi
Music: Tatsuya Katou
(Credit Honey's Anime when you use our description.)
---