What You Need to Know:
Some light novels may not have received anime adaptations yet, but their readers just can't help but expect them to - that's what today's Japan Poll is all about!
Over at Light Novel News they held their own survey, based on the number of times readers searched their site for news about anime adaptations of certain light novel series. The data they used spanned from May to October this year.
Are you reading any of the novels? Do you think they're worthy enough to get an anime? Maybe you'll even find a new light novel you want to read! Let's get to the results and find out!
---
5 Light Novels That Should Get an Anime
---
1. Only Sense Online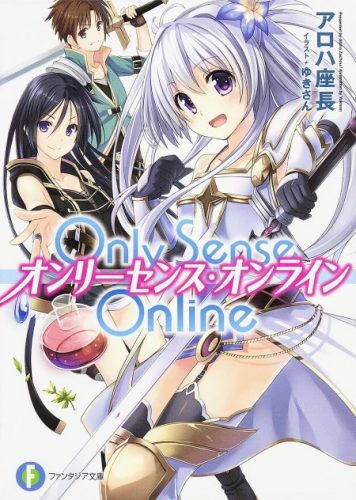 Synopsis
Utilizing a system called "Sense," each player aims to create their unique character in the VRMMORPG "Only Sense Online." Joining this realm is Yun, an absolute beginner in the world of gaming, equipped with some of the worst customized "Sense" ever. While his two sisters, both veterans in this world, criticize his choices of equipment, he continues to delve into the skill sets he has acquired. Along his way, he meets the art of "production" and people that have mastered this art. Watch as a total novice creates a revolution in the gaming world and create the "ultimate" support class.
(Source: MangaHelpers)
2. Tensei shitara Slime Datta Ken
Synopsis
After being killed by a passing robber, a normal 37-year-old guy find himself reincarnated in another world as a blind slime with unique skills. With a new name "Rimuru Tempest" he got after meeting his new friend, the "catastrophe level" Storm Dragon Verudora, he starts his slime life in another world with his increasing number of minions.
(Source: Guro Translation)
3. Tate no Yuusha no Nariagari
Synopsis
Iwatani Naofumi was summoned into a parallel world along with 3 other people to become the world's Heroes. Each of the heroes respectively equipped with their own legendary equipment when summoned, Naofumi received the Legendary Shield as his weapon. Due to Naofumi's lack of charisma and experience he's labeled as the weakest, only to end up betrayed, falsely accused, and robbed by on the third day of adventure. Shunned by everyone from the king to peasants, Naofumi's thoughts were filled with nothing but vengeance and hatred. Thus, his destiny in a parallel World begins...
(Source: Baka-Tsuki)
4. Chronicle Legion
Synopsis
Set at the end of the 20th Century. Due to the Japanese Empire, an island country in the far east having been conquered Caesar, a resurrected hero from Ancient Rome, it is now being controlled by the neighboring county Eastern Roman Empire! The power that made Caesar the most powerful conquered was called Legion. That is, a mysterious army made up of gathering all the great powers; a giant winged army. The Japanese empire's imperial princess, Fujinomiya Shiori, hides her ambition in becoming the supreme ruler and starts to act. Who she chooses as her trusted commander is, at first glance, a mediocre high school student Tachibana Masatsugu. However, he too is someone who was reincarnated from a past warrior; a resurrected hero whose greatness rivals even Caesar's: Legatus Legionis!!
(Source: MAL)
5. Seishun Buta Yarou Series
Synopsis
"Hey, shall we kiss?"
She who was teasing me with these seductive words temporarily disappeared before my eyes.
There could not be a bunny girl inhabiting a library. Azusagawa Sakuta faced a scene that toppled common sense—he encountered a bunny girl, and she is nowhere a normal bunny girl. She is Sakurajima Mai-senpai, a student studying at the same school as Sakuta and a retired yet renowned actress. It was said that starting from a few days ago, those around her could no longer see her anymore, and she came to the library just to confirm this. Is this related to the hit topic on the internet, the unimaginable phenomenon known as "the puberty syndrome"? Sakuta, wanting to know the reasons behind and get closer to Mai, decided to solve the puzzle. However, the situation then developed in an unexpected way—?
In the city surrounded by the skies and the seas, the romance story of I and she began. The brand new romantic comedy presented by the Sakurasou combo.
(Source: LightKingdom)
---
Source: LN News
---
I would watch all of these if they got anime adaptations! Especially the one with the bunny girl...
Some of these sound seriously stereotypical, though. I'm so done with the 'other world' trope.
---
[ad_dfp position="bottom1" unit_pc1="true" unit_pc2="true" unit_sp1="true" class="mt40"]