For anime lovers like us, a new season means we get to sink our precious time into a new set of anime. Sure, sequels are great, but there's nothing that can make you as excited as a brand new anime.
It is worth mentioning, however, that Spring 2022 has some of the best collections of new anime for this year. Anime like Spy x Family, Tomodachi Game, Summer Time Rendering, and Shikimori's Not Just a Cutie, just to name a few.
Fortunately, Summer also brings its own heavy hitters for us to enjoy. With that in mind, here are some of the new anime that you should add to your watch list for this summer.
5. Yurei Deco

Let's begin this list with the quirkiest one of them all, Yurei Deco, brought to you by the one and only Science Saru. In case you don't know, Science Saru is the studio behind some of the most unique anime series that ever grace the medium, such as Devilman Crybaby, Keep Your Hands Off Eizouken and the upcoming Tatami Time Machine Blues. Yes, they have two series for Summer 2022.
Yurei Deco itself is a zany story based on the iconic Adventures of Huckleberry Finn. It tells the story of Berry, a regular girl who led a regular life, and Hack, a mysterious girl who leads the Ghost Detectives Club. Together, they will try to unravel the mystery within the digital society of Tom Sawyer, and the sinister figure who lurks behind it. And since it is a Science Saru's work, you can expect over-the-top animation from Yurei Deco.
---
4. Lycoris Recoil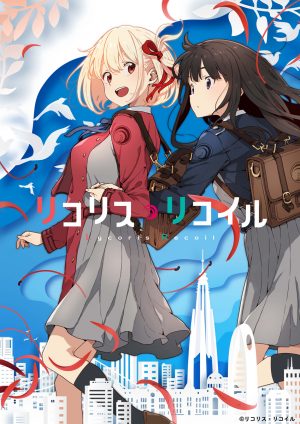 We've had several anime about unique cafes and restaurants over the years, such as Isekai Izakaya Nobu which is a Japanese traditional restaurant in the Isekai fantasy world, or Kakuriyo no Yadomeshi, a restaurant that serves food for ayakashi. Lycoris Recoil takes this familiar concept and turns it to eleven.
Lycoris Recoil is centered around a Japanese-style cafe called Lyco-Reco and its adorable employees. It serves the usual cafe staples like black coffee and sweet cakes. However, the patrons can also order extra services, such as childcare, love advice, zombie extermination, monster hunt, and other crazy things.
Lycoris Recoil promises to deliver a great combination of wholesomeness that you can usually get from cafe-oriented anime, with the excitement that you'd get from fast-paced action flicks. If that's your jam, be sure to check it out.
---
3. Cyberpunk: Edgerunners

The game Cyberpunk 2077 made a big splash back in 2020. It was a painful case of overpromising but underdelivering. That being said, there is still a fascinating story and mind-blowing worldbuilding buried underneath all of those technical issues. This anime is a way to tell another interesting story that happens in that blinding world.
Just like other cyberpunk anime, such as Ghost in the Shell and Battle Angel Alita, Cyberpunk: Edgerunners also focus on a character that is trying to survive in a world that is filled with crime, violence, and people with cybernetic enhancement all over their body who try to control the dizzying city of the future.
Other than the story itself, the other reason why you should be excited about this new original series is that it comes from Studio Trigger, the studio behind some of the most iconic anime like Kill la Kill and Darling in the Franxx. So you can expect stunning animation and over-the-top action sequences in this anime. That's why even if you have never played the game before, you should still give Cyberpunk: Edgerunners a try.
---
2. Hoshi no Samidare (Lucifer and The Biscuit Hammer)

Every manga reader who has read Lucifer and The Biscuit Hammer has been hoping for its anime adaptation since the manga published its last chapter more than a decade ago. After years of waiting, an anime adaptation finally comes upon us in Summer 2022, and words can describe how excited the fans are right now.
The story of a man who's forced to become the Lizard Knight and serve the great warrior princess in order to save the world from the colossal "Biscuit Hammer" is a cult classic among manga readers. So to see it finally grace the TV screen and potentially gain some new fans is really a cause for celebration.
And for those of you who have never read the manga before, you should still give this series a try. Because this bittersweet and thrilling story will keep you on the edge of your seat from start to finish.
---
1. Yofukashi no Uta (Call of The Night)

Back in 2016, there was a wholesome anime about Japanese traditional sweets called Dagashi Kashi. It ran for two seasons and had a respectable amount of viewers. From the mind behind Dagashi Kashi, is a new story called Call of the Night. It is a story about falling in love, finding your purpose in life, and blood-sucking vampires.
Yes, if you've watched Dagashi Kashi before, you won't believe that Call of the Night comes from the same author. But there is still a trace of that wholesomeness even in this thrilling vampire story.
After all, in Call of the Night, to change a regular person into a vampire, a simple blood-sucking is not enough. The person in question has to fall in love with the vampire. Our main character is a middle schooler boy who desperately wants to be a vampire, so he tries his best to fall in love with one of the quirkiest vampires in town. You can imagine how crazy the story will be.
As if that's not enough, there will also be a thrilling story of betrayals, killings, and tons of mysteries to uncover. That is why Call of the Night will certainly be one of the most exciting and refreshing anime for this summer, so be sure to check it out.
---
Final Thoughts
Summer is the season of fun and excitement. The anime in this list perfectly embodies the spirit of summer. So if you want to watch some new and unique anime for this season, be sure to give any one of them a try.
Is there any anime here that caught your attention? Or maybe you know other titles that deserve to be on this list? Be sure to share them in the comment section below.
---