También puedes leer este artículo en:Español
Most anime characters have some way of relating to the audience, even the craziest ones! We've talked about a few of the most beloved insane characters in the past, but we thought it was about time we updated our list with a few other members. Each of these characters is drawn to conflict and blood, yet they also have a strangely endearing side that makes us want to keep watching… You'll never know what they might do next!
5. Shuu Tsukiyama from Tokyo Ghoul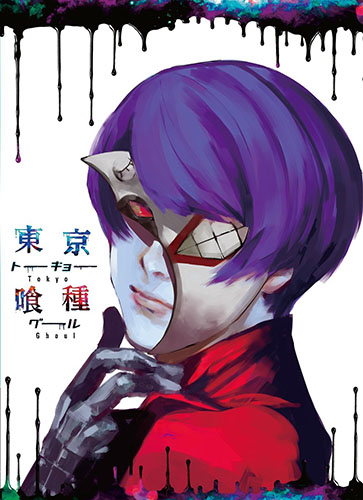 Episodes: 12
Aired: July 2014 – September 2014
Despite originally joining Ken Keneki's group with the intention of eating him, Shuu Tsukiyama came to genuinely care for Keneki. He considers himself to be a fashionable and elegant gentleman, though his taste is sometimes questionable. Tsukiyama has a flamboyant personality, one which does mellow out over time in the series. Yet with all his appearances, Tsukiyama's outward tendencies hide a cruel and selfish nature, with emotional outbursts and little understanding toward the emotions of others. His personality worsened during his period of depression, causing violent outbursts, but he matured quite a bit over the course of the series, thanks mainly to Kaneki.
---
4. Rosarita Cisneros "Roberta" from Black Lagoon

Episodes: 12
Aired: April 2006 – June 2006
Roberta is a fearsome fighter and quite formidable, despite her initial appearances. Yet from the start, her devotion to her master and his son, Garcia, is evident. She cares for her master and his family so much that when they are harmed, she reverts into her past murderous self, even losing her sanity and the ability to tell between friend and foe. Roberta has killed countless people in the past, having been trained as a guerilla member of F.A.R.C. before she came into the Lovelace family's employ. She would do anything for her young master Garcia, including executing revenge!
---
3. Junko Enoshima from Danganronpa: Kibou no Gakuen to Zetsubou no Koukousei The Animation (Danganronpa: The Animation)

Episodes: 13
Aired: July 2013 – September 2013
A sadistic and enthusiastic participant in the dark competition of Hope Peak Academy's class, Junko Enoshima revels in despair above all else. She is easily bored and tends to drastically alter elements of her personality, specifically her emotional state, to hold her apathetic nature at bay. Junko comes across as a rather unique individual at first, one who is often opposing her classmates, but her truly erratic personality is revealed later on. She wants the entire world to feel nothing but despair and it's impossible to reason with her in this regard. Junko does not hesitate to manipulate or kill anyone, including her loved ones–after all, hurting the ones closest to her will cause her the greatest despair of all!
---
2. Tokushirou Tsurumi from Golden Kamuy

Episodes: 12
Aired: April 2018 – June 2018
Tokushirou Tsurumi is the 1st lieutenant for the 7th Division, having fought bravely in the Russo-Japanese War, though he left the battlefield with shrapnel in his head and a growing bitterness in his heart. He desires the lost Ainu gold in order to fund his own Division's needs, as he wants to take over Hokkaido, believing his militia to be wrongfully treated after the war. Tsurumi is able to identify with other people and manipulate them to his own ends, though his calm and charismatic appearance belies the savagery within. He cares deeply about the men under his command, but beware; if you betray Tsurumi or end up on the wrong side of the fight, he will show you no mercy!
---
1. Sato from Ajin (Ajin: Demi-Human)

Episodes: 13
Aired: January 2016 – April 2016
With a calm and cheerful appearance hiding the depravity within, Sato is easily one of our favorite crazed characters! He has a playful approach to life-and-death situations, viewing these only as obstacles in a sort of hard-mode video game. Sato is an Ajin, giving him the ability to act out his psychotic killing without really worrying about his own welfare, as he knows he will always revive in the end. He is also charismatic enough to draw others to him, creating a terrorist group acting out under the guise of Ajin asking for human rights.
---
Final Thoughts
These characters may have psychotic tendencies, but their unpredictability makes them that much more entertaining to watch. From manipulating others into doing their dirty work to executing cold-hearted decisions on their own, we can't get enough of these crazy characters!
What do you think of the characters on our list? Which one of them is your favorite? Let us know what you think in the comments section below!
---
---

Ever wonder what it takes to make it onto a list of pure, unadulterated psychosis? Well you have to be full of the abnormal, thoroughly caught up in the pain and suffering of others to the point of pure ecstasy. You have to be so messed up that everyone that sees you can't look past how utterly and undeniably screwed up you can be. Your obsessions control your life, your every action.
These are the criteria for making it onto a list of severely messed up characters, and without any over-dramatizations, here's my list of characters you just need to see to believe!
5. Shion Sonozaki from When They Cry (Japanese: Higurashi no Naku Koro ni)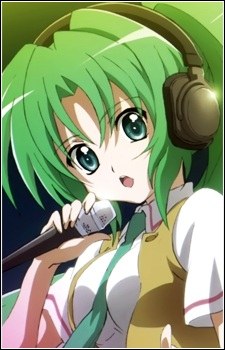 Define demented, and that's what you get from this show. Everyone dies, no one lives. At one point or another you see a terrifying side of the main characters, but none stood out to me like Shion did. Her intense pressure, the absolutely horrific crazy eyes and just everything about her psychotic persona is terrifying.
To explain why she became psychotic, she was in love with Satoshi and blames the Three Families of Hinamizawa for his disappearance. Because of her grief of losing the boy she loved, she manifested a sadistic personality (one could even say demonic) and began a killing spree to end all others.
This is definitely a character to see when you're in the mood to feel better about yourself, because it doesn't get much crazier than this!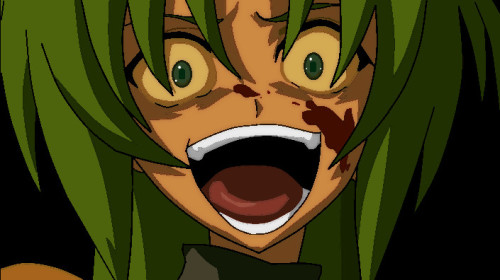 ---
4. Accelerator from A Certain Magical Index (Japanese: Toaru Majutsu no Index)

Being the most powerful psychic in Academy City; so much so that he has to consciously allow gravity to affect him, Accelerator isn't someone to mess with. Mix these facts with a sadistic personality and you've got a recipe for disaster. He's even changed the direction of blood flow in the body of another person, ultimately killing them.
He took part in an experiment to become the world's first level 6 ESPer. Because there were only 6 other level 5's known, he was tasked with killing 20,000 level 3's (which he did so willingly, happily even).
What do you say about a boy that is more than willing to murder 20,000 people to become stronger? You say that's a deep level of psychosis.
---
3. Berg-Katze from Gatchaman Crowds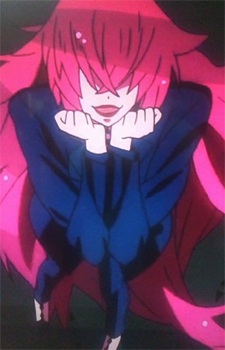 Berg isn't your normal "regular person" crazy; (s)he's on an entirely different level of sadism. His/Her main goal is to turn everyone in the universe against each other, ultimately killing themselves. He/She acts androgynous, meaning you can't tell what gender (s)he is, all you know is that doesn't matter at all.
With the power to transform into anyone that Berg kisses, they've disguised themselves before to frame people for all types of crimes.
What puts Berg on the list of psychotic characters isn't just because they're crazy: it's how crazy. To never get their own hands dirty, but force others without them knowing and the master level manipulation, it's a psychological fan's dream!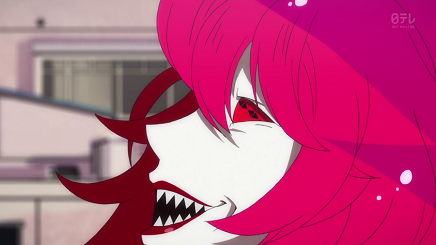 ---
2. Yuno Gasai from Future Diary (Japanese: Mirai Nikki)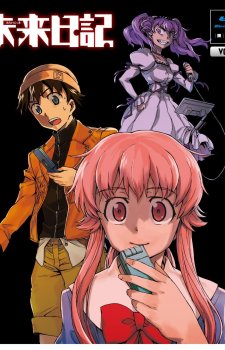 Yuno is quite possibly the most insane character I have ever personally seen out of any anime. She goes beyond psycho-murder crazy (she's that too), but also has stalker and kidnapping in her repertoire. An obsession with the main character Yukiteru and even twisting his vision on more than one occasion. She stops at nothing to be with "Yuki," meaning she has kidnapped and strapped him to a chair before. Feeding him and even helping him use the bathroom, she never allows him to leave the chair.
Coupling this obsession with the knowledge that they're in a dangerous game of "kill the rest," she shows her true colors on more than a single occasion. She murders anyone that gets in the way of her being with Yuki, going so far as being prepared to kill his mother if she dislikes her.
She's gained this insane level of psychosis from the actions of her own mother, who locked her in a cage whenever she felt like. Not being allowed to leave her cage, she'd be forced to urinate and even defecate all over herself, oft times going without food. This is a textbook level of obsession that would have psychologists busy for years trying to figure out just what exactly they would need to do to help her.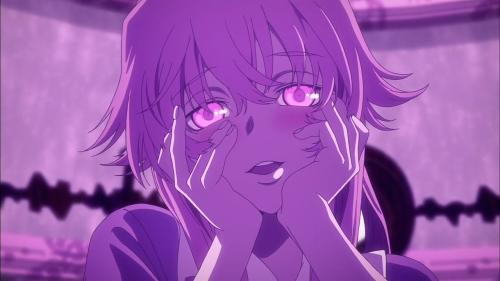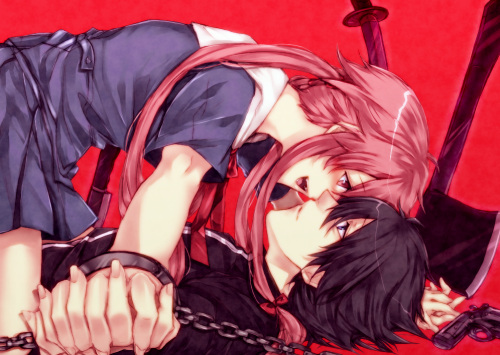 ---
1. Liang Qi from Canaan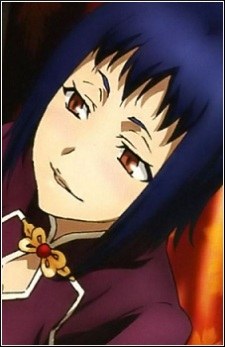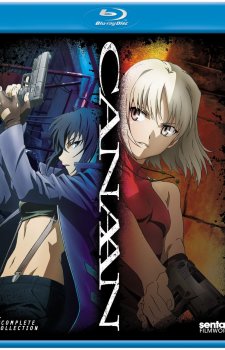 This is an exceedingly fun character to see, mainly because she doesn't always appear as crazy as she seems. At least not until you find out just how obsessed she is with her commander, who she refers to as "Onee-san" (older sister).
In a fight she has with her commander (Alphard), when she gets cut she screams, "It hurts… It hurts sister, more, make it hurt more!"
Tell me that's not crazy. Throughout the entire series she's shown to be highly unforgiving with an all too devoted attitude towards Alphard. Her obsession brings her to do these unspeakable acts, with the face of a madwoman and the smile of a killer.
---
That finishes my favorites list of psychotic characters! If you have any other recommendations please leave them in the comments section below and tell us what you think! Believe me when I say, there's always time for a little bit of crazy in our lives.
by Nathaniel Loomis
---