Episodes: 22
Genre: Game, Slice of life, Drama, Seinen
Airing Date: October 2016 – March 2017
Producers: Shaft
3-gatsu no Lion Preview (No Spoilers)
Anime Preview (No Spoilers)
Rei Kiriyama is a 17-year-old professional Shogi player. Because of the tension building up in his adoptive family, he decides to move out and starts to live on his own, in a little apartment in Tokyo. Even so, Rei feels the pressure from the Shogi community, and from school, as he risks flunking out. However, Rei's life brightens up after the fated meeting with three sisters living nearby: Akari, Hinata, and Momo Kuwamoto – plus their grandfather owning a traditional wagashi shop. Seeing how poorly Rei takes care of himself, Akari immediately turns into a motherly figure who wants to feed her child, while Hinata and Momo start considering Rei as an older brother. The miracle happens: the Kuwamoto sisters and Rei, all of them coping with their own pasts, create a strong bond. While struggling to face his Shogi career, drifting among wins and losses, Rei will learn how to face his emotions and his loneliness, and will understand the warm feeling of a "family", for the first time after years.
Rei Kiriyama Bio
Seiyuu Name: Kengo Kawanishi, Yumi Uchiyama
Rei's life was turned upside down when his parents and his little sister died in a car accident. Soon after, his father's friend, Kouda, took him in, but since Kouda had a daughter and a son, the new environment immediately showed Rei how their personalities couldn't get along. After becoming Kouda's apprentice in Shogi, it was clear as daylight how talented he was. In fact, Rei became a professional Shogi player while still in middle school: a real prodigy. Because of this, though, his adoptive sister became jealous of Rei's relationship with her father. Rei then decided to move out, uncertain whether to attend high school, or not. In the end, he decided to join a high school one year later, and that's when his life became even more conflicted.
Rei Kiriyama Highlights
1. Rei doesn't want to be a bother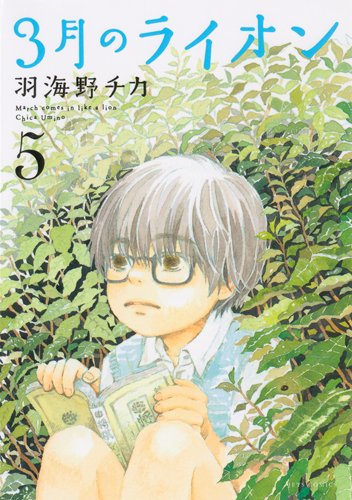 After his family's accident, Rei became shy, introverted, and very lonely. The environment he found at Kouda's wasn't exactly funny, so he gradually started to think that he could not be a bother. This is an idea that Rei will have for the entire series, and he will show it in more than one occasion. Exactly like he moved out from his adoptive family's house, he acts as if he can do anything by himself, totally oblivious of how bonds are important.
The Kuwamoto sisters – jewels that made the viewers love 3-gatsu no Lion – are like volcanoes: they won't allow Rei to hole himself up in his room. It's funny to see how step by step they will build a road to Rei's heart, whom will gradually find it natural to step in their home as one of the family. That is an important moment: the Kuwamoto sisters' and his solitude meet. They will give Rei a warm family feeling, and he will give them a ray of hope.
2. "Shogi is the only thing I have!"
All along 3-gatsu no Lion, there have been some very touching and deeply moving scenes. What we see is a 17-year-old boy who acts as if everything is fine. He attends school when he can, and does his best; he joins the Shogi matches and acts as if he likes Shogi. Rei uses a poker face to hide what he truly feels, constantly. Just like we said in the previous point, he doesn't want to be a bother. The line is fine, though, and what is hidden behind his poker face, pops up eventually.
It's impossible to forget episode 10. Toward the end of that episode, after a conversation with Mr. Yasui whom Rei had just beat at Shogi, he finally explodes. He runs down the road, and shouts with all his might what he truly feels. That is a moment where it's impossible not to have goosebumps and it is probably one of the most touching in 3-gatsu no Lion. Rei screams that he gives his best at Shogi, because he is sure that Shogi is the only thing he has. He cries the tears he had held back until that moment, and then he falls down. We the viewers felt the need to hug this little boy and tell him that everything would be fine.
3. A Good Person to Be with
Because of his past and the scars it left, Rei doesn't really know how to properly interact with people. He doesn't realize how important he is for his friends, his neighbors, his colleagues and his adoptive family, too. A range of funny characters revolving around him, though, will constantly try to share their time with Rei, because his personality is really something else.
Rei is genuinely funny, because his shyness puts him in very embarrassing situations. He proves to be a good friend, for example with Nikaido, who one-sidedly considers Rei his best friend. Then, Rei proves to be a loving older brother, with Momo and Hinata, indulging their whims, or helping them; in time of need, he has good advice for everyone, and he is ready to give her adoptive sister shelter, when she needs. He is a good person to be with... And all the characters revolving around him, will remind him that truth.
4. Always Willing to Lend a Hand
When Rei lost to Shimada, after a bit of hesitation, he decided to join his workshop. Learning new techniques with Nikaido and Shigeta, under the supervision of a professional Shogi player like Shimada, taught him new important things. And it gave him the opportunity to get to know Shimada better. The two of them will share a good friendship, and Rei will prove once again how amazing a character he is.
Shimada would have his last match in Yamagata, his hometown. Rei immediately realized how much Shimada was struggling because of this. So he decided to accompany him, and became something very similar to a caretaker. It was almost like their roles were switched: a 17-year-old boy asking an adult to eat properly, sleep properly, and take care of himself.
During that trip we discover another peculiarity making Rei's personality lovely. He totally puts himself in Shimada's shoes, and Shimada's pain becomes his pain. In the 20th episode of 3-gatsu no Lion, while Shimada was fighting against Souya Touji, everyone began to think that for Shimada, it was over. Except for Rei though, who believed in him until the last second and refused to surrender, even though Shimada already had.
5. He bends, but Does Not Break. Rei Does His Best!
One of the characters that will make Rei realize his true value, is his school teacher, Takashi Hayashida – who is a big Shogi fan, too. Hayashida is often concerned when Rei is lonely, and he usually eats lunch with him on the rooftop's stairs. The reason behind the fact that Rei decided to attend high school, is pointed out by this character.
Rei does his best with everything: he plays Shogi to a professional level, and at the age of 17 he has to pay rent, cook meals, go to school, study, do laundry, and take out the trash. He can't live the carefree life as his peers, and still from Rei's point of view that's not enough. Hayashida, eventually, tells him what a good boy he is, struggling so much and trying his best, while living the adult life at his young age.
Rei's incapacity to receive compliments brings him to tears, but in that scene we finally see a youngster showing his emotions, as if claiming that all he ever wanted, all along, was just someone's approval, someone who could recognize his efforts. We think that Rei Kiriyama is one of those characters who truly deserves the viewers' admiration.
---
Final Thoughts
Rei Kiriyama is a character to be loved by everyone. That is what we think. He managed to learn how to live with his past, and step by step, how to start to overcome it. The road is still long and hard, of course, but thanks to the bonds he managed to create, thanks to all the efforts, and thanks to the strong determination, he will be able to face life head on, with the heavy luggage of what happened to him. Shogi was merely his anchor back when he was still running away, but it gradually became his entire life, and something to fight for. Now tell us how you all loved Rei Kiriyama, the best character in 3-gatsu no Lion, in the comments below!
---