También puedes leer este artículo en:Español
Born from the wise pen of Chica Umino, adapted into a wonderful anime for this season, 3-Gatsu no Lion is a sweet story able to squeeze your heart tight, and at the same time give you a pleasant feeling. Rei Kiriyama is our 17-year-old protagonist and a professional Shogi player. He started living alone, thanks to his salary, but even so he is still naive and immature. Rei's past keeps haunting him, and he needs to resolve his own feelings and find a way to start again. For that purpose, Rei's neighbors are there to help him; Akari, Hinata and Momo Kuwamoto, three sisters, and their grandfather, warmly welcome him. Akari will become like a loving mother who wants to feed her little boy; Hina will have Rei help her with her troubles; while Momo will just stay there and have Rei play with her as an older brother. The warm feeling of a family, that's what the three sisters try to convey to Rei. And while his life as a Shogi player drifts among wins and losses, he will grow up and, eventually, will learn how to deal with the past.
If slice of life anime are your cup of tea, and you are enjoying this show so far, well, this is the list you were looking for! We will try to give you six other anime that share some similarities with March comes in like a lion. If you crave for more, and you can't wait week by week for the next episode, you can try to put up with any of these six anime listed below.
Similar Anime to 3-gatsu no Lion / Similar Anime to March comes in like a lion
1. Hachimitsu to Clover (Honey and Clover)

Episodes: 24
Aired: April 2005 – September 2005
Hachimitsu to Clover revolves around five college students. Shinobu, Yuuta and Takumi live together in a little room that's a perfect fit for poor college students. Shinobu is whimsical, and acts all on his own following his instinct; Takumi is enthusiastic in whatever he decides to do; Yuuta is a boy with a dream. Hagumi and Ayumi meet and suddenly they become friends. Hagumi is a little girl with a big talent, and Ayu suddenly becomes some sort of older sister to her. What could be wrong, then? Someone falls in love, and that's the moment when everything's bound to change.
Hachimitsu to Clover, exactly like 3-gatsu no Lion, was born as a manga by Chica Umino and adapted into an anime later on, so it's no wonder how you will find the same art and the same kind of feeling all along. Exactly like 3-gatsu no Lion, Hachimitsu to Clover gives the viewers the possibility to develop a deeper thought. At the same time, funny moments are there as well. As a good slice of life anime, Hachimitsu to Clover acts exactly like life is; full of joy, full of pain, but people keep going on until the end. While in 3-gatsu no Lion the story revolves around Shogi, in Hachimitsu to Clover the focus is on fine arts. We think this show can satisfy all of you who are craving for more 3-gatsu no Lion episodes!
---
2. Hikaru no Go (Hikaru's Go)

Episodes: 75
Aired: October 2001 – March 2003
Hikaru Shindou is a junior high school student. While wandering in his grandfather's attic, he finds a Go board and, after touching it, he is possessed by Fujiwara no Sai's spirit. Sai was once a Go player, but he committed suicide. His only dream is to be able to play Go once again, and so Hikaru decides to humour him. Sai starts playing Go once again, through Hikaru's body, and in their journey they will meet new people and learn the importance of bonds and friendship.
Like in 3-gatsu no Lion, we find in Hikaru no Go a boy who is hooked on a Japanese competitive game, Go for Hikaru no Go and Shogi for 3-gatsu no Lion. Although the premises are very different, and Hikaru no Go holds a strong supernatural element, these two shows are very similar. They're both coming-of-age stories where the protagonist struggles between the everyday little battles, and the world of the competitive game. Both these stories are dramatic; while in 3-gatsu no Lion we find Rei trying to face his past, in Hikaru no Go we find Hikaru trying to get a clue about what's going on. It's not a stretch to say that if you are enjoying the world of Shogi in 3-gatsu no Lion, you will love the world of Go in Hikaru no Go!
---
3. Shion no Ou (Shion no Oh, The Flowers of Hard Blood)

Episodes: 22
Aired: October 2007 – March 2008
Shion no Ou is a story revolving around a 13-year-old girl who plays Shogi, Yasuoka Shion. Shion's past is wrapped up in tragedy, since her parents were killed right before her eyes. Shion was 5-year-old at the time, and the murderer challenged her to a game of Shogi, telling her to forget everything about that night, and to even forget how to speak. Years after, when Shion becomes a professional player, slowly but surely her memories come back and the truth about that tragic night unfolds before her eyes!
3-gatsu no Lion and Shion no Ou share the same focus on the Shogi game. Even though Shion no Ou has a mystery trait with it, both these shows are on the same wavelength. Rei in 3-gatsu no Lion and Shion share a dark past that is strictly related to the game of Shogi and the reason why they are so bound to it. Both of them have a loving and caring "foster" family. We believe that the ones who are enjoying 3-gatsu no Lion, will find Shion no Ou interesting all the same. While wondering what happened in Rei's past, you can lose yourself in Shion's past and discover the truth together with her... While waiting for the next 3-gatsu no Lion's episode!
---
Any Anime Like March comes in like a lion / Any Anime Like 3-gatsu no Lion?
4. Natsume Yuujinchou (Natsume's Book of Friends)

Episodes: 13
Aired: July 2008 – September 2008
Natsume Takashi is a lonely 15-year-old boy who passed his life jumping from a relative to the other. Every relative decided, in the end, that he was too strange to deal with. Natsume is strange, but the reason is that he can see youkai – spirits – since he was a little child. When he finds the Book of Friends that was his grandmother's, and meet a powerful spirit trapped in the body of a maneki neko – Nyanko-sensei – Natsume begins his journey to the return all the youkai whose name is written on the Book of Friends, their name back. That's how Natsume will learn the importance of friendship, bonds and of having a place to go back to.
3-gatsu no Lion and Natsume Yuujinchou share the same kind of character. Rei and Natsume are two boys who had a hard time in their past and developed a cold attitude. Their cold attitude is just their way to shield themselves from being hurt again and again. So both of them will open up to their surroundings step by step, and learn to show their emotions. They're both coming-of-age stories where two boys basically learn how to grow up and overcome a difficult past. Natsume Yuujinchou has a supernatural trait, but the feeling you have while watching both is the same. There's in both these shows a lingering feeling of loss, and at the same time a ray of hope. While Natsume has to give the youkai their names back, Rei has to deal with Shogi. Two different storylines for the same amazingly pleasant atmosphere.
Natsume's Book of Friends 1 & 2 – Official Trailer
---
5. Chihayafuru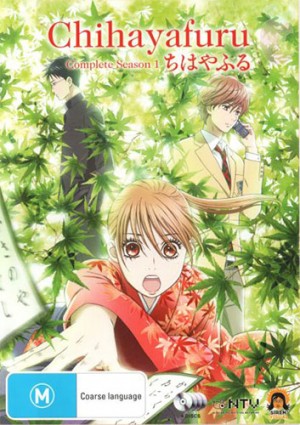 Episodes: 25
Aired: October 2011 – March 2012
Chihayafuru revolves around Chihaya Ayase, a girl who has always lived in the shadow of her older sister. When she meets Arata Wataya, a quiet transfer student, he introduces her to the world of karuta. Karuta is a card game involving physical and mental skills, and it's inspired by the classic Japanese anthology of Hundred Poets. It's just one step, and Chihaya falls in love with karuta and the thought of becoming the number one in Japan. Together with Arata and her friend Taichi, the three of them spend their childhood playing karuta, until they're split by some circumstances. Years after, in high school, Chihaya has one dream: to create a karuta team and aim for the Omi Jingu championship. That's how her journey begins!
Chihayafuru and 3-gatsu no Lion share a focus on particular games: karuta and shogi. Both our protagonists are surrounded by a big range of various characters who they interact with. In both these shows there's a unique soothing atmosphere, and of course moments that bring you to tears are behind every corner. Both these anime are slice of life and coming-of-age stories where we can see the characters growing and changing right before our eyes. If it's true that 3-gatsu no Lion has a tragic trait with it, it's even true that both these shows share the constant presence of the game in the lives of both protagonists, to the point that it changed their lives. Those who enjoys 3-gatsu no Lion, are bound to enjoy Chihayafuru all the same!
---
6. Barakamon

Episodes: 12
Aired: July 2014 – September 2014
Seishuu Handa is a calligrapher who is handsome and self-confident to an out of reach extent. That's why when his award-winning piece is labeled as "unoriginal", he totally loses it. To make things worse, his father, to punish him, exiles his son to the Goto Islands, with the secret hope that he will find a new inspiration and will learn how life isn't all about calligraphy. Even though Handa believed to at least find a bit of peace on the Goto Islands, he realized how wrong he was from the very first day, when he has his new house invaded by a boisterous child called Naru. And right after her, one after another, the strangest persons keep barging in. But that's probably what Handa needs, as he learns much more than he hoped for.
As for the similarities Barakamon shares with 3-gatsu no Lion, we can say that they both are slice of life anime with moments that go from very funny, to extremely sad. Of course, Barakamon is not as tragic as 3-gatsu no Lion, but still Handa is a person who lost confidence in himself, and when he keeps his eyes off calligraphy for a bit, he finally learns what life is about. Handa, same as Rei, is surrounded by a lot of various characters who will help him and trouble him in a lot of way. While Handa is focused on calligraphy, and has ups and downs with it, Rei is focused on Shogi and has his ups and downs with it. Both of them are on professional levels, and have to struggle with a high competition. These two stories are very realistic and heart-warming. You will totally like Barakamon, the same way you're loving 3-gatsu no Lion.
---
Final Thoughts
With Barakamon our efforts to find six anime like 3-gatsu no Lion comes to an end. We hope you enjoyed it. Although 3-gatsu no Lion is still ongoing, and may take one path instead of the other, what it shares with all these six anime is a realistic part, strong-willed and passionate protagonists, or the same feelings and atmosphere. If you are craving for more, and find it hard to wait for one episode per week, you can put up with one of these in the meanwhile. You won't be disappointed! If you know other anime like 3-gatsu no Lion, please share your thoughts in the comments below.
---