Article Intro
Episodes: 12
Genre: Sci-Fi, Fantasy
Airing Date: Apr/2017-Present
Producers: Xebec
Clockwork Planet Preview (No Spoilers)
High school dropout Naoto Miura is about to face an interesting event in his young life. While at home an odd shaped box bursts into his home and inside he finds a strange entity. The entity happens to be a female who Naoto realizes is actually an automaton, a robot with human like traits. Unmoving and seemingly not functioning, Naoto using his skills is able to revive this automaton who we learn is named RyuZU. This incident however marks the beginning of several more that may endanger the men and women who live on the Clockwork Planet and with the help of several others, Naoto and RyuZU will face an event that will tie their fates together.
RyuZU Bio
Seiyuu Name: Kakuma, Ai
An ancient automaton who has been dormant for two hundred and six years, RyuZU owes a lot to her new master Naoto who was able to awaken her. RyuZU is actually a very special model from the initial Y-Series as being the very first of her kind to be created. Though she has a cute smile and cute outward appearance, Naoto soon realizes that she is actually very quick to say rude comments and treat others as lesser beings, something that pisses off a certain Marie when she is the aimed target. Nevertheless, seeing herself as a slave to Naoto, RyuZU is loyal and is willing to please her master in any way possible. Did we forget to mention that RyuZU is also fully able to enter combat with large scythes and the ability to almost move at the speed of light? So you may want to think twice before laying a finger on her or definitely her precious Naoto.
RyuZU Highlights
1. Extreme Service
Let's be honest, almost every person alive wants a robot to serve their beck and call and RyuZU fits that bill. Not only does RyuZU serve Naoto, making sure to be there for his every desire, she even enjoys doing what most would consider a bit much. Let's look at episode one where RyuZU and Naoto are forced out of Naoto's home after he unexpected arrival and the various quakes that follow. When they end up at a love hotel, not wanting to sleep on the bed, RyuZU lets Naoto use her lap as a pillow because she is aware that would be something Naoto would enjoy. Honestly though, who wouldn't enjoy a RyuZU lap pillow?
In all seriousness, having an automaton who is willing to go the extra length for a master is a great trait. RyuZU will fight those who want to hurt her master and she yearns to be there for Naoto even in his most perverse moments. We here at Honey's Anime feel that her services are indeed great. Though I'm sure Naoto might not want her to continuously make fun of his perverted minds. Seriously though, when can we buy our own RyuZU automatons?
2. Harsh but Funny
Harsh words can indeed make a person feel a bit bad about themselves. Luckily in Clockwork Planet, the suffering of the harsh words by RyuZU leads to some great comedic moments. For this example we don't need a specific episode to showcase RyuZU at her best when literally every episode that has aired so far has had her say some rude line about how much less everyone is in comparison to her master Naoto. In particular, RyuZU's usual back and forth with the other main girl of these series, Marie Bell Brequet, leads to some of the best banter in the show.
Yes, being mean is something no one likes to see in a real world scenario. However, in anime, especially in Clockwork Planet, it leads to nothing but amazing comedy. RyuZU even calls out Naoto for his eyes wandering to other machines over her is both cruel and comedic. Maybe if RyuZU decides to ditch the whole protecting and serving Naoto gig, she could try to be an on stage comic. I'm sure the audience would love her picking out people from the audience to insult them. We would buy tickets to that event in a heartbeat.
3. Scythes are a girl's best friend
RyuZU might be armed with a sharp tongue but that isn't the only thing her arsenal. Seeing as how the world of Clockwork Planet is facing possible destruction, it's a good thing RyuZU has some good old trust scythes at the ready to slice and dice her opponents. Combined with her ability dubbed Mute Stream, RyuZU can quickly go around a battlefield leaving nothing but destruction in her wake. Though we haven't seen yet if this is all she's capable of in terms of pure combat ability, we can safely say if this is all she can do it's enough as is.
Probably one of the prime moments of sheer awesome feats from RyuZU comes from episode one. Here we have Naoto, Marie, her bodyguard Vainney and RyuZU facing a swarm of menacing robots. This is where we truly see RyuZU use her scythes to decimate them protecting her allies and especially her master. In the latest episode, we do see a new opponent appear in the form of AnchoR who is RyuZU's younger sister and the fourth unit from the Initial Y-Series. Will RyuZU be able to outmatch AnchoR? Unfortunately we will have to wait for those answers but we're going to put our money on RyuZU.
4. A very attractive Automaton
If we could all we would say is look at episode 5 for an obvious reason why RyuZU is clearly attractive. Sporting a nice swimsuit Naoto sure didn't mind taking picture after picture of the lovely RyuZU in all her glory. Even outside of that, we see in several episodes RyuZU wearing not only her set standard attire of the series but a school uniform as well and she wears those outfits perfectly. So not only can RyuZU kill with her scythes but she can kill the hearts of those who look upon her elegant form.
We have to face it, RyuZU is an attractive automaton. Although her mouth sometimes spews terribly ugly lines, when RyuZU smiles or blushes, usually because of Naoto, our hearts and bodies swoon. RyuZU is the type of girl that others would be jealous of. Ironically though, while she may be a girl, under it all she is still a bunch of gears and robotic parts. Question is, do we actually care, and the answer is a resounding no!
5. RyuZU is a Robot!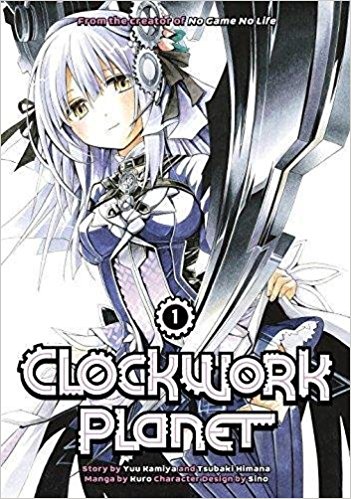 We didn't forget the greatest essence of RyuZU: she is a literal robot! Clockwork Planet is set in a time period where humans have created robots! What is not to love about a robot? As we learn through the story of Clockwork Planet, RyuZU is around one thousand years of age and besides having broken down once, she looks perfectly new…that should be the very tag line of selling a robot to the masses. RyuZU's exact term as we know is automaton, but that still is short for robot at the end of the day.
Let us at Honey's Anime don our white lab coats for a moment and analyze some facts about the robotic nature that is RyuZU. One, she doesn't age meaning that while RyuZU will outlive you, she won't need to be replaced like some garden variety toy robot. Two, RyuZU is waterproof so she won't short circuit. In episode 5, Naoto falls into the ocean and starts descending deep down. Luckily RyuZU is there to jump in and swim to the rescue which is a good feature if all of a sudden, she was caught in a sudden summer rainstorm. Finally, she doesn't need recharging like some robots do in other anime. That means that she can serve master Naoto twenty four seven without hesitation. All in all I think we proved that she is a well-built machine.
---
Final Thoughts
The phrase, the full package comes to mind when describing RyuZU. A loyal servant, loving to her master and able to deal out combat if the need arises makes RyuZU the perfect automaton. If the future of any world can muster creating machines like RyuZU, we're looking at an ideal scenario indeed. In explaining and confessing our undying love…support for RyuZU we here at Honey's Anime could have missed something vital. Let us know down below in the comments what we could have added to ensure that RyuZU was explained in perfection just like how she is. If you enjoyed this article be sure to keep the page bookmarked for future articles just like this one. Now then, seriously is there a waiting list for automatons we could put our names on?
---