Picking the right anime to watch season by season can be one of the toughest challenges for an anime fan. Often, a couple dozen anime series release each season, not including those continuing from the last one. Making matters worse, when you do sit down and begin a show, you often might find it start off strong to then end quite poorly.
We here at Honey's Anime wade through the majority of anime series that air season to season and we've chosen some of the surprisingly good anime that aired this winter 2020! Let's take a look at 5 surprisingly good anime of Winter 2020!
5. Kyokou Suiri (In/Spectre)

Episodes: 12
Aired: January 2020 – March 2020
Youkai exist in our world but many lack the sight to witness them even when they stand right beside them. Kotoko Iwanaga has had the ability to talk to and see spirits since she was a child due to a strange event that made her lose an eye and a leg. One day, though, Kotoko meets something truly strange…a young man who is feared by youkai and has taken her heart at first sight! Kotoko introduces herself to the stoic Kurou Sakuragawa and together the two will get to know one another…even if one of them isn't too keen on the idea.
Kyokou Suiri didn't hit us originally as a must-watch show of winter 2020 but after the first episode aired…we were counting the days for the next one to be aired. Kyokou Suiri is a buffet of genres with some action, drama, romance, and comedy but they all work quite well together! We fell in love with Kotoko as she forcibly pushed Kurou into loving her and we're sure we aren't the only ones. With amazing animation and a truly great soundtrack—we still repeat over and over the ending and opening for Kyokou Suiri—this series is a must-watch winter 2020 anime!
---
4. Darwin's Game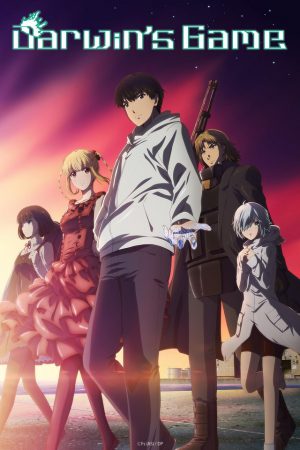 Episodes: 11
Aired: January 2020 – March 2020
At the request of his friend Kyouda Hiroyuki, Kaname Sudou decides to download a strange mobile game called Darwin's Game. When a snake appears from his cellphone and bites him, Kaname passes out thinking it was just a dream. However, after he starts the game again and his opponent appears before him, Kaname learns this isn't an ordinary phone app but a survival game! Kaname will need to muster all of his internal courage and use his skills to survive Darwin's Game!
Survival game anime can tend to be…mediocre. This trend has happened more times than we can count, which is why we weren't too quick to jump into Darwin's Game. Luckily, this manga adaptation is far from mediocre and is quite exciting. Filled with strange survival battles and heart-stopping action, Darwin's Game truly is exciting to watch. Though we are a bit afraid now to download games we've never heard of on our phones…
---
3. Jibaku Shounen Hanako-kun (Toilet-bound Hanako-kun)

Episodes: 12
Aired: January 2020 – March 2020
Many schools have a story about a cursed bathroom that some ghost lives in. In Kamome Academy, that story is actually kind of true. Everyone tells the tale of a girl who haunts a bathroom and saying her name will summon the spirit! Nene Yashiro has some pretty bad luck with getting a boy but when she enters the infamous haunted bathroom, she discovers the ghost isn't a girl but a boy named Hanako-kun! After this strange event, Nene's life becomes a bit strange and she must now assist our strange ghost boy in keeping the balance between humans and spirits.
We were hoping for a funny series when we heard about Jibaku Shounen Hanako-kun and we weren't disappointed. This supernatural comedy is truly a hidden gem with its cute animation and lovable characters! If you wanted a good supernatural comedy—with a tinge of romance thrown in—then do yourself a favor, check out Jibaku Shounen Hanako-kun.
---
2. Dorohedoro

Episodes: 12
Aired: January 2020 – March 2020
There lies a place dubbed the "Hole", an infamous district where the weak die and the strong thrive. What rules in the Hole is magic, users can show off their talents and possibly become the next big magic user there. Kaiman has no memories of why he's cursed as a reptile-like human or how to cure this ailment but he knows that someone in the Hole might know a way to fix his predicament. Kaiman will need to use his gift of magical immunity and his fighting skills to see who dared use him as an experiment and how to reclaim his humanity! The Hole is about to get a bit deadlier now that Kaiman is here.
If you are someone who judges a book by its cover then you no doubt looked at Dorohedoro and went…what the heck is this? That's okay because we thought the same thing. Luckily, we anime viewers know that weird can make for some of the most entertaining series and Dorohedoro fits the bill. One part action, one part comedy, and one part horror, Dorohedoro is truly the most fantastical anime to air this winter 2020. You'll love this incredible series if you need something different from the usual.
---
1. ID:INVADED

Episodes: 13
Aired: January 2020 – March 2020
While most cops and detectives fight crime and solve cases by walking the beat, there's a new group of crime fighters who do things a bit differently. Team Kura, led by Funetarou Momoki, stop serial killers and those wishing to do harm before they can strike again. Using a mysterious apparatus known as the Mizuhanome System, our team has a selected person dive into the minds of killers—dubbed their id wells—to find who they are and where they will go next! The catch? Only those with a serial killer persona can enter and become brilliant detectives. Join Akihito Narihisago—known as Sakaido within the id wells—as he solves cases in worlds where the laws of reality aren't so clear cut.
ID:INVADED seems extremely weird for a mystery series at first glance. However, once you dive into this amazing anime, you'll quickly realize why it made our list. With an amazing OST, solid characters and a truly unique premise, ID:INVADED is a crime anime unlike any other. Become a Brilliant Detective and catch the killer in ID:INVADED!
---
Final Thoughts
Winter 2020 didn't disappoint us anime fans! Not only were there some great continuing shows but the titles we mentioned above turned out to be quite solid anime to enjoy! Did we miss a series that could have made our list? Let us know in the comments below! For even more lists like this one be sure to keep glued to our amazing hive here at Honey's Anime!
---