También puedes leer este artículo en:Español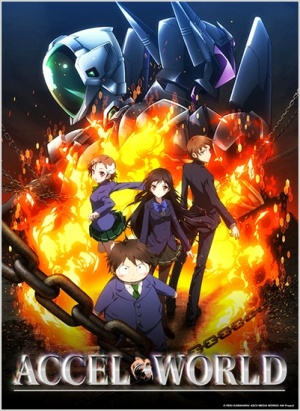 Accel World was a great show to watch for those who love online games and the fans of science-fiction. With a lot of action, the story was interesting and surprising to some points, cleverly mixing virtual reality with a deep human dimension where characters are all evolving, especially the main character.
The show has good visual aspects and the fighting scenes are dynamic with a futuristic setting that is easily catchy. If you enjoyed the show, here is a list of anime you should like, so don't hesitate and check it out !
Similar Anime to Accel World
1. Sword Art Online

Episodes: 25
Aired: Jul 2012 – Dec 2012
Sword Art Online is a famous video game with its own virtual reality and played with a helmet called NerveGear, created specially for this game. Upon the release of the game, more than 10,000 people queued up in line for hours in order to buy it, henceforth, entering this mysterious game and playing online with a lot of other players.
However, after a few hours in the world of Sword Art Online, players soon realize they cannot log out and the creator of the game appears in front of them and tells them the only way to escape the game is to fight the bosses of the game and reach the 100th floor of Sword Art Online. Their virtual death will also be their physical death in the real world as players will try to survive in the game.
In Accel World, virtual reality is one of the main themes of the show like in Sword Art Online, and became the reality of a few thousand players. Both anime are set in the future and the main characters are similar as they are nothing more but normal in the beginning and then change because of the game.
Sword Art Online - Official Trailer
---
2. Guilty Crown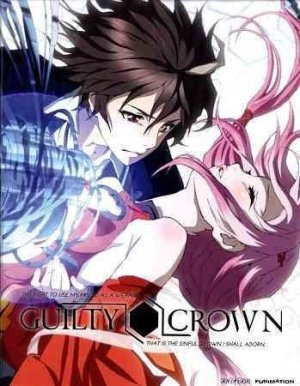 Episodes: 22
Aired: Oct 2011 – Mar 2012
In 2039, Japan is under the control of a coalition. Ten years ago, the country was mostly exterminated by a pandemic, and the country was able to rise up again thanks to other foreign countries. Nowadays, the country is under the fear of the Anti bodies organization, who's goal is to eradicate the remaining virus by imposing its power with impunity.
Shû Oma, a high school student, meets a member of a resistant group called, Funeral Parlor. This girl is also the vocalist for a music band, so Shû knew about her and wanted to help her. As he ends up in the middle of a fight, he acquires a rare capacity named Void Genome which allows him to use weapons from a persons heart. Because of this, Shû finds himself joining the resistance even if he is not prepared for it.
The series is also set in a futuristic world and offers an atmosphere similar to Accel World. There is no virtual world, but the way Shû uses some of the characters hearts as weapons gives you the same impression as the fighting in Accel World. The main characters are also similar and the SF aspect is present.
*** SIMILAR ANIME TITLE *** Official Trailer / Fan Video / OP
---
3. Log Horizon

Episodes: 25
Aired: Oct 2013 – Mar 2013
Elder Tale is a MMORPG, extremely popular online, and is played by a few thousand gamers. While the eleventh expansion pack of the game was released, a system error occurred. Because of this, about 30,000 players are transported into the virtual world, taking the place of their avatars in the game and they soon realized there is no way for them to go back to the real world.
Shiroe, a socially awkward young man, is one of the transported players. He will team up with Naotsugu and Akatsuki, two other players he knew online at the time Elder Tale was just a game, and the three of them will have to evolve in their new reality. With his instinct and his impressive strategic skills, Shiroe will try to make a difference and help the people he knows while fighting with them.
The fighting scenes contain a lot of strategy which has the same atmosphere as Accel World. In both anime, characters evolve in a virtual reality and are fighting with avatars. Although in Log Horizon, these avatars became their real bodies. Even though Log Horizon is more serious than Accel World, there is also a lot of humour in it.
LOG HORIZON - Official Trailer
---
Any Animes Like Accel World ?
4. Baka to Test to Shokanjû (Baka and Test)

Episodes: 13
Aired: Jan 2010 – Mar 2010
At Fumizuki high school, all students are ranked by their academic results. Thus, the A class is the one with the best results and the F class is considered the worst, where the students are all hopeless cases. All equipment and facilities of the classes are also considered according to this ranking, and this is why the students of the F class have their lessons in a dilapidated room.
This school has one other specificity. It includes a battle system between every class, where students can summon an avatar under the form of a specific creature thanks to a delimited virtual space. The strength of each avatar depends on the academic results of the students and winning against a stronger class means students can take over their room facilities.
In this show, you have the same virtual world aspect as in Accel World. Even if the virtual world in Baka and Test is only a small delimited space where avatars can be summoned. The fighting system is similar between the two anime even if Baka and Test is more humorous than Accel World.
Baka and Test Trailer
---
5. [C] – The Money of Soul and Possibility Control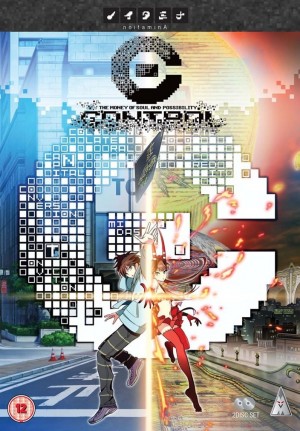 Episodes: 11
Aired: Apr 2011 – Jun 2011
Kimimaro Yoga is a second year student at a university. In order to have enough money to be able to live by himself, he has two part-time jobs after his courses and does not go out with any friends. One day, a strange man visits him and offers him to be part of the Financial District as one of its Entrepreneur.
The Financial District is a virtual world where the Entrepreneurs are fighting each other with an Asset, which is their avatar and seems to represent their lost future. Of course, each person who enters the Financial District know the price to pay is their future. The goal of this game is to fight while betting your fortune. When a player goes bankrupt, he is not allowed to enter the Financial District again.
In [C], you have the same virtual world as in Accel World. Players are using an avatar to fight each other as well. The main characters are also similar that they are both offered a way to change their life. However, [C]'s story is based on money and politics is more serious than Accel World. It is still interesting and catchy because the show deals with characters who have a totally different way of thinking.
C For Control Anime Trailer
---
6. Btooom!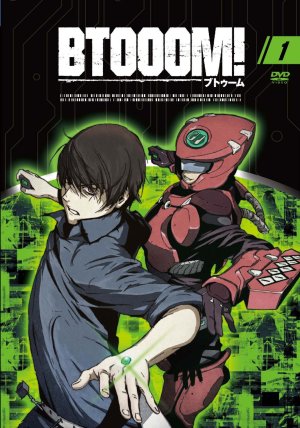 Episodes: 12
Aired: Oct 2012 – Dec 2012
Btooom! is a famous ludic video game and the purpose is to locate the player's enemies with a radar, and to kill them with a lot of different bombs called BIM. Ryoto Sakamoto, 22 years old, is one of its players. Actually, he is the 10th best player in the world of the game Btooom! and lives peacefully being a NEET.
But one day, Ryoto is kidnapped and finds himself transported to a deserted island with a bag filled with one days worth of provisions and multiple variant bombs like in the Btooom! game. The reason of his presence on the island is to create a Btooom! game, for real, and Ryota will have to stay alive in this survival game and not be killed by his opponents.
This one is also about a video game which is adapted in real life and becomes a real survival game. The concept is still the same as the main character fights to reach the top, as in Accel World. Both anime are full of action and romance so, it's interesting and catchy.
Btooom! Trailer
---
This is all for our recommendations! As the list mentions different types of anime, there should be one that will catch your attention. Every one of them is similar to Accel World in their own way and I hope you will enjoy them because they are all interesting and worth watching!
So, what do you think? Is there any other anime you will recommend for this list? If so, don't hesitate and leave your comment below!