For those new to the anime world, we here at Honey's Anime have a vital tip for you. Never go into an anime expecting something just by the title and images. Akiba Maid War, at first glance, looks like a comedic slice of life with cute/hot maid girls, cute outfits, and a silly setup of a young girl looking for a job as a maid. However, if you noticed from the PVs, then you probably saw something suspicious…many images were covered up and slated as adult material. That and the ending of the first PV basically say it would be no fun if you didn't watch the series. That is why we did just that and we were literally shocked at what we ended up witnessing…carnage, blood, guns, and still cute/hot anime girls…that part was still present.
Akiba Maid War is totally unlike any other anime series but there are some anime series that do have that surprise shocking element to them. Down below you will find our pick of 6 Anime Like Akiba Maid War which will wet your whistle no matter your anime preference. Want a high-risk soccer anime? Maybe you're gunning for an ecchi that is set in school but not the type of school you've seen before. We won't spoil our list any further but get ready folks, the train of anime-insanity is about to board and you don't want to miss getting on!
Similar Anime to Akiba Maid War
1. Princess Principal

Episodes: 12
Aired: July 2017 – September 2017
Cavorite is a strange substance that soon changes the world due to its abilities. Being used for military advancements, Cavorite causes calamity to occur and London enters a gruesome but hidden war. Two factions will go into battle but only a small group of seemingly normal school girls will be the deciding factor on who wins. Dorothy, Ange le Carre, Chise, and Beatrice all seem cute but under their faces lie experts in various fields that will make them a true force to be reckoned with. If these girls fail…the world could enter a darkness never before seen.
What do you think of anime school girls and anime maids? Probably what most otaku think, cute girls to fawn over and wish would be our future waifu. Well like Akiba Maid War, Princess Principal has some cuties but these girls have weapons and abilities that make them far from just eye candy! Similar to Akiba Maid War, Princess Principal is deceptive but quickly becomes a spy thriller with some truly gorgeous animation—thanks to studios Actas and 3Hz—and a riveting tale set in a fictional 20th century. Want waifu that bite back? Then we recommend checking out Princess Principal as soon as you can!
Princess Principal Official Trailer
---
2. Zombieland Saga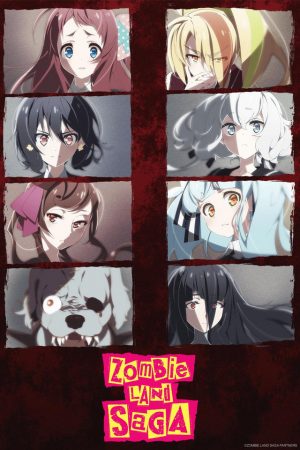 Episodes: 12
Aired: October 2018 – December 2018
Sakura Minamoto, once a living girl with dreams of becoming a famous idol is now dead…well she should be dead at least. Resurrected and awakening in Saga Prefecture, Sakura discovers she isn't the only one to be reborn after a long bout with death. The strange Koutarou Tatsumi has summoned various girls from different eras with one goal in mind, making a zombie idol group. Naming them Franchouchou, the girls are about to become stars…not living ones but famous ones nevertheless!
Idols aren't an uncommon sight in anime, we love idols and their amazing music! Zombieland Saga takes the idol genre in an entirely different direction, much like Akiba Maid Saga. Instead of being about normal cute idols trying to make it big, as the title suggests, Zombieland Saga is about undead girls becoming idols and trying to make it big. Both series take what you already think you know about something very Japanese and turn it completely upside down! Yes, it is very strange sounding but we can't deny Zombieland Saga was one of the more different anime of 2018 but that is why we kind of loved it!
Zombieland Saga Official Trailer
---
3. Lycoris Recoil

Episodes: 13
Aired: July 2022 – September 2022
The Direct Attack syndicate is the sole reason Japan has found a new level of peace as its actions have thwarted numerous terrorist attacks since its formation. Using orphaned girls as the means of creating assassins, called the Lycoris program, DA has truly been seen as a force of power none should oppose. Takina Inoue is one of the Lycoris creations but after botching a situation due to her desire for perfection, Takina has been removed from the DA. With nowhere else to go, Takina ends up at a so-called café that is actually a place that takes secret jobs for those in need. Takina is about to assume a very different life, especially when she meets her new partner Chisato Nishikigi. Can Takina continue her drive to be the perfect weapon or will her ideals of life change with her new partnership?
We have to wonder…do places like secret cafes and orphanages really exist and are they REALLY training super warriors? Aside from our question we know won't be answered anytime soon, Lycoris Recoil—again like Akiba Maid War—has what seems like a normal type of situation of girls in a café but soon the viewer will realize the truth behind these innocent-looking eyes. Lycoris Recoil is a wonderful anime that was released earlier this year and is full of eye-popping visuals and some deadly women warriors! If you enjoy the shocking scenarios found in Akiba Maid War, then we turn your attention to Lycoris Recoil!
Lycoris Recoil Official Trailer
---
Any Anime Like Akiba Maid War ?
4. Puella Magi Madoka Magica

Episodes: 12
Aired: January 2011 – April 2011
Normal school days for Madoka Kaname and Sayaka Miki are about to come to an extreme halt. When the two girls meet the strange being called Kyuubey and the even more strange transfer girl Homura Akemi, they are thrown into a bizarre existence. Offered a chance at making any wish come true, the two girls are told they must become magical girls, which sounds fun at first but has a big caveat. These magical girls are going to enter a battlefield filled with horror and it will test their sanity to the point of no return.
Probably needs no introduction, one of the more shocking anime out there is no doubt Puella Magi Madoka Magica. Taking the concept of school girls turning into magical girls, which is usually sunshine and rainbows, Madoka Magica is filled with death, blood, and shock value that will leave you gasping for air. Akiba Maid Trip has very similar situations—seriously, that first episode and the musical number at the end—but Madoka Magica is probably a bit more shocking. Still, we whole heartily recommend Madoka Magica if you still haven't seen it, especially if you love the shock of Akiba Maid War!
Puella Magi Madoka Magica Official Trailer
---
5. Blue Lock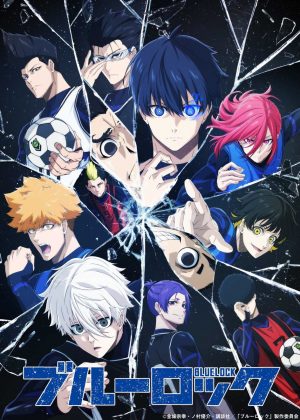 Episodes: 24
Aired: October 2022 – Currently Airing
Yoichi Isagi has caused his soccer team's chance at reaching nationals, a feeling that is truly killing him inside. Due to his inability to make a decision, Isagi has failed as a striker and that makes him wonder if he really is meant to play soccer at all. As he faces down his demons, Isagi is invited to a weird event called Block Lock where 299 others alongside him—all Strikers by the way—are chosen to participate in a rather strange training course. If they can survive this odd facility, then one of the soccer players will be given a chance to represent Japan in the nationals! However, everyone else will never be able to play in nationals and will be forced to give up on their dreams. Isagi has a challenge ahead of him but like those in Blue Lock, challenges are meant to test an individual's ego and their drive to be number 1!
Soccer is a thrilling sport that truly is one of athleticism and skill. In Blue Lock, soccer is still thrilling but it adds layers we rarely think of when we watch the real game or other soccer-themed anime. While focusing on a mostly male cast—no café here folks—Blue Lock does have similar elements of Akiba Maid War as both series take the usual genres we know and really force you to see them from a unique perspective. Blue Lock also contains some rather big surprises but as it is currently airing—as we write this article—we won't spoil any of those. We recommend Blue Lock for those who want a more sporty anime that isn't like others in the anime world!
Blue Lock Official Trailer
---
6. Prison School

Episodes: 12
Aired: July 2015 – September 2015
Five boys are about to get the experience of a lifetime, joining a once-all-female school! In a bizarre attempt to create a more normal school setup, Hachimitsu Private Academy has invited these five young boys to attend classes. Of course, boys being boys, they decide to sneak into the girls' bath and that doesn't go as planned. Put into the school's prison for a month's sentence, these boys are about to discover the harsh reality of their situation and the insanity of dealing with girls who might be just as dirty-minded as they are.
We knew our last entry had to be a shocking one for our 6 Anime Like Akiba Maid War and we saved the most shocking one in the form of Prison School. While it doesn't contain the more mature moments of Akiba Maid War and isn't as action-heavy, Prison School does contain quite a bit of raunchy adult humor, ecchi, and tons of fanservice to make your desktops red with pools of nose-related blood flows. Prison School is a never-ending rollercoaster of shocking moments and humor—like Akiba Maid War—making it the perfect binge-series to watch after Akiba Maid War ends! Seriously though, bring some towels or napkins as you're about to enter oppai heaven once you start Prison School.
Prison School Official Trailer
---
Final Thoughts
Cute café maids, butt-kicking ladies, soccer boys, and schools full of ecchi, our 6 Anime Like Akiba Maid War was no joke and we hope you enjoyed it! Let us know in the comments below which series you liked or want to watch from our list above! Keep stuck to our deceptively amazing hive here at Honey's Anime for even more 6 Anime Like lists and other various anime articles!
---