También puedes leer este artículo en:Español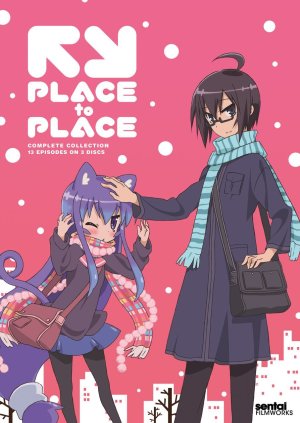 There are times when you just don't feel like facing all the emotions that an action anime may bring you, and simply want to sit back and relax watching a light-hearted, carefree anime. When those times come, a school life comedy anime is all you need!
Acchi Kocchi, for example, is a school life comedy that revolves around Tsumiki – the super-tsundere protagonist – Io, the unsociable megane (glasses) type plus their friends! Without high expectations, nor a deep plot, Acchi Kocchi can be easily loved. Gags and mishaps will provide you lots of laughs, while you're submerged in a pool of cuteness and a tiny bit of a romantic atmosphere. If the sweet story about Tsumiki, Io, and their crazy friends have captured you enough , or if comical and cuteness mixed together is what you're searching for, here is a list of six anime similar to Acchi Kocchi that you may like:
Similar Anime to Acchi Kocchi / Similar Anime to Place to Place
1. Lucky★Star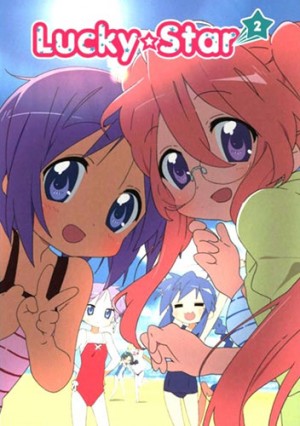 Episodes: 24
Aired: April 2007 – September 2007
Adapted from Kagami Yoshimizu's manga, this anime follows - in an amiably and friendly way - the daily school life of four normal high school girls. "Normal" is the key here. There's Miyuki: the refined meganekko (glasses) who likes studying; Kagami and Tsukasa, the twins, a tsundere type the first, and a total absent-minded type the second; and last but not least, Konata - the girl that went to every ComiKet since she was only five. She leaves a mark, with her personality, thanks to the amazing Aya Hirano that voiced our Konata, and made her look funny as she probably could have never been in the real life.
Like Acchi Kocchi, this anime is a school life, idiotic comedy. If this genre is your cup of coffee and if you like cuteness, well, this anime will be to your liking. It shares with Acchi Kocchi the same visual impact, and a lot of gags that will make you laugh till you choke. No plot, no deep meanings, not even a romantic atmosphere: simply an anime you want to watch when you just want to feel relaxed. And, come on, let's just admit what Konata can proudly admit: all of us would have preferred watching anime instead of going to school!
Lucky Star Trailer
---
2. Azumanga Daiou (Azumanga Daioh)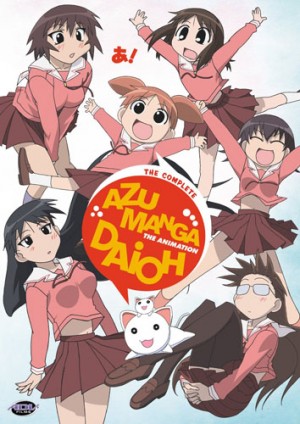 Episodes: 26
Aired: April 2002 – October 2002
Born in 2000 from Kiyohiko Azuma's pen as a 4-koma (four panels) manga first, and it was made into an anime right after, Azumanga Daiou appears to be the usual high school comedy. But that couldn't be more wrong! Its strongest point is the variety of the characters personalities. In fact, it revolves around six high school girls, each totally opposite to the other. Chiyo, the little genius; Sakaki, the shy girl obsessed with cats; Tomo, who likes to pick on others; Yomi, the one who can lose it in few seconds; Ayumu, alias Osaka, who lives in her own world; and Kagura, the airhead with only sports skills. Take all of them, put them together, mix it up and what do we have here? The recipe for an anime that will bring you smiles and laughter one episode after another!
Its originality lies in humour a bit different than usual. The peculiarity of each character, together with a smart dose of comedy, give birth to a well made crescendo of gags, never predictable or repetitive. Like Acchi Kocchi, there's no plot to follow attentively, no particular happenings to understand, just your favourite school life comedy anime, with a focus on the daily life of these amazing characters which will capture you in a tornado of funniness!
Azumanga Daioh Trailer
---
3. Nichijou (My Ordinary Life)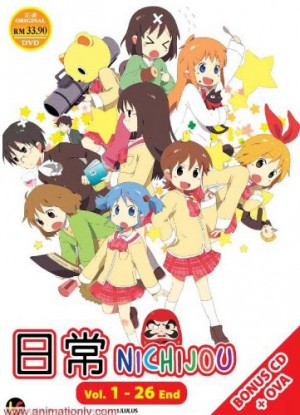 Episodes: 26
Aired: April 2011 – September 2011
Even though Nichijou means "ordinary", you can expect everything but ordinary in this crazy anime! Adapted from Keiichi Arawi's manga, Nichijou is a school life, demented comedy where surreal things happen daily, as if they are ordinary. It paints the school life of a bunch of uncommon students which face a lot of paradoxical experiences and mishaps. Yuuko, the energetic girl who is too lazy to study; Hakase, the little mad scientist; Mio, the cheerful and sensitive one; and Sakamoto, the cat with the red scarf that allows it to speak, which often succumbs to its catlike behaviors. The surrealistic aura that surrounds this anime keeps on growing step by step, until the very explosion that will have you bend in two from laughter!
Comedy, daily school life: just as with Acchi Kocchi we find here the same light-hearted atmosphere typical of this genre, a lot of humour, and a bit of more craziness. Not exactly excellent in the graphics, but enjoyable enough if you like a comedy out of the ordinary type!
Nichijou Trailer
---
Any Animes Like Acchi Kocchi / Any Animes Like Place to Place ?
4. Toradora!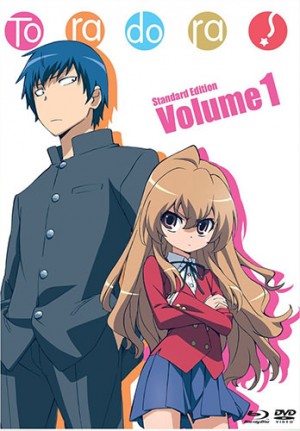 Episodes: 25
Aired: October 2008 – March 2009
And what about Toradora!, adapted from Yuyuko Takemiya's light novel? There's Ryuuji, about to start his second year in high school, worried about his scary looking face that gives him a bully aura and, on the other side, there's Taiga which despite her cute looks, is what you can call a real tiger! Together with Ryuuji and Taiga, we find Minori – loved by Ryuuji – and Yusaku, Ryuuji's childhood friend. Funny to tears sometimes, this anime will turn the tables near the end, making you realize that what seems to be sparkling, often, is not what is real.
We can observe the daily school struggles of these students, and remember how it was for us when we were high schoolers and faced the fears that those teenage years brought us. It's a comedy, and shares with Acchi Kocchi a romantic atmosphere that will bloom near the end. The characters are well constructed and, even though it could look like the simple school life shoujo anime, what makes it brighter and interesting is the peculiarity of each characters and the way they interacts trying to hide their fears and weaknesses. Maybe not your ideal comedy, but still a comedy able to make you smile!
Toradora Trailer
---
5. Lovely Complex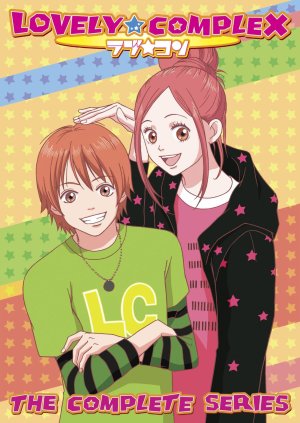 Episodes: 24
Aired: April 2007 – September 2007
Aya Nakahara gave birth to a little masterpiece that became a lovely anime in 2007. Lovely Complex is a comedy which revolves around two characters, both with a complex about their appearances: Risa, a tall, tall girl, and Otani, a short, short boy. Together they get laughed at as a comedy duo. They keep on bickering, picking up on each other's complexes, having fights, but their friendship comes sooner or later to bloom into something else. It's a one of a kind comedy that will keep you glued to the screen until the very end, making you laugh like crazy, thanks to all the bizarre friends surrounding the couple.
Like in Acchi Kocchi, here the funny gags between the duo is the most capturing trait. Risa's personality will make you fall in love with her. She is funny, she's a girl that would love to feel cuter but her tallness just doesn't allow her to be; and Otani, on the other hand, would love to feel manlier, but he just can't stand his short size. Their complexes mixed together will start a lot of gags, misunderstandings, and mishaps that will offer you a lot of funny moments!
Lovely Complex Trailer:
---
6. Tonari no Kaibutsu-kun (My little Monster)

Episodes: 13
Aired: October 2012 – December 2012
Born by Robico's skillful pen, Tonari no Kaibutsu-kun is a very strange comedy that won't miss the chance to give you a smile.The indisputable protagonist is "Dry Ice" Shizuku, a cold-hearted, unsociable girl who can only think about her grades. On the exact opposite side, there's Haru: carefree, childish, foolish and naive. Their lives start to change when they meet and realize they need each other: Shizuku doesn't want to be a cold-hearted person anymore, while thanks to Shizuku, Haru managed to get back his high school life.
The great, tangible difference between Shizuku and Haru will soon make you think of a tamer trying to tame a beast.
Like Acchi Kocchi, here we have your usual daily school life, with characters completely out of the ordinary. There's sentimentalism, a right dose of a romantic atmosphere and, above all, gags among all the characters that will make you laugh until the very end, when you'll find yourself wondering who the real beast is: Shizuku, who is as cold as ice, or Haru who acts as a beast but can be very tender at times?
My Little Monster – Tonari no Kaibutsu-kun Trailer
---
If you liked Acchi Kocchi, and you like stories about non-conventional characters, or comedy and daily school life is your piece of cake, well, I hope this list helped you to find release. Uniforms, teenage love, funny gags and humour become the recipe for your enjoyment. You don't have to go through the trouble of remembering the plot, nor you need to think of a deeper meaning behind it. These anime will only give you what matters: a lot of fun until the very end.
Let us know what you think in the comments below! Recommendations or remarks are all more than welcome!