También puedes leer este artículo en:Español
Warning: there is some aggressive content on this article. If you are a sensitive otaku, you can choose to read another article instead.
Aggressive Retsuko (or Aggretsuko, as it is known for short) is the youngest member of the Sanrio family. Aggressive Retsuko debuted in 2016 with a small line of products and an anime that is still ongoing. But what is the story about? Well, in case you do not know, Retsuko is a female red panda that works in an important trade company. Yes, apparently, now pandas study to become accountants.
Nevertheless, in Aggressive Retsuko's world, all the animals have different jobs and particular personalities. We just get to see how stressful is life for Retsuko in the office. She always has to end up releasing all of her stress with heavy metal music at karaoke. However, this combination of sweetness, cute animals, and slice of life can also be found in other animes, which we will review as follows:
Similar Anime to Aggressive Retsuko
1. Hataraki Man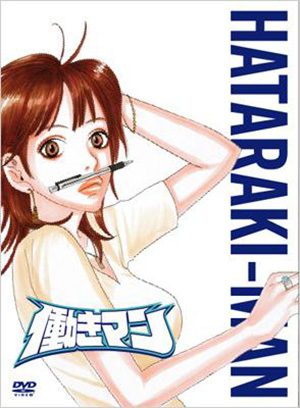 Episodes: 11
Aired: Oct 13 to Dec 22, 2006
We feel particularly empathic towards Hiroko Matsukata, the heroine of Hataraki Man. She works in the editorial world like us, although the media is different 😉 Anyway, Hiroko takes her work as an editor so seriously that she could be considered as a hard working man. She also has a boyfriend, Shinji, who is a workaholic businessman. So, is this a match made in heaven? Unfortunately, this pair has to juggle their jobs to find at least a little bit of time to spend together. Will they succeed? You will have to watch Hataraki Man to find out. Originally created as a manga by Moyoco Anno (yes, director Hideaki Anno's wife!), Hataraki Man became an anime and it also has a live action.
It looks like eventually, Hiroko died and reincarnated as Retsuko. They are so similar! Just watch these two anime and you will find out how really stressful the life in a Japanese office truly is. The difference is that Retsuko has very short episodes, while Hataraki Man is a full fleshed human story with more serious content thrown here and there. Nevertheless, both have enough humor to brighten your day.
---
2. Neko Ramen

Episodes: 13
Aired: Dec 29, 2006 to Mar 23, 2007
A cat can dream big. Afterall, all that is needed is a quick brain, two paws, and some attitude to succeed. Or at least that is what Taisho the cat apparently thinks when he decides to open a ramen shop. His only frequent customer, Kouichi Tanaka, is at first amazed that a cat runs a restaurant, but Taisho is always game for mastering the art of ramen and conquer his ambitions of having a restaurant chain some day.
Kenji Sonishi is a mangaka with a certain preference for animals, as he has created other works about them after releasing the six volumes of Neko Ramen. The peculiarity of the ONA version of his story is that every chapter has a different director. Graphically simple and with a slightly irreverent plot, Neko Ramen manages to capture a part of life in the busy Japanese world. That is, the social dynamics at the cheap restaurants that feed the busiest among the population. Plus, come on, we have cats in this anime. Animals who work hard are always cute, as Aggressive Retsuko and Neko Ramen show us.
---
3. Detroit Metal City

Episodes: 12
Aired: Aug 8 to Oct 28, 2008
If you ever had a part time job while at University, you will know how stressful life can be. But imagine if your job was to be a top indie star. Worst of all, your personality at school has nothing to do with your personality at your job. Sounds like a potential split personality case, right? Well, welcome to the life of Souichi Negishi, a kind and peace loving soul who leads the heavy metal band Detroit Metal City. Disguised as Johannes Krauser II, Souichi has the most crude reputation and ardent fans. Will he be able to live his two lives? We are not gonna tell 😉
Kiminori Wakasugi was the original creator of the manga Detroit Metal City, which was released in 113 chapters. If you like Aggressive Retsuko because of her love of metal, you will find her human male alter ego in Souichi. They both work hard because this is a matter of survival after all. Only that in the case of Restuko, she loves her job, while Souichi sometimes cannot stand his double life. Anyway, a duo concert with these two would be lovely, don't you think the same? They could release their mutual frustrations 🙂
---
Any Anime Like Aggressive Retsuko?
4. Nyanpire the Animation

Episodes: 12
Aired: Jul 6 to Sep 21, 2011
The original source material for Nyanpire was a manga under the title The gothic world of Nyanpire, created by the mysterious Yukiusa. The first episode of this animation gives us a clear message: don't leave your pets alone in the streets to starve! They won't always count on a kind soul to save them. Besides that, not many will have Nyanpire's luck of meeting a vampire and becoming, well… a cat vampire. Now, Nyanpire will have to deal with being a cute cat that needs blood and has some adventures with supernatural cat friends.
If you ever watched Chi's Sweet Home, you can guess what Nyanpire is about. Actually, if you are a fan of Sanrio and other cute Japanese stationery brands, you will find Nyanpire enchanting. The stories are short, simple and so full of cuteness that you will want to scream every time the characters are out in screen. The stories also have a slight gothic tone on them to appeal more to your dark side. Once more, we have a cute character drawn in simple lines like Retsuko… although she and Nyanpire are much more than what meets the eye.
---
5. Saiki Kusuo no Psi nan (The Disastrous Life of Saiki Kusuo)

Episodes: 120
Aired: Jul 4 to Dec 26, 2016
So you are from the otaku team that has always dreamt of having super powers. No problem there, just be careful with what you wish. Saiki is the proof that too much power can be more of a curse than a blessing. That is why he tries to live a peaceful life, hiding his abilities that range from telekinesis, telepathy, x-rays, to a long etcetera. Unfortunately, he is pestered by people who want to use him for their own good. Meanwhile, Saiki only wants to get away from them, especially from the superficial Riki Nendou and the delusional Shun Kaidou. Will he manage to avoid a disaster? Please watch Saiki Kusuo no psi nan to find out 😉
Shuichi Asou is the father of Saiki, who created his story as a still ongoing manga. We should say that Retsuko and Saiki should totally go for lunch someday. Both just want to give their best to a normal life. However, the people around them always want to have a say in their lives. Retsuko and Saiki also have a comically short temper, although in the case of Saiki, the consequences are more superlative.
---
6. Bananya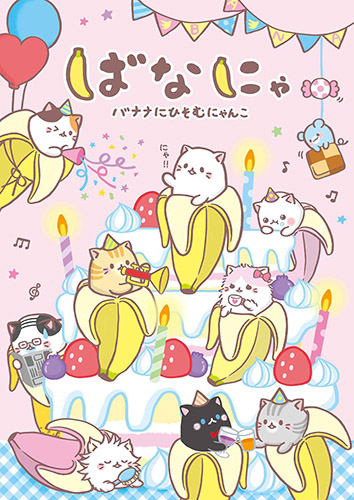 Episodes: 13
Aired: Jul 4 to Sep 26, 2016
Perhaps you think you know everything that has to be known about bananas… until you watch this anime. It turns out that some of these delicious fruits are animal hybrids with peculiar individual personalities. Our protagonist, the sweet Bananya, is a half white cat half banana that loves to eat sweet stuff. He also dreams of being covered in delicious chocolate and colorful sprinkles! Carefree and curious, Bananya spends his days exploring the world with his friends.
If you watched anime like Gudetama, Kogepan, or Shokupan Mimi, you will get an idea of what is Bananya about. Actually, the creative studio behind the anime, Gathering, is also behind the animation for Gudetama. Anyway, the episodes of Bananya are short and full of cuteness, like in the case of Retsuko. The main difference is that Bananya is too soft and innocent. Even the color palette reflects this! Nevertheless, both Retsuko and Bananya have to deal with the real world stuff beyond normal animals… and sometimes they have very funny reactions as a result!
---
Final Thoughts
What is better than anime full of furry animals? Or well, in some other cases, we had the power of the slice of life combined with stress. Because come on! Who hasn't had a day full of stress? We have to find a way to release it without harming others, just like Retsuko does. And what can be better than more anime options like Aggressive Retsuko?
If we can say something good about dear Retsuko, is that she keeps working hard despite her feelings going to the dark side. We have to learn a lot from her! But tell us, which other anime like Aggressive Retsuko do you know? Let's comment away. Don't forget that we are open to all your suggestions. See you soon!
---