También puedes leer este artículo en:Español
I'd like to take a look at what anime resemble Aldnoah in one way or another that you can watch at home while you're waiting.
Some of the criteria I chose were mecha, action and adventure or a theme where war is abundant.
Similar Anime to Aldnoah.Zero
1. Arpeggio of Blue Steel: Ars Nova (Japanese: Aoki Hagane no Arpeggio: Ars Nova)

Episodes: 12
Aired: Oct, 2013 to Dec, 2013
It's 2039 and the sea has expanded, claiming more land than ever before due to global warming.
As if responding to the rise in sea levels a mysterious new enemy rises with it going by the name "the Fleet of Mist" and claiming the oceans to be their own. One of the submarines from this Fleet of Mist is found by young cadet Gunzo Chihaya who becomes the first ever commander to an enemy submarine and giving humanity the first chance it's had to fight back since the beginning of the conflict.
This is a great anime to watch whilst waiting, mainly because the theme is so close to that of Aldnoah except it takes place in the sea instead of in space. The enemy is humanoid in nature and it's a battle for earthly resources.
The animation is a bit different, being more CGI than drawing but it's refreshingly done, and the sequencing is incredible. Definitely worth a view!
2. Last Exile: Fam, the Silver Wing (Japanese: Last Exile: Ginkyou no Fam)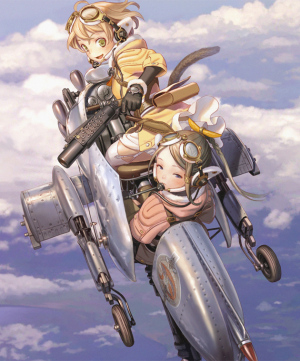 Episodes: 21
Aired: Oct, 2011 to Mar, 2012
The Grand Lake is the source of all life as we know it and has since become the first battleground for the Ades Federation and the Turan Kingdom. The Turan Princess is inevitable caught up in a battle, but the sky pirates come to her rescue!
The princess then asks the sky pirates for help in liberating her country from the evil Ades Federation.
The animation is one of my own personal favorite things about this anime and the story isn't one to just scoff at either. Yukio Takahashi did an incredible job with this Gonzo milking project.
If you haven't checked it out, the story is amazing, the animation is incredible and the overall take home from this anime is great for kids and adults alike.
---
3. Majestic Prince (Japanese: Ginga Kikoutai Majestic Prince)

Episodes: 24
Aired: Apr, 2013 to Sep, 2013
Hitachi O Izuru is a student studying in the academic city of Grandzehle and also happens to be a Prince; a genetically modified child grown and raised to pilot armed robots called AHSMB (Advanced High Standard Multipurpose Battle Device). These children are raised to fight the humanoid invaders from Jupiter who want nothing more than to wipe out human kind.
This is a fantastic mecha anime set in the latter half of the 21st century, taking unoriginal ideas or concepts and making them unique. The story, while starting off bland, quickly jumps into its own originality and completely draws you in. The fight sequences are also gorgeous with some actual tactics thrown in to make it all more realistic and relatable.
If you haven't already seen MP and enjoy Aldnoah, it's definitely worth a few hours to watch!
---
Any Anime like Aldnoah.Zero ?
4. Martian Successor Nadesico (Japanese: Kidou Senkan Nadesico)

Episodes: 26
Aired: Oct, 1996 to Mar, 1997
The mecha series that has a protagonist against piloting the mecha.
Akito is a pacifist, one that really would rather just cook than be an indispensable instrument against an enemy. After his home and way of life on Mars gets destroyed and him being transported instantly and mysteriously to Earth, he joins in with Yurika, captain of the Nadesico. The ship is full of all types of experts who never appear to be experts, otaku, misfits and ditzes all around.
This is a really fun anime to sit through, as it was made to make fun of the space and mecha genre while still being somewhat of a love letter to it as well. The humor can be slapstick but it keeps the story moving at what originally seems like a frantic pace; however it's well worth going through to discover it's supposed to feel that way.
Overall, this is one anime classic I highly suggest.
---
5. Terror in Resonance (Japanese: Zankyou no Terror)

Episodes: 11
Aired: Jul, 2014 to Sep, 2014
Two boys known only as members of a group named Sphinx have become two of the most wanted criminals in Japan for their terrorist-like attacks against the city.Not much is known as to why the boys are committing these heinous acts, but ex-Detective Kenjirō Shibazaki plans to discover the reason.
After the boys meet a girl named Lisa Mishima, their plans get a little more complicated…
This is an anime to watch if you prefer the action side of Aldnoah, leaving out the mecha aspect and adding more twists and turns inside of itself. The animation is spectacular and highly immersing; pulling you into the tale of Number 9 and Number 12, the two boys who escaped from… somewhere.
If you're looking for an anime to pay attention to this needs to be up on your list!
---
6. Code Geass: Lelouch of the Rebellion (Japanese: Code Geass: Hangyaku no Lelouch)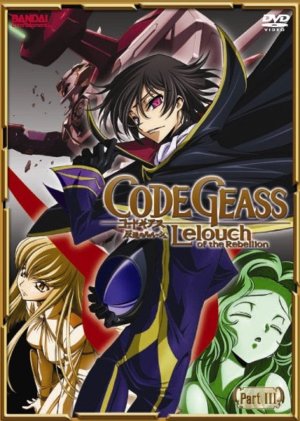 Episodes: 25
Aired: Oct, 2006 to Jul, 2007
In the year of 2010 the Holy Empire of Britannia begins its conquest by first setting its sights upon Japan.
Thanks to their Knightmare Frames they make quick work of the Japanese army and completely strip Japan of its name and rights, now dubbing it Area 11.
Lelouch is an exiled imperial Prince of Britannia who poses as a student to gain his Geass (thanks to a girl named C.C.), or power of the king. He now wishes for nothing more than to have his vengeance upon the Britannian Empire.
This is one of the best mecha anime to watch in my opinion; with the story going along like it was a spinoff of Death Note with giant robots, seriously, it has been described that way before. The plot is so fun to follow along with that you'll never be bored. It also helps that the anime itself is beautifully made.
If you're looking for another show to get into in general, this one is for you.
---
That's it for our recommendations from Aldnoah.Zero!
If you have any more suggestions or feel we left something out, feel free to let us know in the comments section below!
by Nathaniel Loomis
---
Review
6 Anime like Aldnoah.Zero [Recommendations]
4.7
5
4