También puedes leer este artículo en:Español
There is probably no cuter or heartwarming anime this summer anime season 2016 than Amaama to Inazuma which shows the bond between father and daughter as they cope with the loss of Tsumugi's mother. It's so heartwarming to see this adorable father-daughter duo learn how to get along without Tsumugi's mother using food as their center. If you want something just as sweet as Amaama to Inazuma but don't know where to start, don't worry we have your back!
Here, we will give you our recommendations for 6 anime like Amaama to Inazuma to make you feel all fuzzy inside! These six anime will capture your heart and fill it with love. No matter what your familial situation, there is no doubt that you will feel the love in these anime. Sometimes, you just want to feel like that family love.
Similar Anime to Amaama to Inazuma
1. Usagi Drop (Bunny Drop)

Episodes: 11
Aired: July 2011 - September 2011
At 30 years old, Kawachi Daikichi is devoted to his work but doesn't really have anything going on in his life. However, Daikichi soon comes across a young girl at his grandfather's funeral who turns out to be his grandfather's daughter! The girl is shy and no one wants to take her in so Daikichi takes it upon himself to take the girl into his care.
Usagi Drop features the same adorable parent-child relationship although this one is a bit unorthodox. Actually, the child is Daikichi's aunt but he's taking care of her! Like Kouhei, Daikichi has to learn how to take care of a child all by himself, but in Usagi Drop, you will truly fall in love with Rin and Daikichi who learn just how to live with each other and as a result, love each other. You think that because people are related by blood that they have to love each other, but Daikichi and Rin are still learning just what that means. It is a sweet family love story that you cannot miss out on.
bunny drop - Official Trailer
---
2. Hachimitsu to Clover (Honey and Clover)

Episodes: 24
Aired: April 2005 - September 2005
College is hard enough when you can barely scrounge up enough money to pay for rent or food. Yuuta, Takumi, and Shinobu have to work even harder to sell themselves as artists. Yet, passions don't just lie in their talents; Yuuta soon meets the talented Hagumi, also called Hagu, who really shakes up his world. However, Yuuta is not the only one shaken up by love.
Now, don't get confused by this josei anime. Hachimitsu to Clover is very much like Amaama to Inazuma! Not only does Hagu look like the young Tsumugi, but she is very child-like and innocent too. In Hachimitsu to Clover, we get to see how the other boys get to know Hagu as a person and develop a new relationship with her. Hagu only looks like a child, but there is so much more to her than meets the eye, and there is so much more going on than you can imagine in Hachimitsu to clover.
Hachimitsu to Clover develops an intricate web of relationships between all of its characters drawing you further into a story of love and loss like no other. Each character seems to go through their own personal struggles and confusion but don't we all go through trials and exit out of them better and stronger? Yes, it may seem dramatic--something that Amaama to Inazuma seems to lack--but the end result is nothing short of loving.
---
3. Aishiteruze Baby★★

Episodes: 26
Aired: April 2004 - October 2004
Known as a playboy, Katakura Kippei wastes time flirting with any girl while avoiding as much responsibility as possible. That is, until one day when he is given a young girl to care for: his forsaken cousin Yuzuyu! What can happen when Kippei knows nothing about taking care of himself let alone a child and poor Yuzuyu is heartbroken over being abandoned?
Aishiteruze Baby may seem a bit older, but there is no doubt that it is similar to Amaama to Inazuma! The adorable Yuzu has to cope with a lot from her new surroundings to her new guardian, but most of all, this adorable little girl was left behind by her mother. Yuzu may just be a child, but that does not mean she has any depth.
Furthermore, Kippei may be irresponsible however he is not the type to just sit around and watch as little Yuzu falls apart. Maybe there is a bit of humanity in him. Much like Daikichi from Usagi Drop and Kouhei from Amaama to Inazuma, Kippei must learn how to take care of this little girl that he suddenly finds himself completely responsible for. You get to watch as he learns that little girls are not completely dense but are actual individuals with real feelings and emotions. It is an anime that we cannot argue has the same sweetness as Amaama to Inazuma. You will absolutely fall in love with this cute shoujo anime where the characters will learn just what it means to be a family.
---
Any Anime Like Amaama to Inazuma?
4. Barakamon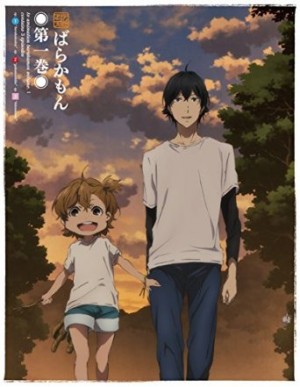 Episodes: 12
Aired: July 2014 - September 2014
Handa Seishuu thinks he has it all as a talented calligrapher until one day, a veteran calligrapher says Seishuu is unoriginal, resulting in some hasty actions. Seishuu is then exiled to the Goto Islands to reflect on his life and actions. There, Seishuu must learn how to mingle with the local islanders and find the inspiration he needs for his latest work as he finds more about himself than he ever knew before.
If you are in need of another sweet story, Barakamon has you covered. While Seishuu may not start off as the most lovable character, you get to see how his relationship grows with little Naru, much like what you get to see in Amaama to Inazuma. Barakamon is a bit more mature in feel than Amaama to Inazuma, but it'll give you that heartwarming feeling that you know you want. Fall in love with this unlikely duo as they get to know each other and realize just how much they need each other.
---
5. Koufuku Graffiti (Gourmet Girl Graffiti)

Episodes: 12
Aired: January 2015 - May 2015
Machiko Ryou has a passion for cooking but has recently hit a wall in her skills. Everything tastes terrible! Then, one day, Ryou's cousin Kirin arrives and teaches her that cooking isn't always about the food but about the company as well. Now, Ryou is learning just how great food can taste in the company of great people!
How is Koufuku Graffiti like Amaama to Inazuma? No, it is not about a parent and child getting to know each other. Koufuku Graffiti is about building relationships with others through food! Kouhei and Tsumugi use food to build their relationship more after Kouhei realizes how important it is to make nutritious food for Tsumugi. In the same way, Ryou begins to use food to bond with other people since it tastes better eating with other people. In both anime, they use the power of food to show love! They say family dinners are so important. Koufuku Graffiti really brings this idea into out into anime for everyone to learn.
---
6. Papa no Iukoto wo Kikinasai! (Listen to Me, Girls. I Am Your Father!)

Episodes: 12
Aired: January 2012 - March 2012
Life takes a turn for Segawa Yuta, an ordinary university student, when his sister and brother-in-law go missing after departing on a trip. Now, Yuta finds himself the guardian of his sister's three girls, even though he hasn't quite gotten the hang of taking care of himself. Now, this odd little family must learn how to live together in a tiny university apartment.
Papa no Iukoto wo Kikinasai! is a cute anime that will absolutely capture your heart. Yes, this may seem like a harem anime at first, but the theme centers around the importance of family and family ties. Life is definitely not easy when you are a university student, but imagine what happens when you end up taking in three young girls! With school and work, being a family can be pretty tough! However, Yuta and his new sisters take this time and these trials to deepen their familial bonds and strengthen their ties together. Life may seem tough, especially for Yuta who is fairly much a child himself, but do not think that Yuta would want it any other way.
[CM] 'Listen to Me, Girls. I Am Your Father!'
---
Final Thoughts
Love, loss, and food; Amaama to Inazuma really has it all. Hopefully, these 6 anime like Amaama to Inazuma fill your craving for more Amaama to Inazuma. There is nothing like a good family anime with family ideals to really warm you up inside.
For many fans of Amaama to Inazuma, tell us your thoughts! Let us know what you love about the anime and why! Also, if you have any suggestions for fans out there, feel free to share more recommendations with us.
---