También puedes leer este artículo en:Español
Episodes: 13
Aired: Oct. 2014- Dec. 2014
Kanie Seiya is surprised after class one day when school beauty Sento Isuzu pulls a musket out of nowhere, points it at him in a threatening manner and "invites" him to an amusement park. The two meet up at Amagi Brilliant Park, a nearly abandoned amusement park that looks more than a bit run down. He also finds that the "date" as he imagined it, wasn't a date at all. Seiya was being taken on a recruitment tour, given a pitch and asked to step in as the park's manager. The owner of the park, Princess Latifa Fleuranza, begs him in desperation to help turn the park around. Her desperation results from a clause in their lease that stipulates if they don't get 500,000 guests in the next three months they will be redeveloped by a real-estate company.
Why would Seiya even consider taking on such a task? Seiya discovers the park is a sanctuary for refugees of a magical land, many of whom live and work in the park. They're called the Maple Landers (no, they're not Canadians, we thought the same thing). Amagi Brilliant Park is truly a magical place, an attraction built to collect the magical energy of people having fun not only to nourish the Maple Landers in our world but also to send that magical energy back to their homeland. The park's mascot, Moffle, a human-sized frumpy mouse with a bad attitude, is just one of the amazing cast of characters all with their own hang-ups. These kinds of issues help you understand why the park is having so much trouble attracting guests. The story is simply a classic. You have a school, hotel, or theater that's about to close and a group of actors, plucky business people, or teen singing groups singing in Love Live trying to save it. The formula is the basis for the movie White Christmas and so many other stories, especially in anime. Let's take a look at 6 more anime just like Amagi Brilliant Park in one way or another!
Similar Anime to Amagi Brilliant Park
1.Rail Wars!

Episodes: 12
Aired: Jul. 2014- Sep.2014
Rail Wars isn't some alternative name for Kabaneri of the Iron Fortress, it's about an amazing alternative Japan where the government still rules the rails. The focus of the story is on Naoto Takayama, a high school boy who dreams of a future riding the rails as an engineer for the National Railways. Takayama's dreams come to a crashing halt like when Casey Jones was standing at the throttle. He is assigned to an internship, not in engineering, but in railway security. He is thrown in with a group of odd balls and spends his most his days giving directions to lost travelers and chasing purse snatchers. Also, a terrorist group called the "RJ" is causing trouble in hopes of convincing the government on privatizing the National Rail Way system.
The two shows have very similar art styles despite being from different studios and are filled with bright colors. The plots both have high schoolers reluctantly taking on adult responsibilities, Seiya managing an amusement park and Takayama being responsible for costumer safety in the rail stations and on the lines. The stories both feel like they have a bit of a harem element. The main characters are both at the center of a female-dominated cast. Seiya's doesn't really seem to grow into a full harem, though. It's more like a love triangle between Sento and Latifa. Amagi Brilliant Park and Rail Wars both have amazing climactic episodes where you truly feel like at any moment that the plan to save the day can go completely off the rails.
Rail Wars! PV
---
2.Classroom Crisis

Episodes: 13
Aired: Jul. 2015- Sep. 2015
Classroom Crisis is like the fruition of Elon Musk's dreams for the future. The planet Mars is the home to a multitude of domed colonies. A colony created by Japan is the home to many of humanity's brightest minds. The company they work for, Kirishina Corporation, is the lead developer of space transportation in the modern age. Kirishina also has a school called A-TEC which serves as an incubator of young engineering talent. The school is a playground for teenaged engineers to test the limits of design, that is until Kaito, a new transfer student and brother of the company's CEO, arrives instructions to shut down the program. The students at A-TEC fight to keep their classroom going, trying to produce results by creating a new powerful rocket to prove their worth.
We have several similarities besides the obvious, OMG-they're-going-to-close-the-school element. Kaito is a vain, handsome, and skilled manager who is looking to make his mark much like Seiya. They both exist in a world where budgeting is finite. The need for a sloppily run organization to trim and budget its resources effectively is another similarity. A little bit of romance is also part of both stories, including a love triangle between the main character and two of the girls, who happen to be best friends. The character design is beautiful and colorful, though for once in anime the main heroine spends more time in coveralls than in a short skirt.
Classroom Crisis PV
---
3.Outbreak Company

Episodes: 12
Aired: Oct. 2013- Dec. 2013
Kanou Shinichi was born for this job. With a light novel author for a father and an illustrator for a mother, he has the very essence of Otaku flowing through his veins. He also lived his life in the shadow of his parents as he tried to make a name for himself with his own work. One day he is told his government needs him. He is whisked away to a world of elves, dwarfs, and dragons via a secret portal the Japanese government found. The mission he is assigned is to become an ambassador of Otaku culture; the idea is to get the locals to fall in love with Japanese culture to make future negotiations easier.
We have a handful of comparisons to make between these two anime, including the wonderfully "moe" art styles. The show is funny especially with a lot of inside Otaku humor as he tries to educate the children of the elites about anime, manga and pop culture. Shinichi is also similar to Amagi Brilliant Park by having the main character tasked with a job traditionally given to a much older person and that he must make decisions with a lot riding on them. Seiya and Shinichi both have to find ways to outmaneuver the powers working against them. The girls are another major similarity. Again, we have a bit of a love triangle develop, in this case between the loli empress Shinichi and his half-elf maid. In both cases, the stories are fun and at times touching and a great addition to anyone's viewing queue.
Outbreak Company PV
---
Any Anime Like magi Brilliant Park ?
4.Sakura Quest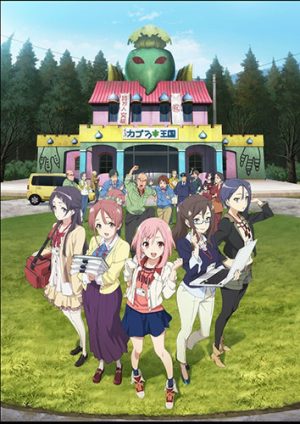 Episodes: 25
Aired: Apr. 2017- Sep. 2017
Yoshino Koharu is a recent college graduate and she hasn't been to lucky finding a job. She's interviewed 30 times and hasn't landed a single call back. A modeling agency she once worked at offers her a job, a year contract to work as the travel ambassador of the town of Manoyama. Her job will be to become the Queen of Chupacabra, a tourism gimmick created by the town, and host events and encourage travel to the town. Yoshino slowly gathers a team of ministers, young women from the town, to help her promote the destination in the hopes of reviving the struggling farming community.
Yoshino like Seiya never intended to take on a job with so much responsibility. Yet the two find they are likely the only people keeping an entire community from disappearing. Once deciding to take on the task, the characters are determined to see it through. The two have the world set against them, and not always from the outside. They both face the challenge of changing long-felt beliefs in their respective communities in order to create prosperity. Sakura Quest is different than Amagi Brilliant Park in that it's not really a comedy or a harem, it's a bit of a drama. You could meet people like Yoshino and deal with the same problems in real life. Sakura Quest has beautiful art, endearing characters and a story that you'll be able to identify with.
Sakura Quest PV
---
5. Kobayashi-san Chi no Maid Dragon (Miss Kobayashi's Dragon Maid)

Episodes: 13
Aired: Jan. 2017- Apr. 2017
Kobayashi is a programmer living a relatively simple and seemingly unfulfilling life, that is until one day she discovers a massive dragon on her balcony. The dragon then changes into a cute blond haired girl in a maid outfit. Did we mention Kobayashi has a thing for maids? The transformed girl with horns sticking out from under her maid's cap introduces herself as Tooru. Kobayashi is reminded that the previous night as she was stumbling home from a bar she found herself in the woods, face to face with the dragon and invited the dragon to stay with her. The rest of the story progresses with the two forming a deep bond, the introduction of several other dragon characters including Kanna, an elementary-school-aged dragon they decide to raise. We laugh along the way at the clash of cultures and in the end, discover a true definition of family.
The art is colorful and fanciful, both Dragon Maid and Amagi Brilliant Park were both animated by Kyoto Animation. The overlap doesn't stop there, either. Yasuhiro Takemoto was the director of both shows. We see a lot of over-the-top comedy in Dragon Maid and in Amagi Brilliant Park. We even can make an argument that one of their plot points overlap. A lot of the comedy in Dragon Maid has to do with Tooru adjusting to life in the human world, a world that doesn't know or believe in magic. The same can be said for the characters in Amagi Brilliant Park as the characters struggle to adjust the rules and restrictions of the human world. The main characters also undergo a change throughout the story (as all good writing dictates). Kobayashi, who is melancholy and merely coasting through life, finds happiness in the family she's stumbled into. Seiya also starts out in a place where he is resentful of the world and gradually finds himself invested in not only the job but also the Maple Landers.
Kobayashi-san Chi no Maid Dragon PV
---
6. Shirobako

Episodes: 24
Aired: Oct. 2014- Mar. 2015
Shirobako is the story of Aoi Miyamori and her friends from the Kaminoyama High School animation club struggling to get their start in the animation industry. Aoi gets a job working at Musashino Animation working as a production assistant. The job of production assistant lets her (and us) get introduced to each and every part of the animation production process. Shirobako is about the process and the people involved in animation. You witness Aoi's ups and downs and frustration as she struggles to keep everything under control.
The stories seem very different on the surface, Shirobako being grounded in reality and Amagi Brilliant Park having a high schooler saving an amusement park that doubles as a home for refugees from a magical world. Yet, they do have some similarities. The characters of Aoi and Seiya are always working under the gun (in Seiya's case that is literal and figurative) in order to get what needs done, done. We have the daily struggles of the workplace put front and center as if they were demon lords that need defeating. The personalities of each of the characters we meet grow, they aren't who we initially think they might be, and they always end up being more complex then we'd thought. Aoi and Seiya also find that they get a job where they have to do a lot of learning on the fly. Seiya does seem to be a little bit of a know-it-all, but even he has his moments where he struggles with the mounting problems of the park. The two stories are both about hard work and the payoff at the end.
Shirobako PV
---
Final Thoughts
Amagi Brilliant Park is simply classic storytelling. You have a character or characters pursuing a goal save their home and overcome the internal and external obstacles that get in their way. The story is also about getting past hang-ups and coming together for a common goal. Amagi Brilliant Park is a classic example of a feel-good story. The colorful character designs, whimsical story, and fantasy aspect make this brilliant story shine brightly.