También puedes leer este artículo en:Español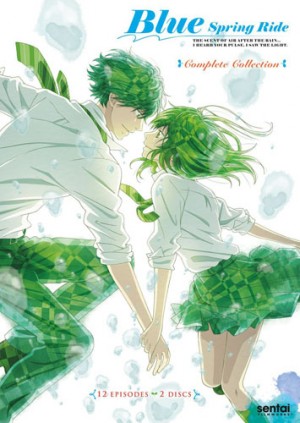 Young love is a beautiful phase that certain people during their teenage life don't consider it as a big deal, but they have no idea that most of the beautiful stories are made during those times. Blue Spring Ride is a perfect example of young love.
A girl that restarts her life, and a boy that is surrounded by secrets, is a unique plot loved by many fans of this series. With an interesting background and dialogues, Blue Spring Ride promises to fans that this is not like any other young love story that you will ever see.
This anime became well-known among shoujo lovers, and there are other anime series with unique romantic stories that will catch your attention from the first episode! Just like Blue Spring Ride did!
Here are 6 anime that are similar to Blue Spring Ride:
Similar Anime to Ao Haru Ride / Similar Anime to Blue Spring Ride
1. Hana Yori Dango (Boys Over Flowers)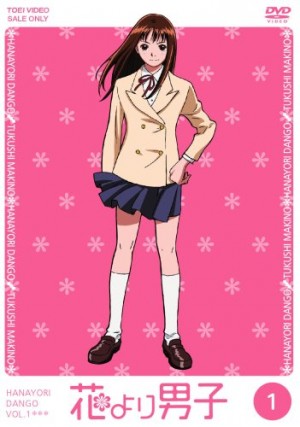 Episodes: 51
Aired: Sep 1996 - Aug 1997
No, you are not wrong! Before this story became famous because of the popular Korean drama television in 2009, this manga was adapted to an anime series that aired between 1996-1997, and they even made a live-action movie in 1995, and a Japanese TV drama series in 2005.
When Tsukushi Makino decided to go to the famous Eitoku Academy, she didn't know that her simple life was about to be changed by the infamous "Flower Four" or F4, that basically is a group of 4 boys that rule the academy. After getting the attention of the F4 leader because she was the only girl that wasn't falling for him, her life will be in a constant roller coaster, the leader F4 leader will go from bullying her every day to develop deep feelings for this stubborn girl.
With a unique beginning that will capture your heart, Hana Yori Dango also captures the spirit of young love, just like Blue Spring Ride. A relationship that starts from hate and finishes in love, will make you wonder in how many ways love can come to you without warning, just like it happened to Futaba and Kou when they began high school.
Hana Yori Dango Opening
---
2. Wolf Girl and Black Prince

Episodes: 12
Aired: October 2014 - December 2014
What does Erika Shinohara from Wolf Girl and Black Prince have in common with Futaba Yoshioka from Blue Spring Ride? They make random stories in order to impress their friends. But Erika decided to include a random stranger whom she took a candid photo and told everyone that he was her boyfriend. Little she knew that the boy in the photo goes to the same school with her, and with a "charming prince" attitude he accepted to play along with her game. However, Erika did not expect that her charming prince would turn into a black prince who started a game of his own that included blackmail and pet treatment.
Erika and Futaba have something in common, more than the fact that apparently they like to make lies, and is that they end up learning to love their partners. Nowadays people tend to fall in love instantly, but these girls took their time to learn how to love these cold guys, but who are we to judge?
TVアニメ「オオカミ少女と黒王子」PV第1弾
---
3. Itazura na Kiss (Mischievous Kiss)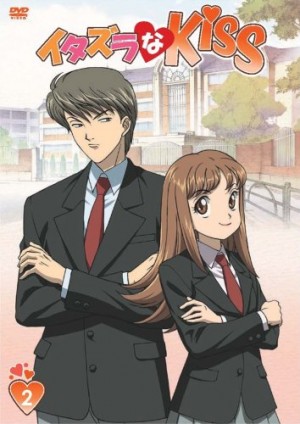 Episodes: 25
Aired: Apr 2008 - Sep 2008
If you are shoujo lover, then this anime should be in your top five favorite shoujo anime. Itazura na Kiss tells the popular story of Kotoko Aihara who confessed her feelings for Naoki Irie, but he rejected her because he does not like dumb girls. But fate decided to give another opportunity to this poor girl by destroying her house with an earthquake, and she had no other choice than to move with his father's childhood best friend whose son turns out to be no other than Naoki. Fate can be funny sometimes, right?
Just like Naoki at the beginning, Kou from Blue Spring Ride does not like Futaba when he meets her again in High School, but eventually he will develop feelings for her again just like in this anime.
There is a saying that goes "Hate is just one step away from love".
Itazura na Kiss - Opening 1
---
Any Animes Like Ao Haru Ride / Any Animes Like Blue Spring Ride ?
4. Tonari no Kaibutsu-kun (My Little Monster)

Episodes: 13
Aired: Oct 2012 - Dec 2012
We all want a person like Haru Yoshida as a friend, even though he might be sometimes a little monster. Most of us has a friend or classmate that is like Shizuku Mizutani. A cold-hearted girl that does not care about making friends, and whose only interest is studying. But people like Shizuku can change when someone like Haru appears in their life. This strange couple has an exquisite way of starting their relationship that makes you wonder if you're really not in love with one of your friends right now. Shizuki knew that she had feelings for his little monster, but Haru could not tell the difference between "like" or "in love". Sounds similar?
Futaba knew that she was still in love with Kou, but the stubborn Kou was never sure about his feelings for her. Just like the main characters of My Little Monster, Futaba and Kou from Blue Spring Ride passed through the same struggles. Friends that due to their confusing feelings go through some problems until their hearts find a way to finally release their true desires.
My Little Monster - Official Trailer
---
5. Kimi ni Todoke (From Me to You)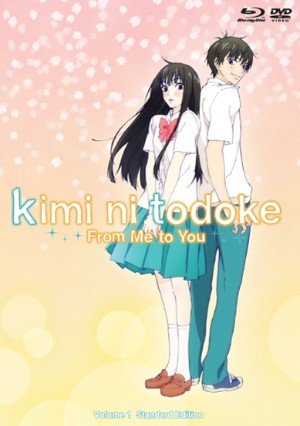 Episodes: 25
Aired: Oct 2009 - Mar 2010
How would you feel, if your classmates compared you with the main character from The Ring? The poor Sawako had to deal with this every day in her school. Her classmates used to believe that she was different from them due to her "scary" appearance. Most of them used to believe that "Sadako" could speak to ghosts and cursed people, and that was the reason why no one dared to speak with the sweet and innocent girl. Until one day, the idol of the school decided to become friends with her, which made her open up to her classmates. Due to the fact that she finally made friends, she was eternally grateful to her idol. But destiny decided to grant her one more wish, and Sawako started to develop feelings for him, and he, Shouta Kazehaya, ended up falling for her as well.
Sawako is a gentle reminder of Futaba's past in junior high. Due to the fact that Futaba was feminine and cute, this made her female classmates not like her because all the boys were falling for her. When she met Kou, Futaba felt like she found an "exceptional one" because she used to believe that all the boys were too rough. Shouta can be easily compared to Kou in junior high as well. Both of them were considered as idols due to their gentle manners and intelligence, and of course, both of them only fall for the sweet girls.
In resume, we can say that From Me to You could be like the prequel version of Blue Spring Ride, if Kou and Futaba's past had taken a different path.
kimi ni todoke - From Me to You - Vol 1 & 2 - Official Trailer
---
6. Shigatsu wa Kimi no Uso (Your Lie in April)

Episodes: 22
Aired: Oct 2014 - Mar 2015
If you haven't watched this anime, please be warned that you will need at least 2 boxes of tissues. This anime became very popular for its original plot that will make think twice about the way you are living your life now. Kousei Arima was a famous pianist since his childhood, but after his mother dies, he lost the ability to listen to his own playing. After two years of living the normal life of a student, the beautiful violinist Miyazono Kaori walked through his path, and his life changed drastically from that moment. With Kaori's help, little by little Kousei gets over his trauma and starts to develop feelings for the violinist, but he decided to ignore those heartbeats because she was the love interest of one of his best friends.
Kaori can easily represent Futaba's true personality. Having the ability to help others and share some of their own happiness is something that both of them are good at. After realizing that her feelings for Kou haven't disappeared, Futaba decides to stay by his side, even though Kou was being cold towards her, but she knew that deep inside he was having problems, and that never stops Futaba from trying to help him, even if that requires her to reveal her true personality to others. Kousei can be compared to Kou, because both of them were hiding from their past, but there is always one person that will bring you to light.
Basically we can say that Your Lie in April could be like another version of Blue Spring Ride if Futaba had remained with her true personality after junior high, but definitely with a different ending.
「四月は君の嘘」第二弾PV
---
All these anime series have different plots, but there is one thing that these unique stories have in common, the struggles of young love that most people don't really pay attention to. An innocent friendship of a boy and a girl that blossoms into a beautiful relationship.
All the young female characters from this list teach us a common lesson - you should never give up on the person you cared the most even if they are going through a dark time. After all there is always light at the end of the tunnel, right? And Blue Spring Ride is the perfect example of never give up on love because you will never know when you are going to see your special one, again.
by Mary "maruharu" Aparicio
---