También puedes leer este artículo en:Español
Boku wa Tomodachi ga Sukunai, more widely known as Haganai, at first seems like your average high school slice of life anime with shades of a harem comedy mixed in. While these elements are indeed present, Haganai deals with slightly more deep subject matter than other anime of the same genre.
Since this anime uses comedy to deal with the somewhat serious subject of loneliness and serious love conflicts, it might be difficult to draw parallels between it and other anime, but there are a few key elements which I've focused on when putting together this list.
If you've recently finished Haganai (both seasons) and need some similar series to fill that void, then hopefully the list below will give you some good ideas to start out with.
So let's start!
Similar Anime to Boku wa Tomodachi ga Sukunai / Similar Anime to I Don't Have Many Friends
1. Toradora!

Episodes: 25
Aired: Oct 2008 – Mar 2009
The story introduces Ryuuji, a mean-looking, but kind-hearted high school student who has a crush on his classmate, Minori. He ends up having a fateful meeting with a small, but feisty girl, nicknamed the Palm-top Tiger. He helps her confess her feelings to a friend of his, but this eventually leads to something more between them.
So, while I will say that Toradora! is a bit more intense at times than Haganai, they still share some themes in common. Probably the most obvious would be each anime's main male protagonist. Just like Haganai's Kodaka, Ryuuji has been ostracized at school for the way he looks, even to the point where people will give up their wallets to him out of fear. Kodaka and Ryuuji both proceed to meet close friends and we get to see them grow as characters.
Another striking similarity is that Ryuuji is eventually led to make a critical choice between two female friends, both of which harbor feelings for him. He handles the choice somewhat differently than Kodaka, but the premise is quite similar!
Toradora! - Official English Trailer
---
2. Nisekoi (Nisekoi: False Love)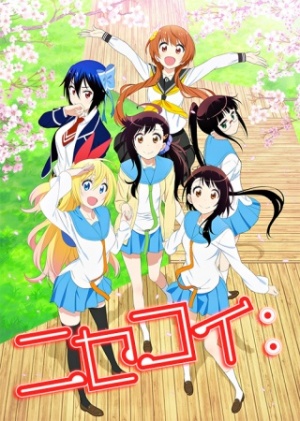 Episodes: 20
Aired: Jan 2014 – May 2014
Nisekoi follows Raku, an average high school student. As a child, he had made a promise with a certain girl that they would one day get married when they met again. In his high school he meets a girl by the name of Chitose, and by some turn of events, they end up becoming fake lovers.
The part which resembles Haganai, is the fact that Raku is actually interested in another one of his classmates at first, Kosaki. The situation puts him at odds at times with his own feelings, just like Kodaka.
The childhood promise of marriage is also a theme that plays a key role in both anime, as it later affects the love conflicts between the characters.
NISEKOI: OFFICIAL TRAILER (30 sec) by SHONEN JUMP Alpha
---
3. Akane Iro ni Somaru Saka (The Hill Dyed Rose Madder)

Episodes: 12
Aired: Oct 2008 – Dec 2008
The main character, Nagase, kisses a girl whom he saved from a dangerous situation. Not surprisingly, she tells him off, only to later find out that she's been arranged as Nagase's wife-to-be.
While some of the character types may be shifted around, in this anime, the main setting is quite similar. The main character meets a girl out of the blue, and she turns out to be the one arranged to be his future wife! Since she is a clear tsundere character, there are some problems and laughs to be had throughout the anime.
The protagonist's little sister even plays a main role in the story, very much like Kodaka's sister, Kobato.
Akane Iro ni Somaru Saka OP
---
Any Animes Like I Don't Have Many Friends / Any Animes Like Boku wa Tomodachi ga Sukunai ?
4. Myself ; Yourself

Episodes: 13
Aired: Oct 2007 – Dec 2007
This is an anime which focuses on relationships with long lost childhood friends.
The protagonist, Sana, moved away from his hometown to Tokyo, because of his parents' business. Years later, he returns to his home to attend high school, but is troubled to see that not all of his once cherished friends are quite the same. Especially his closest friend from childhood, Nanaka, used to be cheerful, but is now quite shy and keeps to herself.
This is something that mirrors the situation between Kodaka and Yozora, as he finds her to be surprisingly different once he finds out she was his childhood friend.
Another similar character in this anime is the childish Hinako who tries to act older than her age. She plays some of the same roles as Kobato, even though she's not the protagonist's little sister.
Myself ; Yourself OP
---
5. MM!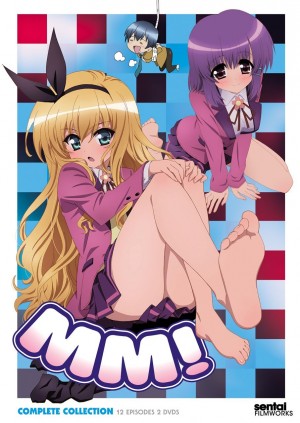 Episodes: 12
Aired: Oct 2010 – Dec 2010
This anime will appeal to those who thought Haganai's main selling point was the amount of fan service it had. The protagonist has a problem with masochism, and is thrust into a club with two girls who in their own ways help him to get over it. The irony is that one of those girls, Yuuno, caused him to develop his masochism in the first place!
The two main female characters, Mio and Yuuno are outgoing and more shy respectively, which is something seen in Haganai. This is a good one if you're looking for the ecchi provided in Haganai, but aren't in it for the more serious themes. Mio is very similar to a certain blond-haired girl in Haganai. Indeed, she drags the protagonist through tasks that he isn't always so enthusiastic about.
MM! - English Dub Promo
---
6. To LOVE-Ru

Episodes: 26
Aired: Apr 2008 – Sep 2008
Rito is your average high school student, with a crush on one of the prettiest girls in his class. This changes when he meets Lala, a princess from a distant planet named Deviluke. Often causing a lot of trouble for Rito, Lala decides she would like to marry him eventually, and so she becomes a part of his daily life, much against his will.
The dynamic of two main female characters, one being introverted, and the other quite outgoing is the main common point between these two anime. Rito's mature-seeming little sister enjoys his attention, similar to Kobato, although she doesn't show it as much.
To LOVE-Ru OP
---
Haganai both manages to seem generic and unique at the same time. On its surface, it's just another school life harem anime with little plot or character development. However, the underlying themes and conflicts help to draw the viewer in, and makes it easier to care about the characters.
Since not many other anime do this quite the same, the ones I've picked out here each share in one or two main themes. Other similar anime you might want to check out are Seitokai Yakuindomo, True Tears, and Nyan Koi!, among others.
Do you agree with the anime listed here? Would you like to add any titles to what we have here?
Let us know in the comments down below!
---