También puedes leer este artículo en:Español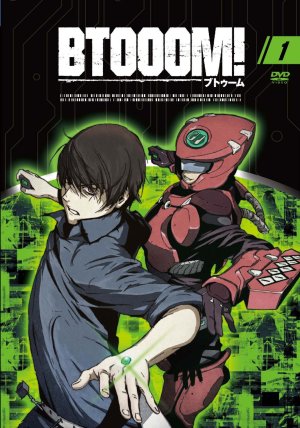 In October 2012, Madhouse brought us another masterpiece, which left us wanting more. In Btooom!, Ryota Sakamoto's life changed drastically when he woke up on a beach where he was forced to play real life Btooom against other people and kill for his own survival; definitely a winning formula that has already been exploited in several other stories. If you're into the whole "Hunger Games" thing, then chances are you loved this show as much as we did.
This psychological seinen anime full of action hooked us from the very first chapter and finished with such an open ending that we can only hope to find another similar anime to get over it. The following are some examples of anime that share some of Btooom!'s characteristics and that you will probably enjoy just as much.
Similar Anime to Btooom!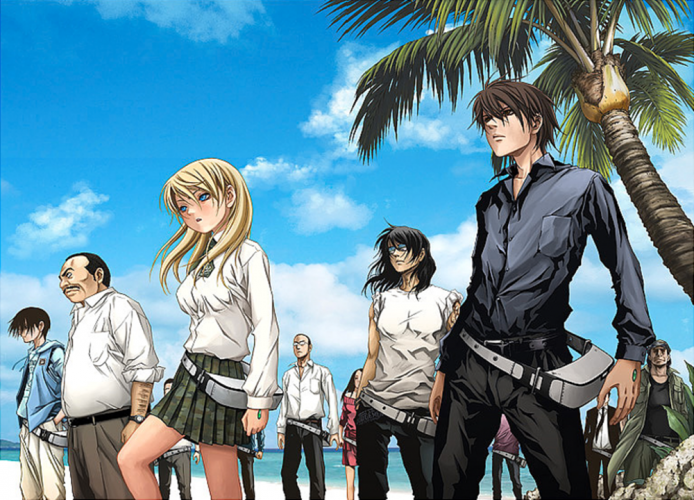 1. Mirai Nikki (Future Diary)

Episodes: 26
Aired: Oct 2011 – Apr 2012
An extremely popular anime, a must-watch, Mirai Nikki resembles Btooom! as the main characters are immersed in a death race, one in which the winner takes it all and there is no second place.
Amano Yukiteru is an introverted high school student who has no friends and spends most of his time writing a diary on his cellphone. His only friend is Deus Ex Machina, a god that lives in Yuki's imagination. Yuki's ordinary life is no longer ordinary when this God gives him the power to predict the future through his diary.
Throughout this story we find out the different personal stories behind all 12 diary holders, as they compete to become the last one standing and take Deus Ex Machina's place as god. A bit of echhi, a hint of gore and a handful of action spice this romantic and psychological shonen.
Mirai Nikki Trailer (English Sub)
---
2. Sword Art Online

Episodes: 25
Aired: Jul 2012 – Dec 2012
If you're into video game themed anime and you like the action, you should definitely give Sword Art Online a chance. It's not psychological or hardcore as Btooom!, which is only understandable considering this is shonen. SAO's massive popularity however, comes as no surprise. The animations are great, the soundtrack is captivating and, to most people at least, this is a most entertaining anime, which is pretty much the point.
Sword Art Online is a modern classic, and another anime in which the characters are forced to play a game at the risk of their own lives. This time, the game is an MMORPG of which there are only 10.000 copies. Gamers who were able to buy this game get to enjoy the mysteries and wonders of the ultimate virtual world but not for long. As it turns out, players are unable to logout and they can only exit the game once they complete all 100 levels. To make things worse, players who die in the game also die in real life.
In this story we will join Kirito in his journey through the world of SAO, as he levels up, defeats bosses and makes interesting friends while fighting for his life. Personally, I liked its sequel better, which is mostly the same only that this time the video game (of death) is a first person shooter.
[ENG SUBS] Sword Art Online 2nd Trailer
---
3. Danganronpa

Episodes: 13
Aired: Jul 2013 – Sep 2013
A psychological story with a lot of mystery and action, Danganronpa, takes place in a most prestigious high school that gathers 15 elite students. Just like in Btooom!, the characters are drawn to a place they can't get out of and forced to face each other in a strategic game where only one will get out alive. The rules are simple, in order to graduate, a student has to commit the perfect crime. If one student kills another and gets caught, he is executed. However, if he gets away with it, he will graduate and the other students are executed instead.
In this high school of death, ran by a most disturbing –apparently evil- teddy bear named Monokuma, we meet Naegi Makoto, a nice young boy and the most ordinary of all 15 students. He was accepted in this high school after winning a contest, so his only special ability seems to be his good (or bad?) fortune. Will luck be enough to help him get out alive?
Danganronpa: The Animation - Trailer
---
Any Animes Like Btooom! ?
4. Deadman Wonderland

Episodes: 12
Aired: Apr 2011 – Jul 2011
Deadman Wonderland presents a fantasy world where anything can happen… and I mean anything. Things go wild before you notice. A flying man in red rags disrupts a high school class, blowing up the walls and slaughtering every child except one, Igarashi Ganta, who has the bad fortune to be tried guilty for the murder of his classmates. He is sent to a prison/morbid-amusement park where he has to fight (of course) for his life if he intends to prove his innocence and have revenge.
Do you want gore? Deadman Wonderland gives you gore! This anime will provide you with a dose of gruesome bloodshed and all the action you are looking for. As thrilling and exciting as Btooom!, maybe not so sophisticated but pure straightforward action.
Deadman Wonderland - US Trailer [HD]
---
5. Highschool of the Dead

Episodes: 12
Aired: Jul 2010 – Sep 2010
Highschool of the Dead is a survival horror at its zenith. Everyone knows there can never be too many zombie movies/series, and fortunately, now we also have zombies in anime too. The plot is nothing new; a zombie outbreak gets to a high school, forcing students and teachers alike to fight for their lives whatever the cost. Chaos turns into anarchy, where people may turn out to be even more dangerous than the undead.
Personally, I think this is a very entertaining show. It has gore, lots of blood, lots of action and the survival theme to it; everything you probably loved about Btooom! but in a higher dose. One thing though, some people dislike HOTD because it has a lot of fanservice. I think, whether you are into ecchi and fanservice or not, this is a really enjoyable story with a lot of action and zombies in it. It's definitely worth a shot.
High School of the Dead: Drifters of the Dead Trailer
---
6. No Game No Life

Episodes: 12
Aired: Apr 2014 – Jun 2014
One of Madhouse latest productions, No Game No Life, presents the user-friendly version of being trapped in a game. The story begins just like in Btooom!. Sora and Shiro are brother and sister, who spend their lives playing videogames. They are exceptional teens that excel in everything they play. Of course, playing is all they do and the real world is nothing more than a boring game to them. Things change when they are summoned to a world where there is no war, robbery or murder, and every conflict is decided by games.
This show will introduce us to a world of fantasy and adventure. There, Sora and Shiro will have to make use of their bright minds and gaming experience, not to fight for survival in this case, but to compete for something bigger than themselves. If you like echhi anime with comedy and games, this one has lots of all those things, so try it out!
No Game No Life Intro
---
This selection was intended to give you a few titles that share some of the most essential characteristics that make Btooom! such a great show. Now you can decide what to watch next.
Just in case you have already watched the ones above, some other anime that are about real-life games, survival or similar to Btooom! in character development or the psychological aspect but didn't make it into the list are: Log Horizon, Accel World, Psycho Pass, Higashi no Eden and Bus Gamer.
I hope you have found this post useful!