También puedes leer este artículo en:Español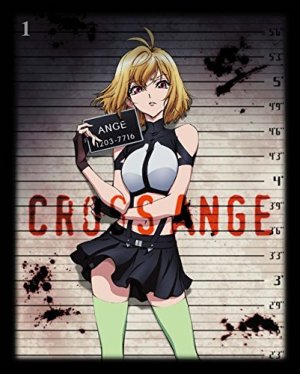 Sometimes we're just in the mood for a good ecchi anime and sometimes we want a yuri element.
Cross Ange brings those things to the table with a strong sense of fighting to survive, of a multi-class system where the leading class looks down on those not just like them and fanservice heavy visual content.
What I'd like to discuss are some other anime that all resemble Cross Ange in some way, be it the mechs, the class system or the fight for survival that this show offers!
Similar Anime to Cross Ange: Rondo of Angels and Dragons
1. Queen's Blade: Rebellion

Episodes: 12
Aired: Apr 3, 2012 to Jun 19, 2012
Voluptuous women fighting for justice, what's not to love about that? This season takes a different twist than the previous two; instead of fighting in the tournament the new characters introduced have to fight the queen who ended it.
While it appears the Queen holds more of an advantage, will the new women's rebellion be able to end her heretical reign of terror?
If you're looking for another good action ecchi series to sink your teeth into I believe this one would be better than the first two seasons of the show.
While the first two were mainly about fighting and pushing it to the very edges of what can and cannot be displayed on television, the plot of Queens Blade: Rebellion simply does a better job in my opinion, of relating to Cross Ange.
Not to mention the fight scenes (which have a massive improvement over the first two seasons) with the art and sounds all stepping it up a notch as well!
Queen's Blade Rebellion Official Trailer
---
2. Valvrave the Liberator (Japanese: Kakumeki Valvrave)

Episodes: 12
Aired: Apr 12, 2013 to Jun 28, 2013
By far, Valvarave the Liberator exceeded my expectations for mecha anime ever since Gundam Wing set the unrealistically high bar back in 1995 (don't even get me started on my love for this and Epic Waltz).
Going away from the normal "alien invasion" and turning it more to a human faction vs. human faction. What made this show even better was how the story played out over time and threw complete curveballs your way with almost every episode.
The visuals were very close to astonishing but the fight scenes themselves were absolutely incredible, not to mention how the story itself keeping you entirely enthralled.
If you're looking for another good mecha anime that can do more than just "fight the bad guy," this is definitely something you need to see.
Valvarave the Liberator (JPN : Kakumeki Valvarave) Official Trailer

---
3. Freezing

Episodes: 12
Aired: Jan 8, 2011 to Apr 7, 2011
Scantily clad women are humanity's only hope of battling trans-dimensional monsters? Well if that doesn't sound like the premise of Cross Ange then I don't know what to tell you!
The Nova have invaded earth and our only hope of survival are the Pandoras and Limiters; girls and boys who are genetically modified in order to fight the aliens and survive through those fights. The story itself follows Kazuya Aoi who decides to enroll in this school to become a Limiter for one of the Pandoras, and ends up becoming Limiter to the strongest of the class Satellizer el Bridget despite the warnings from his friends.
This is an anime that followed very closely to the manga despite some of the reviews it received (in my opinion this is a good quality to have). The artwork and sounds were all good, with the soundtrack only adding to the overall feel to the show.
If you're looking for a good ecchi, this is a good choice to go with!
Freezing Official Trailer

---
Any Animes Like Cross Ange: Tenshi to Ryuu no Rondo ?
4. Jyu-Oh-Sei: Planet of the Beast King (Jyu Oh Sei)

Episodes: 11
Aired: Apr 14, 2006 to Jun 23, 2006
When you think of fighting for survival, Jyu-Oh-Sei needs to come to mind as the entire premise of the show revolves around surviving on a strange planet.
Thor and Rai are cast off their utopian society spaceship after witnessing the all too mysterious deaths of their parents with only a laser knife and a satchel to a world used only as a prison. There are no guards and no cells; the planet itself is enough of a trial without having any added security measures.
What they soon discovered is that mostly everything on this strange and mysterious planet can and will kill them if they let their guard down.
The artwork is absolutely stunning; with incredible visuals and a story that truly keeps you captivated. Out of all the survival shows I have seen, this is right up in the top ranks.
While it's a relatively unknown series it goes further beyond any expectation you could have for it by far in only eleven episodes.
After finishing through it you'll want more, but that doesn't mean it didn't have a proper ending to it!
Jyu-Oh-Sei: Planet of the Beast King Official Trailer

---
5. Muv-Luv Alternative: Total Eclipse

Episodes: 24
Aired: Jul 2, 2012 to Dec 24, 2012
Ever since 1973 an alien invasion from the BETA has been taking place, and the only things that can stand up to them are the Tactical Surface Fighters built by the United Nations.
In 2001 Japan sets to work on the next generation TSF's that will hopefully turn the tide in the war against the aliens, but before mainstream production can take place testing needs to be done. This is where the main protagonist Yuuya Bridges comes in. As a half Japanese, half American man he faced a lot of discrimination growing up not knowing where he belonged, until he got behind the pilots seat of the TSF's.
The art and stylings from Total Eclipse are phenomenal and with no lack of a good story to follow along with.
While it focuses less on the ecchi side of anime, the giant mechs are definitely on par with those from Cross Ange (with less focus on magic and more on the shounen).
Overall I thoroughly enjoyed this anime and highly suggest it to those that liked Cross Ange as well!
---
6. Mobile Suit Gundam SEED

Episodes: 50
Aired: Oct 5, 2002 to Sep 27, 2003
Mobile Suit Gundam is a franchise that's worked its way into the hearts of too many anime fans to be ignored, especially in reference to Cross Ange.
As it is another Gundam series you can expect the same premise, but the story of Gundam SEED sticks out more, making it some fans favorite series in the franchise.
While Cross Ange is heavy fan service, Gundam SEED is more based on the plot of teenagers fighting a somewhat pointless war and learning a lesson throughout.
The artwork is what one would come to expect in a Gundam series, fantastic; the sounds and fights the same way. If you're a mecha fan then this is definitely one series you need to check out (if not the entire franchise)!
---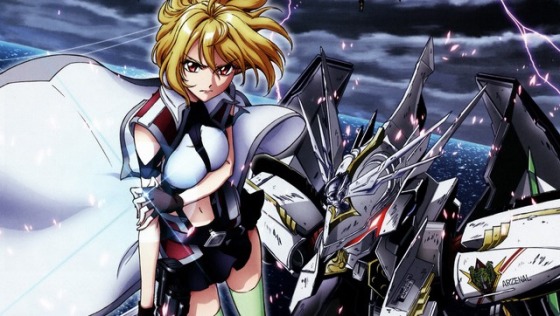 That wraps us up for our list of six different anime like Cross Ange.
Whether you're looking for a good survival or another ecchi; maybe even another mecha, we've got it all covered! If you have any other suggestions feel free to leave them in the comments section below!
by Nathaniel Loomis
---