También puedes leer este artículo en:Español
It has been a while since we have heard of Dance with Devils, an anime that rocked last year. And why not? We girls like to dream about having at least one great man as a mysterious companion on an adventure. And if such man fancies us, the better. But if you are a little undecided on your favorite type of guy, a display of several male personalities can help consider your options. And if you are a fan of everything gothic, Dance with Devils had to be on your view list.
The adventures of Ritsuka Tachibana as she interacts with a quartet of handsome looking devils gave us unforgettable moments of conflict, mystery, and romance engulfed with musical battles. So yes, Dance with Devils had a particular combination of dark themes, reverse harem, and music. If you ever wondered how a musical would be as an anime, this title might give you a pretty good idea. It looks like a combination that won't be repeated in the near future. So, does that mean that there are no other anime like Dance with Devils? Well, of course not. We made a list the past year, but here we are at it again to offer you more wonderful anime like Dance with Devils!
Similar anime to Dance with Devils
1. Vampire Knight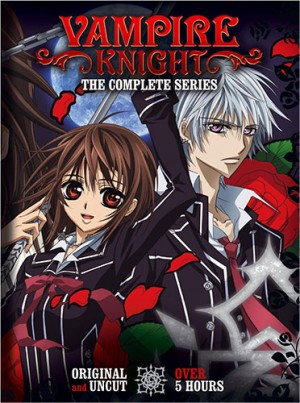 Episodes: 13
Aired: Apr 8 to Jul 1, 2008
This story had its origin in a manga authored by Matsuri Hino. Later adapted for anime by Studio Deen, Vampire Knight tells the story of Yuki Cross, the adopted daughter of the owner of Cross Academy, which is an elite school. The story basically revolves around a triangle between Yuki, her childhood savior the vampire Kaname Kuran and her best friend who hates vampires, Zero Kiryu. Yuki does what she can to protect the identities of the vampires who attend Cross Academy in the night turn, but is there something else hidden in the trio's past? And why is Yuki constantly being targeted by vampires? You will have to watch Vampire Knight to find out.
Both Dance with Devils and Vampire Knight deal with dark themes unleashed in a sophisticated school. Their main characters are supernatural and rejected by humans if their identities are revealed. And what can we say about the main male leads on these two animes? Intelligent, reliable, confident, and absolutely elegant! We also have a confused Yuki trying to decide who she loves, just like Ritsuka in Dance with Devils.
---
2. Amnesia

Episodes: 12
Aired: Jan 7 to Mar 25, 2013
Amnesia is a visual novel serialized by Idea Factory. Brain's Base later decided to produce an anime from it, and thus Amnesia was presented to the world! It's premise is so typical… one day, you wake up and find out you have no memories of your past. Well, ok, it is not that typical. The thing with this anime is that it followed the style of a video game by not giving the protagonist a name. Besides that, our protagonist is a first year University student, which is an unusual take for an anime world over-populated with Middle and High-schoolers. Anyway, the protagonist will be followed by a spirit called Orion who has sweared to help her recover her memories. Also, she will encounter five men who represent the different mazes in the cards (hearts, spades, diamonds, clovers and the joker).
Both Dance with Devils and Amnesia have a strong link to video games. Thus, the plots tend to be very episodic in nature. There are several scenarios for the protagonist to choose (and many handsome boys, of course). Although Amnesia has fewer supernatural themes and is inclined more to sci-fi, the end resolution is very similar as well… but we don't want to spoil it for you. Better check it out 😉
---
3. Makai Ouji (Devils and Realist)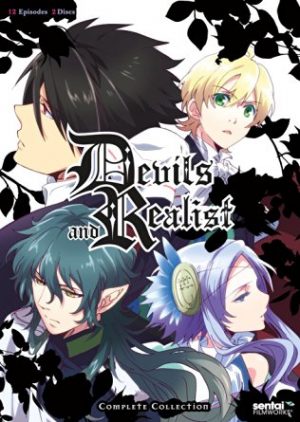 Episodes: 12
Aired: Jul 8 to Sep 23, 2013
This interesting take on demonology was born from the pens of Madoka Takadono and Utako Yukihiro. The still ongoing manga was adapted to a (too) short anime by the studio Dogakobo. Makai Ouji follows William Twining in the beautiful settings of XIX century England. This member of an ancient aristocratic family discovers one day that he has gone bankrupt, and in an attempt to find a way to pay his school tuition, he accidentally summons the demon Dantalion. Surprise, surprise! William is the reincarnation of King Solomon, who had power over demons according to popular legends. Now, William will be followed by Dantalion and other handsome devils until he choses the new leader of Hell.
Makai Ouji has the demonic theme as central topic, just as Dance with devils. Most of the action also revolves around a fancy school. Although we don't have a reverse harem, we have the protagonist surrounded and defended loyally by several demons with different personalities. If you would have liked Dance with devils with fewer songs and some historical context, you definitely have to check out Makai Ouji.
---
Any Anime Like Dance with Devils ?
4. Mekakucity actors

Episodes: 12
Aired: Apr 13 to Jun 29, 2014
Mekakucity has a peculiar background. It was born as the Kagerou project, which was based on Vocaloid technology (and if you don't believe me, just check the trailer). Due to its mixed media style, the creators have released a light novel, manga and several animes. Anyway, the story presents us Shintaro Kisaragi, a guy who has been secluded in his room for two years. He befriends a virtual girl called Ene, but when she breaks his computer, Shintaro is forced to go out to the world and eventually joins a gang of justice fighters who call themselves the Mekakushi Dan.
This is the opposite case from Makai Ouji. If you loved Dance with Devils because of the music, you definitely will love Mekakucity actors. Both animes are heavy on music videos to advance action or represent mental conflicts. We can also see some similarities between Ritsuka and Shintaro, who live in their perfect worlds until the more pressing reality comes crashing and takes them out of their comfort zone.
---
5. B-Project Kodou Ambitious (2016)

Episodes: 12
Aired: Jul 3 to Sep 25, 2016
We mentioned Uta no Prince-Sama on our former article about Anime like Dance with Devils. Well, the same writers created B-Project. Brought to life by A-1 pictures, the story follows Tsubasa Sumisora, a newbie working for Gandala music. She is assigned to look after three different idol groups who conform the B-Project unit. Thus, ten handsome guys and their idol careers will be on Tsubasa's hands! Will she have what it takes to guide them safely through the waves of fame? Let's watch this anime to find out!
B-Project is like watching Dance with Devils but with pop music and a much more light-hearted tone. Should we also mention the great variety of guys to choose from? Although they welcome Tsubasa in different ways depending on their personalities, they end up caring for her and protecting her if necessary (like a certain Ritsuka). We also see glimpses of the supernatural in one of the aspiring idols, Momotaro Onzai, as he can see avenging spirits inside objects.
---
6. Macross Delta

Episodes: 26
Aired: Apr 3 to Sep 25, 2016
Finally, we have this recent anime from the Macross family produced by Satelight. In the distant future, a plague is desolating the known universe. The Windermere Kingdom wants to use the disease for their own obscure plans, but that is why a squadron of heroes piloting mechas called Valkyries are opposing them. Accompanying them we have the Walküre, an idol group using their voices to calm down the effects of the plague. Expect the usual high quality in romance, action, and music from Macross!
So, what would happen if the powers of the characters of Dance with Devils were projected into interstellar space? Let's remember that the voice of these guys is essential to battle their foes, just like the Walküre do in Macross Delta. Both stories revolve around the conflict between two factions that are not clear cut right or wrong. There is room for ambiguities on these two anime which reverb with good paced action.
-
---
Final thoughts
There you have them. Although Dance with Devils is irreplaceable in our otaku hearts, we tried to find a good and varied selection of anime to calm down your crave of music, romance, handsome guys, and gothic styled themes. There is a little for everyone: darker stories, light-hearted stories, anime settled in old times, in modern times or projected to the future. But tell us, are there more anime out there similar to Dance with Devils? How about our selections, have you watched them? What did you like about them? Don't forget that we are open to all your comments and suggestions. See you soon!
---
---
---
There's nothing like a reverse harem to kick off the 2015 fall season! All those bishounen, anime tropes, and more--who could resist? Dance with Devils has been quite a seductive piece of female fan service providing many different elements that could swoon a high school girl's heart.
However, when an episode comes out once a week, it can be tough to hang in there so you're probably looking for another series to pick up in the meantime. Not sure which anime will fit the bill? Well, here is a list of 6 anime like Dance with Devils for your enjoyment!
Similar Anime to Dance with Devils
1. Diabolik Lovers More,Blood

Episodes: 12
Aired: September 2015 - December 2015
Airing this season is Diabolik Lovers More,Blood which continues the story of Komori Yui. She has been living with the Sakamaki family. Lately, she has been having dreams of someone called "Eve". One day, they get into a fiery car accident and come cross the Mukami tribe. Unfortunately for Yui, her life is soon going to take on a new direction with the Mukami tribe. Will her questions be answered? Or perhaps she'll be fodder of these new vampiric families.
Much like Dance with Devils, Diabolik Lovers More,Blood delves into the supernatural with a cast of blood sucking bishounen, except the Sakamaki clan and the Mukami clan have no interest in protecting poor Yui. Yui is like Ritsuka, she's just a normal high school girl whose wellbeing is at the mercy of supernatural beings. They both are reverse-harems as well!
---
2. High School Star Musical (Starmyu)

Episodes: 12
Aired: October 2015 - ongoing
Ayangai Academy is a school that focuses on music, but it has a musical department that is difficult to enter. You have to be accepted into the Star Frame Class, which is taught by the top students of the musical department, also called the Kaou-kai. This is a story that follows Hoshitani Yuuta, Nayuki Tooru, Tsukigami Kaito, Tengenji Kakeru, and Kuga Shuu who have been selected by the Kaou-kai's Ootori Itsuki. In order to achieve their dream, they have to work together, but can they get along enough to do that?
Dance with Devils has a musical aspect of it when the characters do break off into song and dance, so a great anime this season with the same features would be High School Star Musical. High School Star Musical has singing, dancing, and bishounen, but it also takes a look at the bond between these five select students as they learn to work together to become the best. Think of it as an anime similar to Dance with Devils without any girls to take up the screen time of your favorite guys.
---
3. Kamigami no Asobi

Episodes: 12
Aired: April 2014 - June 2014
Kusanagi Yui is an ordinary high school girl, but she has been selected by Zeus to attend a school for gods. At this school, Yui has to teach the other young gods about what it means to be human, but can she do that when they have no interest in humans?
Kamigami no Asobi takes a look at a different side of the supernatural with gods instead of demons. The protagonist is another important human amongst a harem of very extraordinary bishounen. Kamigami no Asobi is also set in a school setting, much like Dance with Devils. You'll enjoy watching as you learn that although these gods have no care for humans, they are actually quite human inside.
---
Any Animes Like Dance with Devils ?
4. Hakuoki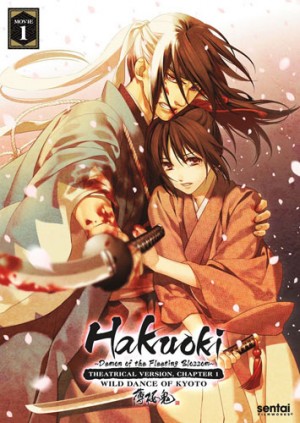 Episodes: 12
Aired: April 2010 - June 2010
Yukimura Chizuru has traveled to Kyoto to find her father who she hasn't heard from since he left on a job. Chizuru ends up witnesses a fight between the Shinsengumi and an oni. The Shinsengumi take Chizuru back to their base to figure out what to do with her until they find out that she is the daughter of the doctor that they have been searching for. Chizuru finds herself under the protection of the Shinsengumi as she attempts to find out more information about her father, but along the way Chizuru will come across many mysteries, secrets, and perhaps love in her journey.
Although both stories are set in different eras, the protagonists find themselves in very similar situations. Ritsuka was trying to find her mom while Chizuru is searching for her dad. They both find themselves being protected by a harem of bishounen with secrets that they both would never have imagined. If you are seeking a story of political struggle, drama, and the honor of the samurai, then you will enjoy watching the Shinsengumi in Hakuoki.
---
5. Hiiro no Kakera

Episodes: 13
Aired: April 2012 - June 2012
Fairy tales are not all princes and pixie dust. Tamaki finds herself attacked by fabled creatures, but luckily, she is rescued by an amazing boy who is part demon. Tamaki soon learns that she has inherited the destiny as a Tamayori princess, but before she can take that all in, she has to attend a new high school as well. Can she handle the destiny given to her or will she shy away from fate?
Much like Ritsuka, Tamaki has found herself in a situation that she never even dreamed of that defies logic. Well, her human logic, anyway. Both protagonists are just ordinary girls with extraordinary fates who are under the protection of a group of special guys. Although Tamaki may not be the strongest, she's no pushover either. If you want a supernatural anime with a stronger protagonist than some of the more recent reverse harems, you may want to see what Tamaki has in store for you.
---
6. Uta no Prince-sama Maji Love 1000%

Episodes: 13
Aired: July 2011 - September 2011
Haruka has dreamed of becoming a composter so that she can write for her favorite idol so she entered Saotome Academy, a school dedicated to the performing arts, so she can achieve her dream. Haruka finds herself surrounded by many talented people and the staff are all idols! At this school, Haruka must find a partner to work with, but who will she choose?
Although Ritsuka has sung in Dance with Devils, Haruka in Uta no Prince-sama prefers to be in the back and compose the music that we see featured in Uta no Prince-sama. The male characters provide the musical scenes that make this anime similar to Dance with Devils. The males in this reverse harem have their own issues and dreams, but watch as they overcome their difficulties to achieve their dreams.
---
Not just any reverse harem or bishounen anime will do. Dance with Devils has been a great anime so far this season with its varied aspects that will keep you entertained. Hopefully this list will introduce you to some similar anime that will keep you satiated until the next episode.
If there are any anime you think should be included in this list, please let us know! Opinions are always welcome!
---