También puedes leer este artículo en:Español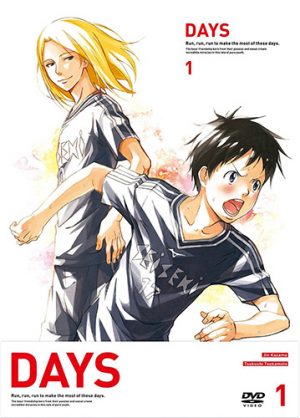 Based off of the ongoing slice-of-life comedy/sports manga, Days premiered in the summer of 2016, delighting fans of the genre and newcomers alike. The story follows the struggles of Tsukushi Tsukamoto, a shy klutz regularly bullied by his peers, who is about to start a new academic life at Seiseki High School with his childhood best friend, Sayuri Tachibana. On his way home from visiting Sayuri, he is rescued from his bullies by Jin Kazama, a nunchaku-wielding soccer wiz who invites Tsukushi to join his team for a pick-up soccer game, since they're a man down.
Tsukushi agrees, but he proves to be just as much of a clumsy oaf on the pitch as he is in his day to day life. Despite his abysmal performance, he hustles the entire game, which inspires the other members of the team, including Jin. He lucks into scoring the game-winning goal (though not without suffering some serious physical harm in the process), and when he learns that Jin is also attending Seiseki High, he decides to join the team as well, completely oblivious to the fact that Seiseki's team is nationally famous, and the spotlight of the soccer community.
Part of what makes Days such a charmer, even for viewers uninterested in sports, is the warm-hearted message at the heart of the series. Tsukushi embodies the notion of "where there's a will, there's a way," and his persistence and endurance is a motivation for more talented teammates, as well as the opposition. The series deals mostly with the trials and tribulations of being in a high school sports club, with hefty doses of physical comedy, but always seems a bit more than the sum of its parts. With that in mind, here are 6 Anime fans of Days are sure to love!
Similar Anime to Days
1. Haikyuu!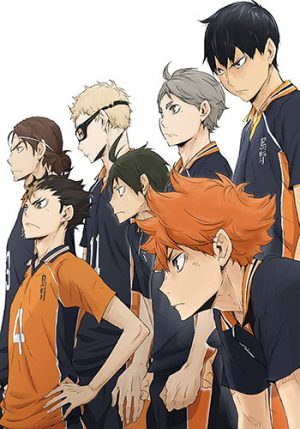 Episodes: 25
Aired: April 2014 – September 2014
Shouyou Hinata revives the volleyball club at his junior high school after watching the inspiring plays of an ace volleyball player nicknamed "The Little Giant." The newly formed team of ragtag misfits manages to make it to a tournament, which is both their first and last, as they are crushed by the vaunted "King of the Court," Tobio Kageyama. Rather than be discouraged, Hinata is inspired by Kageyama's performance and vows to surpass him one day.
Fast forward to high school, where Hinata joins the volleyball team at Karasuno, only to find that one of his teammates is his rival, the one, and only Kageyama. Haikyuu! follows both Hinata and Kageyama as they set aside their rivalry and learn to work together as a team while working out their flaws both on and off the volleyball court, for their team to reach new heights.
Like Days, Haikyuu! should be requisite viewing for fans of slice-of-life sports comedy. Along with the other entries on the list, the series perfectly captures the inherent drama of high school life, built on the foundation of the relationship between its two memorable main characters, as they learn to set aside their differences for the sake of the game, and the surprising friendship that blooms as a result.
Haikyuu! Official Trailer
---
2. Baby Steps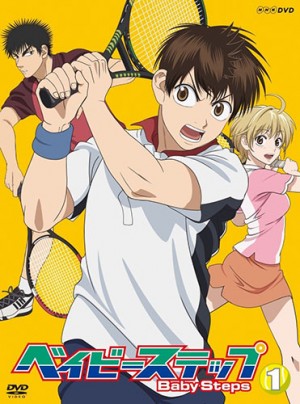 Episodes: 25
Aired: April 2014 – September 2014
Eiichiro Maruo is a brainy honor roll student in his first year of high school. Worried about his physical well-being due to the stress of maintaining his grades, and the lack of exercise inherent in his sedentary lifestyle, he finds a flyer for a tennis club and decides to check it out. After witnessing the grace and athleticism of the club's members, he decides that it's the shot in the arm his life needs, and decides to join.
Although Eiichiro has no natural athletic ability, he approaches tennis with the same meticulously analytical mind that makes him such a talented student. He takes notes of his opponent's abilities, and his strategic analyses allow him to predict shots his opponents will make before they've even made them. Inspired by fellow club member Natsu Takasaki, and her inherent love of the game, Eiichiro slowly reevaluates his priorities and his own feelings about the sport.
Another fish-out-of-water series perfect for fans of Days, Baby Steps blends familiar elements of sports and school life genre aficionados would expect, but also adds a substantial dose of budding romance between Eiichiro and Natsu. As much as it is a series about sports, it's also a series about growth and has a highly inspirational message about following the path that is right for you.
---
3. Kuroko no Basket (Kuroko's Basketball)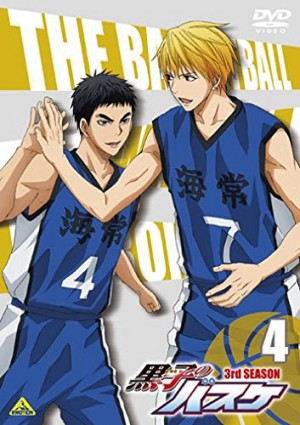 Episodes: 25
Aired: April 2012 – September 2012
The basketball team of Teiko Junior High School rose to national fame by demolishing the competition and winning the championship three years running, thanks to the efforts of their five-star players, who become fan-favorites nationwide. These five players, known as "The Generation of Miracles," graduate from Teiko and go their separate ways to high school, fated to meet on the court again as adversaries.
At Seirin High School, two freshmen who join the school's team are more than what they seem. Taiga Kagami is a promising player returned to Japan from a stay in the United States, and Tetsuya Kuroko is an unobtrusive-seeming player who escapes the attention of opponents and was the sixth "phantom" member of the Teiko team. He proves himself to be an incredible teammate, capable of making passes and assists right under the opposing team's noses. Kuroko no Basket follows Seirin's team as they struggle to make their mark in the high school basketball circuit, all the while coming up against the god-like abilities of the members of "The Generation of Miracles."
Fans of Days have plenty to sink their teeth into, even if the series isn't about the same sport. As a comedy school series based on competitive sports, the parallels seem obvious. One of the unique aspects of the series that fans should appreciate is the sportsmanship inherent in matches where previous teammates are forced to go head to head, with everything on the line, and the challenges found on the journey to the top.
---
Any Anime Like Days?
4. Over Drive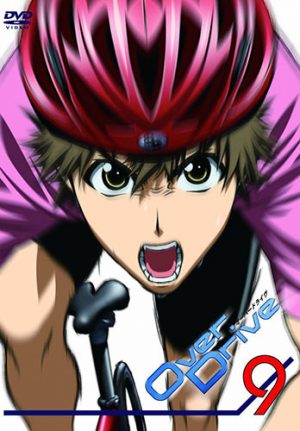 Episodes: 26
Aired: April 2007 – September 2007
Over Drive is a series that begins at the end; Shinozaki Mikoto is about to make history as a young Japanese cyclist from a small town on the verge of winning the world's most prestigious cycling event, the Tour de France. Flashback to a conversation he has with his high school crush, Yuki Fukuzawa, who convinces him to join the cycling club on a whim, without ever having participated in any sporting events.
While the president of the club, Yousuke Fukazawa, is a famous road cyclist (and older brother to Yuki) who somewhat dismisses Shinozaki, the club's vice president, Kouichi, sees the makings of a potential champion. The series follows Shinozaki's journey from a clumsy upstart with a crush to a true athlete driven by his love of the sport, and the supportive and challenging members of his cycling club.
Like Days, Over Drive follows an initially untalented main character on their journey to self-actualization, and discovery. The backbone of the series are the budding relationships between club members, and although there's less reliance on comedy, there are plenty of ups and downs to keep fans of the genre glued to their screen through all 26 episodes.
---
5. Ookiku Furikabutte (Big Windup!)

Episodes: 25
Aired: April 2007 – Spring 2007
Ren Mihashi is the ace pitcher of his junior high school's baseball team in Saitama prefecture. Although quite skilled on the mound, his team regularly loses due to poor communication and teamwork, and Ren is often blamed by his teammates and treated like a punching bag. Because of the constant negativity and bullying, Ren graduates from junior high with terrible self-esteem and decides to attend a different high school in a neighboring prefecture to start fresh, with absolutely no intention of reliving the pain of life in the baseball club.
But Coach Momoe of Nishiura High School has a different plan. After seeing Ren practicing the fundamentals, he convinces him to join the team as the starting pitcher. Unlike his team in junior high, he finds the members of Nishiura's club accepting and encouraging, and under the mentorship of the team's catcher, Takaya Abe, he slowly begins to regain his confidence in his abilities, and his worth as a person.
Although the series is about baseball instead of soccer, there's still plenty to love for fans of Days. Main character Ren is like Tsukushi as a fish out of water on his journey to realize his own potential. As a slice-of-life series centered around high school sports culture, there are doses of heart-warming growth, as well as the humor that characterizes adolescence.
Big Windup! Trailer
---
6. Area no Kishi (The Knight in the Area)

Episodes: 37
Aired: January 2012 – September 2012
Brothers Kakeru and Suguru are both completely obsessed with soccer. Where older brother Suguru becomes a rising star in the sports community, Kakeru has trouble keeping up due to a past trauma resulting in a leg injury and decides to spend time off the field, accepting the role of team manager. Things change for both kids forever when, one fateful day, they are both hit by a truck.
With Suguru pronounced brain dead by doctors and Kakeru in critical condition, their family makes the unthinkably difficult decision to have Suguru's heart transplanted to Kakeru. When Kakeru is discharged from the hospital, he abandons his soccer aspirations, although he reconsiders his decision when his childhood friend Nana steers him to join the team at Enoshima High School after he saves the life of a girl by kicking a ball with his injured leg. With the heart of his older brother guiding him on the field, does Kakeru have what it takes to realize his brother's dreams of soccer stardom?
As a sports anime that revolves around soccer, and is based off a shonen manga, Area no Kishi is perfect for fans of Days. Although it has some heavier themes due to its premise, it still offers plenty of slice-of-life moments of easy comedy, buoyed by the relationship between Nana and Kakeru, and never collapses under the weight of the tragedy at the heart of the story.
Area no Kishi Trailer – Japanese
---
Final Thoughts
With that, our recommendations for fans of Days comes to a close. With so many hallmark entries in the sports genre of anime, there are almost too many shows to choose from. There are undoubtedly deserving shows that didn't make it on the list, so why not sound off in the comments section and share the wealth!
After all, we could all use a dose of the life lessons that make sports anime so enjoyable, even for viewers disinterested in the sports themselves.
---