Denki-gai no Honya-san is in a league of its own when it comes to quirky comedy anime.
Following the hijinks of the seven workers at the Umanohone bookstore, Denki-gai no Honya-san excels at off-the-wall comedy. From the zombie-loving Fu-girl, to the manga expert Sommelier, the characters in this show are one of the major selling points. Each character gets their time to shine with the comedic gags and an opportunity to find love.
Anime like Denki-gai no Honya-san is hard to pull off. Between juggling and developing so many characters, and trying to make it all humorous at the same time, it's easy to get lost in the plot. However, when it's done right, they are some of the best anime around. So, for those of you pining for some more great comedy, we've put together a list of 6 anime like Denki-gai no Honya-san.
Similar Anime to Denki-gai no Honya-san
1. Blend S

Episodes: 12
Aired: Oct 8, 2017 to Dec 24, 2017
Blend S follows the story of Maika Sakuranomiya, a high school girl trying to earn money to study abroad, but her facial expressions have kept her from finding one. After a chance meeting with Dino, the owner of the cafe Stile, Maika is given a job as a waitress. Cafe Stile's waitresses are all assigned exaggerated personality traits, allowing Maika to put her face to use and become the 'sadistic' waitress. With a myriad of colorful characters like Kaho Hinata the tsundere and Hideri Kanzaki the cross-dressing idol, this workplace comedy provides you with all the laughter you could ask for.
Being the newest show on this list, Blend S must live up to all the anime that came before it. While this workplace comedy may have slightly tamer humor than Denki-gai no Honya-san, Blend S proves it has a place among the great comedy anime. The seven main characters, create for a more lively setting with always something going on to laugh at. Both shows have a little bit of everything as far as comedy goes, so everyone can find something they like.
Blend S Official Trailer
---
2. Acchi Kocchi (Place to Place)

Episodes: 12
Aired: Apr 6, 2012 to June 29, 2012
Tsumiki Miniwa is a petite girl who has a crush on her close friend Io Otonashi. Although Io is oblivious to Tsumiki's crush, he still feels very close to her. Together with their friends, Mayoi Katase, Hime Haruno, and Sakaki Inui, they get into all sorts humorous situations at school. From visiting the arcade to having a snowball fight, anywhere they may show up, laughter is sure to follow.
A lot of the comedy in Acchi Kocchi stems from the relationship between Tsukimi and Lo. Although the focus is on the two main characters, you never feel that any of the secondary characters are being left out, similar to the many characters in Denki-gai no Honya-san. The shows feature many similar qualities like the strong characters and some quick one-off comedy bits. Acchi Kocchi is a great comedy with a sprinkle of romance that can stand side by side with Denki-Gai no Honya-san
---
3. Working!!(Wagnaria!!)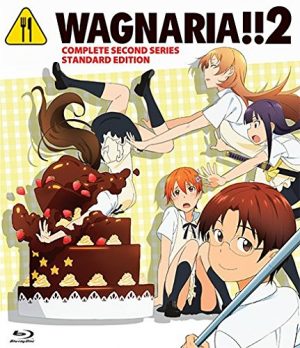 Episodes: 13
Aired: Apr 4, 2010 to Jun 27, 2010
When Popura Taneshima is asked by her manager to find a new employee for the family restaurant Wagnaria, she sets out to find one. After not having much luck, Popura runs into the Souta Takanashi, a student from her school. After a slight misunderstanding due to Popura's childlike appearance, Takanashi agrees to take the job. Takanashi quickly adjusts to life at Wagnaria. With a lackadaisical manager, a chief of staff that carries a katana, and a man-hating coworker, Takanashi's life gets a whole lot more interesting.
Working!! is the closest thing to Denki-gai no Honya-san on this list. From the workplace comedy to the many romance side-stories, Working!! is able to hit many of the same emotions that Denki-gai no Honya-san hits. Working!!'s comedy comes at a slightly slower pace, focusing on longer gags as opposed to the shorter quicker gags of Denki-gai no Honya-san. What makes Working!! stand out among the anime on this list is its length. With 3 seasons and even a spin-off show, Working!! has enough content to keep you laughing for ages.
---
Any Anime Like Denki-gai no Honya-san ?
4. Himouto! Umaru Chan

Episodes: 12
Aired: Jul 9, 2015 to Sep 24, 2015
Himouto! Umaru-chan follows Umaru Doma, a high school girl who lives with her brother, Taihei. While she is at school, Umaru is the perfect student, but once she gets home, her true self comes out. Selfish and lazy, Umaru does nothing but lay around playing games and snacking, while forces her older brother to do all the housework. Although her best friend Ebina Nana only knows the perfect side of Umaru, Umaru is able to befriend others while in her other personas. Umaru eventually befriends the shy Kirie Motoba while in her "at home" form and becomes rivals with Sylphynford Tachibana while under the alias UMR at the arcade.
While not having as many characters to create different comedic situations like Denki-gai no Honya-san, or any major romance elements, Himouto! Umaru-chan's strength comes from Umaru. Himouto! Umaru-chan is able to focus on the comedy, providing the viewer with a style that makes it stand out. The situations Umaru finds herself in are often hilarious and pay homage to some classic anime and video games.
Himouto! Umaru-chan OP
---
5. Nichijou - My Ordinary Life

Episodes: 26
Aired: Apr 3, 2011 to Sep 25, 2011
Nichijou follows the life of everyday high schoolers, Yuko Aioi, Mio Naganohara, and Mai Minakami. Their lives may seem at first to be mundane, but that is far from the case. Normal situations like lunchtime and the principal finding a deer on school grounds are turned into outrageous and comedic. Nichijou also features a robot girl Nano Shinonome and her eight-year-old creator Professor Hakase Shinonome. Nano believes her being a robot is a secret, however, everyone around her already knows due to the key in her back. Wherever the characters in Nichijou go, outrageous situations are sure to follow.
Similar to Denki-gai no Honya-san, Nichijou exceeds at fast-paced outrageous comedy by turning everyday situations into things you wouldn't expect. While there are a few romance aspects, they are mostly used for comedic purposes. The humor falls right in line with what Denki-gai no Honya-san does, but it is a bit more child friendly. With some slight ecchi elements in both shows, Nichijou plays it off in a much more silly and childish way. Overall Nichijou is a light-hearted comedy and is perfect for brightening up your day.
Nichijou - My Ordinary Life - Opening
---
6. Servant X Service

Episodes: 13
Aired: Jul 5, 2013 to Sep 27, 2013
Servant x Service features three new hires at a government office building. One of those new hires is Lucy Yamagami. Lucy's parents had difficulties deciding on her name, so her full name is Lucy Kimiko Akie Airi Shiori Rinne Yoshiho Chihoko Ayano Fumika Chitose Sanae Mikiko Ichika Yukino Reina Eri ... Yamagami. Due to her absurd name, Lucy decides to become a civil servant at the same place as the man that legally approved her name. Lucy's goal is to find out who approved her name and get revenge, but before she can accomplish that, Lucy has to become a model employee. Lucy, along with the slacker Yutaka Hasebe and Saya Miyoshi who has never had a job before, must get used to their wacky new world.
Servant x Service's premise is both absurd and funny, straying a bit from the random more episodic style shows on this list, Servant x Service focuses more on the major plot of Lucy's journey while throwing in some side gags along the way. The romance is slightly more prevalent than Denki-gai no Honya-san, but at its core, Servant, x Service is still focused on the comedy. With strong relationships between the main characters Servant x Service is able to give you a sense of real comradery between the people in the workplace, much like Denki-gai no Honya-san.
TV Anime "Servant x Service" PV 7 (English Subbed)
---
With so many anime having slice-of-life and comedy aspects, when you see an anime that just features them, it's easy to think you've seen it before. But, when they are as well executed like the shows on this list, it's easy to see why they are all so good. There is nothing better than a great comedy. Are there any anime you feel should be on the list? Please comment below.