Diamond no Ace was born as a manga in 2006, by the amazing Yuuji Terajima. In 2013, it gained an anime adaption, and its popularity grew so much that it received a second season in 2015, and a third one for the current season. The story revolves around Eijun Sawamura, a middle school boy playing baseball, whose dream to win the championship fell into pieces right because of a wild pitch, thrown by Eijun himself. Unable to give up, Eijun plans to enroll in high school with his teammates, and try once again to build a road toward victory. Yet, Seido High School's baseball team scouts him, and the day of the campus visit Eijun forms a battery with the catcher Miyuki. The experience brings back the passion for baseball that Eijun had lost because of the previous lost games.
In the third season, called Diamond no Ace: Act II, the story picks up one year after the fall tournament. Eijun and his teammates get ready to face new opponents and old rivals at Koshien tournament. Like every other spokon anime, Diamond no Ace: Act II is full of adrenaline, and it keeps the viewers glued to the screen. That's why we thought of a list of six other anime that share with Diamond no Ace: Act II the same good vibes, revolving around sport, and hot-tempered boys ready to give their best! Stick with us until the end to discover our picks!
Similar Anime to Diamond no Ace: Act II / Similar Anime to Ace of the Diamond act II
1. Haikyuu!!: Karasuno Koukou vs. Shiratorizawa Gakuen Koukou (Haikyu!! 3rd Season)

Episodes: 10
Aired: October 2016 – December 2016
After defeating Aoba Jousai High, the Karasuno High arrived to the core of the Spring tournament. In order to advance to nationals, the Karasuno team has to face the Shiratorizawa Academy – the strongest team. This is the last chance for the third-year students to qualify to nationals, so with determination, and using all what they have, the Karasuno players will try their best to win!
Haikyuu!! and Diamond no Ace: Act II are both adrenaline-filled spokon shows, on the same wavelength. In fact, watching these shows means being constantly on the edge of your chair, cheering for your favorite team, and enjoying good action. In particular, Haikyuu!! 3rd Season and Diamond no Ace: Act II, both at their third season, finally demonstrate what perfect teamwork looks like. The characters work together in order to face strong rivals, putting all their efforts into it. If you are enjoying one, you should catch up the other!
Haikyuu!! 3rd Season PV:
---
2. Ookiku Furikabutte (Big Windup!)

Episodes: 25
Aired: April 2007 – September 2007
During middle school, Ren Mihashi was the ace of the baseball team. Because of his poor pitching, the team suffered constant losses, until Mihashi's teammates began to bully him. Therefore, after graduation, he decided to go to the Nishiura High in a different prefecture, with no intention of playing baseball anymore. Upon his arrival, though, Mihashi is immediately dragged into joining the baseball team. Unwilling and with low self-esteem, Mihashi joins the team as the starting pitcher: this decision will change his life for good!
Ookiku Furikabutte and Diamond no Ace: Act II are both realist sports anime, based on baseball. Both these shows feature exciting moments, adrenaline-filled scenes, and even comedy. Mihashi and Eijun are both pitchers sharing a past of lost games, who eventually come to know their worth thanks to a proper coaching. As a seinen anime, Ookiku Furikabutte focuses a lot on explanations about baseball, while shounen anime Diamond no Ace builds up tension and cliffhangers. That's why you can consider Ookiku Furikabutte a more mature version of Diamond no Ace: Act II.
Big Windup! Trailer:
---
3. Yowamushi Pedal

Episodes: 38
Aired: October 2013 – July 2014
Sakamichi Onoda is eager to join the anime club of the new high school, and make some new friends. Sadly, though, he soon discovers that the club has been disbanded, so while willing to revive it, he can't seem to find members. One day, Onoda decides to make a round trip to Akihabara, on his old bicycle, when he meets Shunsuke Imaizumi, another first year student and a cyclist. Imaizumi is surprised at Onoda's ability to climb the hill with that old bicycle, so he challenges him: if Onoda wins, Imaizumi will join the anime club. That's Onoda's starting point in the world of bicycle racing!
Yowamushi Pedal and Diamond no Ace: Act II are sports anime that explore friendship, teamwork, and dedication. In both these shows we witness the characters' growth, as they learn what it means to rely on others, in order to make the team progress. What's more, both Yowamushi Pedal and Diamond no Ace are very realistic: they don't rely on supernatural twists, but rather rely on the characters' efforts. So, if you are enjoying Diamond no Ace: Act II and its good vibes, exciting games, and cliffhangers, you should give Yowamushi Pedal a chance, too!
Yowamushi Pedal PV:
---
Any Anime Like Diamond no Ace: Act II ? / Any Anime Like Ace of the Diamond act II?
4. Days

Episodes: 24
Aired: July 2016 – December 2016
Tsukushi Tsukamoto is a teenager about to start high school. He is shy, clumsy, and without any special skills. One stormy night, while he was being bullied, an eccentric guy named Jin Kazama comes to his rescue. Surprised by Tsukushi's tenacity against the bullies, in spite being a weakling. Soon after, Tsukushi and Jin realize that they will attend the same high school, and will be classmates. Not only that: as Jin is a soccer genius and Tsukushi will join the soccer club with him!
Days and Diamond no Ace: Act II share some important traits, aside being both sports shows featuring soccer and baseball. The main characters – Eijun and Miyuki/Tsukushi and Jin – are completely different from each other, surrounded by amazing teammates, who get well-developed, as well. Both the schools our protagonists enroll at have powerhouse sports club, carrying high expectations. Days and Diamond no Ace share a rapid pace, tension and cliffhangers; they give off the same good vibes, and their plot is absolutely engaging. You're bound to like Days, all the more if you're enjoying Diamond no Ace: Act II!
Days PV:
---
5. One Outs

Episodes: 25
Aired: October 2008 – April 2009
Lycaons is a weak baseball team, often ranked at the bottom of the league. Kojima Hiromichi is Lycaons ace batter, willing to lead the team to victory, but unable to. While on a training camp in Okinawa, Kojima stumbles upon a game named "One Outs", which is a gambling derivative of baseball. He meets Tokuchi Toua, who achieved 499 wins in that game, and suddenly realizes what his team is lacking. Kojima scouts the pitcher, hoping that he will eventually lead the Lycaons to victory, but what will come out of this decision?
One Outs and Diamond no Ace: Act II are both anime revolving around the baseball world. Even though they have completely different premises, what doesn't change is the amount of tension, and adrenaline-filled scenes the viewers witness. You can almost consider Diamond no Ace: Act II the younger version of One Outs, which is a seinen anime and therefore it focuses more on strategy, and psychology. Both these shows feature teamwork, determination, and dedication toward a common goal, so if you liked one, you'll like the other all the same!
---
6. All Out!!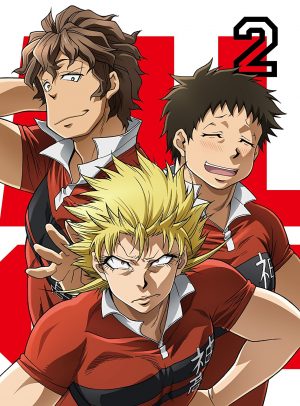 Episodes: 25
Aired: October 2016 – March 2017
Kenji Gion enrolls at the Kanagawa High School, craving to join a club. There, he meets Sumiaki Iwashimizu, a boy with a complicated past with rugby. Gion and Iwashimizu happen to see the rugby club during a training session, and it's all what it takes for Gion to become curious about that sport. Led by a burning desire to be part of the team, Gion manages to have Iwashimizu join, as well. With a skillful leader like Captain Sekizan, Gion and his teammates will cooperate to make the team grow stronger!
All Out!! and Diamond no Ace: Act II are both spokon anime, with a high school setting. One of the most important things they share is the realistic approach to the sport, as the hard work prevails over the talent the characters are usually supposed to have. Both Gion and Eijun have an optimistic personality, and face the challenges head on. Another important trait All Out!! and Diamond no Ace: Act II share is the importance of teamwork, and the coach-team relationship is very similar, too. Even though All Out!! is a bit more mature – since it's a seinen – than Diamond no Ace, these two shows share even a funny comedy parts. If you like one, you'll like the other for sure!
All Out!! PV:
---
Final Thoughts
This is how our list comes to an end! How did you like it? We tried to put in it six other wonderful shows, sharing with Diamond no Ace: Act II the most essential traits. By picking up one of these anime, you'll find yourself sucked in amazing matches, adrenaline-filled actions, and even lighthearted moments – which never hurts! Whether you are spokon fans, or you just approached this genre thanks to Diamond no Ace, be sure to give one of these six a shot. As always, let us know what you think in the comments below. See you next time!
---