It's a new season full of new possibilities, including this show about an over-the-top team of ecchi superheroes, or HxEros to be more precise, fighting against weird bug people bent on censorship and feeding off of human's desires, which could also arguably describe this show as a whole if you want to give this series a hard time over its "buy the blurays!" fog, rays of light, sparkles, etc. It's all fun, though, following Retto, Kirara, and co. as they work through their own relationship and the struggles of their attacks blasting away their own clothes.
In any case, today we have our picks for 6 other anime worth checking out if Dokyuu Hentai HxEros is something you've been enjoying so far. As usual, these anime recommendations will be based mostly on similarities in plot, genre, and subject matter as well as overall look and feel. Let's get started!
Similar Anime to Dokyuu Hentai HxEros / Similar Anime to Super HxEros
1. Shimoneta to Iu Gainen ga Sonzai Shinai Taikutsu na Sekai(SHIMONETA: A Boring World Where the Concept of Dirty Jokes Doesn't Exist)

Episodes: 12
Aired: July 2015 – September 2015
One of the most memorable ecchi comedies of the last five years, this absurdly long-titled anime is set in an alternate history version of Japan where incredibly strict morality laws, complete with weird electronic monitoring collars, suppress all forms of sexuality and obscenity from its citizens. The story follows high schooler Okuma Tanukichi who volunteers to help the student council to get closer to the president but soon gets wrapped up in an underground ecchi terrorist organization called SOX which spreads lewd material to fight the government and is secretly led by vice-president Kajou "Blue Snow" Ayame.
Shimoneta is definitely in the same vein as Dokyuu Hentai HxEros and arguably a much better execution of the idea of a group of righteous perverts taking on the evil forces of sexual suppression and both ecchi and comedy through and through. Amusingly, both series also have a flair for excessively obvious censorship with Shimoneta's weapon of choice being a logo featuring its cute garden eel mascot. Also great music, so definitely check this show out!
SHIMONETA: A Boring World Where the Concept of Dirty Jokes Doesn't Exist Trailer
---
2. Masou Gakuen HxH (Hybrid x Heart Magias Academy Ataraxia)

Episodes: 12
Aired: July 2016 – September 2016
Fueling mech power suits with lewd acts to better fight other invading mechs from another dimension is the basic setup for Masou Gakuen HxH. Humanity has largely retreated to giant floating structures called Mega Floats with their only defense against the enemy being weapons known as Heart Hybrid Gears which are embedded in their bodies. Although protagonist Hida Kizuna does have a HHG, he isn't really strong enough to make much use of it but instead finds himself powering up his female allies through erotic experiences.
So if you wanted more mecha in your harem super fighting team show, Masou Gakuen HxH has got you covered, complete with a bunch of chesty girls on both sides, albeit much less bug-like than in Dokyuu Hentai HxEros. That's really about it honestly, we'd say that Masou Gakuen HxH's music is also pretty solid like HxEros' but the main connecting line is using erotic power to fight the enemy.
Masou Gakuen HxH PV
---
3. Val x Love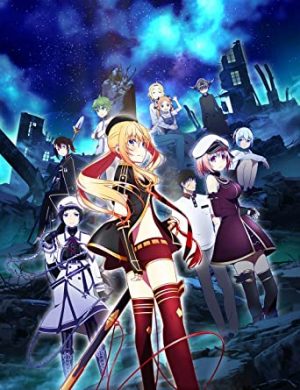 Episodes: 12
Aired: October 2019 – December 2019
Val x Love answers the question: "What if ecchi battling anime but also Norse mythology?" pretty well. Following Akutsu Takuma, a high schooler who has repeatedly attracted bad attention because of his scary-looking face which caused him to develop social anxiety, who unexpectedly is told by the god Odin that Ragnarok (the end of the world!) is approaching and that he must save Midgard (Earth) using the power of love. How does he do this? Odin also sends down nine of his Valkyrie daughters, strong warriors made even more powerful by well, you can probably guess where this is going.
Like Dokyuu Hentai HxEros, Val x Love is pretty much a standard ecchi comedy-action series built around a fighting team made up of our male lead and a plethora of cute girls he powers up with sex energy with Val x Love just having more ladies and the whole Norse mythology theming. Both also feature a blonde tsundere main girl if that's important to you. In any case, Val x Love is worth checking out for Dokyuu Hentai HxEros fans!
Val x Love PV
---
Any Anime Like Super HxEros / Any Anime Like Dokyuu Hentai HxEros ?
4. Kenzen Robo Daimidaler (Daimidaler: Prince vs. Penguin Empire)

Episodes: 12
Aired: April 2014 – June 2014
And we're back to ecchi mecha shows already with Kenzen Robo Daimidaler, and this is another weird one! Earth has been invaded by a bunch of penguin-ish aliens with penguin-ish mechs forming the titular Penguin Empire and humanity's best hope rests on a secret anti-penguin organization known as Beauty Salon Prince who has developed a super fighting robot of their own called Daimidaler. To pilot this mech, Madanbashi Kouichi is chosen since he can store and use "Hi-ERO" particles (sound familiar?) to power up his attacks which he gains, perhaps predictably, through various perverted acts.
Kenzen Robo Daimidaler is a bit like both Dokyuu Hentai HxEros and Shimoneta in how it revels in its own stupidity and arguably makes the most fun with it, leaning more into parody than those other two. It's an incredibly over-the-top series full of lewdness in both its comedy and fanservice and highly recommended for those looking for that. Especially if you like and are familiar with mecha series and tropes, Daimidaler is a strong recommendation for Dokyuu Hentai HxEros fans
Daimidaler: Prince vs. Penguin Empire Trailer
---
5. Date A Live

Episodes: 12
Aired: April 2013 – June 2013
With the world frequently in danger from massively destructive spatial quakes (or spacequakes) caused by mysterious girls simply known as spirits, high schooler Itsuka Shindou finds himself in the middle of a conflict between various organizations and the spirits and ends up getting recruited into one group, Ratatoskr, which is actually led by his little sister Kotori! Instead of fighting the spirits, they have found they can be calmed by making them fall in love so Shindou is recruited to do just that with some helpful training from dating sims in a very The World God Only Knows fashion.
So how does Date A Live compare to Dokyuu Hentai HxEros? There are definitely some similarities with its focus on using relationships/intimacy as a weapon even though Date A Live is less specifically pervy than HxEros, although there's still plenty of fanservice. Both are mostly self-aware shows not trying too hard most of the time and easy to enjoy for what they are. For HxEros fans wishing the show put more effort into the actual battles and a bit more substantial plot, Date A Live is a solid recommendation for more harem hijinks.
Date A Live Trailer
---
6. Binan Koukou Chikyuu Boueibu LOVE! (Cute High Earth Defense Club LOVE!)

Episodes: 12
Aired: January 2015 – March 2015
In lieu of recommending something like High School DxD to a crowd that has almost certainly already seen it, we're going with a bit of a wildcard pick for our last rec with Binan Koukou Chikyuu Boueibu LOVE!, a magical boy show revolving around the loveable gang of "Earth Defense Club" members who get magical super-powered transformations after a fateful encounter with a pink wombat at a bathhouse and fight evil monsters by defeating them with love!
Obviously, Cute High Earth Defense Club LOVE! has fanservice pointing in the other direction and is more of a gender-bent parody of magical girl anime than Dokyuu Hentai HxEros' more generic super team is but there's also quite a lot in common between them that fans should find enjoyable if lack of anime boobies isn't an issue. Both series have a big focus on using love to fight enemies in over-the-top fashion and don't take themselves too seriously. Binan Koukou Chikyuu Boueibu LOVE! is also just a surprisingly well-executed show that you might enjoy more than you'd expect so why not try it out?!
Cute High Earth Defense Club LOVE! Trailer
---
Final Thoughts
Altogether, Dokyuu Hentai HxEros may not be a conventional masterpiece of an anime but still one with the potential to be a fun part of its season. For those looking for something similar to check out after its finished airing or while waiting for new episodes, we hope that these other anime will bring you some joy! Feel free to let us know what you think of these picks, what series you might recommend, or any other thoughts in the comments section below! Be sure to stick around Honey's for more of all things awesome, anime and otherwise! Until next time, see ya~!
---