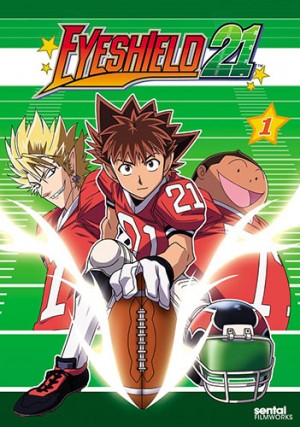 From its more than memorable main characters and supporting cast to its epic battles, Eyeshield 21 has taken the well-known "underdog" story and made it into a new creature all together. But Eyeshield 21 does not stand alone in this category. If you are looking for anime that will demand your attention in the same that Eyeshield has, then take a look into these six anime
Similar Anime to Eyeshield 21
1. Kuroko no Basket (Kuroko's Basketball)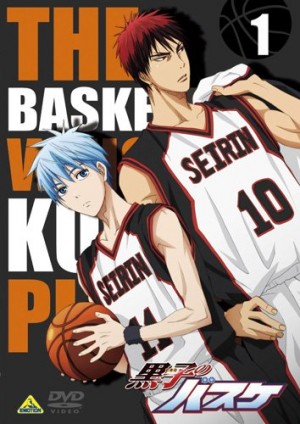 Episodes: 25
Aired: April 2012 –September 2012
Kuroko's Basketball is centered around the newly formed basketball team of Seinen High School, and the two freshmen who were making their debut on the team. Taiga Kagami, one of the freshmen, immediately stands out on the team due to his fiery and intimidating presence, as well as his unheard of skill that was honed on the shores of the U.S. The other freshman, Tetsuya Kuroko, seems to be polar opposites with Kagami in that he is constantly said to lack presence, as well as any notable skill worth mentioning. But surprisingly, it is discovered that Kuroko was a member of Teikou Junior High School's basketball team, the team that had claim to five legendary basketball players called the "Generation of Miracles".
With his undetectable presence, Kuroko had taken on the moniker "Phantom Sixth Man", and assisted his former teammates under the noses of their opponents. But, as the members of this dream team graduated and went their separate ways, a new rivalry was born, and Kuroko is made to face his former teammates as the teams battle for title of best high school basketball team in Japan.
This anime captures a similar feel to that of Eyeshield 21 in that it heavily focuses on the amazing abilities of the characters. The viewer is left gaping at the awesome power of the characters and wondering who will win at the end of every clash. Both also look to balance out the intensity of the matches with comedy. This gives the viewer time to relax and digest all that has occurred in the story, while still getting the opportunity to see a lighter, more jocular side of their favorite characters.
Anime "Kuroko's Basketball" CM 30 second ver.
---
2. Prince of Tennis (The Prince of Tennis)

Episodes: 178
Aired: October 2001 – March 2005
The Prince of Tennis is another anime that looks to carry some of the themes found in Eyeshield 21. Both do not fail to supply very quick paced action and notable battles between cast members. They both strive to pull at the viewer's heartstrings with emotional battles and scenes revealing the humanity of its characters. We also see great diversity in the characters. A cast with such a wide array of abilities and personalities not only allow viewers to connect and relate with the characters , but make the stories much more memorable. But Prince of Tennis is more of a story about a young boy looking to make a name for himself.
This series centers around Seishin Gakuen Junior High School, a school famous for its gifted tennis team. But the team is in for a shock when Echizen Ryouma, a twelve-year old boy who has already won four consecutive American Junior Tennis tournaments joins the team. With his no-nonsense work ethic, Ryouma looks to at first emulate his highly successful father's skills and moves, but with the help of his team, realizes that he must take his own path and carve a name for himself within the highly competitive world of tennis.
---
3. Shijou Saikyou no Deshi Kenichi (KenIchi: The Mightiest Disciple)

Episodes: 50
Aired: October 2006 – September 2007
Kenichi, like Eyeshield 21, takes on the ubiquitous "weakest link" of a character and makes him the one that you cannot stop cheering on. This sentiment is strengthened by the fact that both of the stories take place in high school and revolve around teenagers. This angle evokes reminiscent emotions within viewers, or currently applies to them, making the viewers remember and relate those very years of self-discovery. Thus, by being relatable, the viewers root for the main character even more.
This anime centers around Kenichi Shirahama, a high school student who is often the target for bullying. To become stronger Kenichi joins his school's karate club, but still fails to overcome his adversaries. But a glimmer of hope arrives before Kenichi in the shape of the new transfer student, Furinji Miu. Half-determined and half in a love struck daze, Kenichi joins Miu's grandfather's dojo, Ryouzanpaku. The basic training that he receives allows him to take down his enemies, but almost instantaneously makes him the target of newer and more precarious group of enemies by the name of Ragnarok. Thus Kenichi must learn a new gambit of martial arts to stand up against his foes and protect those he loves.
Kenichi: the Mightiest Disciple Collection One Trailer
---
Any Anime Like Eyeshield 21?
4. Haikyuu!!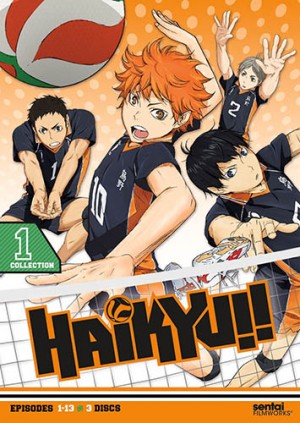 Episodes: 25
Aired: April 2014 – September 2014
This next anime looks into the world of volleyball from the eyes of Shouyou Hinata. Hinata is a junior high student who attained his love and appreciation for volleyball after watching championship matches on television. That burning desire to be on the court and emulate the championship star player "Little Giant", drove him to start a volleyball team at his middle school and convince his friends to join as well. But as fate would have it, his team is defeated in their first match by Kageyama Tobio, nicknamed the "King of the Court". But this does not discourage Hinata in the slightest.
After his crushing defeat, he swears to join the volleyball team in his high school and reap his revenge on Kageyama. At least, that was his plan until he learned that Kageyama is now his teammate. Though these two players seem like polar opposites, Hinata being small and energetic, and Kageyama being tall and stoic, they complement each other and look to put their rivalry aside to fight for the title of best high school volleyball team in Japan. Fans of Eyeshield 21 would immediately recognize that said anime and Haikyuu!! both carry the theme of heart-wrenching battle scenes, moments in the anime that really display the sense of family and humanity that the characters embody. These moments of reprieve are also seen in conjunction with comedic moments in both anime, allowing for moments of reflection and peace before the viewer is thrown back into the action.
Haikyuu!! Shonen Jump Official PV
---
5. Free! (Free! Iwatobi Swim Club)

Episodes: 12
Aired: July 2013 – September 2013
Free! and Eyeshield 21 both play deeply on the theme of childhood rivalry. They look to set a deep and emotional stage for the characters by looking into their past and finding out why they love their sport so much. They both also look to focus on very nonconventional main characters. That is to say, they highlight the growth of characters who the views may not be what one would consider "hero" material. Such a move allows for the viewer to really appreciate the growth of the character as the story progresses. But what sets Free! apart from Eyeshield 21 is that the story also focuses on regaining one's drive for what they love.
Nanase Haruka is a high school student who seems to have nothing on his mind but being in water. In his younger years, he was part of a swimming team with his friends Tachibana Makoto, Hazuki Nagisa, and Matsuoka Rin. After winning championships together, the four separated, and reunited in high school, all except Rin. But the crew unexpectedly meet Rin, who was thought to still be in Australia training and improving his swimming skills. One may expect Rin to give the three pals a warm hello, but instead Haruka is challenged to a swimming match. Haru is defeated, and Rin accepts his win with chagrin, saying that Haruka has fallen behind. Determined to defeat Rin, Haru joins with Nagisa, Makoto, and their newly made friend Ryugazaki Rei, and forms the Iwatobi High School Swimming Club.
Free! TV anime 2nd PV -Nanase Haruka ver.-
---
6. Slam Dunk

Episodes: 101
Aired: October 1993 – March 1996
Slam Dunk is an anime from the early nineties whose manga is one of the best-selling series in history. Its interesting storyline, memorable characters, and eye-opening scenes helped popularize basketball in Japan. This holds especially true with basketball gaining much popularity in the United States with players like Michael Jordan and Charles Barkley on the forefront of this phenomenon. The story centers around Hanamachi Sakuragi, a tall freshman student who is notorious for his bad temper and has the fiery red hair to match.
With his entrance into Shohoku High School, Sakuragi hopes to finally get a girlfriend after notoriously being rejected fifty times in a row. He feels that his prayers have been answered when he meets Haruko Akagi, the only girl who is not repulsed or afraid of him, only because she is unaware of the rumors about him. Haruko asks Sakuragi to do a slam dunk, and in an attempt to impress his new object of affection he tries to perform a slam dunk. He fails at it, but still manage to hit the backboard of the basket. Haruko, amazed at Sakuragi's inherent abilities, pushes him to join the basketball team, to which Sakuragi agrees, even though he greatly detests basketball. But he soon realizes that he loves the sport, and looks to lead his team to victory.
Slam Dunk is similar to Eyeshield 21 in that the viewers are given a great sense of the deep relationships that the teammates form with one another. Through that mechanism, the viewer is made to sympathize with the emotional struggles of the characters and remain glued to the screen to avoid missing one second of dialogue. The wide array of characters also plays a huge role in these anime. In both anime, the characters are given a wide array of talents which not only make the battle scenes more memorable, but they also reflect on real sports teams. Actual sports teams carry a gambit of different types of players, and this variety is not only what makes the team successful, but it also makes their matches interesting. This also holds true for the teams featured in these anime.
---
Final Thoughts
Eyeshield 21 has its charm, with its unique selection of characters and story arcs woven into an action filled package. But, there are still anime out there that can deliver the similar heart wrenching emotions and shock inducing reactions. This list looks to show just that, and give sports anime fans just what they need. But, if you feel that there are any titles that have not been given their proper dues, please let us know!
by Chinelo Ofoche
---