También puedes leer este artículo en:Español
Some shows are simply bound to be a hidden gem in the anime world. It is the case with Fune wo Amu. This is a slice of life anime that depicts the story of a little group of dictionary editors who struggle to compile a new dictionary called "The Great Passage". Fune wo Amu, as even the title suggests, starts with the premises that every dictionary is like a ship which is supposed to help people crossing the ocean of words, and it is a realistic portrayal of what lies behind the construction of a dictionary, which is a thing that probably most of us give for granted. If this plot could seem boring at a first glance, don't worry: the big range of interesting characters, but above all, the undisputed protagonist Majime Mitsuya, will prove you that this is a show worth watching. For those who already jumped on this ship and started this journey on board of "The Great Passage", we will try to give you six other anime which share something with Fune wo Amu. Be sure to check them out, if you're enjoying this trip so far!
Similar Anime to Fune wo Amu / Similar Anime to The Great Passage
1.Barakamon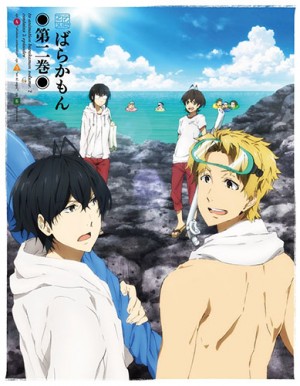 Episodes: 12
Aired: July 2014 – September 2014
The self-confident and handsome Seishuu Handa is a calligrapher who sees his world full of certainties going down crumbling when his award-winning piece is labeled as "unoriginal". While his world of self-confidence is broken, his father decides to punish him: he is exiled to the Goto Islands. Truth is, his father wishes for him to find a brand-new inspiration by experiencing hardships, and to learn how life isn't all about calligraphy. Torn apart and lost, Handa hopes to find at least peace on the Goto Islands... but little he knew about its inhabitants. His new life on the Goto Islands starts with a boisterous child called Naru that will revolutionize his life completely.
As for the similarities Barakamon shares with Fune wo Amu, we can start by saying that both are slice of life shows. The two protagonists, Handa and Majime, have to face a new environment, with new people and so they will have to put themselves on the line and struggle. Both these shows revolve around two uncommon themes, for Barakamon it's the world of calligraphy. There's a pleasant feeling while watching these shows, and you can see how the main character grows step by step, getting to know himself better. Even though Handa and Majime are characters on the opposite sides, they share a determination that will bring them to give their best. These two shows depict the reality and nice vibes that make you want to ask for more. It's not a stretch to say that if you are enjoying Fune wo Amu, you'll enjoy Barakamon all the same!
---
2. Shirobako

Episodes: 24
Aired: October 2014 – March 2015
The five members of the Kaminoyama High School animation club have to do their best on their first amateur work. After showing their work at the cultural festival, they make a promise to one day find a job in the anime industry and move to Tokyo. After two and a half years, Aoi Miyamori and Ema Yasuhara, two of the former five members of the Kaminoyama High School animation club, have turned that dream into reality. Hired by the Musashino Animation, nothing could seem to turn for the bad, they thought... and yet these two girls will face all the hardships to realize that the road toward your dreams is not always easy.
With Shirobako we are in front of another rare gem in the anime world. Exactly like Fune wo Amu, this anime teaches about the creation of something through sweat and efforts. While Shirobako talks about the creation of an anime, Fune wo Amu talks about the creation of a dictionary. Different subject, but the same basic idea. What's more, both these shows describes the awesome and sometimes harsh realities behind the process, so even with Shirobako we are once again in front of a show that doesn't stray from reality. If you are enjoying Fune wo Amu, but you'd like to see some female protagonists struggling like our Majime Mitsuya in Fune wo Amu, you will love Shirobako for sure!
SHIROBAKO PV
---
3. Showa Genroku Rakugo Shinjuu (Showa and Genroku Era Lover's Suicide Through Rakugo)

Episodes: 13
Aired: January 2016 – April 2016
Yotarou has just stepped out of prison and begging Yakumo Yuurakutei to become his apprentice. That is because during his time in prison, Yotarou had the time to fall in love with Yakumo's performances of Rakugo – a comedic Japanese story telling. With Yotarou's pleas which don't seem to stop, Yakumo has nothing left to do than to accept an apprentice for the first time. That is a good chance for Yakumo as well to revisit his past and remember a promise he did to his greatest rival and biggest friend – Sukeroku Yuurakutei.
Even though the period is different, these two anime share the same atmosphere. For starters, they both have mature themes and a similar art. In both, we find struggling industries, the Rakugo and the dictionary-making and the pace of both shows is slow and yet very smooth. The two main protagonists are also similar; we find in both shows two men who are on opposite sides. While one is easygoing and open, the other is awkward and shy. Yet, they help each other through everyday matters. These two shows share a realistic setting, with realistic happenings and relationships. If you are enjoying the atmosphere surrounding Fune wo Amu, you'll have the exact same feeling while watching Showa Genroku. Yes, but with more drama.
Showa Genroku Rakugo Shinjuu PV
---
Any Anime Like The Great Passage / Any Anime Like Fune wo Amu ?
4. Bakuman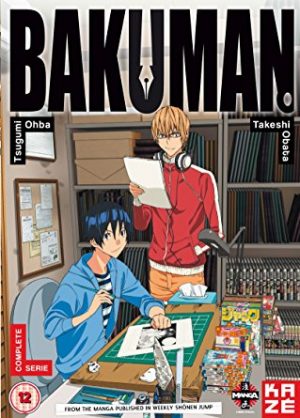 Episodes: 75
Aired: October 2010 – March 2013
Moritaka Mashiro – an aspiring illustrator – and Akito Takagi – an aspiring writer – have one dream. They want to create a manga, and so they decide to join forces and fight for their dream. Mashiro wants to follow his uncle's steps and become a famous mangaka, what's more he wants that the girl he loves – who is an aspiring voice actress – will someday voice one of the characters he drawn. Takagi wants to help Mashiro, and wants to see his own stories take form from Mashiro's pen. But little they knew about hardships; facing other artists, going against the tide, they will struggle to finally realize their dreams.
Bakuman and Fune wo Amu share a lot of characteristics. First of it all, both these shows describe all the efforts hidden behind the creation of something that all of us enjoy/use in the daily life. Their strong point is that all the processes are depicted in a way that never make the viewers feel bored, but they keep the curiosity set to high instead. Bakuman has a big range of different characters, who interact in a very realistic way; it's the same with Fune wo Amu. These shows are realistic and display in a very actual way how, step by step, what creating a manga, or a dictionary, feels like. If you like non-conventional protagonists, slice of life shows, and the feeling of reality, Bakuman must be the next step.
---
5. Chihayafuru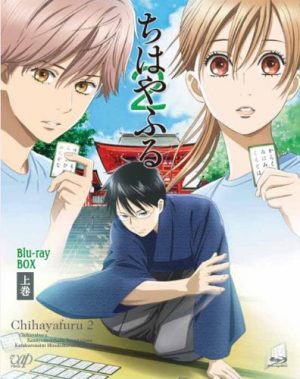 Episodes: 25
Aired: October 2011 – March 2012
Chihaya has always lived in the shadow of her sister. It's the fated meeting with Arata Wataya that changes her life. Arata introduces Chihaya to the world of karuta, which is a card game involving physical and mental skills. When Chihaya falls in love with karuta, she realizes she has a goal: to become number one in Japan. Together with Arata and her friend Taichi, the three of them spend their childhood playing karuta, until their roads split. Years after, during high school, Chihaya is once again stuck with karuta and has one dream: to create a karuta team and aim for the Omi Jingu Championship.
Chihayafuru and Fune wo Amu share an unusual theme, the dictionary-making and the game of karuta. Both these shows are oriented toward a mature audience, and the story develops slowly but surely. The main protagonist, Chihaya, is hardworking and focused on her goal, exactly like Majime in Fune wo Amu. Step by step, the relationships among all the characters develop and evolve, in a very realistic way. Even the atmosphere these two shows share is the same; they are both relaxing, but at the same time able to make you stick on the screen craving to know if our protagonists will manage to realize their goals. If you still haven't watched it, and right now you're loving Fune wo Amu, it's time for you to catch up.
---
6. Gin no Saji (Silver Spoon)

Episodes: 11
Aired: July 2013 – September 2013
Stressed by his parents, tired of trying to live up to their expectations, Yuugo Hachiken decides to enroll the Ooezo Agricultural High School in the Hokkaido countryside. Confident, and certain that he could make it, reality crashes onto him the moment he meets his new classmates. In fact, all of them are people who have been living in farms way longer than him, so they're talented at everything, from waking up early to dealing with all kind of animals. That's how Yuugo's struggles start, and his journey will lead him to know himself better and find his path and, eventually, love as well.
These two shows share the realistic taste we mentioned before. Both the main protagonists, Yuugo and Majime, are thrown into a world they aren't used to. Still, with determination and devotion they manage to blend very well in the new setting. These two shows are slice of life anime that stick to reality, even though in Gin no Saji the comedic moments are far more. Both these shows' pace is slow, and yet they never bore the viewers. We can see in both how the main characters struggles to adapt and, eventually, to change, and grow up. Once again, if you are enjoying the non-conventional Fune wo Amu, whose themes are realistic, with Gin no Saji you'll find the same nice vibes and good atmosphere.
Silver Spoon Trailer
---
Final Thoughts
This list is meant for the ones who are loving Fune wo Amu so far, and can't wait for next episode. You all can put up with one of these shows, while waiting weekly for a new episode. These six anime share with Fune wo Amu the main theme focusing on reality, and while some of them are oriented toward a mature audience, the others are likable by the youngsters as well. Our trip on the ship that brought us through six anime like Fune wo Amu comes to an end, but don't forget to share your opinion, nor to let us know if you know other anime that are similar. We hope you enjoyed the ride!
---