También puedes leer este artículo en:Español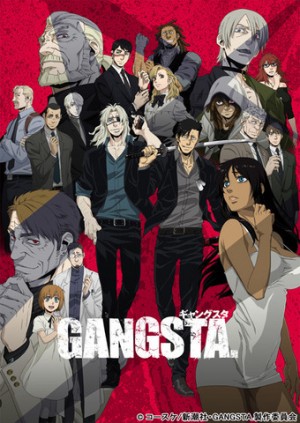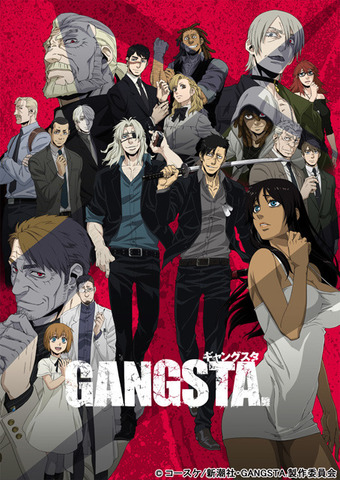 Gangsta... is quite the refreshing anime. Set in the dark city of Ergastulum, that could easily be placed anywhere from here to thirty years ago, it follows dirty cops, prostitutes, and the ever special handymen. Handymen take on the jobs that no one else wants to handle.
Nic and Worrick are a team of handymen that work together to take those jobs and make bank while doing it. When a new gang rolls in and tries to strong-arm other groups out, they take care of the job but there was a woman who saw everything. Rather than killing her, they take this woman in…
Gangsta is full of nonstop action. There are plenty of knife and gun fights. There's actually some drama as well and this show is a seinen aka it's geared toward young males. However, I think that anyone can enjoy this show. What's unique too is that one of the main handymen is deaf and that is not something that you ever see in anime. I hope you're watching it! With that being said, here are six anime similar to Gangsta...
Similar Anime to Gangsta.
1. Black Lagoon

Episodes: 12
Aired: April 2006 – June 2006
Black Lagoon is about a lawless crime district that exists in a fictional place within the Eastern China seas. Okajima Rokuro is sent on a business trip there to deliver a disk. As he does, unfortunately, the boat he's on gets hijacked by mercenaries. The next thing you know, the crazy female mercenary of the group, Revy takes a liking to him and keeps him along as a ransom. He is then hauled back to their lawless zone and becomes a member as they hunt down the disk to recover its precious contents.
Black Lagoon is just like Gangsta. and in fact, watching Gangsta. and watching Black Lagoon will almost feel like the same show at a few points. It's not, but you can sort of get that feeling. Action, fights, drugs, and violence are just a few of the similarities they hold. Black Lagoon, like Gangsta. also shows that grey side of the law that exists but it's necessarily recognized. Black lagoon, not to be biased, is in my top ten of all time anime, and I heavily recommend it to everyone!
Toonami - Black Lagoon Promo
---
2. Michiko to Hatchin

Episodes: 22
Aired: October 2008 – March 2009
Michiko to Hatchin follows super sexy and super dangerous wanted criminal Michiko as she has escaped from prison. She ends up collecting a girl named Hatchin who is being abused by her foster family. Together they set out on a journey to find a man who is connected to their past. The best part? Michiko is still being pursued by the police and gets into her fair share of hairy situations.
Michiko to Hatchin's comparable places to Gangsta. are, that Michiko to Hatchin is also set in a fairly lawless country that looks like Brazil. There is Portuguese everywhere in the show. Plenty of guns are in the show as well as a lot of fights. Michiko takes nothing laying down and she is not about to go back to jail.
Michiko to Hatchin Official English Trailer
---
3. Cowboy Bebop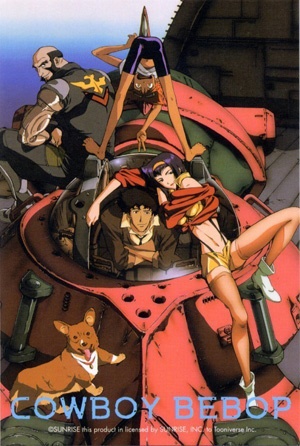 Episodes: 26
Aired: April 1998 – April 1999
Cowboy Bebop is one of those foundational anime and I'm sure you have seen it floating around the site here at Honey's. Here this time, the future has come and humanity has expanded outwards to space! Meet Jet and Spike, two bounty hunters who are not… the best at what they do. They search high and low to find their wanted criminals while being horribly broke at the same time.
Through some mishaps they acquire Faye Valentine, a vixen who is also a thief and a habitual gambler; Ein, a bioengineered super intelligent corgi; and Ed, a super-hacker who is very young and extremely gender indefinite. Together they set out throughout the universe to make some money and track down criminals with bounties on their heads.
When compared to Gangsta., Cowboy Bebop is a bit different, but yet still similar. Bounty hunters are given work by the police regularly like the Handymen in Gangsta.. Don't forget the chases and fights that they get into as well while hunting down people. While Cowboy Bebop is still a bit more into the future, it's still just as action packed as Gangsta.. There just may be some twists. Check it out to find more!
P.S. The creators of Cowboy Bebop also made Michiko to Hatchin!
Cowboy Bebop Trailer
---
Any Animes Like Gangsta. ?
4. Triage X

Episodes: 10
Aired: April 2015 – June 2015
Triage X follows nurses that are super intelligent and very good at their jobs. They may also be quite… shall we say, well-endowed. During the say, they work extremely efficiently to heal the sick and take care of the wounded. However, at night, they are actually a group of super-secret assassin mercenaries. Their jobs? To find the evildoers in their city and remove them before they can do more harm.
Here, Traige X also looks at fighting against criminal organizations aka what the handymen essentially do. You naturally have the fighting as well. There is also though prostitution, through the gangs that shows up as well. We can't forget to mention the copious amounts of blood in each show either. I mean come on… they kill people for a living.
TV Anime "triage X" preceding PV
---
5. Dogs: Bullets & Carnage

Episodes: 4
Aired: May 2009 – July 2009
Dogs give you a futuristic city again this time somewhere in Europe. This city extends many many levels down into the earth and they hold the key to the past. Ex-assassins with a penchant for weapons come together search for the truths of their own past. However, it may not be as easy as it seems.
Dogs, much like Gangsta., has some great action scenes and, dun dun dun!, sword wielding characters! The city itself also gives off old crime and mafia vibes. You also have criminal activities. This show is also a bit dar like Gangsta. giving it that perfect vibe.
DOGS : Bullets and Carnage AMV
---
6. Samurai Champloo

Episodes: 26
Aired: May 2004 – March 2005
Samurai Champloo is another type of anime that is a classic and you see it frequently here at Honey's. Samurai Champloo looks back at feudal Japan with three main characters; Mugen, the hot headed warrior; Jin, the more level headed, cool samurai; and Fuu, the young girl trying to hold everything down. Jin and Mugen couldn't be more opposite if they tried. After accidentally burning down Fuu's restaurant and a few mishaps, they agree to help Fuu find the samurai who smells of sunflowers.
One word; Tsuchie. He worked with Nujabes to make the Samurai Champloo soundtrack, and he also worked on Gangsta. as well! Samurai Champloo, like Gangsta., has two main male characters and one female character. Of course the bloody action fights are not something that you want to miss in either one. Obviously, Samurai Champloo focuses more on swords while Gangsta. is a mix, but both are awesome!
Samurai Champloo Official Trailer
---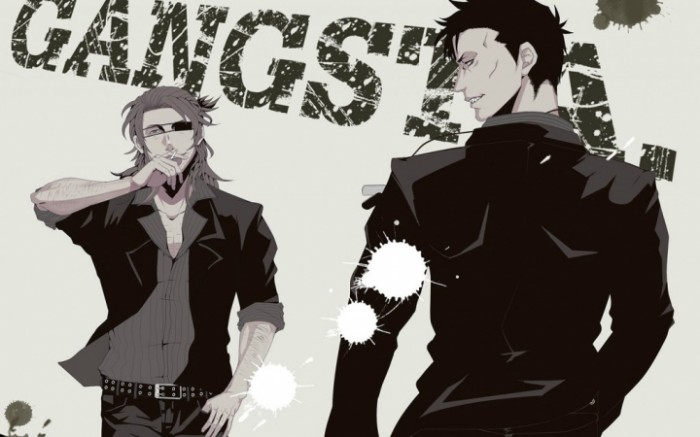 Whew and there you have it! Six anime similar to Gangsta.! I really hope you're enjoying all this new summer anime and especially Gangsta.. I had to dig for a few shows but some shows like Black Lagoon, Michiko to Hatchin, and Cowboy Bebop came to mind almost immediately as I saw this show.
Look forward to a full review once this show finally does finish, but until then, please keep enjoying Gangsta., Anime, and Honey's!
---