También puedes leer este artículo en:Español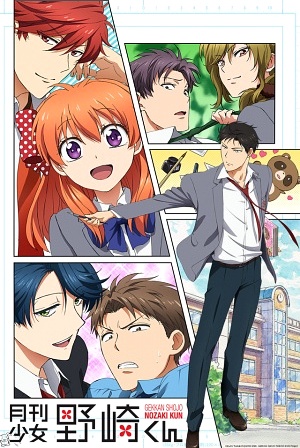 Umetarou Nozaki is actually a renowned manga artist named Sakiko Yumeno, and Chiyo Sakura has a crush on him.
So, what are some options for other anime to watch that are similar to this?
What tells a good love story while still retaining its comedy?
What other anime has a dense main character that still retains a cool factor?
That's what I'd like to find for you, the fortunate reader!
Similar Anime to Gekkan Shoujo Nozaki-kun / Similar Anime to Monthly Girls' Nozaki-kun
1. The Pet Girl of Sakurasou (Japanese: Sakurasou no Pet na Kanojo)

Episodes: 24
Aired: Oct. 2012 to Mar. 2013
Mashiro Shiina is a brilliant artist and cosmopolitan, but although she is accomplished, she has absolutely no idea how to take care of herself at all. This is where Sorata Kanda comes in to save the day! Because they live in the dorms of Sakurasou (for the problem children) and also because he believes he has to protect her, he decides to take care of her.
This is a great anime to get into if you're looking for a quirky love story that doesn't take itself too seriously. The comedy is more of an important aspect when judging this anime than the romance, but it still does have a love story to it. Bottom line is, this is a very good selection if you're looking for something like Gekkan Shoujo!
2. The Comic Artist and His Assistants (Japanese: Mangaka-san to Assistant-san to The Animation)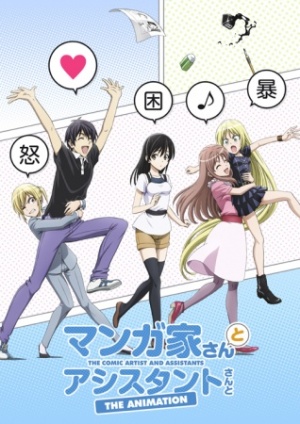 Episodes: 12
Aired: Apr. 2014 to Jun. 2014
Aito Yuuki is a mangaka artist – and a very perverted one at that! Ashisu is an aspiring artist herself and also Aito's assistant. Due to his lacking experience with women, Aito asks Ashisu to be a reference for him, and hilarity ensues.
Not much can be said about this anime except that it's a lot of fun to watch. It does have a very harem-y feel to it as well, so if you're looking for something with that, well you're set. There is very little story to this anime in reality, but that's not the main focus of the show in the first place.
This is a great anime to have on in the background while you're still busy with other things or don't want to focus on it!
---
3. Ouran Koukou Host Club

Episodes: 26
Aired: Apr. 2006 to Sept. 2006
Fujioka Haruhi gets a scholarship to attend the school of her dreams, the illustrious Ouran Academy – school for the rich and famous. Soon she finds and even more celebrated club inside of the school itself called the Host Club. Because of her clumsy ways, she breaks a vase worth 8-million yen! Because she won't be able to pay this back (what normal person could!?) she decides to work for the Host Club instead in this almost but not quite reverse harem.
Despite its labeling as a reverse harem some people have given, it really goes against that grain and puts very minimal focus on this. The rom-com(Romantic comedy) is very well done, so if you're in the books for a good laugh you may want to invest the time it takes to check this out!
---
Any Animes Like Gekkan Shoujo Nozaki-kun / Monthly Girls' Nozaki-kun ?
4. Daily Lives of High School Boys (Japanese: Danshi Koukousei no Nichijou)

Episodes: 12 + 7 specials
Aired: Jan. 2012 to Mar. 2012
Tadakuni, Hidenori, and Yoshitake are all male students attending the same school – Sanada North High School. They are all laid-back and unobtrusive but still find a way to turn it around into a fantastic comedy. The boys are all friends and go through their lives like any teenager should, with each other – good times and bad.
Sometime in life we've all experienced the same situations and experiences these boys make. The show overall just shows what life is like being a teenaged boy in high school. The jokes and the overall persona each of these boys have bringing something more to the table with each episode.
This is an incredibly fun anime and if you're looking for something without all the romance involved, this is for you.
---
5. School Rumble

Tsukamoto Tenma has fallen in love with Karasuma Ooji, her school classmate in her 2nd year of high school. She just can't find it in herself to confess her feelings! To make these matters worse, he's going to be moving away after the year is done, will she be able to make her confession in time? What about Harima, will he be able to confess to Tenma?
A mangaka protagonist and the same type of humor as Gekkan Shoujo, this isn't one to forego seeing. The comedy is on point and really carries it to be one of the best rom-com's I have ever seen. If you're into the genre and haven't yet given this anime a watch, you're wrong!
---
6. The Kawai Complex Guide to Manors and Hostel Behavior (Japanese: Bokura wa Minna Kawaisou)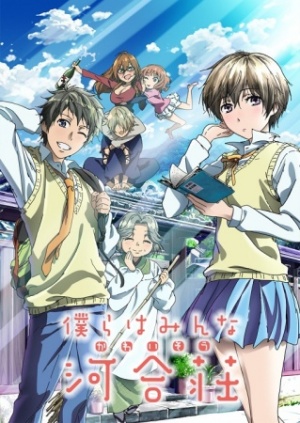 Episodes: 12
Aired: Apr. 2014 to Jun. 2014
Kazunari Usa finally gets to live alone in the boarding -home named Kawai Complex thanks to his family moving away. His favorite senpai Ritsu also lives in the Complex, giving him ample opportunity to get into all types of misunderstandings (not to include his roommate the masochist or the big-breasted beauty Mayumi)!
This romance anime is one you can knock back easily if you're into the romance genre, with more focus on the relationship than the comedy. If you want something to multitask to but still have the ability to look up and laugh or go "aww," this is the one for you!
---
That wraps up our list of six different anime like Gekkan Shoujo Nozaki-kun. If you have any other recommendations feel free to leave them in the comments section down below!
by Nathaniel Loomis