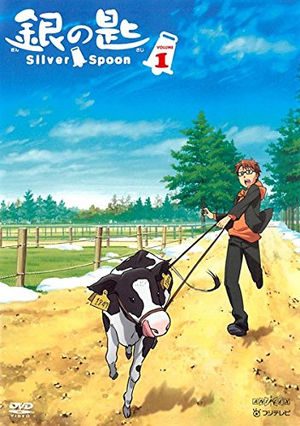 Based on the hit ongoing manga by Hiromu Arakawa (of Fullmetal Alchemist fame), Silver Spoon follows protagonist Yuugo Hachiken, a diligent student frustrated with his family over their strict expectations for him. After failing to get into the high school he was planning on going to in the city, he decides to enroll in Ooezo Agricultural High School, far off in the Hokkaido countryside, to get away from his parents. Hachiken initially thought that agricultural school would be easy, letting him have plenty of time to study for college entrance exams, but soon finds out it's quite the opposite and that he's at a disadvantage when compared to most of the students there, who already have both experience and a clear idea of what they want to be, unlike Hachiken.
Silver Spoon is a comedic, coming-of-age slice-of-life set in a unique, yet realistic high school that also touches on some philosophical subjects like the ethics of raising animals for food and other aspects of farming and country life. Silver Spoon has an excellent cast with a well-developed protagonist and extremely strong supporting characters that mesh well with the overall episodic style of the series. For folks looking for more anime with similar themes, beautiful rural settings, and strong characters, here are our picks for what to watch next!
Similar Anime to Gin no Saji / Similar Anime to Silver Spoon
1. Barakamon

Episodes: 12
Aired: Jul. 2014 – Sep. 2014
Barakamon tells the story of Seishuu "Sei" Handa, an arrogant rising star in the world of Japanese calligraphy. He has a nervous breakdown after an art gallery director publicly criticizes his work for being boring and uninspired at one of his exhibitions. Sei doesn't take it well and punches the old man right there in public! This leads to Seishuu being exiled by his father to the rural Goto islands of Nagasaki on the far west coast of Japan, both as a punishment and a way to help him find himself. Sei initially has a lot of trouble adjusting to country life, a stark departure from the comfortable lifestyle he knew in Tokyo, and also can't seem to get much peace and quiet due to his nosy neighbors, in particular plucky tomboy first-grader, Naru Kotoishi. Barakamon is the story of Sei's redemption and self-discovery through the new people, places, and quirky adventures he experiences in the island countryside.
Barakamon and Silver Spoon have quite a bit in common! Both anime focus on a male protagonist who leaves their city life for the country to escape their problems and get their lives in order, revolve around interactions with strong supporting characters in a mostly episodic structure, and incorporate the natural beauty of the rural landscapes and local culture to enhance the plot and experience. If you're less interested in romance and high school stories but are looking for a slice-of-life anime with a lot of heart and rural charm, Barakamon is a great choice for your next anime after Silver Spoon. Bonus points if you enjoy rambunctious children, adult proganonists, or calligraphy!
Barakamon - Trailer
---
2. Nourin (No-Rin)

Episodes: 12
Aired: Jan. 2014 – Mar. 2014
Kousaku Hata obsessively loves idols and his favorite by far is Yuka Kusakabe. After Yuka suddenly retires at the peak of her career, Kousaku is heartbroken and isolates himself in his room until his friends finally convince him to return to school. To his surprise and amazement, it seems that Yuka has somehow transferred to his class, now going by the name of Ringo Kinoshita! With a once-in-a-lifetime opportunity to get close to his dream girl, Kousaku tries to unravel the mystery as to why she retired from stardom to come to an agricultural high school in this raunchy ecchi comedy with lots of parody, a ridiculous homeroom teacher, and... farming!
Nourin most obviously shares the same type of setting as Silver Spoon. Both take place in agricultural high schools, so you can expect similar farming-related discussions and plot points. The two shows also prominently feature characters who come from the city to the countryside to escape their problems (Ringo in this case) but done more in the style of Baka to Test, also created by Silver Link. We think you'll like Nourin if you enjoyed Silver Spoon but maybe wanted more of a focus on ridiculous comedy, a slight touch of mystery, and some fanservice.
No-Rin – PV
---
3. Non Non Biyori

Episodes: 12
Aired: Oct. 2013 – Dec. 2013
Asahigaoka is a tiny village pretty much in the middle of nowhere nestled between beautiful forests, mountains, and farmland. Many conveniences are hard to come by, stores are miles away, and the local school has only five students, each in different grades! Hotaru Ichijo ends up moving to Asahiaoka from Tokyo after her father changes jobs and makes a big impression on the other students with her maturity (for a fifth grader) and a touch of city sophistication. Hotaru quickly meets precocious and curious first grader Renge "Ren-chon" Miyauchi and the Koshigaya siblings: diminutive and cutesy Komari, excitable tomboy Natsumi, and their quiet older brother Suguru. Non Non Biyori follows the girls' daily lives and little adventures together in and around their countryside town.
While both Silver Spoon and Non Non Biyori are both school anime with a main character who moves to a rural place from the city, they have a fairly different feeling overall while still be relaxing. Non Non Biyori is more of a pure slice-of-life series with less in-your-face comedy and a slightly more laid-back, lighter atmosphere without much drama. That being said, if you've fallen for the beauty of the Japanese countryside, enjoy children-centered stories, and/or are looking for something simple to enjoy, you will surely love Non Non Biyori in all of its charmingly precious iyashikei glory! We'll make special mention of its quality soundtrack and picturesque landscape backgrounds. Nyanpasu~!
Non Non Biyori – PV
---
Any Anime Like Silver Spoon / Any Anime Like Gin no Saji ?
4. Moyashimon (Moyasimon: Tales of Agriculture)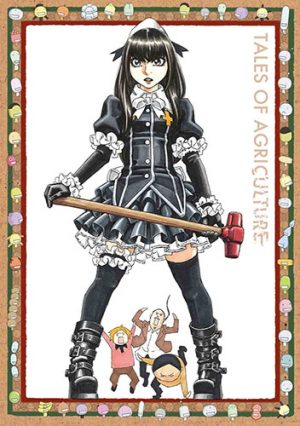 Episodes: 11
Aired: Oct. 2007 – Dec. 2007
Tadayasu Souemon Sawaki is a freshman at an agricultural college in Tokyo with a most unusual ability: he can see and communicate with viruses, bacteria, and other microorganisms. Tadyasu wasn't actually particularly interested in education and mostly came to college to be with his childhood friend Yuuki Kei. The two met because Sawaki comes from a family of tane-kouji-ya (yeast producers) and Kei's family business is sake brewing (which requires said yeast). The duo, along with their wacky, mysterious professor Itsuki Keizo and strong-willed, somewhat sadistic doctorate student, Haruka Hasegawa, live out their bizarre college lives in this series full of subtle humor, microbes, and fermentation.
Moyashiman is, first and foremost, a comedy that stands out largely due to the originality of its concept, relatively unusual university setting, and its strong cast of eccentric characters. Like Silver Spoon, Moyashiman takes place in an agricultural school and similarly has plenty of moments that border on educational content, but overall has more mature and surreal comedy and feels slightly more realistic. We think if you're in the mood for something more adult and a bit weird (and you're not a germaphobe!) that you'll enjoy this underrated anime.
Moyashimon – PV
---
5. Flying Witch

Episodes: 12
Aired: Apr. 2016 – Jun. 2016
As part of her training as a witch, Makoto Kowata leaves her home in Yokohama to live with her second cousin, Kei Kuramoto, and his little sister Chinatsu in a rural part of Aomori prefecture to practice her craft and become more independent. Joined by her cat familiar Chito, Makoto navigates both the weird magical training given to her by her older sister Akane and life as a high school student. Flying Witch mixes a fairly typical slice-of-life story with a hefty dose of the supernatural and does so without losing its overall feeling of relative realism in its characters and story
In terms of similarities, Flying Witch and Silver Spoon once again feature a high-school protagonist moving from a big city to the countryside and the aforementioned peaceful country setting that lends itself well to a relaxed, episodic story. Like Non Non Biyori, Flying Witch is a decidedly iyashikei series with a very similar vibe. It's generally a little bit more relaxed than Silver Spoon, but fans will almost certainly like Flying Witch's characters and beautiful scenery. If you're interested in supernatural stories but aren't looking for something with a lot of action or heavy consequences, Flying Witch is an excellent pick!
Flying Witch – PV
---
6. Hanasaku Iroha (Hanasaku Iroha: Blossoms for Tomorrow)

Episodes: 26
Aired: Apr. 2011 – Sep. 2011
After her mother runs off to elope with her boyfriend and flee debt collectors, 16-year-old Ohana Matsumae is forced to leave Tokyo on her own and ends up seeking refuge at Kissuiso, an old-fashioned hot spring inn owned by her strict grandmother in rural Japan. Ohana works there as a cleaning maid and waitress in exchange for her lodging. While first at odds with many of the customers and staff, Ohana dedicates herself to making the best of the situation through self-improvement and strengthening her relationships with others. She works and goes to school with grumpy, tsundere apprentice chef Minko Tsurugi and timid part-timer Nako Oshimizu, who is sometimes called "Kappa girl" because of her swimming ability. Hanasaku Iroha is a story of determination and discovery focused on relationships and the value of hard work with a bevy of subtext related to family, role models, and inheritance.
Like Hachiken in Silver Spoon, Ohana leaves the city behind and starts a new direction in life, albeit not by choice in Ohana's case. The strongest similarity with Silver Spoon and Hanasaku Iroha is their emphasis on the challenges and benefits of hard work. They also both feature robust and well-developed supporting casts, are set in a largely realistic, rural town, and include some comedy (although more so in Silver Spoon) and romance subplots. This anime is really brought to life by P.A. Works' high quality animation, character design, and art direction that help it stand out from the rest. We would suggest Hanasaku Iroha to folks interested in trying out a slice-of-life anime that's a little more serious and dramatic, and didn't necessarily care that much about the farming aspect of Silver Spoon.
Hanasaku Iroha – Trailer
---
Final Thoughts
Well there you have it, 6 more shows worth checking out if you've finished Silver Spoon and are looking for more charming, character-driven, countryside anime to sit back and relax to that may or may not also be propaganda to attract Japanese citizens to small towns. We sincerely hope you enjoy these recommendations, let us know what you think in the comments below or if you have any picks of your own! Where in rural Japan would you like to explore?
---