Based off of the mobile, game Girl Friend Beta follows girls through their daily lives in High School. Shiina Kokomi is the leader of the gymnastics team at her school, and trains hard for her tournament. There isn't any male interaction in the show, unlike the game, where players can get fictional girlfriends. This is a nice and peaceful show. The girls will do things like worry what upperclassman think of them, make lunch for the school, try to lose weight, and practice their modeling. Girl Friend Beta also has cute girls doing cute things, set to the background of some very calming music.
Everyone is so monotone in Girl Friend Beta that some of us started to doze off (in a good way). We love relaxing anime, and the slice of life genre makes us smile and relax! The genre reminds us that life is meant to be enjoyed, and it's usually better with friends. Some of us go through things in life that we have to get over in order to succeed. Watching Shiina and Tomo Oshii trying to gain self confidence while under pressure to perform well, reminds us of some other anime too. From having fun with friends, overcoming self-doubt, and taking center stage, below are 6 anime like Girl Friend Beta.
Similar Anime to Girl Friend Beta
1. K-ON! (K-On!)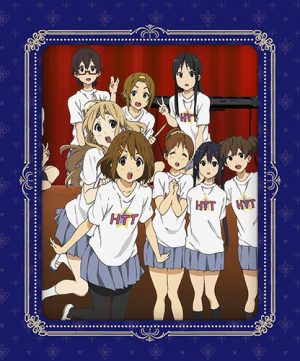 Episodes: 13
Aired: Apr, 2009 – Jun, 2009
It's Yui Hirasawa's first year of High School, and she's a bit nervous. After having trouble figuring out which club in school to join, the "Light Music Club" poster catches her eye. Yui has one issue, however, she doesn't know how to play an instrument. Yui tries to explain to the other girls that she made a mistake signing up. With the club only able to survive with a certain number of people in it, the other girls talk her into playing guitar instead! Now all Yui has to do is learn how to play the guitar. If only High School life were that simple.
Much like Tomo Oshii, from Girl Friend Beta, Yui is faced with doing something for the first time. Tomo Oshii tries her hand at making the school announcements, and hosts a tournament. Yui is trying her hand at the guitar. Both of them fail at first, but overcome their challenges, and become popular. High School people can be a tough crowd, but Yui and Tomo, have figured out how to work the crowd! "Girl Friend Beta" and "K-ON!" also have very similar openings in their first episodes. In the first episode of both anime Yui and Shiina are just waking up in bed and deal with their alarm clock. If you liked Girl Friend Beta, you'll probably like K-ON!
K-ON! - Trailer
---
2. Lucky☆Star

Episodes: 24
Aired: Apr, 2007 – Sep, 2007
Some of us that have seen Lucky Star, walk around with the opening theme in our heads at the mere mention of the name. It follows the lives of four High School girls. Konata Izumi loves anime and video games, which are two things most of us have in common here at Honey's! Konata Izumi and her friends talk about things like which end of a pastry to eat first. It's a very laid back show with a good dose of humor. All of the girls have colorful personalities (and hair). Lucky Star even has its own fan-mail section, named "Lucky Channel", at the end of each episode, which is hilarious to watch.
Like "Girl Friend Beta", Lucky Star is about the daily life of high school girls. Both shows have similar "cute" conversations about high school, and the individual interests of the girls. Lucky Star excels at being able to talk about one thing for almost a whole episode, and still be entertaining. Both shows also have little to no interaction with any male students. Lucky star, like Girl Friend Beta, is also a very saccharine show to watch. There is one thing that Lucky Star has that Girl Friend Beta doesn't; the adults in the show are just as hilarious to watch as the girls. However, both shows have characters oozing with personality. If you liked Girl Friend Beta, it's almost guaranteed you'll like Lucky Star.
Lucky Star – Trailer
---
3. Is the order a rabbit? (Gochuumon wa Usagi Desu ka?)

Episodes: 12
Aired: Apr, 2014 – Jun, 2014
So she can attend High School, Kokoa Hoto starts working at the "Rabbit House" cafe, and moves in with the Kafuu family. Kokoa is a friendly girl, and is able to make friends with just about anyone! Kokoa loves hugging "Tippy", the rabbit mascot of the cafe. The girls who work there are all skilled, in their own way, at making coffee-cream designs too! Chino Kafuu and Kokoa have hilarious interactions with each other, and have opposite personalities. Despite their differences, all of the girls in the show work around them and forge strong friendships.
"Is the order a rabbit?" follows girls in high school as they overcome the intricacies of working, studying, and having fun! In Girl Friend Beta, Chloe Lemaire is new to Japan and is getting used to the culture. In "Is the order a rabbit?" Kokoa is new in town and is getting used to the area with her new friends. Both shows feature girls going about their daily lives. If you liked Girl Friend Beta, give this sweet show a watch!
Is the order a rabbit? – Trailer
---
Any Anime Like Girl Friend Beta ?
4. Nichijou – My Ordinary Life (Nichijou)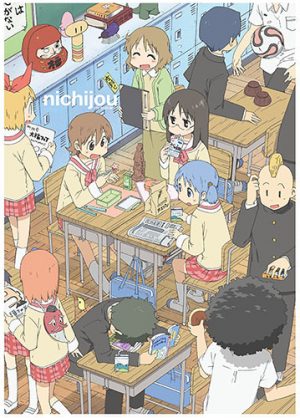 Episodes: 26
Aired: Apr, 2011 – Sep, 2011
Nichijou follows the story of three girls, while they attend high school (bet you didn't see that coming). They will be put in various situations, like accidentally dropping a squid-shaped hot dog, while following it up with hilarious over-exaggerated reactions. They also do things out of curiosity, like that time Mio Naganohara pressed the fire alarm! It's another very relaxing slice of life show with a heavy dose of humor. It also features a robot caretaker named Nano, who was built by Hakase Shinonome, a young genius scientist who has already graduated school.
Like Girl Friend Beta, Nichijou follows girls through High School. Like in Girl Friend Beta, Nichijou has characters that have wild imaginations that can sometimes get them into trouble. Like the time when Chloe Lemaire misunderstood a Japanese holiday as something terrifying and almost had to move back to France. Or that time the vice principal of the school gave Izumi Sakurai a Buddha statue for her birthday, she didn't much like that. If you like Girl Friend Beta, you'll like Nichijou!
Nichijou – Trailer
---
5. Love Live! School Idol Project

Episodes: 13
Aired: Jan, 2013 – Mar, 2013
"Love Live! School Idol Project" is about a High School that's about to close because there aren't enough students. In order to keep the school open, Honoka Kousaka forms a group to perform in a competition, known as "Love Live". The girls must overcome adversity with each other, and learn choreography together in order to win. Plus they're all adorable! The goal is to make their school desirable to others before the school closes it's doors for good and they're all forced to separate.
Like "Girl Friend Beta", "Love Live! School Idol Project", has many instances of overcoming your insecurities. Shiina has doubts about her gymnastics skills and is worried she might fail. There are similar doubts about the School Idol Project, and several of them voice their opinion on the subject. Both anime share themes about overcoming your inner fears and succeeding. Most people go through things in life that bring us down, or scare us. However, if you believe in yourself and practice hard enough, you can make your dreams happen. If you liked "Girl Friend Beta", definitely give "Love Live! School Idol Project" a shot!
Love Live! School Idol Project - Trailer
---
6. Minami-ke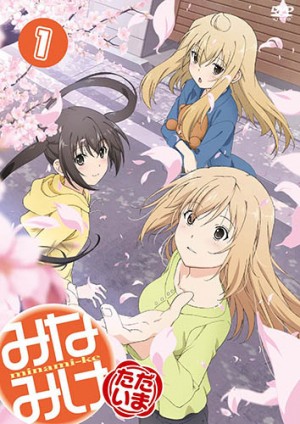 Episodes: 13
Aired: Oct, 2007 – Dec, 2007
"Minami-ke" follows the Minami sisters through daily home life, and can you guess what else? School! Kana Minami loves to laze around, and dream about snagging a boyfriend. Chiaki Minami is the youngest and is extremely smart, she also over-analyses things. Haruka Minami is the oldest of the three sisters and takes care of the younger sisters. "Minami-Ke" is relentlessly hilarious, and a fun show to watch! This show actually has male characters, so it's a bit different from Girl Friend Beta in that regard.
Both shows are very similar in the interactions of the girls, and both follow girls through high school. Interest in guys comes into play a lot more in "Minami-ke", than in "Girl Friend Beta". While both have differences, they are also very similar. The girls in both shows all talk about their interests and are a joy to listen to. The way the Minami family interprets things they don't understand is random. "Girl Friend Beta" also has that in common, as the girls let their imaginations run wild. If you liked "Girl Friend Beta", you'll like Minami-ke!
---
Final Thoughts
Sometimes we just need to unwind and relax. Watching explosive action anime all the time can leave an empty void in your heart. For many of us here, that void is filled with the slice of life genre! It can give a sense of self-discovery and fill us with happy feelings about life. Who needs depression medication (or sleep medication) when you have this genre around? We sure hope you enjoyed our list, did you have anything to add about it? We would love to read what you write below in our comments section!