In a town where rabbits seem to have Dominion over everything from cafes to restaurants, is it safe to ask is the order a rabbit? It's so great that they made a second season for Gochuumon wa Usagi Desu Ka? (Is the Order a Rabbit?)! All your favorite characters are back to take your orders. With Cocoa's clumsiness, Chino's innocence and adult-like wit, and Tippy the male soul in a female rabbit's body, there's no end to the fun of this slice of life anime! If you had any questions last season, you are probably hoping that they get to answering some of them this season!
Now, if you're a fan of slice of life anime, then you must be enjoying the second season for Gochuumon wa Usagi Desu Ka? However, the season's close to being half over, what will you do for your slice of life entertainment? Well, come take a look at this list of 6 Anime like Gochuumon wa Usagi Desu Ka?? for some anime ideas to add to your list.
Similar Anime to Gochuumon wa Usagi Desu Ka?? / Similar Anime to Is the Order a Rabbit??
1. Yuru Yuri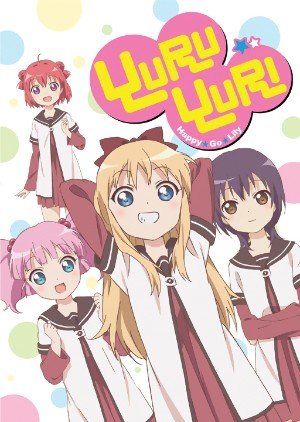 Episodes: 12
Aired: July 2011 - September 2011
Akaza Akari is finally reunited with her childhood friends, Funami Yui and Toshinou Kyouko at an all girls' school, where they have started the Amusement Club in the tea ceremony club's old clubroom. Yoshikawa Chinatsu arrives at the clubroom but is shocked to find out that the tea ceremony club has disbanded. When the three explain to her what happens, Chinatsu decides to join the club. This is the story of the Amusement Club and their silly antics drinking tea, playing games, and fawning over each other while forgetting about the main character, Akari.
While the third season is airing this season, Yuru Yuri never fails to entertain. It features an all female main cast like Gochuumon wa Usagi Desu Ka?? minus Tippy, and follows their everyday lives as they go to school, hang out on holidays, and attend club "activities". While Gochuumon wa Usagi Desu Ka?? is set mainly in a cafe, Yuru Yuri is usually set in the tea ceremony club room. You have characters that fawn over each other and other characters who hide their feelings a little better. An added bonus for some but not a deal breaker for others is the yuri fan service, as the name implies, that will either make you laugh or whatever else you do with yuri.
---
2. Non Non Biyori

Episodes: 12
Aired: October 2013 - December 2013
Everyone thinks the countryside is boring, but in Asahigaoka, there are 5 students who bring color to the countryside. Miyauchi Renge may be the youngest, but she's got wit and personality. The Koshigaya siblings including Suguru, Komari, and Natsumi have their quirks that will surprise you. It is with the recent addition of Ichijou Hotaru from Tokyo who adds a touch more adult-like maturity to this group of rambunctious country kids. With these 5 kids, they keep Asahigaoka from being a complete bore.
A clear similarity between Non Non Miyori and Gochuumon wa Usagi Desu Ka?? is the clear idolization of Komari by Hotaru. Hotaru has a (scary) obsession over Komari similar to how Sharo idolizes over Rize. Also, you have to admit that Chino and Renge seem similar in personality, age, and appearance. Although there is nothing quite significant or exciting about Asahigoaka, it's the characters that really bring it to life.
[PV] "Non Non Biyori" animated decision! Promotional video
---
3. Kiniro Mosaic (KINMOZA!)

Episodes: 12
Aired: July 2013 - September 2013
Oomiya Shinobu is a 15 year old girl who is back in her home country of Japan after a homestay in Great Britain. Shinobu does relish her time in Great Britain still. She receives a letter from a girl from her host family that reads: "Shinobu, I'm coming to Japan!" This is the story with a mix of Japan and England, and the lives of Shinobu, Alice, and their friends.
Friendship is clearly reflected in Kiniro Mosaic, especially as Shinobu adjusts to having her Japanese friends and English friend in the same school, but it's not just her. Alice must also learn that her friends can have friends, too, as she finds out what it means to have multiple best friends. The relationship between Alice and Shinobu is very similar to Chino and Cocoa's. While Cocoa gushes over Chino constantly, Shinobu also fawns all over Alice, but in the end, Alice and Chino are both lost without their other half.
Actually, Shinobu is very similar to Cocoa; she's absent-minded, clumsy, and child-like as well as obsessive, though Shinobu obsesses over England while Cocoa obsesses over little sisters. In fact, many of the other characters share similar characteristics to the characters from Gochuumon wa Usagi Desu Ka?? If you are looking for an anime with a similar tone and feel, but with a different setting a plot, this may be a great pick-me-up after Gochuumon wa Usagi Desu Ka??
[PV] TV anime "golden mosaic" promotional video 2nd
---
Any Animes Like Gochuumon wa Usagi Desu Ka?? / Any Animes Like Is the Order a Rabbit?? ?
4. K-On!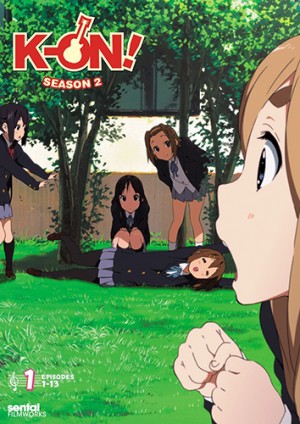 Episodes: 13
Aired: April 2009 - June 2009
Hirasawa Yui is a simple girl with no cares, but when she comes across a poster for the Light Music Club, she decides she wants to join even though she doesn't have any musical experience! The club consists of Ritsu, Mio, and Tsumugi who are trying to recruit members to keep the club from disbanding, so they convince Yui to stay despite her inability to play an instrument. When they perform for her, however, Yui becomes determined to join the club and be the new guitarist. Now, they have to teach her how to play the guitar while she juggles school and homework, all in time for their musical debut!
There's no doubt that Yui is similar to Cocoa. They are simple, carefree characters who also seek out their niche. For Yui, it's guitar while Cocoa's is coffee art. K-On! is a good anime to start watching for those who enjoy some light music, silly characters, and big dreams involving playing music on stage. These girls will warm your heart with their tea and cake, and steal the show with their determination.
---
5. Mikakunin de Shinkoukei (Engaged to the Unidentified)

Episodes: 12
Aired: January 2014 - March 2014
Yonomori Kobeni is just a normal high school girl, but when she turns 16, she finds out that she has an arranged marriage with a boy named Mitsumine Hakuya. Hakuya and his sister Mashiro come to live with Kobeni, her sister, and her mother so that Kobeni can learn more about Hakuya. The more time she spends together with the Mitsumine siblings, the more Kobeni learns that these two are no ordinary kids and there's a past that Kobeni long forgot about.
Mikakunin de Shinoukei may have some notable differences from the anime on this list like one of the main characters being male and some mystery in the plot, but it is still a good anime to consider if you are a fan of Gochuumon wa Usagi Desu Ka?? Kobeni is very similar to Chino in that she is a dependable young girl who manages to take care of as much as possible all on her own. Her big sister Mashiro is like Cocoa due to the fact that they both share an intense obsession with little sisters. You may want to consider watching this anime if you are a fan of a little mystery, romance, and some supernatural elements as well.
TV Anime "engaged to the unidentified" PV 2nd
---
6. GJ-bu (GJ Club)

Episodes: 12
Aired: January 2013 - March 2013
Shinomiya Kyouya finds himself as the (forced) newest addition to the GJ club in a room of a former building of his school. The club leader Mao may be small but she's got some attitude, but her little sister Megumi is a bipolar angel. Shion's an eccentric genius with more genius siblings than common sense and Kirara is some sort of cat-like creature who is always hungry! This club is a little strange, but it's never boring!
Centered around the GJ club, GJ-bu is a fun anime revolving around the life of poor Kyouya, who got roped into the club. The characters are all quite eccentric, much like in Gochuumon wa Usagi Desu Ka??, but they all have their own stories to tell. You'll have some fun with GJ-bu as they drink tea, mess around, and try figure out what exactly the GJ club is all about. Why go home when you can join the GJ club?
---
There are so many different slice of life anime out there, there's no reason to kill your fun just because you only get one episode of Gochuumon wa Usagi Desu Ka?? a week. Clearly, watching Cocoa character types are fun. With her clumsiness yet determined attitude, it's no wonder there are so many anime with her type of character. Can't forget Chino, either!
Now, the Fall anime season is about half over, but don't let that spoil your fun. There's lots of anime to enjoy out there. Have you guys been enjoying Gochuumon wa Usagi Desu Ka?? Can't wait to see what fun the rest of the season holds, huh? Are there any more suggestions you have for this list? Please feel free to share so we can all keep watching more slice of life favs!