También puedes leer este artículo en:Español
There's a reason why they say laughter is the best medicine. It's fun, it's free and it works! Whether we're sick with the flu or just plain feeling blue, there is nothing like a good comedy to make us forget all of life's problems. And what makes us laugh more than nonstop slapstick humour, lecherous behaviour and sexual innuendos?
There are two things to take away after watching Golden Boy:
Perverse, confident male characters are not always cliché and eye roll worthy, but actually likeable.
Older anime can still be entertaining.
This anime is over 20 years old, yet it has stood the test of time to deliver and experience that still feels contemporary. Overall, the combination of the lewd dialogue, well-aged animation and spot-on voice acting (some may say the dub is better!) made Golden Boy a must-see, ecchi classic. While the title is intended to describe the main character, I think "golden" better describes what happens in a particular scene rather than Kintarou. You perverts know what I'm talking about. Lol.
Fortunately for us, there is way more where that came from. Here are 6 other rude and crude anime for you to laugh your woes away to:
Similar Anime to Golden Boy
1. Junk Boy

Episodes: 1
Aired: December 1987
Like every other 23 year old, Ryohei Yamazaki is always thinking about sex. Well, I guess sex is really on the mind of every young male, regardless of age. Heck, guys in general are pretty much always thinking about sex. Men love sex. Anyways, Junk Boy follows our dim-witted, womanizing friend as he triumphantly seduces woman after woman in his quest for sexual fulfillment. Unfortunately for him, Ryohei is also very picky. Despite having ladies left, right, and center, none of them meet the ideals of a woman that he truly yearns for.
The similarities between Junk Boy and Golden Boy are undeniable; I mean, look at their titles. Pushing the nonsensical similarities aside, we are left with two anime whose main characters are both obsessed with female attention. While we are aware of Kintarou's successes as a student, Ryohei unfortunately does not have many talents to speak of besides his art of seduction. In both cases however, they each fall short of utilizing their full potential. From the characters, the aged animation and the same lechery-induced laughs; Junk Boy and Golden Boy are cut from the same cloth.
---
2. High School DxD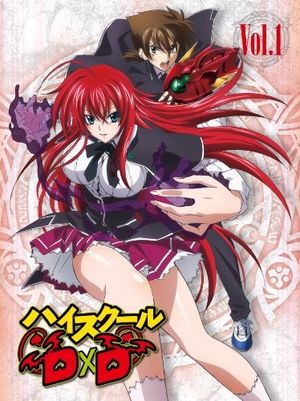 Episodes: 12
Aired: January 2012 – March 2012
As one might assume, High School DxD features the everyday life of the students at Kuoh Academy. Living alongside the students however, is an indiscernible amount of angels, fallen angels and devils posed as ordinary humans. Of course, the lecherous ways of our main character, Issei Hyoudou, somehow attracts the attention of Yuma Amano. The only downside is that Yuma is actually a fallen angel and tries to kill our young hero. Fortunately, all turns out well when Issei is successfully revived back to life by a devil in exchange for becoming a servant to said devil. Sounds like high school.
High School DxD has a more concrete plotline, yet, contains all the perversion and hilarity found in Golden Boy. Furthermore, the similarities between the main characters are also very substantial. Issei and Kintarou both exhibit deviant behaviour that hinders them from using their full potential academically. Overall, the sheer amount of fan service and hilarity within High School DxD makes it a must-see for fans of Golden Boy.
High School DxD Trailer
---
3. Green Green

Episodes: 12
Aired: July 2003 – September 2003
What happens when legions of isolated, high school boys are all of a sudden introduced to legions of high school girls? Chaos ensues. Green Green tells the story of Yuusuke Takazaki and his trio of lecher roommates as they try to cope with the greatly appreciated change of becoming co-ed. Just as his roommates are getting ready to woo the ladies, Yuusuke finds himself not needing to. Midori Chitose is a new student who, upon her arrival, is already in love with and willing to do anything for Yuusuke. Unable to recall ever meeting her in the past, the story unfolds as he slowly recovers his memories.
Green Green contains the same levels of crude jokes and fan service that made Golden Boy so great. Yuusuke is quite different from Kintarou – he is younger, a bit average and isn't as much of a lecher. In fact, Kintarou shares more in common with Yuusuke's roommates rather than himself. However, the humor remains the same. If you like the absurd and funny yet sometimes inappropriate, look no further than Green Green.
Green Green OP guri guri
---
Any Animes Like Golden Boy ?
4. Sora no Otoshimono (Heaven's Lost Property)

Episodes: 24
Aired: October 2009 – December 2009
What do you picture when you hear the word, angel? If you think short, inappropriately dressed and voluptuous females, then you're either the creator of Heaven's Lost Property or very confused. You can find Tomoki Sakurai doing one of two things; he's either busy being a pervert, or suffering from a recurring dream he's had since he was a child. So you can imagine his surprise one night when an angel from the world known as Synapse spontaneously falls from the sky. Declaring him master, the story unfolds as Tomoki helps his new servant, Ikaros, and the rest of her Angeloid friends.
Heaven's Lost Property combines the comedy, ecchi and sci-fi genres into a finished product that is easy to fall in love with. While the supernatural beings and situations stray away from the real-life settings seen in Golden Boy, the comedy and substantial moments of fan service more than make up for it. Both main characters exhibit the same lust for female attention, wanted or unwanted. This makes for a series that is both fun and exciting for fans who want a taste of action with a hint of Golden Boy
TV Anime "Sora no" trailer PV
---
5. Colorful

Episodes: 16
Aired: September 1999
Colorful is short and sweet. No really, the episodes are less than ten minutes and are chocked full with fan service that make you wish they were just a little bit longer. The episodes are disjointed, with only a few characters making more than one appearance. As such, there's no story to speak of. Instead, Colorful presents us with an eclectic handful of men who share the same interests of perversions, voyeurism and debauchery. Follow them as they attempt and undoubtedly fail to catch a glimpse of what women want to keep hidden.
If you watch Golden Boy without knowing what Golden Boy is beforehand, you can easily mistake it for Colorful. Take any perverted situation Kintarou found himself in, edit it down to around 6 minutes, and you'll have yourself additional episodes of this concise yet hilarious anime. If you want the essence of Golden Boy without the frivolous plot, Colorful delivers.
Trailer N/A
---
6. Great Teacher Onizuka

Episodes: 43
Aired: June 1999 – September 2000
Great Teacher Onizuka is 50 percent comedy, 50 percent drama, but 100 percent fun and nonsensical. Eikichi Onizuka is a former gang member, currently jobless and always on the prowl for women. During one of his mall escapades to sneak a few peeks at unsuspecting girls, he somehow manages to secure a date. Of course, it doesn't end well. Onizuka is stood up when her boyfriend, who also happens to be her teacher, convinces her to return to him with little to no persistence. Thus, the impractical idea to become a teacher for the sole purpose of meeting women was born. His first class; just a handful of the most ill-behaved teenagers in Tokyo. Fortunately, Onizuka holds himself above the law, and he is willing to break any and every rule to get them under his control. Nothing is going to stop Onizuka from becoming the world's greatest teacher.
You can't watch Golden Boy and not watch Great Teacher Onizuka. It's just as illegal as the methods Onizuka uses in the classroom. There are several reasons why these two anime should be viewed in tandem with one another – from their tones, their art styles and even the main characters themselves. Kintarou and Onizuka are both young, lecherous freeters whose actions always get them into trouble. Despite this, they both have the potential for greatness – something that comes to fruition throughout the length of each series. If you're looking for anime comedy gold, you'll find Great Teacher Onizuka at the end of the rainbow.
TOKYOPOP Presents GTO Anime Trailer
---
Conclusion
Golden Boy will go down in history not only as a classic amongst comedy anime, but amongst the entire genre across all media. It serves as a reminder that anime is not confined to a particular tone or style; instead, it is capable of pulling a multitude of emotions out of its viewers. If you want to live, love and especially laugh, Golden Boy and those listed here are sure to be satisfactory. Just don't forget to study, study, study!
by Alex Argyrides