So last time we embarked on a great adventure filled with magic, spiritual guardians, and survival, but now we are taking the more precious journey into the world of school. GTO stars Onizuka, a former bike gang leader who decides in his own right to change his life around, and venture into the life of education. While his subordinates will do anything to create mischief for Onizuka, this new ambition leads him to discover great opportunities, while showing his subordinates that making the right choices in your life can definitely make you a better person.
Here are 6 anime that may entice you if you really enjoy a school life setting, comedy, and characters that prove that anything is possible in life if you make the right changes to better the life around you and become the greatest. Class is now in session, so let us begin.
Similar Anime to GTO / Similar Anime to Great Teacher Onizuka
1. Denpa Kyoushi (Ultimate Otaku Teacher)

Episodes: 24
Aired: April 4, 2015 – September 26, 2015
Denpa Kyoushi is a story about a young man who is lost along his way in life, but soon discovers a wonderful chance to use his genius skills to educate those around him. Junichirou was known by his peers to be gifted in physics, but soon after graduating from college, he lost all interest in what he had loved most, science. He devoted his life to becoming a NEET (or YD as he likes to consider himself) which his younger sister didn't find very alluring, and so she desperately tried to convince Junichirou to teach physics at his old high school, to use his wonderful gift and share it with others. After witnessing a bullying and saving a girl from further harm, Junichirou realizes that perhaps this direction was one which he could prosper in.
In GTO, Onizuka also comes from somewhat of a struggle where his past life had led him into trouble, and didn't get him anywhere. But he soon discovers that he could use his life experiences as a tool to teach others the value of knowledge, but more importantly life itself. Both Junichirou and Onizuka are gifted in their own right, using their prowess to overcome the past gripes that they had, and using those experiences to teach others to follow their own heart. These anime focus primarily on one important thing and that is one should never give up in spite of ones pasts, and use their talents to help inspire others to become the greatest in their own lives. If you like a little slice of life with a pinch of humor, then check out Denpa Kyoushi.
Denpa Kyoushi PV
---
2. Ansatsu Kyoushitsu (Assassination Classroom)

Episodes: 22
Aired: January 10. 2015 – June 20, 2015
Assassination Classroom is a wonderful anime that embraces much of what GTO had to offer, which was unconventional teaching methods, mixed with valuable nuggets of information that the viewer could definitely take with them. A mysterious creature has sliced the moon into what is now a crescent, and eventually finds himself on Earth with a much more challenging task: teaching junior high school students. The students realize that this same monster who is threatening their existence, equipped with the extraordinary talent of traveling at mach 20, is now their teacher. It tells a wonderful story of a teacher who helps his pupils sharpen their skills in order to overcome the oppressive education system, while also guiding them towards a better life for themselves.
Because GTO was released before Assassination Classroom, we can assume that creator Yuusei Matsui had some inspiration from this wonderful classic. GTO embraces the importance of self teaching, where one must learn to overcome the inner darkness to finally find the fuel to burn the flame to their own success. Both anime take place in a hostile school environment where just about anything can happen, while the main character works hard to help educate their pupils to become better students in not only the classroom, but life. With very deep philosophical reminders thrown into the mix throughout the series, Assassination Classroom and GTO are wonderful school anime that really demonstrate how important it is to learn from your peers. Check it out.
Assassination Classroom Anime – Official Teaser Trailer HD
---
3. Sayonara Zetsubou Sensei (Goodbye teacher despair)

Episodes: 12
Aired: July 8, 2007 – September 23, 2007
Continuing with the ongoing trend of school anime and the plot surrounding a character with a hidden talent to educate, we now are going to discuss Sayonara Zetsubou Sensei. Nozomu always seems to find himself dealing with bad luck at every corner he turns. This despair somehow leads him into a high school where much like himself, the students deal with their own misfortunes which now Nozomu has to confront and overcome. This great story demonstrates that the greatest teacher in our lives is not the one who holds the book, but rather the one who holds the key to unlocking the inner champion we have inside.
Nozomu and Onizuka share a very similar tale in which both main characters come from a very turbulent background, filled with despair waiting at every turn. They both however find solace in teaching, which they then use to help bring clarity to the students around them. The theme follows the direction of being in school, where the premise of the anime is to entertain you but also educate you. The latter seems to be more of the primary focus, as we notice Nozomu growing as an individual himself, while his pupils grow to love and respect him for his wonderful ways of teaching, much like Onizuka. If you truly were inspired by GTO, then don't hesitate to watch Sayonara Zetsubou Sensei.
Zan Sayonara Zetsubou Sensei OP Full English Subtitles
---
Any Animes Like GTO / Any Animes Like Great Teacher Onizuka ?
4. Prison School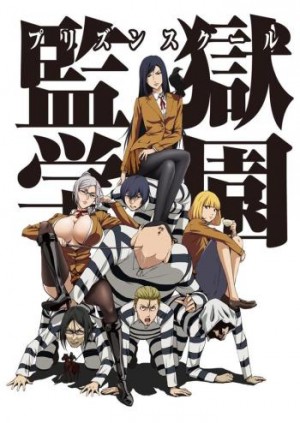 Episodes: 12
Aired: July 11, 2015 – September 26, 2015
Prison School was one of Japan's most popular anime for the summer of 2015, where it showcased five characters, who find themselves in despair and have to deal with the risk of being expelled from school for a crime they were framed for. Kiyoshi and four other males have enrolled into Hachimitsu Private Academy, an all girls private school filled with women out to pursue their dreams. This is a first in the history of the Academy as males were never given right to step foot on the premises. This dream soon turns into a fateful nightmare, where Kiyoshi and his four other comrades must deal with the truth that awaits them inside.
The theme of GTO was to show direction, despite coming from a tough upbringing, and to educate those around the main character. The characters in Prison School take all of what Onizuka was and split him up into five different beings. All five characters experience much of what Onizuka did in the beginning, which was that they were brought into a very hostile school environment and had to find the right solutions to get them out.
Takehito who is seen as the polar opposite of Kiyoshi, is the philosophical mastermind who uses his wit and charm to outsmart his enemy, but eventually educate them all at the same time. Both anime share a defining purpose: work together and educate one another and despite what we have all been through, knowledge is what will lead the way towards prosperity. If you love a lot of comedy and seeing characters overcoming obstacles in wonderful ways, then definitely check out Prison School.
Prison School PV
---
5. Gokusen

Episodes: 13
Aired: January 6, 2004 – March 30, 2004
Gokusen follows the life of Kumiko, an aspiring teacher who comes from a dark world of Yakuza. Being an heir to the most prominent Yakuza group Oedo, she has to keep this a secret from everyone. She enrolls into Shirokin Gakuen Private School in hopes that she can keep her past a secret and focus more on the passion she always desired, to become the greatest math teacher.
These anime are almost entirely similar in that both Onizuka and Kumiko come from a very dangerous gang upbringing and are looking to become the greatest at what they love doing, teaching. The story becomes even more similar as both characters are put into a classroom full of troublemakers (and funny enough very similar classroom numbers) and its their goal to gain the respect and admiration from their pupils. Onizuka had to deal with a lot of drama from his subordinates and classmates due to him being a new teacher, but much of these issues did not rattle him.
The very same tale arose for Kumiko as her students tried everything to rattle her cage in hopes to have her resign. This wonderful story of personal struggles, passion for teaching, and finding direction are what make Gokusen captivating to watch. Both characters display a goal to help educate those around them, which help bring everyone together. If you loved GTO, Gokusen will not dissappoint.
Gokusen clean opening
---
6. I My Me! Strawberry Eggs

Episodes: 13
Aired: July 4, 2001- September 26, 2001
I My Me! Strawberry Eggs is a great classic anime about a young man with hopes of becoming an athletics teacher, while having to withhold the secret of his personal life from his students. After graduating from college, Amawa found it challenging to land a job in the field he loved. He eventually comes across a local middle school but is again stricken with an unfortunate event, as the principle of the school strictly forbids male teachers, as she feels most men lack the drive and passion to work. This motivates and triggers an idea as he returns to his landlord asking to assist him in becoming a cross dresser so that he could have the opportunity to do what he loves best.
The plot of both GTO and I My Me! Strawberry Eggs is that both main characters have somewhat of a personal struggle which then leads into personal triumph. Onizuka and Amawa have discovered their passion for teaching, but are then confronted with an obstacle which they both have to overcome. This prevents them from exposing their true background, but also gives them the opportunity to pursue the one thing they hope to achieve, becoming the greatest teacher. Throughout this anime we see that over time, both characters learn to accept their pasts, and also gaining the love and respect for their students as they had hoped for. A very inspiring treat for those who enjoy a tale of trials and tribulations into triumph. Check this one out!
---
Class is now adjourned. Those are 6 anime which embrace the importance of school and a passion for what you love, like GTO. These anime look at how life can throw us in various directions without cause, but can often lead us to places that we would never imagine. They display a message of devotion and that despite where we come from, we can use our passions to help educate those around us, to make the world a better place. We hope that you find these recommendations satisfying as much as we did, and continue to shine on in your own way.
Until next time, for all of your sweet anime needs, keep it locked here on Honey's Anime.
---