También puedes leer este artículo en:Español
The Spring 2015 anime season has finally begun. And with it, comes a show that's entertaining and heart-warming like no other. Spring is the season to start the new school year in Japan and this is where the story of Sound! Euphonium starts.
It tells the story of Kumiko and her experiences made while joining a brass band in her freshman year of high school. Sounds boring you say? Trust me, Sound! Euphonium is a hidden gem of this season and worth trying out.
We have composed a list of six shows that fans of Sound! Euphonium can enjoy while waiting for the next episodes to air. Enjoy!
Similar Anime to Hibike! Euphonium / Similar Anime to Sound! Euphonium
1. Uta no☆Prince-sama♪ Maji Love 1000% (Uta no Prince-sama)

Episodes: 13
Aired: July 2011 - September 2011
Let me start off with a show that contains lots of music and lots of love. Uta no Prince-sama is a Reverse Harem anime that shows the daily life of Haruka who enrolls in the famous Saotome Academy. Her dream is to become a musical composer and together with a group of future idols she gives her best to make it come true.
You might enjoy this show if you're not too much into classical instruments but more into pop music. Uta no Prince-sama features numerous different songs throughout the show. Besides, the design of the main characters is lovely and really memorable. The show got popular enough to get several sequels so check it out if you want to understand what the hype is all about.
Uta no Prince-sama Official Trailer
---
2. Nodame Cantabile

Episodes: 23
Aired: January 2007 - June 2007
Nodame Cantabile is an anime legend that you need to see regardless of whether you like Sound! Euphonium or not.
Unlike most other shows on this list Nodame Cantabile is set in a University and not a high school, so this show is more relatable for older viewers. Like in Sound! Euphonium, the focus lies on music and how it affects and unites musicians. A must-watch for people who can appreciate classical music.
If you enjoyed this show you might consider watching its Japanese drama adaption as well.
Nodame Cantabile OP
---
3. K-On!

Episodes: 13
Aired: April 2009 - June 2009
K-On!'s plot is very similar to the one of Sound! Euphonium. Here we see Hirasawa Yui's daily life as a first year student in high school. She soon decides to join a music club, despite having one big problem - she has yet to make any musical experience. The viewers follow her on her journey as she struggles to give her best and to find her place in high school.
Some people were actually afraid that Sound! Euphonium would be just another K-On!, but I have to say that they each have their own charm. Also, while Sound! Euphonium features more classical instruments, K-On!'s music has a more rock and pop vibe to it. Still, both shows have outstanding character design and a lot of different girls that will move you with their stories.
K-On! Official Trailer
---
Any Animes Like Sound! Euphonium / Any Animes Like Hibike! Euphonium ?
4. Tari Tari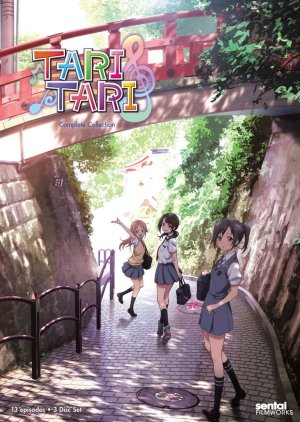 Episodes: 13
Aired: July 2012 - September 2012
Jumping from first year of high school to its last year, next up we have Tari Tari. It's a show featuring a group of friends that think about the memories of their past and the chances lying in their future. Together they form a choir to create something memorable in their last year together.
Tari Tari is a great Slice of Life show that shows the struggle of teenagers trying to grow up. They all have troublesome pasts but also dreams for their future and try to come together and help each other out. You might want to check this one out if you want something that makes you reflect on the daily struggles of high school students.
Tari Tari Official Trailer
---
5. Hyouka

Episodes: 22
Aired: April 2012 - September 2012
Next up is the only show on this list that doesn't feature music. Yet, I think it is the anime that resembles Sound! Euphonium the most.
Protagonist is high school boy Oreki Houtarou who just recently joined the Classical Literature Club of his school. He did so reluctantly, not expecting to gain much out of this experience. But as it goes in most anime, he realizes that meeting new people and finding friends can be enjoyable and that his high school life can be different from how it was up until now.
It reminds me so much of Sound! Euphonium because it tries to invent interesting characters and shows how they can work together despite being so different. Creating a Club environment where everyone has to interact and cooperate is always a good idea in my eyes. Overall it's a good show and you will definitely like it if you enjoy Sound! Euphonium.
Hyouka Official Trailer
---
6. Shigatsu wa Kimi No Uso (Your Lie in April)

Episodes: 22
Aired: October 2014 - March 2015
Do you want a show that's heartbreaking and uplifting at the same time? Then you might consider giving Shigatsu wa Kimi no Uso a try.
It shows the tragic life of former child prodigy Arima Kosei. After losing his mother and having a mental breakdown he's unable to hear the sound of his piano. He decides to leave the world of music and remain in his sad and dull new life. It's not until the outgoing and dynamic violinist Miyazono Kaori steps into his life that he's able to change his outlook on the future.
Not only is the musical part of this show gorgeous, but it also has a lot of romance and drama. The two protagonists are still fairly young but the show teaches you how to stay optimistic in a hopeless situation and how passion can keep people going. Shigatsu wa Kimi no Uso is a show that convinced many viewers that classical music can actually be entertaining. Why not give it a try?
Shigatsu wa Kimi no Uso Official Trailer
---
This concludes our list of musical recommendations. We tried to keep it as diverse as possible so there should be something for everyone to enjoy. Do you agree with our list or did we miss out on your favorite show? Comment down below and let us know.
---