También puedes leer este artículo en:Español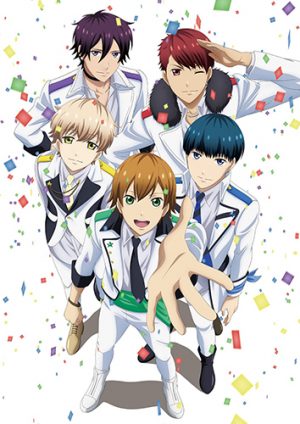 High School Star Musical, known fondly as Star-Myu by devotees, is a musical anime set at the prestigious and competitive Ayanagi Academy music school, famous for its (you guessed it!) music programs. In order for Yuuta Hoshitani to achieve his future dreams of stardom, he and his friends (an awkward inductee, a kabuki wunderkind, and the younger brother of a famous musician) must impress the members of the Kao Council, the cream of the crop of third year students in charge of ensuring the legacy of their Star Team.
Dismissed at first for their lack of ability and their personal foibles, when they catch the eye of one of the council members, their dreams have a chance at realization with a lot of hard work and dedication. Star-Mu is a character-driven high school anime with an emphasis on light-heartedness and musical numbers. Although the first season is still mid-swing, viewers learn more about the ensemble cast and the ins and outs of club-life at Ayanagi as the series progresses, and the musical numbers keep 'em coming back for more. Fans of high school anime, musical anime, and slice-of-life comedy have plenty of reasons to add it to their rotation. As fans, you already know this. Here are six anime for fans of Star-Mu.
Similar Anime to High School Star Musical
6. K-On!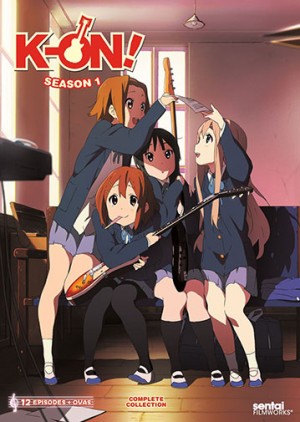 Episodes: 13
Aired: April 2009 – June 2009
At Sakuragaoka Girls High School, the light music club is on its last legs. That is, until recent inductee Yui Hirasawa misunderstands the club poster and expresses interest in joining as one of the required minimum four members, along with classmates Ritsu, Mio, and Tsumugi. There are, however, a few problems: she has absolutely no experience playing music, can't read sheet music, and doesn't even own the instrument the other girls want her to play. But the energy and heart of their performance gives her the determination to see it through.
K-On! has plenty to offer fans of High School Star Musical. Although it takes place at an all-girls school, the high school environment will feel immediately familiar. The series has a quirky cast of core characters that have a very entertaining dynamic as they learn the ins and outs of musical club life, and there's plenty of comedy and heart to tie the whole thing together.
---
5. Uta no Prince Sama

Episodes: 13
Aired: July 2011 – September 2011
Based on a popular visual novel video game series, Uta no Prince-Sama tells the story of idol fan girl and aspiring pop sensation Haruka Nanami. Haruka is a girl with dreams of composing music, especially for the idol she reveres. In hopes of achieving her dreams, she enrolls in Saotome, a prestigious performing arts school. If she is successful at school, she'll get a head start on rocketing forward in her career, but the extremely competitive, eccentric student body is comprised of aspiring composers, would-be (and actual) idols, famous singers, and more.
Much like High School Star Musical, music plays a very important role throughout the course of the show. Saotome Academy is just as cutthroat as Ayanagi, even if the student body is a bit more eccentric. The show's overarching plot is broken up by plenty of silly character beats (including a transforming, evil prince), and the characters prove themselves incredibly likeable as they navigate the social minefield that is high school while trying to achieve their dreams.
---
4. Free!

Episodes: 25
Aired: July 2013 – September 2014
Free! is set in the small town of Iwatobi, and follows the story of the taciturn but determined Haruka Nanase. The story begins with Haruka and his childhood friends crowned winners of an elementary school swimming tournament before going their separate ways. However, they reunite in Iwatobi High School, and when Haruka loses a swim match in the school's run down pool, the friends create a swim club, determined to get back in shape and make the club a competitive success.
Although this show doesn't adhere to the musical theme of previous entries on the list, it has plenty to offer fans of High School Star Musical. Obviously, they share the high school setting, although Iwatobi is a much different environment. The story has a heavy emphasis on the bonds formed during club activities, and the dedication demanded to make the club a success. The characters are relatable and have unique foibles that help propel the plot forward as they come to terms with the nature of their friendships and the way things have changed since childhood.
TV Anime "Free!" – PV 3
---
Any Animes Like High School Star Musical ?
3. La Corda D'Oro: Primo Passo

Episodes: 25
Aired: October 2006 – March 2007
Seiso Academy is a school that caters to the musically inclined as well as general students looking to excel in their studies. One such student, Kahoko Hino, is a lover of music who never picked up an instrument. That changes after a fateful run in with Lili, a fairy who gifts Kahoko with a magical violin that allows her to play any songs she truly loves, and she agrees to enter the school's highly competitive musical tournament, the Concours.
La Corda D'Oro offers a somewhat whimsical twist on the musical theme enjoyed by fans of Star-Mu, but the classical music plays an important role in the series. Just like High School Star Musical, it's a large part of how the characters grow closer. Like other entries on the list, and Star-Mu in particular, the high school setting is an important playground for the characters to interact and explore their feelings for one another, all while trying to juggle the demands of extracurricular activities and rigorous high school academia. As the contest draws nearer, the viewer, like Kahoko, begins to feel a very real fondness for her competition.
---
2. Nodame Cantabile

Episodes: 45
Aired: January 2007 – March 2010
Nodame Cantabile centers around two equally passionate aspiring musicians at Momogaoka College with very different personalities. There is Shinichi Chiaki, an overbearing, somewhat arrogant perfectionist who plays several instruments and dreams of becoming a musical conductor but suffers from a crippling fear of flying over the ocean. Then, there is Megumi Noda, an eccentric, somewhat sloppy pianist who enjoys her music the way she enjoys her life; playful, and by ear. An accidental encounter blossoms into a one-sided romance, and as Megumi tries to win the heart of Shinichi, they get to know themselves and their classmates better.
Star-Mu fans will find plenty to love in Nodame Cantabile. Like Star-Mu, the show is heavily inspired by and often features music to express its themes. Much like High School Star Musical, the heart of the show is the budding relationship between its main characters. As the plot progresses and they discover more about themselves and each other, they begin to mature and their relationship develops deeper meaning. But that doesn't mean that the show doesn't know how to have fun, since there are plenty of hilarious comedic beats, just like in Star-Mu, to keep the story clipping along.
---
1. Ouran High School Host Club

Episodes: 26
Aired: April 2006 – September 2006
No list of recommendations for anime that are club oriented and set in high school would be complete without mentioning Ouran High School Host Club. The show takes place at the titular Ouran Academy, an incredibly prestigious high school attended by Japan's wealthiest, most influential budding socialites. Except, of course, diligent student Haruhi Fujioka. Haruhi is a scholarship student who becomes a de-facto (if indentured) member of the school's infamous Host Club after shattering a priceless vase. Each episode, the Host Club (comprised of boys catering to a spectrum of feminine desires) hosts events with varying themes.
This show has plenty to offer fans of Star-Mu. While music doesn't play quite as prominent a role in the goings on as it does in other entries on the list, each episode is themed, and music plays a big part of that. Ouran Academy hosts a bizarre but earnest cast of characters inside and out of the Host Club, and they are the heart of the show, much like the aspiring inductees in Star-Mu. The school has so much personality it could be a character in and of itself, and no club seems quite as demanding as the Host Club. While the show oozes an eccentric comedic overtone, just like High School Star Musical, it often deals with rather mature themes, such as gender identity and discrimination, socio-economic perception, and friendship. Definitely check it out.
Ouran High School Host Club Official Trailer
---
With that, our list of recommendations comes to an end. What do you think? Are there any shows that true fans of High School Star Musical shouldn't miss? Sound off in the comments below and let us know.