Yet another light novel-turned-anime comes in and hooks us within minutes. Hitsugi no Chaika piques your interest from the get-go, offering a complex world by casually throwing in violent angry unicorns and a fresh take on medieval wizardry mixed with weapons. It has everything an entertaining anime needs; romance, comedy, and lots of action and adventure in a historical fantasy world. Chaika is the daughter of an evil tyrant who ruled for 500 years and Tooru and Akari are a brother/sister soldier duo who take a vow to protect her along her journey of searching for certain powerful objects.
Hitsugi no Chaika has a lot of praiseworthy notes, including the bloody brilliant action sequences that have such fluid, realistic movements, and the adorable comedy that is Chaika's choppy speaking ability. We could never pass up the bishoujo goth lolita art style either! You're sure to find a similarly satisfying anime in this bunch we've picked out!
Similar Anime to Hitsugi no Chaika
1. Scrapped Princess

Episodes: 24
Aired: April 2003 – October 2003
Scrapped Princess has a very similar synopsis to Chaika and shares a lot of the same genre categories including action, adventure, fantasy, and a good amount of comedy to keep things light-hearted. Scrapped Princess is about Pacifica Casull, a sweet but loud girl who's prophesied to bring the apocalypse on her 16th birthday. The followers of the God Mauser are constantly trying to kill her to prevent the prophecy, but under the protection of her adoptive brother and sister, she journeys and meets many different kinds of people.
The similarities are obvious, both shows are about a 'princess' who the world says will bring doom and destruction, so they set out to kill the girl but two siblings protect her with blades, magic, and incredible fighting skills. In addition is the light-hearted comedy that's thrown in, despite the overlaying depressing premise and being constantly targeted. Both shows will also leave you feeling satisfied from the beginning until the end.
Scrapped Princess Official English Trailer
---
2. Dantalian no Shoka (The Mystic Archives of Dantalian)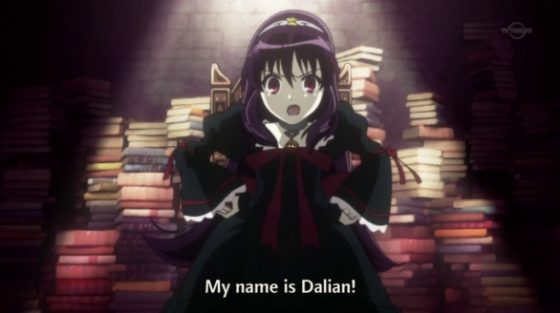 Episodes: 12
Aired: July 2011 – October 2011
You can see Dantalian no Shoka has a very similar art style to Hitsugi no Chaika, but that's not all it has in common! They are both fantasy action in a historical setting that revolves around a mysterious beauty. Dalian is a girl found inside the estate that Lord Hugh Anthony Disward inherited from his grandfather, who happens to be the physical embodiment of a book archive, Bibliotheca Mystica de Dantalian. They soon learn they must find Phantom Books and seal them inside Dalian before they are used for evil or selfish gains, much like the objects Chaika is after.
Dalian even looks like the inverted color scheme of Chaika, although their personalities are a bit different with Dalian being more of a tsundere and Chaika being an earnest, sweet girl (who happens to have a tyrant for a father). Both shows offer a unique storyline inside a world that almost resembles our history, with the chase of magical objects that could bring about destruction if fallen into the wrong hands.
Dantalian no Shoka Official Trailer
---
3. Gosick

Episodes: 24
Aired: January 2011 – July 2011
If you're really a stickler for gothic lolita beauties shrouded in mystery, boy do we have another one for you! Gosick is about a Japanese boy who's studying in Saint Marguerite Academy, a wealthy boarding school in Southern Europe. On his way to the library looking for ghost stories, his eye catches golden hair on the steps which leads him to meet Victorique de Blois, a doll-like girl who can see into the future. They encounter many mysteries involving ghost ships, alchemists who transmute, and more.
Both Gosick and Chaika have a historical background with mysteries to be discovered, but if you enjoyed the bit of romance Chaika had, you'll love Gosick! They both started as light novels and were brought to life by Bones studios, who never fail to showcase stunning visuals and cute characters.
Gosick English Trailer
---
Any Anime Like Hitsugi no Chaika?
4. Tsubasa Chronicles (Tsubasa RESERVoir CHRoNiCLE)

Episodes: 26
Aired: April 2005 –October 2005
Tsubasa Chronicles is fairly well-known, and for good reason. It has a mashup of CLAMP's characters from different stories in a whole new world and storyline, like an alternate universe fanfiction. When Syaoran is at an excavation site outside of the city, he sees his childhood friend, Princess Sakura, suddenly appear and sprout wings. The feathers on the wings blow away into different dimensions and he soon finds out the feathers are Sakura's memories from birth. Along with two sidekicks they made along the way, they travel through the different dimensions to find Sakura's feathers, battling foes and making friends.
If you enjoyed the mashup of action, adventure, and romance that Chaika offered, Tsubasa Chronicles is your next stop! The protagonist(s) find strangers to help fight with them, looking for magical items with many obstacles along the way and uncovering mysteries about their world they never knew, quite like in Chaika.
Tsubasa Chronicles Official English Trailer
---
5. Shingeki no Bahamut: Genesis (Rage of Bahamut: Genesis)

Episodes: 12
Aired: October 2014 – December 2014
Shingeki no Bahamut's premise sounds exactly like Chaika's. A war ends and it's a laidback lifestyle for bounty hunter Favaro, until he meets a mysterious girl named Amira who actually holds half of the key to changing their world as they know it. They go on a quest in search of something while there's a god vs. demons war going on and they have to pave their own path and choose what is right for them, just like Tooru and Akari in Chaika.
Other than Shingeki's art style being more geared towards mature audiences, both series are essentially, exactly alike. They both get you psyched up in the adventure and action in this amazing fantasy world that you don't see in every anime, and they're fighting against something just epic sounding. If you loved Chaika, you'll definitely love Shingeki no Bahamut!
Rage of Bahamut: Genesis English Trailer
---
6. Kamisama no Inai Nichiyoubi (Sunday Without God)

Episodes: 12
Aired: July 2013 – September 2013
Chaika has a dark undertone to it that you'll also find in Kamisama no Inai Nichiyoubi. God has left the world and no one is able to die or create life. Lifeless bodies walk around and the only thing that can put them to rest are gravekeepers. We see the life of Ai, a young gravekeeper, who meets a mysterious man who kills her whole village. With nowhere to go, she follows him on his journey and puts people to rest, learning about the desolate world God left them.
Kamisama also began as a light novel and is centered around fantasy and mystery in a world that isn't so forgiving. While Chaika isn't mystery centered itself, there's a lot of similarities between the discoveries they learn on their journeys and the strangers accompanying them. Just like Chaika, Ai has one thing on her mind and that's to do the duty she was born to do.
Sunday Without God Official Trailer
---
Final Thoughts
Although Hitsugi no Chaika was satisfying, it was all the more reason for us to want more. There's something about historical fantasy adventures with memorable visuals that always ends up leaving a lasting impression on us, so these suggestions of similar anime are sure to fill up that need! What is your favorite fantasy adventure anime that wasn't listed here? Be sure to leave a comment and tell us!