This season is filled with so many amazing sports anime. One of the best shows of the season is Hoshiai no Sora. The series has a little bit of everything with some exciting sports action, team building, and a whole lot of drama. All of that along with the great characters makes Hosia no Sora one of the most unique and exciting anime to come out in a long time. Today we are going to be looking at some shows that you may enjoy if you like Hoshiai no Sora. Each series we cover will feature one of the many great aspects of Hoshiai no Sora. Let's get started.
Similar Anime to Hoshiai no Sora / Similar Anime to Stars Align
1. Kaze ga Tsuyoku Fuiteiru (Run with the Wind)

Episodes: 23
Aired: October 2018 - March 2019
After getting caught shoplifting, Kakeru Kurahara uses his skills as the former ace of his high school's track and field club to get away. Despite getting away from the store employees, Kakeru runs into a student from his university named Haiji Kiyose. Haji is impressed by Kakeru's speed and asks him if he would be interested in moving into his apartment building. With no money for his rent, Kakeru accepts the offer. However, when all of the tenants throw Kakery a welcome party, he learns that the apartment is actually the dormitory for the university's track and field club. Even though most of the boys are novices, Haiji dreams of turning them into skilled athletes and competing in the Hakone Ekiden. With nowhere else to go, Kakeru has no choice but to help train the other members of the Chikusei-sou and help Haiji achieve his dream. 
Kaze ga Tsuyoku Fuiteiru and Hoshiai no Sora are centered around a group of boys who work together in order to win in their respective sports. Maki and Kakeru both play similar roles in their stories giving both anime similar stories and themes. Both boys are tasked with using their natural-born talent to help improve the skill of their teammate, and while they are hesitant to join at first, they quickly adapt to their role and put all their effort into improving their team. Kaze ga Tsuyoku Fuiteiru and Hoshiai no Sora also have a similar balance between the sports aspects of the story with the more dramatic character development parts of the story.
Kaze ga Tsuyoku Fuiteiru PV 
---
2. Hanebado!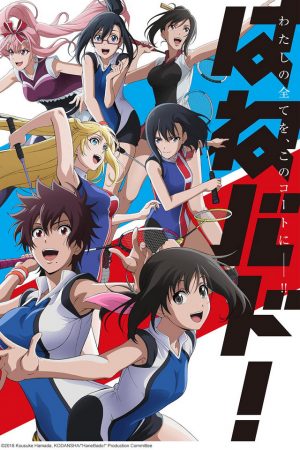 Episodes: 13
Aired: July 2018 - October 2018
Ayano Hanesaki spent her youth training under her mother to become a great badminton player. Now in high school, Ayano decides to leave the world of badminton for good. Ayano's best friend Erena Fujisawa takes notice of how unhappy she has become and pushes her to join the badminton team. With Erena pushing her, Ayano reluctantly agrees to check it out. While checking out the club, Ayano learns that the captain of the club is Nagisa Aragaki, a girl she had beaten while she was in middle school. Despite the tension between the two of them, Ayano decides to join the club. With the support of Erena and her teammates, Ayano takes her first steps back into the world of badminton.
What makes Hanebado! and Hoshiai no Sora so similar are the main characters. Ayano and Maki both have troubled pasts involving their parents that have caused them to hide their true feelings from others and become withdrawn. Throughout both series, we get to see Ayano and Maki deal with their pasts and how they use sports to help them cope with their situation. Even though Hanebado! doesn't reach the same dramatic levels as Hoshiai no Sora, there are enough moments for you to enjoy if that was your favorite part of Hoshiai no Sora.
Hanebado! Preview
---
3. Days 

Episodes: 24
Aired: July 2016 - December 2016
Tsukushi Tsukamoto is a shy and clumsy boy who has been bullied his entire life. One of Tsukushi's classmates, Jin Kazama, takes an interest in him and invites him to participate in an indoor soccer match. Even though he wasn't very good, Tsukushi had a lot of fun playing with Jin and he decides to join the school's soccer club. Surrounded by so many talented players, Tsukushi feels out of place due to his lack of skill, but with some hard work and determination, Tsukushi hopes to one day be able to compete alongside Jin and the rest of his teammates. 
Days is a bit different from all of the other anime we have looked at so far. There isn't much drama in Days, and it mostly focuses on the Seiseki High School soccer team and Tsukushi's efforts to improve. What makes the two anime similar is the way they handle the teams and the realistic way in which they approach the characters and their feelings towards the sport. Both anime do a great job at showing the characters and how they react to both losing and to meeting players who are so much more talented than they are. Instead of having a serious breakdown when things don't go their way, the characters accept their inadequacies and strive to work harder in order to improve themselves. This makes the actual sports moments in both series more enjoyable and relatable.
Days PV
---
Any Anime Like Stars Align / Any Anime Like Hoshiai no Sora ?
4. Battery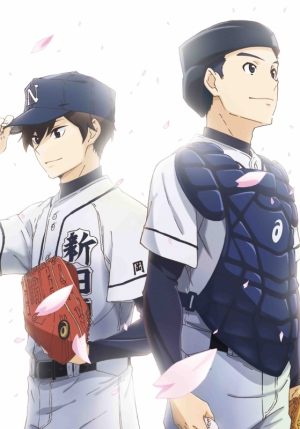 Episodes: 11
Aired: July 2016 - September 2016
Takumi Harada has dedicated his life to a game of baseball and his considered one of the best young pitchers in the country. When his family moves to the small town of Nitta, Takumi finds himself on a team filled with a bunch of unskilled players. Takumi relishes in the opportunity to turn the team into a powerhouse. Despite his grand ambitions, Takumi learns things won't be as easy as he thought when his personality clashes with all of his teammates. With the help of his pitcher Gou Nagakura and his grandfather, Takumi starts to see a side to the game of baseball he had forgotten all about.
Battery and Hoshiai no Sora both center around a character whose natural talents cause problems for their fellow team members. While both series handle this in different ways, it gives them a similar vibe and setup. There is also a good amount of drama in both series surrounding the boys and their growth as both athletes and people. As both series progress, Maki and Takumi both start to develop a newfound appreciation for not only sports but also for the people around them.
Battery PV
---
5. Tsurune: Kazemai Koukou Kyuudoubu

Episodes: 13
Aired: October 2018 - January 2019
Once, a member of his middle school's kyudo club, Minato Narumiya decided to give up archery for good. Now in high school, Minato's friends Seiya Takehaya and Ryohei Yamanouchi try their best to get him to join the club, but no matter what they say, he refuses to join. It isn't until an encounter with a man at the archery range that Minato seriously considers joining the club. With the words of the mysterious man fresh in his mind, Minato joins his friends in the kyudo club. Now with his rekindled love for archery, Minato picks up the bow once again as him and his friends try to reach the prefectural tournament.
Tsurune: Kazemai Koukou Kyuudoubu and Hoshiai no Sora don't share much when it comes to their stories and themes, but what makes them similar is the way they approach their respective stories. There is a large focus on the characters and their personal struggles with a lot of the characters in both series have their own issues they have to deal with. Both series handle their issues well and the characters feel like they react in normal and realistic ways. It is exciting to watch the characters deal with their issues and you can't help but root for them as they try to overcome all the obstacles in their way.
Tsurune: Kazemai Koukou Kyuudoubu PV
---
6. Tsuki ga Kirei 

Episodes: 12
Aired: April 2017 - June 2017
Tsuki ga Kirei follows the story middle school students Kotaro Azumi, a boy who dreams of becoming an author, and the star of the track and field club, Akane Mizuno. One day Kotaro is forced to clean the sports equipment room after he misses his turn at cleaning duty. Feeling bad for not informing him of his cleaning duty, Akane offers to help him clean and once they are done the two exchange  LINE ID's. After a few more chance encounters, Kotaro and Akane start growing closer and they begin dating. Together, the two of them learn what it means to actually be in a relationship and they experience the ups and downs that come from being in love.
While Tsuki ga Kirei may not be a sports anime like all of the other shows on his list, it still has a lot in common with Hoshiai no Sora. Both anime focus on a group of middle schoolers who must deal with the struggles of growing up as they face the drama in their everyday lives. Tsuki ga Kirei focuses more on relationships and Kotarous's personal growth, but it still gives off similar vibes to Hoshiai no Sora. On top of that, both any also have some very similar visuals and story themes.
Tsuki ga Kirei PV
---
Final Thoughts
That is it for our list of the six anime similar to Hoshiai no Sora. Each of these series features one of the aspects that makes Hoshiai no Sora such great anime. Hopefully, you found a new series that you will love. Are there any other anime similar to Hoshiai no Sora? Let us know in the comments below.
---