También puedes leer este artículo en:Español
If magic, demons, ridiculous harem fantasies, and adequate fan service are all essential ingredients in your favorite cup of joe, then you should have a nice sip of this anime: Ichiban Ushiro no Daimaou.
The series is short, sweet, and satisfying. Demon King Daimao is full of comedy, action, nice character designs, and just enough fun ecchi content to keep it fresh. Also, the story line is solid enough to keep you watching until the very end.
If the antics of this anime were not enough and you are still thirsty for more, you can check out 6 anime similar to Ichiban Ushiro no Daimaou below. Perhaps they will tickle your taste buds.
Similar Anime to Demon King Daimao / Ichiban Ushiro no Daimaou
1. Hataraku Maou-sama! (The Devil is a Part-Timer! )

Episodes: 13
Aired: April 2013 – June 2013
Also focusing on the demon theme, Hataraku Maou-sama! takes us into an interesting story surrounding the demon king, Maou Sadao. Due to unexpected circumstances, the demon king is shifted into an alternate world, resembling that of present day Tokyo. This interesting spin on the story makes Hataraku Maou-sama! an enjoyable series.
There is a good dose of shounen style action, comedy, and interesting characters. The story line is a bit more solid than Ichiban Ushiro no Daimaou but at the same time the content is more tamed. It's a bit of a give and take depending on what you are looking for. However, regardless, it's a good watch and the comedy is one of the strongest points of this series.
Similar to Ichiban Ushiro no Daimaou, you get to enjoy a harem-centric style of anime with some demonic undertones. The main character is very relatable in both series and there are a good amount of laugh out loud moments.
The Devil is a Part-Timer! - Coming Soon - Trailer
---
2. High School DxD

Episodes: 12
Aired: January 2012 – March 2012
If the main character, Sai Akuto from Ichiban Ushiro no Daimaou wasn't nearly as perverted as you would have hoped, then High School DxD may be the series for you!
High School DxD's story is demon and angel themed. However, in this case, we get to watch the hopeful Issei Hyodo's unlucky normal life chaotically spin out of control thanks to the sexy demons that have mingled in his affairs.
Similar to Ichiban Ushiro no Daimaou, High school DxD gives not only a harem driven demon themed atmosphere, but supplies a generous explosion of fan service. If that is one of your caveats, this series will not disappoint.
High School DxD Trailer
---
3. Rosario + Vampire

Episodes: 13
Aired: January 2008 – March 2008
Rosario + Vampire sucks us into the world of a youkai (monster) filled school, where main character, Tsukune Aono, is originally against the idea of staying at the campus. However, before he knows it he is convinced to attend thanks to a coincidental run in with a sexy vampire girl!
The setting of this anime is definitively reminiscent of the school setting in Ichiban Ushiro no Daimaou. The best part is that naturally all the other bells and whistles are included. Rosario + Vampire gives us plenty of super cute characters fitted in school uniforms, quarreling over the male lead. There is plenty of comedy and fan service to pacify even the most demanding anime lover. The series is overall lighthearted and will appeal to those who are die hard harem fans.
Rosario + Vampire: The Complete First Season - Available Now - Trailer
---
Any Animes Like Demon King Daimao / Any Animes Like Ichiban Ushiro no Daimaou ?
4. Matsurowanu Kamigami to Kamigoroshi no Maou (Campione!)

Episodes: 13
Aired: July 2012 – September 2012
Imagine: battles of godly proportions, fast paced action sequences, and beautiful babes surrounding the main male character in a harem-like fashion. This concept is pretty much the core of Campione!
Similar to Ichiban Ushiro no Daimaou, the unwilling main character, Kusanagi Godou, is somehow bestowed insane godly powers. The only difference is that in this plot, he must fight other gods of epic proportions. Of course, worry not! Our hero doesn't have to do this task alone, thanks to the harem of ladies offering him more than a hand during this story!
If you are looking for a similar atmosphere to Ichiban Ushiro no Daimaou, but are wanting more action and less generous portions of fan service, Campione! May just fit the bill.
Campione Trailer
---
5. Monster Musume no Iru Nichijou (Everyday Life with Monster Girls)

Episodes: 12
Aired: July 2015 – September 2015
Monsters...Monster Girls...Harem...Ridiculous Fan Service. Need I say more?
Monster Musume no Iru Nichijou, or MonMusu for short, is what one would call the the present day evolution of what used to be the simple innocent harem anime. This series is full of unbelievable, coincidental, extraordinary characters and events that all seem to occur around the human, Kurusu Kimihito.
In MonMusu's story, the world is quite a different place. It seems that humans and monsters coexist...well, for the most part. There is an interesting societal situation were the "Cultural Exchange Between Species Act" has been implemented. The series centers around the male lead who somehow has to host various female monsters in his home while resisting the temptations being directed at him in at least every other animated scene.
Like Ichiban Ushiro no Daimaou, MonMusu has a very imaginative plot with a mix of humans and non-humans. The inter-species limitations don't seem to stop the romance and fan service in this title! Additionally, both titles have a good mix of comedy and action while including some moments of serious romantic tones.
Have a monster daughter everyday: Promotion Video
---
6. Trinity Seven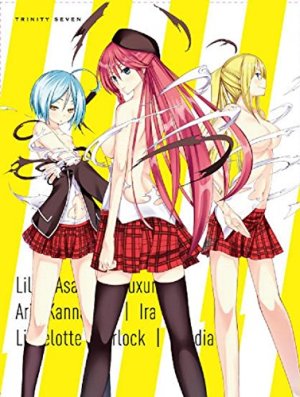 Episodes: 12
Aired: October 2014 – December 2014
For the fans of magic-esque academies, it may be rare to find other settings similar to that of Ichiban Ushiro no Daimaou's school. However fear not, Trinity Seven may fulfill that desire!
Main character, Arata Kasuga must join a specialized academy to bring back what was once lost to him. Lucky for him, or not, there exists a group of seven tantalizing female characters who possess magic abilities.
This series has a very similar situation for the main male character. He is said to be a Demon Lord, just like in Ichiban Ushiro no Daimaou. Also, the series has a lot of action and comedy incorporated into the animation. Definitely, a similar flavor is present while progressing through both titles.
---
Ichiban Ushiro no Daimaou has such a good balance of story line and content that it's a shame it finishes so quickly. The characters are easy to become attached to and it really leaves the viewer wanting more.
The above 6 anime, similar to Ichiban Ushiro no Daimaou, share some commonality. Hopefully, they can give you some of that same satisfaction, or at the very least, point you in a new direction.
by D. Tanizawa