High school life is often represented as a golden time in a teen's life. You often see that mood set in the open of many high school anime as the characters run across the screen demonstrating they are filled with the energy of youth. The feeling they evoke for those of us whose high school years have faded to memory makes us long for those glory days. The nostalgia is often only a highlight reel skipping over the mundane moments of life. Some anime attempt to remind us of the routine in brutally honest ways. A good example of this truth is the recent anime Wasteful Days of High School Girls. The plot is set at an all-girls school and revolves around a trio of friends that spend most of their time engaged in idle chatter and nonsense. The story eventually drags in other members of the class, rounding out an ensemble of girls with different backgrounds, tastes, and honest if not exaggerated opinions of the appropriate use of their youth.
The idea of not glossing over the trials of youth isn't unique to Wasteful Days of High School Girls but, as you'll read, it finds itself in rare company.
Similar Anime to Joshikousei no Mudazukai / Similar Anime to Wasteful Days of High School Girls
1. Oshiete Galko-chan (Please Tell Me! Galko-chan)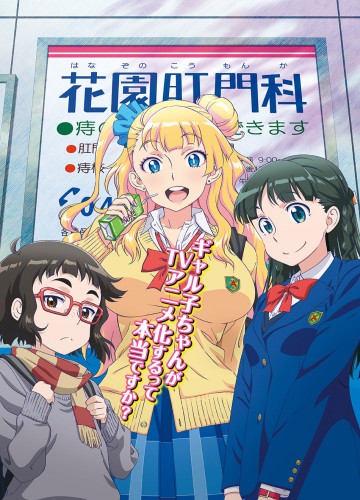 Episodes: 12
Aired: January 2016- March 2016
You'd easily consider the daily lives and conversations in Oshiete Galko-chan a slice-of-life anime to the extreme. The pace of the show is broken up into quick segments of conversation between Galko, a gyaru with a good heart that loves to cook, Otako, a short plain-looking girl that is into anime and reading, and Ojou, a quiet rich girl that is a bit of an airhead. The often-frank conversations they have about the female body and myths about love and sex could occasionally cause you to blush, but each line is delivered with such a matter-of-fact innocence it often doesn't even register as risqué.
The first thing that Oshiete Galko-chan and Joshikousei no Mudazukai have in common is their slice-of-life format. The episodes are divided into sections as if you're reading a serialized comic strip. You have a set up for the joke at the beginning of the episode and then small bits of humor until the true joke payoff at the end of the episode. We have a fearless and honest female-focused cast in each of the anime and each group is willing to talk about real every day topics that concern high school girls. If you are looking for a show that has a heart and characters that will make you feel embarrassed by them and for them at times, Oshiete Galko-chan is a great fit for you.
Oshiete Galko-chan PV
---
2. Joshikousei: Girl's High (High School Girls)

Episodes: 12
Aired: April 2006- June 2006
We've all had our illusions shattered about something we admire once or twice and the same goes for Eriko and her friends. Yuma, Eriko, and Ayano are so excited to go to their new all-female high school after their experiences at a co-ed middle school, that they sneak on campus to tour the school all by themselves in violation of the school rules. What the girls learn is shocking. A school of only girls can be as bad or worse than a co-ed school because the female population no longer feels they need to keep up appearances without any boys around. The result is vulgar, sloppy, and crass behavior that could make a sailor blush. In spite of having the rose-colored glasses lifted from their eyes, Eriko and her friends find other girls to befriend and begin their high school life.
The connection Joshikousei has with Joshikousei no Mudazukai is its frank way of discussing things. We watch girls converse without the filters they'd use in polite company, namely boys. We hear conversations about menstrual cycles and other toilet habits as well as some very funny misconceptions about what happens to a girl's body during sex. You need to prepare yourself if you don't have a lot of really close female friends or the contents might shock you into turning off the show before you give it the chance it deserves.
---
3. Araburu Kisetsu no Otome-domo yo. (O Maidens in Your Savage Season)
Episodes: 12
Aired: July 2019- September 2019
O Maidens in Your Savage Season focuses on a high school literature club. The five members of the club often spend time in their club room reading aloud to each other, often in an attempt to get answers to questions they have about life. The lit club, which has a reputation as being a group that discusses inappropriate things, is a refuge for these often-quiet girls. The ranks are made up of two seniors, Rika and Hitoha, and freshmen Kazusa, Momoko, and Niina. We find each of the girls on their journeys of self-discovery, some more innocent than others but all using literature as their guidebook.
O Maidens in Your Savage Season is a bit different than the other selections on this list as it follows a slice-of-life format but leans more toward the dramatic rather than the comedic. At times it can remind you of shows like Convenience Store Boyfriends or Hatsukoi Limited with its focus on how relationships between the sexes can change and grow in high school. It does, however, have a similarity in the honest conversations that the girls of the literature club have about sex, their sex, and relationships.
Araburu Kisetsu no Otome-domo yo. PV
---
Any Anime Like Wasteful Days of High School Girls/ Any Anime Like Joshikousei no Mudazukai?
4. Love Lab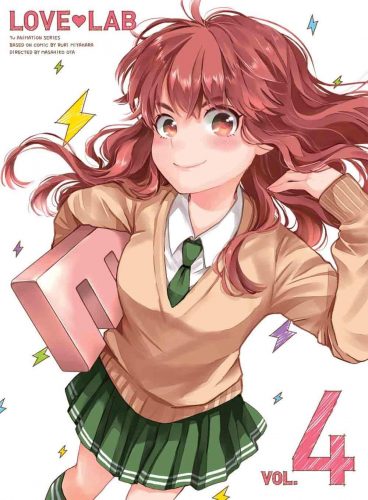 Episodes: 13
Aired: July 2013- September 2013
We'd usually describe someone walking in on doing something embarrassing and sparking a relationship as a cute meet at the beginning of a comedy, but not in this case. The student council president of Fujisaki Girls Academy, Natsuo Maki, carries an air of dignity around her and is a model of womanly virtue for all the students in the school. Riko Kurahashi is not an example of virtue and is often considered quite the opposite due to her willingness to break school rules. One day Riko walks into the student council office and finds Maki practicing kissing, badly, on a dummy she fashioned. The incident leads to Maki drafting Riko into the student council to be her advisor on romance. We see comedy take off as it becomes a case of the blind leading the blind as Riko "the expert" with no experience leads the rest of the student council in the newly established Love Lab.
Love Lab is a lighter comedy than the others mentioned on this list and far less edgy. It has a heavy emphasis on slapstick and awkward situations for its comedic elements. It does have a very strong female-centered cast that is struggling to understand romance and love. If you like Joshikousei no Mudazukai but are looking for something lighter that will have you laughing, Love Lab should be part of your viewing queue.
Love Lab PV
---
5. Chio-chan no Tsuugakuro (Chio's School Road)

Episodes: 12
Aired: July 2018- September 2018
A walk to school in the morning should be pretty mundane, you simply put one foot in front of the other and join the stream of other students headed in that direction. Chio Miyamo, on the other hand, seems to find an adventure every time she leaves the house. She often leaves for school late due to late nights playing video games and must find creative alternatives to the typical route to make sure she arrives at her private school on time. The anime is episodic as it focuses on a particular journey each time and then bringing back some to the characters in later episodes. Chio's constant companions Nonomura and Hosokawa often find themselves caught up in the nonsense as they rush to school every day.
Chio's School Road is a comedy through and through. The ridiculous situation when nerdy Chio was mistaken for a hoodlum called the Bloody Butterfly is a perfect example of the kind of comedy you can expect. The reason this show is similar to Joshikouse no Mudazukai is mainly because of its focus on a female cast not acting particularly feminine. Despite being a good girl, Chio often shows her more tomboyish side, and her friends' teasing and goading don't rein her in at all. You'll love Chio's School Road if you're looking for something incredibly creative to fill 22 minutes of your time once a week.
Chio-chan no Tsuugakuro PV
---
6. Asobi Asobase (Asobi Asobase: Workshop of Fun)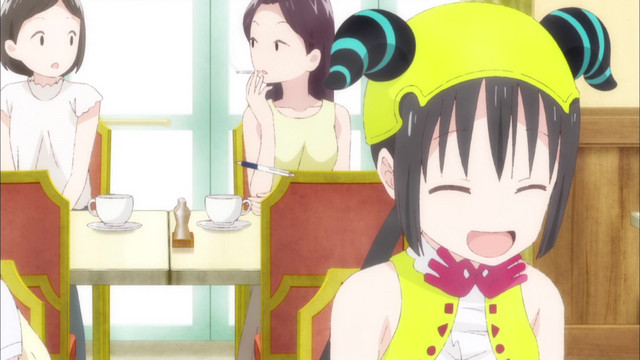 Episodes: 12
Aired: July 2018- September 2018
Asobi Asobase is the story of three friends with little in common except they don't want to do anything productive. Olivia, Honda, and Nomura quickly find themselves forming their own club, the Pastime Club, to avoid joining a real one. They spend their time after school playing ruckus games and simply wasting time. Their daily hijinks like trying to become popular or goofing off and avoiding getting caught by teachers, and occasionally slapping each other senseless is great slap-stick that will have you laughing.
The language used in Asobi Asobase is at times crass and often used as a method by members of the group to insult each other. We find the biggest connection that Asobi Asobase makes with Joshikousei no Mudasukai is the focus on nothing: the idea that you don't need to be productive. You don't need to accomplish some great goal in your youth to have a fulfilling school life. You can enjoy school without being over-organized with clubs or sports. You can just hang with your friends and live a life of nonsense. So if you want or need some nonsense in your life you won't waste your time watching Asobi Asobase.
Asobi Asobase PV
---
Joshikousei no Mudazukai isn't a show about nothing because it focuses on students without any grand goals, like saving their school by forming an idol group. It's a show about friendship. Especially as you get older, you'll find you and your friends spend more time just kicking back and shooting the breeze while having a drink next to a barbeque. You won't be going on adventures or road trips. Your conversations will be about work or the news or a sporting event or absolutely nothing in particular. So despite not being about students on a grand quest, or about an epic romance, the depiction of friendship in Joshikousei no Mudazukai is pretty darn genuine.
---