También puedes leer este artículo en:Español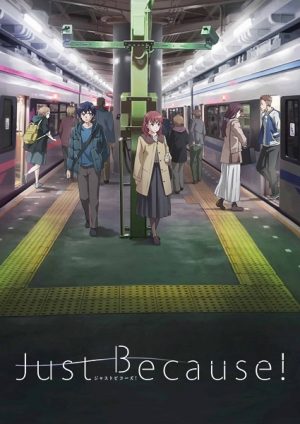 The final days of high school always seem to resonate with those who hold fond memories of their schools and friends. In many ways what seems like the end of days is actually only the beginning as anything could happen as a student nears the day of graduation. Those themes and emotions are what we love in Just Because and each week we're saddened to have to wait another 7 days for a new episode to air. Luckily, the anime world is filled with other great anime to watch. That statement is especially true for those who are loving Just Because.
That's why here at Honey's Anime HQ we all gathered together and decided it was time to spread our anime lists with you beautiful people out there in the world. Today we're looking at 6 Anime Like Just Because for no particular reason other than just because. Terrible jokes aside—and overused jokes now at this point—our 6 Anime Like Just Because list will definitely be a treat for those looking for various school stories similar to Just Because. Okay folks, sit down and get ready to read. We're exploring 6 Anime Like Just Because without any more delay!
Similar Anime to Just Because
1. Yahari Ore no Seishun Love Comedy wa Machigatteiru (My Teen Romantic Comedy SNAFU)

Episodes: 13
Aired: Apr, 2013- Jun, 2013
Hachiman Hikigaya has the look of a person who doesn't care about anything and doesn't want to care, well those looks are pretty accurate to how he feels. Hachiman considers the world to be a living façade and is quite adamant that his way of thought is the only accurate one. Well, it's easy to see how Hachiman's attitude would land him in trouble during class especially with his one teacher who forces him to join the Volunteer Service Club after he hands in a terrible assignment. Now Hachiman must help those who come through the doors of the club alongside another club member named Yukino Yukinoshita who might just be as cold as he is.
Can romance be defined by one word? We here at Honey's Anime think not and that's why we are enjoying Just Because so much. However, if you want a truly good anime to watch that similar to the light-hearted themes and pacing of Just Because then you want to watch Yahari Ore no Seishun Love Comedy wa Machigatteiru. With 2 seasons of comedy, drama and just a tinge of odd romance—and we mean odd-- Yahari Ore no Seishun Love Comedy wa Machigatteiru will be a fun watch for those who need something to fill in the time while they wait for another episode of Just Because but don't want just any ordinary anime but only the best of the best.
My Teen Romantic SNAFU-Official Trailer (Official Trailer)
---
2. Shigatsu wa Kimi no Uso (Your Lie in April)

Episodes: 22
Aired: Oct, 2014- Mar, 2015
Once Kousei Arima was a future pianist hopeful thanks to having an ear for music and a talent with the piano at an early age. However, due to several events that transpired over the course of Arima's life he became unable to hear the piano and thus found himself unable to play. Two years pass and Kousei still finds himself unable to hear the music he makes but when he runs into a violinist named Kaori Miyazono his life undergoes a drastic change. Wanting Arima to be her partner in an upcoming event he now must face his inner demons and attempt to once more play the piano…
Just Because teaches its viewers that life is precious. This same theme is indeed found within Shigatsu wa Kimi no Uso. A more musical driven romance story, Shigatsu wa Kimi no Uso focuses on an appreciation for the past all while learning to strengthen yourself from the pains it sometimes brings. With excellent animation and a truly stunning soundtrack, Shigatsu wa Kimi no Uso will make you feel each scene as it captures you with visual beauty and amazing melodies. Just be prepared for a truly moving story that will make you reach for some tissues as the tears flow from your eyes. Seriously, some of us here at Honey's Anime have seen Shigatsu wa Kimi no Uso several times and still cry at specific moments which we won't spoil.
---
3. Kimi ni Todoke

Episodes: 25
Aired: Oct, 2009- Mar, 2010
For Kuronuma Sawako, her school life hasn't been an easy time. Thanks to Sawako's long black hair many of the girls think she resembles the girl from The Ring and this fact isn't helped any when Sawako already has an odd smile and sometimes is known for making a scary face. However, Sawako doesn't try to do this on purpose and is just a shy girl who wants to be seen as normal girl. Though maybe Sawako can find this normal life when the popular guy from class approaches her and begins to talk to her. Follow Sawako's attempts at going from shy and awkward girl to normal and cute girl in Kimi ni Todoke.
As we see in the world of Just Because romance isn't always a simple thing. Sometimes it takes just one moment and one meeting to change everything in a possible relationship and what better show to convey that than Kimi ni Todoke. Animated by studio Production I.G, Kimi ni Todoke might be more shoujo orientated than Just Because but the romance and beautiful school story strikes an all too similar tone. We're confident once you begin Kimi ni Todoke you're going to find yourself binging through the first season and then entering the second—as there is indeed a 12-episode second season—all before the newest episode of Just Because launches. Though we won't blame anyone for doing this as we also watched Kimi ni Todoke pretty rapidly ourselves.
Kimi ni todoke- From Me to You- Vol 1 & 2- Official Trailer (Official Trailer)
---
Any Anime Like Just Because?
4. Orange

Episodes: 13
Aired: Jul, 2016- Sept, 2016
Imagine one day waking up and receiving a letter from yourself? However, this letter isn't one that was mailed in the past to you but actually a letter from your future. This exact thing happens to sophomore Naho Takamiya and while she quickly dismisses it as a possible prank, Naho quickly changes her mind when the events indicated on the letter begin to actually unfold right before her eyes. Now Naho is caught in a problematic situation when the letter claims she must protect a new transfer student Kakeru Naruse. How can Naho save a boy she barely knows and the bigger question is why does her future self-want to save him so bad?
Many people both young, old and middle age question what they would do if they could change their pasts. Haven't you found yourself wondering that at some point or another? Well that's what we love about Orange so much is that it gives that question a form by making it an anime that we consider spectacular. Filled with romance, drama and just a tinge of sci-fi—with the whole obvious time traveling concept—Orange is a story that has a web of complexity just like Just Because has. With beautiful animation and a truly stunning narrative that will keep you hooked from episode 1 to 13, Orange is a must watch if you're in love with Just Because.
Orange PV
---
5. Kuzu no Honkai (Scum's Wish)

Episodes: 12
Aired: Jan, 2017- Mar, 2017
If you were to know Mugi Awaya and Hanabi Yasuraoka, you would feel they were the ideal couple. However, behind their relationship lies a dark and sinister truth it's all a façade. Both Mugi and Hanabi are actually in love with other people, for Hanabi her teacher who actually is a childhood friend and for Mugi his teacher and tutor. Unable to grasp their true loves, the two decided to use one another to keep themselves sane. Unfortunately for both Hanabi and Mugi this twisted relationship will soon cause problems and their suffering will lead them down paths in life they aren't prepared for…
We've had some interesting romance stories on our list so far but one of the most mature and complex ones comes in the form of Kuzu no Honkai. This tale of forbidden and twisted love mind not seem to mirror the calmer nature of Just Because but equally it harkens to the themes we see in some of the characters like Mio Natsume and even Haruto Soma where their romances aren't exactly happy and healthy ones. That's why we thought if you're looking for a more mature romance story with more complex themes but a similar mature overall narrative like Just Because your best bet would be to check out Kuzu no Honkai. Just be prepared for some truly interesting twists and turns that happen in Kuzu no Honkai.
---
6. Tsuki ga Kirei

Episodes: 12
Aired: Apr, 2017- Jun, 2017
Junior high is finally coming to an end for Kotarou Azumi and Akane Mizuno. Ending up in the same class together, these two strangers end up meeting each other both during school and even outside which causes them to grow closer. Before they know it, both Kotarou and Akane decide to take their friendship to a new level, dating. However, as these two will soon learn romance isn't simple for any age young and or old. Can they make a relationship work or will life steer their paths towards different routes? Find out in this heartwarming and all too heavy romance story called Tsuki ga Kirei.
Just Because and Tsuki ga Kirei may be about different age groups but their romance tales are indeed very similar. Thus, why we knew it was only natural to end our 6 Anime Like Just Because list with Tsuki ga Kirei. With studio feel helming this original work, it should be no surprise that Tsuki ga Kirei will not only blow your mind with impressive narrative but also amazing animation that studio feel is known for in their anime works. The ending of Tsuki ga Kirei also really resonated with us here at Honey's Anime and we found ourselves really surprised by it. Are you now curious to what happens to young romance bound characters? Well the answers for that will only come to you if you watch Tsuki ga Kirei.
---
Final Thoughts
Nostalgia is one of the better feelings of school even for those who may not have had the best moments in their school years. There's always one or two good memories that makes reliving the past a treat and or an emotional moment and that feeling is found in not only Just Because but also the anime above. Though this ultimately is our opinion and thus why we wonder did we find all the anime similar to Just Because? Use the comment section down below to shout out to us and if you fell in love with our 6 Anime Like Just Because list why not explore our website here at Honey's Anime. We have tons of articles like this one just waiting to open up your world to more anime greatness.
---