A Couple of Cuckoos is a Spring 2022 Rom-Com anime adapting the manga of the same name by Miki Yoshikawa. The story follows Nagi Umino and Erika Amano, two teenagers that find out they had been mixed up at birth in the hospital, being raised by each other's parents. Nagi is a super studious second-year student at the prestigious Meguro River Academy, and on his way to dinner to meet his birth parents, he accidentally bumps into Erika Amano, an outspoken and bold social media star.
Erika decides to make Nagi her fake boyfriend, so she doesn't have to follow her parent's arranged marriage. Still, after making it to dinner, Nagi discovers that Erika is the baby he was swapped with at birth. To resolve everything, his parents have decided he and Erika should marry. A typically outrageous plot for a Rom-Com anime coupled with the confusion of teenage love, A Couple of Cuckoos is a fun series, and to scratch that itch, we have recommended six anime that we feel follow suit.
Similar to Kakkou no Iinazuke / Similar to A Couple of Cuckoos
1. Kanojo, Okarishimasu (Rent-a-Girlfriend)

Episodes: 12
Aired: July 2020 - September 2020
Rent-a-Girlfriend follows 20-year-old college student Kazuya Kinoshita after his recent break-up with the bright and cheery Mami Nanami. Kazuya opts to hire a rental girlfriend to soothe the heartache. Still, despite the joy of the date with Chizuru Ichinose, Kazuya leaves a poor review believing her demeanour to be an act the entire time. Furious, Chizuru gives Kazuya a piece of her mind, but the heated roasting is cut short when Kazuya gets a call that his grandmother is in the hospital, rushing to see her with Chizuru, who he promptly declares as his girlfriend when questioned by his ill grandmother.
Similar to A Couple of Cuckoos, Rent-a-Girlfriend's outlandish premise adds a lot of comedic dynamics to the typical romance story, with Kazuya and Chizuru's situation beginning with a snap decision to lie but building towards something tangible as the characters get to know each other. Explaining to friends why you have kept hidden such a relationship in front of your ex-girlfriend is that level of awkward comedy that is relatable but just so out of the ordinary to fit Rom-Com anime perfectly.
Kanojo, Okarishimasu Official Trailer
---
2. Kanojo mo Kanojo (Girlfriend, Girlfriend)

Episodes: 12
Aired: July 2021 - September 2021
Naoya Mukai is a high school student in love with his childhood friend Saki Saki, who finally accepts one of his many confessions and becomes his girlfriend. Naoya is overly enthusiastic about the new relationship but in an endearing way. However, his commitment is questioned when Nagisa Minase, a classmate of Naoya and Saki, confesses to Naoya. Not wanting to say no, Naoya devises a cunning plan where he brings Saki and Nagisa together and asks if they could all date each other.
Much like A Couple of Cuckoos, Girlfriend, Girlfriend doesn't take itself too seriously, owning the ridiculous story with even more outlandish comedy like Naoya and Saki hiding their relationship with Nagisa from their friend Shino while staying at a hot springs resort. Rom-Com anime like Girlfriend, Girlfriend and A Couple of Cuckoos really bring to life the hilarity of unlikely situations, but with relatable moments of humanity like Saki wanting to learn cooking skills from Nagisa to impress Naoya.
Kanojo mo Kanojo Official Trailer
---
3. Koi to Uso (Love and Lies)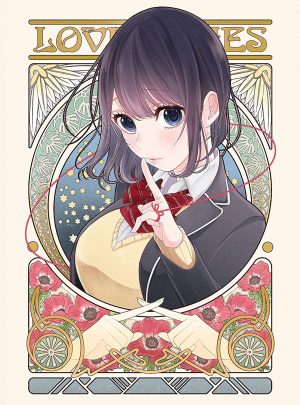 Episodes: 12
Aired: July 2017 - September 2017
Love and Lies is set in a futuristic Japan that has developed "The Red Threads of Science" to help combat low birth rates through a compatibility calculation assigning marriages at 16. Yukari Nejima confesses to his crush Misaki Takasaki who reciprocates his feelings but soon after receives his marriage notice - and it's not to Misaki. Instead, the two are thrown into a matrix of love, lies, and confusion as Yukari's assigned love, Ririna Sanada, becomes interested in his forbidden love.
Taking a much more serious tone than A Couple of Cuckoos, Love and Lies delves into the love triangle, or a love web, between all the characters in the series, relying less heavily on the comedic aspects. However, similar to A Couple of Cuckoos, the assigned marriage aspect of the main character's relationship gives the audience an interesting moral conflict of following one's heart or sticking with their assignment.
Koi to Uso Official Trailer
---
Any Anime Like A Couple of Cuckoos / Any Anime Like Kakkou no Iinazuke ?
4. Domestic na Kanojo (Domestic Girlfriend)

Episodes: 12
Aired: January 2019 - March 2019
Crazy scenarios surrounding love are a speciality of romance anime, and similar to A Couple of Cuckoos, Domestic Girlfriend goes for the more, the merrier with not just one but two forbidden loves for the main character. Natsuo Fujii has fallen in love with his young teacher Hina Tachibana, but his love is unattainable, so to distract his mind, he attends a mixer with his friend. Instead, Natsuo meets an equally bored and awkward girl his age, Rui, who suggests a one-night stand to get their first times over with, and it's equally disappointing for each.
The real twist comes when Natsuo's father announces that he is getting re-married to Tsukiko Tachibana, and her two daughters are moving in with them, Hina Tachibana and Rui Tachibana. So his first love and his first time are now his step-sisters, making for the most exciting drama in a romance full of ecchi scenes, twists and turns, and downright awkwardness. Similar to A Couple of Cuckoos, Domestic Girlfriend hangs on the ridiculous premise for a lot of the plot, building characters around their reactions but taking a more serious tone to A Couple of Cuckoos which weaves more comedy into its character's reactions.
Domestic na Kanojo Official Trailer
---
5. Yesterday wo Utatte (Sing "Yesterday" for Me)

Episodes: 12
Aired: April 2020 - June 2020
Moving onto a more mature setting, 'Sing "Yesterday" for Me' places its characters after college with Rikuo Uozumi living a monotonous life working in a convenience store after graduation. Life is made brighter with the daily visits from the peculiar Haru Nonaka and the arrival of his old crush from college Shinako Morinome.
Much like A Couple of Cuckoos, 'Sing "Yesterday" for Me' derives a lot of its plot from relationship mix-ups and love triangles, though tackling more adult themes such as depression, fractured relationships, and traumatic memories, using drama to showcase character development and relationships instead of comedy. Particular attention should be paid to the art and music which use a softer, more melancholic palette to portray the seriousness of the anime, but contrasts this with the light melodies in the soundtrack to uplift characters when life seems all a bit too much.
Yesterday wo Utatte Official Trailer:
---
6. Ore no Kanojo to Osananajimi ga Shuraba Sugiru (Oreshura)

Episodes: 13
Aired: January 2013 - March 2013
Oreshura is another typical harem Rom-Com anime, with our main character Kidou Eita having no interest in love and ending up with a colourful cast of girls around him and a fake relationship with the most sought-after girl in school, the popular Masuzu Natsukawa after being blackmailed. Suddenly all the girls around Eita are trying to win over his affection despite his dedication to his studies.
Much like in A Couple of Cuckoos, Oreshura thrives off the different girls around our main character. Chiwa Harusaki is the typical childhood friend looking to win back her love interest's heart, much like Sachi Umino does for Nagi in A Couple of Cuckoos. The comedy is built around the different situations everyone is found in, like the main character starting the plot out with a fake relationship that sparks real chemistry between the characters despite the patchy start between Masuzu and Eita.
Ore no Kanojo to Osananajimi ga Shuraba Sugiru Official Trailer:
---
Final Thoughts
A Couple of Cuckoos is a brilliant example of how ridiculous romantic situations can bring out the comedy in everyday life, and we feel we have selected six other anime that bring the same sort of energy to the audience, even if a few are more serious in tone. What are your thoughts on A Couple of Cuckoos so far? What other anime would you recommend to people enjoying the series? Let us know in the comments!
---