También puedes leer este artículo en:Español
A girl in a desperate situation surprisingly gets a home and status as a kami (Shinto Goddess). Her name is Nanami and now she has duties with the supernatural world and also towards the human world, by listening to the plights of the mortals. But hold on, she is not alone! Who would feel alone with a powerful kitsune (fox spirit) with the form of a handsome guy as a protector? Thus, the journey of Nanami and Tomoe towards the love road begins! But of course it is not an easy one, as other spirits want to separate them and Tomoe's past is a constant barrier to them.
Kamisama Kiss has all the elements of a good shoujo with a not so gullible protagonist and a whimsical love interest for her. What is most interesting is the colorful background rooted in the Shinto religion, which is almost an exclusive cultural asset of Japan. You will be wondering then, are there any other anime who are heavy on their usage of spirits and/or interspecies romance? Well, we can hear you, there is the great Rumiko Takahashi sensei's Inu Yasha. But let's see if we can find even more anime under these themes… Here are 6 anime like Kamisama Kiss! This is an updated list, but if you want to see the old list, they will be listed below this list!
Similar Anime to Kamisama Hajimemashita / Similar Anime to Kamisama Kiss
1. Kami-chu!: Kami-sama wa Chuugakusei (Kami-chu! The goddess is a middle school student)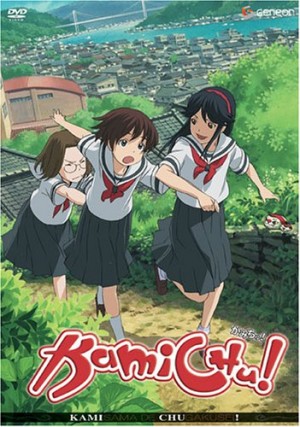 Episodes: 12
Aired: Jun 29 to Sep 27, 2005
So you thought your life as a middle-school student was harsh? Your part-time job is not helping as it should? Well, try to become a kami as Nanami does! We also have another girl who works part-time as a kami and we can appreciate her adventures in Kami-chu!. The girl's name is Yurie Hitotsubashi, who becomes a kami to save her family shrine from bankruptcy. With the help of her friends, she tries to balance her life as a human kami and her school life, while trying to confess her feelings to that special guy she likes.
So, Kami-chu! Is essentially a good ride towards school life in Japan's suburbs. Yurie and her friends are simply warm and playful together, and the show has a touch of a certain Ghibli like magic. Yurie's personality is also adorable! So, if you are into a short anime that celebrates the simple things in life with humor and charm, Kami-chu! might be right for you.
---
2. Natsume yuujinchou (Natsume's book of friends)

Episodes: 13
Aired: Jul 8 to Sep 30, 2008
What if Nanami would have been a guy instead of a girl? In Natsume yuujinchou, we have Takashi Natsume, a student on his teens. Natsume suffers from Watanukitis… em, the ability of seeing spirits and being pursued by them (I told you it was Watanukitis). But one day, he finds a cute, fat, talking cat and a mysterious book with the legacy from his grandmother. In short words, Natsume and the cat embark on a journey to free the youkai captured by his grandmother from the books binding.
So, if you ever wondered how would it be if Kamisama Kiss and Clamp's works combined together… search no more, we have Natsume yuujinchou! This anime comprises several happy adventures full with spirits and magic. It gets extra points for sending the message to lose the fear to the unknown… Who knows, maybe the unknown has friends waiting there for you, just like in Kamisama Kiss and Natsume yuujinchou!
---
3. Hotarubi no mori he (Into the forest of fireflies)

Episodes: 1 movie
Aired: Sep 17, 2011
Let's get back to the supernatural romance, just like in Kamisama Kiss (yeah)! Hotaru Takegawa is a curious and active girl who one fateful summer day, gets lost in a forest. But this turns out fortunate, because she meets a kami called Gin who will become her great childhood friend. Hotaru and Gin shared the best of moments together, so it was natural that they fell in love with time. But we know how this goes, our pair of lovebirds belong to different worlds and their feelings will be tested.
Hotarubi no mori he is a nice film for anyone who loves nature, stories with spirits and shoujo romance. The characters and the setting might look simple at first, but they grow up not only in size, but also in depth. Amid the ever changing natural environment, Hotaru and Gin will make us question, to which extent can we pursue a relationship made in childhood? You will have to watch the film and discover if they get an answer 🙂
---
Any Anime Like Kamisama Kiss/ Any Anime Like Kamisama Hajimemashita?
4. Gingitsune (Gingitsune: Messenger Fox of the Gods)

Episodes: 12
Aired: Oct 7, 2013 to Dec 23, 2013
This is the story of another fox spirit that protects a Shinto shrine, just like Tomoe does. Although he truly portrays himself as a fox… anyway, his familiar is Saeki Makoto, a girl who can see spirits and serves the shrine with her family. This duo will do what it takes to help people who go to the shrine seeking for divine help. Yeap, just like Nanami and Tomoe.
Here we have another story that has a faint Studio Ghibli spirit on it… or perhaps we feel it's like that because it somehow resembles the world of Mononoke Hime, but as it would be in our present days. We have normal people with their daily lives in one side, while in the other, mysterious and wonderful creatures lurk around the corner. With superb animations and music inspired in traditional styles, Gingitsune is an enchanting adventure from beginning to end.
---
5. Inari konkon koi iroha (ABCs of love)

Episodes: 10
Aired: Jan 15, 2014 to Mar 19, 2014
Here we have another shy and rather clumsy girl in love with a model guy. But our protagonist, Inari Fushimi, encounters a true fairy tale at the best Japanese style. Inari is so kind, that she rescues a fox from a river even when she was running late for class. As a prize for her action, a female Kami shares her power with Inari. Now she can transform into anything, just like the kitsunes do! Will that be enough for Inari to confess her feelings to her crush? You will have to watch the show to find out!
This is another anime full with positive vibes, enchanting green sceneries and a charming love story. Nevertheless, the supernatural element only takes the plot to more complicated heights… and makes us have a good laugh or two! Plus, if you like kitsunes, don't worry. Inari konkon koi iroha has whimsical fox spirits everywhere! The perfect combination of shoujo romance and cuteness together!
---
6. Noragami (Stray God)

Episodes: 12
Aired: Jan 5 to Mar 23, 2014
This is like seeing Nanami and Tomoe on steroids XD Which means that we should forget the sweet shoujo style romance. Instead, we get Hiyori and Yato. She is another teenager victim of Watanukitis (meaning she can see spirits), while he is a minor Kami who works for 5 yen coins. They meet when Yato saves Hiyori from being run over by a bus… and they become partners in "crime", helping people out of their problems. They also will encounter other kami (friends and foes) on their way. So, be prepared for the adventure!
Noragami is truly a fun anime to watch. The dynamics of the relationship of the protagonists is delightful and never gets boring, getting sweet or thoughtful only when it is really necessary. The music and animation's rhythm are an upbeat. Plus, the animation was in charge of the studio that made Darker than Black and Fullmetal Alchemist. What else could you wish for?
---
Final thoughts
We hope you liked our new selection of anime similar to Kamisama kiss. As you can see, there are plenty of options full of the Shinto spirit! Kitsunes are among the most representative folklore figures of Japan, so they are still present in people's hearts and minds. Plus, summer is the best season to talk about spirits in Japan. So, what are you waiting for? Grab your favorite cold drink or food, and give an opportunity to one (or more) of our recommendations!
And now, it is time for questions. Which is your favorite anime similar to Kamisama Kiss? Do you have other recommendations besides ours? Don't forget that we are open to all your comments and suggestions. See you soon!
---
---
Kamisama Kiss follows a classic shoujo trope of a damsel in distress, and a guardian who comes to her aid. There is never a dull moment in Nanami's life, which makes for an interesting plot. In addition, there is the relationship between her and her guardian, which the viewer gets to watch develop throughout the series. The fantasy element of this series also sets the stage for a colorful cast of secondary characters, each more fascinating than the next.
All in all, this is a show that has a lot to offer. If you have watched every episode and still want more, you are in luck. There are other series that are similar that you may enjoy. This anime contains elements of drama and romance, a girl and her non-human guardian, and the dynamic that occurs between them. This is a list of anime that share these qualities and other similar traits of Kamisama Kiss. Hopefully you will find something you like here!
Similar Anime to Kamisama Hajimemashita / Similar Anime to Kamisama Kiss
1. Inu x Boku SS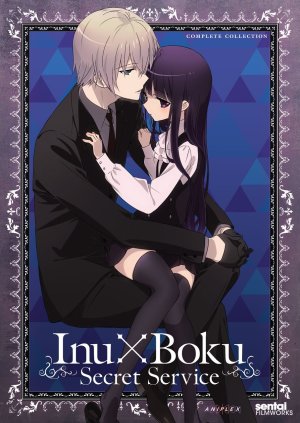 Episodes: 12
Aired: Jan 13, 2012 - Mar 30, 2012
This is a series where the female protagonist stumbles upon a non-human entity charged with her protection. Another striking similarity is the non-human protector is also a fox-spirit. If you enjoyed Kamisama Kiss, you will almost certainly find this series enjoyable.
Shirakiin Ririchiyo wants her independence more than anything. She tries her luck living on her own, on the condition of living in a mansion that is anything but your average residence. It has extremely strict rules, for one. Part of the terms of living in this mansion is that you are accompanied by a guardian. And not only that, but she soon finds out that her guardian is a fox-spirit.
---
2. Gugure! Kokkuri-san

Episodes: 12
Aired: October 6, 2014 - Dec 22, 2014
This series is strikingly similar to Kamisama Kiss. The main difference is that it is lacking a strong romantic element, but all the other components are the same – in fact, the herione's guardian is a dead ringer for Kamisama's Tomoe, though a bit more initially compassionate. The series also contains elements of drama, so if you enojyed Kamisama this series should be up your alley.
Kohina Ichimatsu insists she's fine alone. One day she recites an incantation which results in her summoning a fox demon into the midst of her abode, interrupting the solitude she claims to hold so dearly. Before she knows it, there is a cast of colorful characters living in her house. What's a loner to do with all this strange company?
---
3. Ookami to Koushinryou (Spice and Wolf)

Episodes: 13
Aired: January 8, 2008 - May 30, 2008
The male fox spirit Tomoe of Kamisama Kiss, and the female wolf spirit Holo of Oookami to Koushinryou are very similar in their attitudes, especially towards humans they fancy. Both explore the idea of a close relationship between an animal spirit and a human, set in a place where fantasy is reality. Though a bit more mature of a story, if this is a theme you enjoyed in Kamisama Kiss, you may enjoy Oookami to Koushinryou as well.
Lawrence is a traveling peddler. On his journey, he stumbles across a girl. At first glance she is a small woman with a wolf ears and tail, but soon reveals herself to be the harvest goddess Holo. They begin to travel together, and there is not a dull moment on the road between them. But can two beings who are so different really get along?
---
Any Animes Like Kamisama Kiss / Any Animes Like Kamisama Hajimemashita ?
4. Otome Youkai Zakuro (Zakuro)

Episodes: 13
Aired: October 5, 2010 - December 28, 2010
Kamisama Kiss is full of supernatural spirits and deities. Otome Youkai Zakura is similar in this respect, and this is no end to colorful characters you will meet along the way. Even more importantly, both series focus on the partnerships and romance between spirits and humans, so if you enjoyed the dynamic between Tomoe and Nanami, you will like what this series has to offer.
This series takes place is a world where The Ministry of Spirit affairs maintains order, and humans and spirits live side by side. The law of the land is enforced by The Ministry, and their orders are carried out by partners, one of which is a human and, and the other a spirit. This series follows a them as they work to uphold the peace, but it's no simple task and things are more complicated than they first appear.
---
5. Hiiro no Kakera (Hiiro no Kakera: The Tamayori Princess Saga)

Episodes: 13
Aired: April 1, 2012 - June 24, 2012
In Kamisama Kiss, high school student Nanami suddenly finds herself with a new title that comes with tremendous responsibility, and an attractive supernatural guardian. If those were components of this series you enjoyed, then you will certainly enjoy the romance and drama of Hiiro no Kakera.
Tamaki had no idea that she was a mystical princess, or what a royal pain this would turn out to be. In this new role her very life is very quickly put in danger - until a handsome half-demon comes to her rescue, and he's the first of several guardians to come to her aid. With their help, Tamaki just may be able to survive high school after all.
---
6. Furuba (Fruits Basket)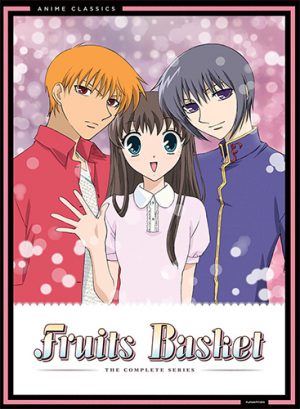 Episodes: 26
Aired: July 2001– December 2001
This is another series that focuses on a girl who is homeless, and finds herself taken in by supernatural beings. However, she soon finds out that the new residence she has accepted requires she share her home with animal spirits – and when romance blossoms, things begin to get even more complicated.
Tohru Honda is suddenly homeless, and an orphan. What's a high school student all alone in the world to do? Luckily the Souma family takes her in and puts a roof over her head. Living with them, Tohru begins to discover a series of dark secrets that plague her new friends. Can she help her new friends, or might she be in over her head?
---
There are lots of anime that explore the element of relations between humans and supernatural beings. Kamisama Kiss does this with a shoujo flair, and is thoroughly enjoyable to watch. Indeed, there is a lot to love about Kamisama Kiss – romance, drama, fantasy, intriguing character development, demons, kemonomimi and more. No matter what part of Kamisama Kiss was your favorite, there will likely be something on this list that you will enjoy.
---