También puedes leer este artículo en:Español
Katekyo Hitman Reborn! is a title that many anime fans are very familiar with. While it may not make it onto the "big three" list of Bleach, Naruto, and One Piece, it is certainly not far behind in number of fans and level of adoration. Despite finishing several years ago, merchandise continues to be produced for it, people continue to cosplay it, and it remains a favourite for many viewers. So when an anime this big and important finishes, what is an anime fan supposed to do to fill the gaping hole? Why, find other similar titles of course – and we are here to help you do just that!
Katekyo Hitman Reborn! has several key themes that make this anime unique and special – a serious development for the main character Tsuna throughout the story, a strong and very important supporting cast of friends and enemies, and exciting action and fighting sequences to keep the viewer on the edge of his or her seat. In this 6 Anime Like Katekyo Hitman Reborn!, we will explore some titles that will also have one or more of these themes. Some of them might seem unexpected at first, but we guarantee that they are great choices if you're looking for a new anime similar to Katekyo Hitman Reborn!
Similar Anime to Katekyo Hitman Reborn! / Similar Anime to Home Tutor Hitman Reborn!
Similar Anime to Katekyo Hitman Reborn! / Similar Anime to Home Tutor Hitman Reborn!
1. Eyeshield 21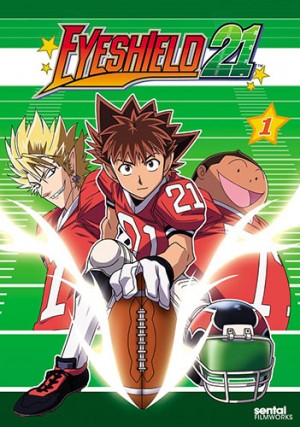 Episodes: 145
Aired: Apr. 2005 – Mar. 2008
Eyeshield 21 is a great place to start if you're looking for an anime similar to Katekyo Hitman Reborn!. It tells the humorous story of Sena Kobayakawa, a high school boy considered by most in his class to be quite weak, and he is regularly picked on and terrorized. However, his ability to quickly get away from his pursuers catches the eye of the captain of the American football team, who ends up recruiting Sena as a secret, mystery player for the extremely important position of running back. Sena continues to prove he's the fastest when he is scared and running away from things, just like before when he was being bullied instead of the secret star of the team! Hilarity ensues.
One might be asking the question about how an anime focused on American football can have anything in common with an anime about the Mafia, but the similarities between the main characters and the themes of the story are very strong. Both Eyeshield 21 and Katekyo Hitman Reborn! feature a main character who is changed significantly from who he is at the start of the anime, and who he is at the end. While both begin as "weak" or even pathetic characters, through their experiences and with the help of their friends (or teammates!), they become strong!
The road is long and hard and full of obstacles, but both anime tell the story of an underdog that goes on to find success, and both do so in a way that is funny and meaningful at the same time.
---
2. Nurarihyon no Mago (Nura: Rise of the Yokai Clan)

Episodes: 24
Aired: Jul. 2010 – Dec. 2010
The story of Nurarihyon no Mago revolves around the main character Nura, who is no ordinary boy. In fact, while he is ¾ human, the last ¼ is Youkai (a Japanese supernatural monster). He lives in a house full of Youkai, and with a grandfather that hopes Nura will succeed him as head of the Nura Clan. However, Nura himself doesn't want any of this at the start, and instead spends his time trying to help humans and doing good deeds in hopes that he will not become a full Youkai someday.
As the anime progresses, Nura slowly begins to come to terms with his heritage, and starts to accept that he can indeed fulfil his grandfather's dream even when initially he had no desire to. Tsuna is presented with a similar situation in Katekyo Hitman Reborn! when he is presented with the fate of taking over as head of Vongola Family. At first, he too rejects the idea, but as the story goes on he learns to accept it and to step into the shoes of those before him. Both anime tell the story of a boy who has to deal with a future that has been determined for him because of his heritage, and the path that they must take to grow from ordinary boys into powerful leaders.
Nura Rise of the Yokai Clan Set 1 - Official Trailer
---
3. Shijou Saikyou no Deshi Kenichi (Kenichi: The Mightiest Disciple)

Episodes: 50
Aired: Oct. 2006 – Sep. 2007
Shijou Saikyou no Deshi Kenichi is the story of Kenichi Shirahama, a high school student who goes from being the constant victim of bullying, to vanquishing the bullies himself. As one can imagine, it is quite a turn-around to go from one end of the food chain to the other, and Kenichi doesn't do it overnight through any superpowers or miracles. This anime focuses a lot on Kenichi's training in martial arts at the dojo, Ryouzanpaku, alongside a girl named Miu, the granddaughter of the dojo master. Kenichi turns the tables on the bullies and delinquents, training hard to defeat and disband them and keeping them from making anyone else their victims.
Much like Tsuna in Katekyo Hitman Reborn!, Kenichi is at first a very unassuming and physically weak character. But also like Tsuna, Kenichi works hard at his training to develop into a much stronger fighter that can not only handle himself, but can really take care of business. Shijou Saikyou no Deshi Kenichi is another anime for someone who was really interested in the underdog story of Katekyo Hitman Reborn! and wants to see the serious development of the main character from zero to hero. If you liked seeing that development in the form of fights and action sequences, then Shijou Saikyou no Deshi Kenichi is something you'll definitely want to check out!
Kenichi: The Mightiest Disciple Collection One Trailer
---
Any Anime Like Katekyo Hitman Reborn!/ Any Anime Like Home Tutor Hitman Reborn!?
4. One Piece

Episodes: Currently Airing
Aired: Oct. 1999 - Ongoing
If you even like the concept of anime, then you have certainly heard your share of opinions on our next suggestion – One Piece. One of the most popular animes in Japan and abroad, One Piece is a story about adventure, excitement, humour, and friendship on the high seas! That's right, it's about pirates. The main character, Monkey D. Luffy, and his crew, The Straw Hat Pirates, search for the fabled "one piece" and the title of King of the Pirates. Of course, finding it isn't simple, as over 700 episodes (and a new one still, every week) certainly prove!
The cast of One Piece is absolutely massive, and full of original and unique protagonists and antagonists both. While not as big, Katekyo Hitman Reborn! also consists of many different characters, all of whom are very critical towards shaping who Tsuna becomes. In both anime, the main characters are developed a lot by their cast of both friends and enemies, and the influence of these other people is very important to the story. So if you are looking for not just a strong main character, but a strong supporting cast like in Katekyo Hitman Reborn!, maybe now is as good a time as any to sign on to the commitment of watching One Piece!
One Piece Collections 1 - 4 Trailer
---
5. Beelzebub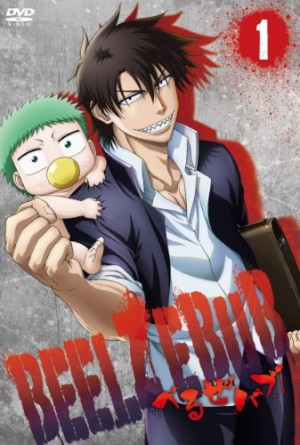 Episodes: 60
Aired: Jan. 2011 – Mar. 2012
Beelzebub follows the story of Tatsumi Oga, and the strange "baby" Beel that he finds one day when he is in high school. However, Beel is no ordinary baby of course – in fact, he is the son of the demon king, and it is Tatsumi's job to raise him! Throughout the anime, Tatsumi is faced with the challenges of raising a demon, albeit begrudgingly, as he finds himself in an official contract with Beel against his will. At first, Tatsumi does all he can to fight it, but slowly he begins to use the powers granted to him as Beel's "father" to become a powerful fighter against gangs and other classmates.
Beelzebub and Katekyo Hitman Reborn! have a very unique thing in common – the presence of a powerful figure in the form of a baby that becomes, in some way, the responsibility of the main character. In Beelzebub, the baby is the son of the demon king, as described in the aforementioned paragraph. In Katekyo Hitman Reborn!, the baby is a Mafia leader. Both pack a surprising character in an unsuspecting package to give the anime a unique twist, and both of these "babies" are able to grant the main character some level of supernatural power to help them in fights. So if supernaturally powerful babies – or at least unexpected and different characters than simply the norm – that make an anime truly stand out are your thing, then be sure to check out Beelzebub!
---
6. Arcana Famiglia (La Storia Della Arcana Famiglia)

Episodes: 12
Aired: Jul. 2012 – Sep. 2012
Arcana Famiglia is an anime about an organization of the same name that is written to be similar to the Mafia. However, with a special twist to the normal sort of Mafia story, in this anime the people in the organization all have the special trait of having bonded with an Arcana card that grants them special abilities. In the story, the current head of the organization, Mondo, has decided it is time for a new leader, and that the leader – and husband for his daughter, Felicita – should be determined through a tournament. However, Felicitia has other ideas about who can decide her fate, and that of the whole family!
If the Mafia sort of feel to Katekyo Hitman Reborn! is what really captivated your interest, then be sure to check out Arcana Famiglia. The story may be a bit different, but the setting is similar and can give you another taste of a Mafia-driven anime. Both also follow a lead character who is fighting to determine who will be the head of the family. Tsuna fights for himself, while Felicita fights to keep her father as the head. Both anime also have good friends to the main characters that help them achieve their goals, and thus help determine what happens to the organizations in the end.
Arcana Famiglia Anime Trailer
---
Conclusion
While it is impossible for another anime to be exactly the same as Katekyo Hitman Reborn!, and it may be difficult for one to even compare for some fans, this is at least a place to start. If 203 episodes of humour, action, and one baby Mafia boss aren't enough, then be sure to check out some of the anime series listed above.
Whether you are looking for more stories about the Mafia or about training to be a great fighter, you are more interested in a story that highlights how far the main character can go throughout the series, or you like to see a strong supporting cast of friends, look no further. We hope that at least one – if not all! – of the selections here in 6 Anime Like Katekyo Hitman Reborn! will be able to satisfy your lust for more.
If there are any other anime similar to Katekyo Hitman Reborn! that you think we have missed, please leave a comment below with your recommendations!
---