También puedes leer este artículo en:Español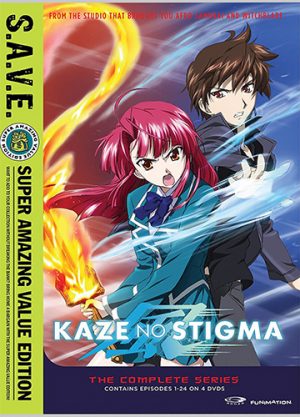 Summer season 2016 has ended and a new season is right around the corner. What better time to think back to old classics and some of the most popular shows out there?
Kaze no Stigma is one such show. It has everything you'd want from an action anime: battle scenes, fantastic fights, powerful characters and alluring magic. It is such a classic in the anime world that we thought we should give one of our older posts a second chance. That's right, we have a brand new, updated version of our Top 6 anime like Kaze no Stigma.
Whether you are an avid fan of the show or just looking for some good Action/Fantasy recommendations, this list has something to offer for everyone. So lean back and enjoy six more anime like Kaze no Stigma!
Similar Anime to Kaze no Stigma / Similar Anime to Stigma of the Wind
1. Mahouka Koukou no Rettousei (The Irregular at Magic High School)

Episodes: 26
Aired: April 2014 - September 2014
Let's start our updated 6 anime like Kaze no Stigma list off with the most recent recommendation, shall we?
Fans of everything supernatural and school-related might already be familiar with this show, but here's a quick overview for everyone else: The Irregular at Magic High School tells the story of siblings Tatsuya and Miyuki Shiba. They attend First High School, a special institution whose curriculum combines powerful magic with futuristic technologies. While Miyuki shows extraordinary magical abilities, her brother Tatsuya fails big time. Only his outstanding knowledge of technology and combat skills allow him to stay inside First High School.
Obviously, the relationship between Tatsuya and Miyuki is not as romantic as the one between our pair from Kaze no Stigma. Nevertheless, both shows highlight the interaction between the main couples and how they can help each other out when the going gets rough. Both shows have their own interpretation of magic and top it off with lots of action and drama. If you are a fan of magic, but can also appreciate a little bit of Sci-Fi, just like Kaze no Stigma then the Irregular at Magic High School is the show you should be checking out next.
Mahouka Koukou no Rettousei Official Trailer
---
2. Darker than Black: Kuro no Keiyakusha (Darker than Black)

Episodes: 25
Aired: April 2007 – September 2007
Darker than Black is the first of two shows that were already part of our original line-up. But no reason not to mention this little gem twice, right? It's just like Kaze no Stigma
This show tells the story of Heaven's Gate and Hell's Gate as well as everything that lies between them. As soon as these mysterious gates open on earth, a group of humans called Contractors starts emerging. They are special beings that were granted supernatural powers in exchange for their humanity. Darker than Black highlights their sinister lives in the form of a thrilling sci-fi action show.
Darker than Black is a great anime, especially for everyone who enjoys darker and more thoughtful shows. While it is true that the overall style of Darker than Black is more sinister than like Kaze no Stigma's style is, but both anime show a certain degree of thoughtfulness. They don't simply rely on quick action scenes to grab your attention but want you to start caring about the main cast. That doesn't mean that the action in both shows isn't outstanding, so give Darker than Black a try if you haven't already.
Darker than Black Trailer
---
3. Zero no Tsukaima (The Familiar of Zero)

Episodes: 13
Aired: July 2006 - September 2006
After Darker than Black, we have a more light-hearted show to lift up your mood. Next up is Zero no Tsukaima!
Life could be wonderful for Louise Françoise Le Blanc de La Vallière: she comes from a noble family, studies at a prestigious academy and is on her way to becoming a renowned magician. But there is one problem; Louise fails at every cast she spells and has earned herself the nickname "Louise the Zero". This might change though when she manages to summon a boy named Saito Hiraga as her familiar. Even though this was not how Louise intended things to go, Saito might be of more help than she'd anticipated.
Both Zero no Tsukaima and Kaze no Stigma feature a mixture of action, romance, comedy and magic. If you are looking for Kaze no stigma, but with more romance, then this may be for you. Albeit the romance is a bit more twisted. While our previous recommendations were more action-focused, Zero no Tsukaima caters to everyone in need for a good laugh. Just as in Kaze no Stigma, the relationship between an unlikely duo is the main focus. What makes Zero no Tsukaima unique is its humorous take on the whole storyline, so if you are looking for a show like Kaze no Stigma that is less dramatic, then Zero no Tsukaima is the show for you.
Zero no Tsukaima Official Trailer
---
Any Anime Like Stigma of the Wind / Any Anime Like Kaze no Stigma?
4. Kekkaishi

Episodes: 52
Aired: October 2006 - February 2008
You enjoy magic, but are more into classic Japanese folklore? Then pay attention to our next recommendation, Kekkaishi!
Yoshimori Sumimura would rather have a simple and normal life, but he happens to come from a long line of powerful "Kekkaishi", humans with supernatural abilities whose job it is to destroy mythical monsters. Looks like Yoshimori has to get to work first before earning his well-deserved rest.
Kekkaishi is the most similar anime to Kaze no Stigma when it comes to its set-up: we have a boy coming from a powerful family, an equally strong girl coming from a different clan and magical beings that need to be destroyed before they can harm innocent bystanders. So chances are high that if you've enjoyed Kaze no Stigma, you will also love Kekkaishi. It's a more laid-back show that uses its quick-paced action and steady character development to keep you entertained. Kekkaishi earns the fourth spot on our list!
---
5. Ao no Exorcist (Blue Exorcist)

Episodes: 25
Aired: Apr 2011 - Oct 2011
We have one more school-themed magic show on our list and it is nothing other than the infamous Ao no Exorcist.
For those of you who are not familiar with the storyline of Ao no Exorcist, let us give you a quick overview. Rin Okumura is your typical good-for-nothing troublemaker. He doesn't excel at school, struggles to find a part time job and cannot keep himself out of trouble. Things get worse when he finds out that he is the son of Satan, ruler of the Underworld, and has to become a powerful exorcist in order to protect the ones he loves. Nothing easier than that, right?
What struck us as how Ao no Exorcist is like Kaze no Stigma was the backstory of Rin. Just like Kaze no Stigma, Kazuma and Rin grow up under less than ideal circumstances and as a result, develop a cold and off-putting attitude. But both boys actually do care about the people around them and they both want to use their powers to protect them. Ao no Exorcist and Kaze no Stigma combine light-hearted moments with drama and action, so if you are looking for a diverse show, then Ao no Exorcist should be on your list.
Ao no Exorcist Trailer
---
6. Shakugan no Shana

Episodes: 24
Aired: October 2005 – March 2006
Our final recommendation is also the second show on our list that we've already mentioned in our first post. Last, but definitely not least is Shakugan no Shana.
Earth as we know it is being attacked by mythical beings emerging from a parallel universe. When these so-called Crimson Denizens feast on human souls nothing remains except a "Torch", a small remainder of that human's memories, waiting to be destroyed. High schooler Yuuji Sakai is such a Torch. His life is about to end and his only hope is Shana, a mysterious girl with crimson red hair. How will their story end?
Shakugan no Shana might already be ten years old (time really flies, doesn't it), but we are sure it can still entertain the masses today just like it did on the day of its release. After all, just like Kaze no Stigma, this show offers lots of timeless classics: action, drama, fantasy and a little bit of romance to top it all off. The biggest similarity to Kaze no Stigma are the two heroes which - you've guessed it - are a boy and a girl who slowly, but surely grow close to each other. Shakugan no Shana is as much of an all-rounder as Kaze no Stigma, so you should definitely check it out when you get the chance.
---
Final Thoughts
This concludes our list of recommendations for today. What a magical trip it was! We tried to include as many different forms of magic as possible, from the Sci-Fi powers of The Irregular at Magic High School to the powerful exorcism in Ao no Exorcist. As long as you enjoy action, supernatural powers, comedy and a little bit of romance, you should be able to find a perfect fit on today's list. These should hold you over while we hope and wait for a second season. If we get a second season of Kaze no Stigma.
Let us know if there are any other shows you would have included on our list. What is your general opinion on Kaze no Stigma? Let us know in the comment section below!
---
---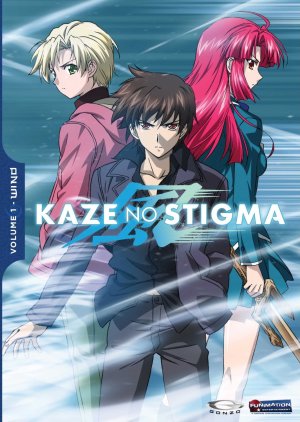 You just finished Kaze no Stigma (also called Stigma of the Wind in English) and you enjoyed it? We did too!
Kazuma is pretty cool, right? Plus who doesn't like stories with elemental magical powers?
Then there is also the fights between clans and organizations.
Moreover this anime doesn't forget either to include some romance and comedy between two magical fights. To summarize, it was a pretty good and fun show!
Well here are 6 others anime that you could like as well:
Similar Anime to Kaze no Stigma / Similar Anime to Stigma of the Wind
1. Darker than Black

Episodes: 25 + 1 OVA for the 1st season and 12 + 4 OVAs for the 2nd season
Aired: Apr. 2007 – Sept. 2007 (1st season) and Oct. 2009 – Dec. 2009 (2nd season)
Darker than Black is divided in 2 seasons named Darker than Black: The Black Contractor and Darker than Black: Gemini of the Meteor which actually is a sequel of the first story like Naruto Shippuden is to Naruto.
The story is set in a world where the appearance of what is called "Hell's Gate" provoked the emergence of people able to wield paranormal powers. Yet those powers cost the conscience of their holders. Hei is one of them and with his partner Yin his goal is to unlock the mysteries that hides Hell's Gate.
The biggest common point with Kaze no Stigma here is that some power wielders are literally called Contractors. Yet in Darker than Black there are many more various types compared to the 4 elements of Kaze no Stigma. Both main characters also have a dark and dramatic past and are equally cool. This is a great anime to watch but you might know it already.
Darker Than Black Anime Trailer
---
2. Shakugan no Shana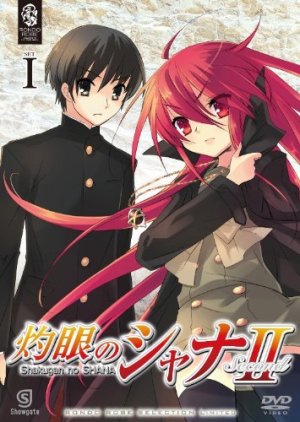 Episodes: 24
Aired: Oct. 2005 – Mar. 2006
One day while coming back home from high school, Yuuji witnessed an unusual and scary event: the world just stopped as it froze in front of his eyes. People were strangely covered by blue flames as a huge doll look-alike monster began to eat them. While Yuuji's turn to be eaten and lose his life was coming, a mysterious girl wielding a large katana appeared and slay the monster. Yuuji's life was saved? Not really…
In this anime we find a katana wielder heroin able to summon fire to kill demons that has many common points with Ayano. You can add to that the romance between the 2 protagonists and cool fights. So if you liked Kaze no stigma, you should enjoy Shakugan no Shana as well.
Shakugan no Shana trailer
---
3. Code: Breaker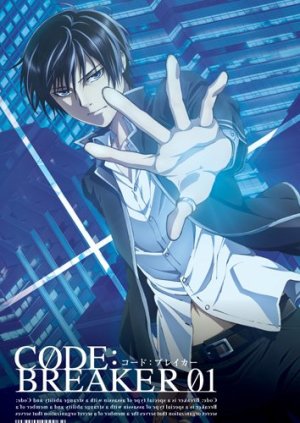 Episodes: 13 + 3 OVAs
Aired: Oct. 2012 – Dec. 2012
While riding the bus one day, Sakurakouji Sakura spotted several men burning alive in strange blue flames in a park. In front of them, a young man of approximately her age was standing, unarmed. The weirdest thing is that the next day, no corpses, ashes nor any kind of trace of fire was left in this park. It was like nothing ever happened. Later at school, she discovers that the new student that just arrived is the same man she saw in the park, Oogami Rei, a code: breaker, "one who does not exist".
In this anime you'll find again some elemental powers like fire, ice, light, sound, magnetism, shadow, etc… You can also expect some funny moments and a little bit of romance but the best parts are the fights and how awesome the characters are. The story also is very good but sadly the anime is already over and there isn't any 2nd season announced so if you like it, I advise you to follow the manga after finishing the anime.
Code:Breaker - Official Trailer
---
Any Animes Like Kaze no Stigma? / Any Animes Like Stigma of the Wind?
4. Tokyo Underground

Episodes: 26
Aired: Apr. 2002 – Sept. 2002
This anime follows two random high school students in Tokyo: Rumina Asagi and his best friend Ginnosuke Isuzu. After an unexpected meeting with the Miko of Life and a Gravity power wielder protecting her, their life will change as they discover what is hidden under the ground of this city. It's the beginning of a great adventure!
Another cool shounen mixing action, romance and elemental power wielders. The storyline is not really original but if you like that kind of anime like Kaze no Stigma, you should appreciate this one as well.
Opening Tokyo Underground
---
5. Densetsu no Yuusha no Densetsu / The Legend of the Legendary Heroes

Episodes: 24 + 1 OVA
Aired: Jul. 2010 – Dec. 2010
The main protagonist Ryner Lute is not the typical kind of soldier. This guy is lazy, often lethargic or unmotivated but cursed (or gifted depending on the point of view) with a mysterious power named "Alpha Stigma". This caused him to be treated like a monster by many people during his whole life. After a deadly war against a neighbouring country, King Sion Astal commanded him to go on a journey in order to find the relics of a legendary hero. However during his journey, Ryner soon discovers that a deadly curse is spreading and threatening the whole continent.
This anime has several similarities with Kaze no Stigma and a pretty good story. You can find here great fight scenes, a female protagonist using a blade as a weapon, magical powers and a close relation between the male and female protagonists. A good "epic journey" style anime that you would most probably enjoy!
The Legend of the Legendary Heroes Trailer HD
---
6. Seiken no Blacksmith/ The Sacred Blacksmith

Episodes: 12
Aired: Oct. 2009 – Dec. 2009
The story starts 44 years after the tragic Valbanill War which involved demons and caused big damages to the World. Cecily Campbell is a young knight following her family tradition and guarding the Independent Trade City of Housman. The only issue is that she has no real combat experience which put her in trouble when she had to face a crazed veteran knight. Fortunately her life is saved by a man wielding a sword like she has never seen before. This man looks to be more than just a simple swordsman…
This last anime is a bit more different to Kaze no Stigma in the setting than the others but still shares many common points with it. So you can expect a strong willed girl fighting with a sword against demons and accompanied by an often insensitive man with a tragic past. Comedy, romance, elemental magic, fights and demons are all part of this anime that you should appreciate.
Seiken no Blacksmith Trailer
---
I hope you'll find another anime that you will enjoy as much as Kaze no Stigma within those 6 recommendations.
Of course I could have mentioned some great and more famous anime but I tried to vary a bit giving you some new ones that you might have not heard about as well.
Alright, this is all for this article but you can leave some comments if you have anything to add or any other recommendations. Cheers!