También puedes leer este artículo en:Español
If you find sappy and sweet romances, there is no doubt that you caught the adorable shoujo anime, Kimi ni Todoke: From Me to You. Sawako is a misunderstood yet sweet girl. Shouta is the open minded boy who refuses to ignore Sawako like the rest. This is the type of romance that melts your heart!
However, now that you have watched Kimi ni Todoke: From Me to You, what can you watch now that will give that same heartwarming feeling? Well, luckily we have compiled a list of 6 anime similar to Kimi ni Todoke: From Me to You to help ease your withdrawal symptoms.
Similar Anime to Kimi ni Todoke / Similar Anime to From Me to You
1. Suki tte Ii na yo (Say I Love You)

Episodes: 13
Aired: October 2012 - December 2012
Every since Tachibana Mei was betrayed by her friends, Mei has no need for friendship. Everything was going well and Mei was able to live a peaceful life. That is, until she met Kurosawa Yamato, the most popular boy in school, who can't seem to ignore her. Yamato is constantly attempting to befriend Mei, despite her desire to be alone but perhaps it is time that Mei make a friend. Or maybe Mei will have to admit to herself--and to Yamato--that this feeling is something more.
If you want something as sweet as Kimi ni Todoke with some of the drama, Sukitte Ii Na Yo will fill the order nicely. Mei is much like Sawako, misunderstood and harassed by other classmates. Yamato is just like Shouta; he watches out for Mei and changes Mei's world around. Their romances may not be exactly the same but they are in for a similar ride as their relationships progress. Ah, what are you even waiting for? Watch Sukitte Ii Na Yo now!
Say "I Love You" Trailer
---
2. Lovely Complex

Episodes: 24
Aired: April 2007 - September 2007
Koizumi Risa just wants to fall in love like everyone else, but her height makes her taller than most of the boys in the class, so she sets her sights on the tallest and handsome Suzuki Ryouji. On the other hand, Ootani Atsushi is the shortest guy in class and wants to date a girl, but the girl he likes ends up dating Ryouji! Now, Risa and Atsushi are out of luck and constantly lumped together as the class comedy duo. While they fight and may not seem to get along, maybe there is something there? Can a tall girl and a short guy find love together?
Lovely Complex is similar to Kimi ni Todoke in the way that both couples kind of worry about how others will view them. They both try to avoid being deemed a couple for a long time. On the one hand, Risa tends to get angry easily and then put Atsushi down when he doesn't understand. On the other, they can actually be sweet. Compared to Kimi ni Todoke though, Lovely Complex is more comedic and light hearted without all of the drama that you may have seen in Kimi ni Todoke, but that doesn't mean that seeing the relationship blossom between Risa and Atsushi isn't worth it. After all, it is a fan favorite.
---
3. Bokura ga Ita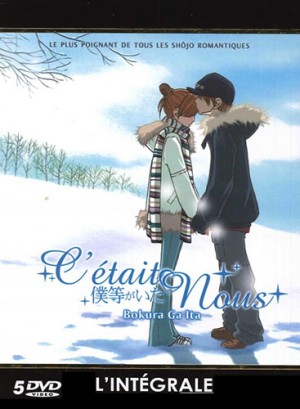 Episodes: 26
Aired: July 2006 - December 2006
Nanami is the new student at her school and is trying to make friends as quickly as possible. However, she forgets the name of one schoolmate and asks the most popular boy in school, Yano Motoharu, for help. He gives her the wrong name and embarrasses her in front of everyone. Nanami is furious and wants nothing to do with Motoharu, but maybe, this is the start of love?!
Bokura ga Ita follows a similar outline where the main character likes a boy who is the most popular in the school. Compared to the other anime listed in this article, Bokura ga Ita has more drama and complications in the relationship between Nanami and Motoharu, which is comparable to that of Kimi ni Todoke. In Bokura ga Ita, you get to see the complications of teenage relationships including the insecurities, lies, and past relationships. Bokura ga Ita can really toy with your emotions if you become immersed in the anime. Watch out! If you want something like Kimi ni Todoke where it discusses character relationships but with a bit of drama mixed in, check out Bokura ga Ita. You won't regret.
---
Any Anime Like From Me to You / Any Anime Like Kimi ni Todoke ?
4. Ore Monogatari!! (My Love Story!!)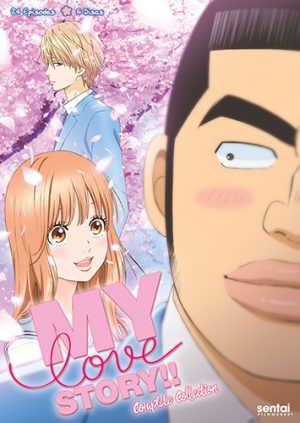 Episodes: 24
Aired: April 2015 - September 2015
Gouda Takeo is bulky and large in build which makes him the pursuit of all the sports teams. However, this trait does not help him get girls, despite his romantic heart. Try as he might, Takeo is no match for his best friend and bishounen, Sunakawa Makoto, who has captured the heart of all of Takeo's crushes. One day, Takeo saves the adorable Yamato Rinko from a pervert and falls for her, but he ignores his feelings and tries to help Rinko capture the heart of Makoto thinking that's who she wants the most.
Ore Monogatari!! is a cute shoujo anime that is goofy and quite sweet. It leaves you with a heartwarming feeling that you can only equate to Kimi ni Todoke. However, Ore Monogatari!! is much sillier and will have you cracking up from time to time so it is much more light-hearted than Kimi no Todoke if that is what you are in the mood for. The thing about Ore Monogatari!! is that it really plays off of shoujo tropes, but in essence, it makes fun of them altogether, but that's what we love about it! Most shoujo anime would be all about the of the Makoto's of the world, but in Ore Monogatari!!, it's all about the Takeo's of the world!
Ore Monogatari!! Trailer
---
5. Yamato Nadeshiko Shichihenge♥ (The Wallflower: Yamatonadeshiko Shichihenge)

Episodes: 25
Aired: October 2006 - March 2007
Four bishounen are given the opportunity to live in a mansion rent free should they fulfill one condition: turn the landlady's niece into a "lady." Unfortunately, Sunako is not quite interested in their endeavors ever since she was rejected as a middle schooler for being ugly. Now, Sunako just wants to live in the darkness with her horror films and anatomy dummies because the light blinds her and beautiful people give her nosebleeds.
Yamato Nadeshiko Shichi Henge is not an anime to be dismissed for its art style because it is quite enjoyable. Sunako looks very much like Sawako and they both are content with being dismissed by society as outcasts. Then there are their bishounen saviors who try to bring them back into the light. Sunako and Sawako are very similar in their circumstances, but at least Yamato Nadeshiko Shichi Henge is more on the comedic side of shoujo anime and light hearted. Yamato Nadeshiko Shichi Henge is also technically a reverse harem, but all of the antics have very little to do with romance. Instead, you just get to see the goofy side of the characters. Yes, Yamato Nadeshiko Shichi Henge plays on the more comedic side of reverse harem, but that does not mean it is not enjoyable.
---
6. Kuragehime (Princess Jellyfish)

Episodes: 11
Aired: October 2010 - December 2010
Tsukimi, an avid lover of jellyfish, is horrified upon seeing a jellyfish neglected at a pet store. Try as she might, Tsukimi is too socially awkward to get help for the jellyfish until a beautiful woman comes to the rescue, which is the start of a new friendship. Tsukimi introduces this woman to her roommates and friends, who also suffer from being socially awkward, however, the woman is going to surprise these awkward girls.
Like Yamato Nadeshiko Shichi Henge, Kuragehime also has a main character who seems to be really content as an outcast and socially awkward. Tsukimi has more or less a personality like Sawako, though, as she is very shy and soft hearted than Sunako. And much like Sawako, Tsukimi falls for a boy who makes her want to change herself even a little. Although Kuragehime is actually a josei anime, it is an enjoyable watch that has similar elements to Kimi ni Todoke. You will just discover that there are more mature themes in Kuragehime than you would in shoujo anime. You play with the ideas of being a NEET and how it may affect your life as well as the need for self improvement for yourself and not for others. It is such a well-developed anime that you will find that you will be drawn in and can't stop watching!
Princess Jellyfish Trailer
---
Final Thoughts
Ah, some anime can be just so cute or heartwarming; They're just perfect for Kimi ni Todoke substitutes. Are there any fans out there that have watched these anime and would vouch for them? Or perhaps you have a different anime in mind that is more like Kimi ni Todoke. Please, feel free to share your thoughts and opinions!
---