Written during the 16th century, Romeo and Juliet is timeless. There will never come an age when creators stop looking towards Shakespeare's play for inspiration. Torn apart by their families and driven beyond the point of desperation, Romeo and Juliet's ill-fated romance tends to be recognized as one of literature's greatest love stories, but Shakespeare wrote a tragic tale about infatuation rather than neverending love. Seriously, the eponymous teenagers meet at a party and get married the next day! Talk about a rushed wedding!
Romeo and Juliet's influence expanded into various mediums, and anime is not an exception. Based on a manga by Yousuke Kaneda and animated by LIDENFILMS, Kishuku Gakkou no Juliet adapts Shakespeare's classic into a fun action-comedy set at Grigio Academy Boarding School. Stepping in for the Capulets and Montagues, we have two rival countries in the Black Dogs and White Cats. In an attempt to foster better relations, children from both areas attend the same boarding school, but this merely led to a seemingly never-ending conflict between the two dorms. Led by Persia and Inuzuka, the Black Dogs and White Cats are engaged in a fierce battle for survival! Unfortunately, this makes it rather difficult for the gangs' representatives to start dating...
Star-crossed lovers are a staple of the romance genre, and Kishuku Gakkou no Juliet forces Inuzuka and Persia to publicly proclaim their eternal hatred for the other country, while secretly shooting googly eyes at each other.
For those who appreciate Kishuku Gakkou no Juliet's teenage angst and slapstick comedy, here are six similar anime worth watching.
Similar Anime to Kishuku Gakkou no Juliet
1. Hajimete no Gal (My First Girlfriend is a Gal)

Episodes: 10
Aired: July 2017 – September 2017
Hajimete no Gal ponders the extent teenagers are willing to go to lose their virginity. As is typically the case, there is no limit!
Set in high school, Junichi Hashiba is an average dude who would like to partake in his first romance. At the behest of his classmates, Junichi approaches the school's gal, Yukana Yame, and the two end up dating. Initially, the guy is solely drawn to Yukana's curvy physique, but his infatuation gradually deepens into something more substantial.
Unlike Persia and Inuzuka, Yukana and Junichi do not hail from opposing factions determined to bring the other to ruin; nevertheless, these teenagers live in separate worlds. Putting aside a couple of friends, Junichi is generally presented as a relatively ordinary adolescent. While hardly an outcast, he is not going to win any popularity contests. On the other hand, Yukana's name resonates across the entire school, although her reputation is rather unflattering. If compared to Romeo and Juliet, Hajimete no Gal's social differences seem petty and scarcely worth mentioning, but teenagers are driven by peer approval.
Hajimete no Gal focuses on the central romance and the two leads are open about their relationship, although this does not discourage other students from attempting to break them up. While Kishuku Gakkou no Juliet cannot be classified as an ecchi, Hajimete no Gal embraces any excuse to show some skin!
Hajimete no Gal Official PV
---
2. Love Lab

Episodes: 13
Aired: July 2013 – September 2013
Be it novels, plays, or films; many prioritize the pursuit of a romance and the relationship itself. Obviously, this creative decision makes a lot of sense, but there are other elements meriting exploration. Centering around an all-girls school's student council, Love Lab is principally interested in exploring how to improve one's chances with the opposite gender. Starring chiefly inexperienced teenagers who view boys as life's greatest mystery, Doga Kobo's anime fits seamlessly into the "cute girls doing cute things" sub-genre of school comedies.
Following the above description, you might be wondering whether there is anything connecting Love Lab to Kishuku Gakkou no Juliet. While the majority of the time is dedicated to teaching the basics on how to scale the mountain labeled as boys, a romance element is steadily injected into the storyline. Love Lab is not solely concerned with foreplay!
Similarly to Kishuku Gakkou no Juliet, the two leads are also forced to hide a secret from the rest of the school. Revered by the student body, Natsuo Maki is the living embodiment of grace; however, the girl spends her free-time kissing pillows and studying the art of love. In order to learn more about boys, she seeks the council of Riko Kurahashi, a tomboy pretending to be experienced. Love Lab is built on one big white lie!
---
3. Masamune-kun no Revenge (Masamune-kun's Revenge)

Episodes: 12
Aired: January 2017 – March 2017
In one form or another, everyone has encountered a tale about star-crossed lovers who are determined to jackhammer through society's biases and lock lips. Masamune-kun no Revenge takes a different approach. Due to being overweight, Masamune was relentlessly bullied as a child, and Aki Adagaki served as the primary source of ridicule. Rich and beautiful, the girl treated the boy like garbage and took every opportunity to drag Masamune through the mud. The anime goes out of its way to depict Aki as an adolescent monster.
Years later, Masamune hit the gym and evolved into an adolescent heartthrob. Attracting more attention than an idol boy band, the protagonist has girls lining up to stroke his muscles. Deciding revenge is a far more worthy cause than pleasure, Masamune plots out a devious scheme to break Aki's heart. The mismatched teenagers begin to date, but Masamune gradually starts to doubt whether he should go through with his plan.
Forget about love at fight sight, Masamune-kun no Revenge is all about the titular character's smoldering hatred. In this case, the couple's history is the wall standing in their way. While both series boast a generous amount of laughs, Kishuku Gakkou no Juliet and Masamune-kun no Revenge take the romance aspect quite seriously.
Masamune-kun no Revenge Official PV
---
Any Anime Like Kishuku Gakkou no Juliet ?
4. Toradora!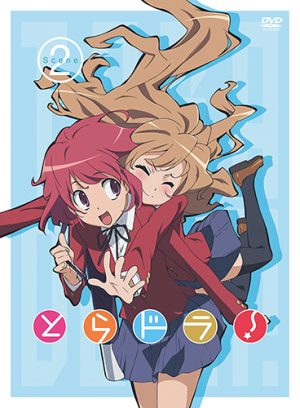 Episodes: 25
Aired: October 2008 – March 2009
Time to pay our respects to a classic! Toradora! needs no introduction, and is rightfully considered among the most influential slice of life series in anime's history. While numerous comparisons can be made between J.C.Staff's show and Kishuku Gakkou no Juliet, Toradora! should be watched regardless of someone's opinion on the newer romantic comedy. If nothing else, the anime helped popularize many tropes associated with the genre.
Essentially, Toradora!'s mantra boils down to "looks can be deceiving". Despite an intimidating exterior, Ryuuji Takasu is a gentle spirit who loves housework and deserves to be worshiped as a role model for all ages. On the other side of the spectrum, Taiga Aisaka's adorable surface masks a violent tsundere who believes a dropkick is an acceptable way to end a conversation. Possessing feelings for the other person's best friend, Taiga and Ryuuji decide to form an alliance to help fulfill both of their desires.
Ryuuji and Taiga could not be any more different and their conflicting personalities are a constant source of hilarity. Persia and Inuzuka have to hide their relationship from the rest of the school, while Toradora!'s central couple must pretend to hate each other.
Toradora! Official Trailer
---
5. Romeo x Juliet

Episodes: 24
Aired: April 2007 – September 2007
Seeking a more earnest adaptation of Shakespeare's play? Romeo x Juliet is presumably not the most accurate version on the market, but Gonzo's show successfully replicates certain features of the play. Kishuku Gakkou no Juliet comparisons to the original are only skin-deep, but Romeo x Juliet actually stars Juliet Capulet and Romeo Montague; however, the story takes a more fantastical approach.
Set on a floating continent, the Montague household seizes control of the throne by decimating the Capulet family, leaving an extremely young Juliet as the sole survivor. Hidden until coming of age, Juliet acts as the voice for the oppressed masses, as she attempts to bring down the villainous Montagues. Eventually, she crosses paths with the selfless Romeo and the two fall in love at first sight.
Can love conquer centuries of hatred and misery? Obviously, Romeo x Juliet cannot exist without a decent helping of tragedy, but this is a fairly uplifting adaptation of the timeless story. The fantasy element also undermines some of the tale's inherent fatalism.
---
6. Nisekoi (Nisekoi: False Love)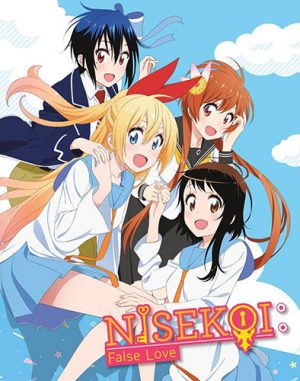 Episodes: 20
Aired: January 2014 – May 2014
Substituting warring Italian families with the yakuza and dropping that whole "love at first sight" aspect, Nisekoi's plot is not going to win any awards for originality. The son of a powerful mafia, Raku merely wants to be left alone to relish his teenage years. Unfortunately, life always find a way to surprise an anime main character!
Due to the introduction of the American Bee Hive Gang, suddenly, Raku's family find themselves locked in a turf war. Realizing that harmony cannot exist without a sacrifice, Raku is presented to the yakuza gods as a peace offering. Ignoring the teenager's requests to not be dragged into the middle of this conflict, Raku has to pretend to be in a relationship with Chitoge Kirisaki, who happens to be the Bee Hive's boss' daughter. Even though the girl could easily pass for a model, Raku hates her guts and the feeling is mutual.
Basically, Nisekoi is the exact opposite of Kishuku Gakkou no Juliet. The latter requires the main couple to publicly pretend to hate each other, while the former centers around a fake romance. Suffice it to say, both instances result in shenanigans and declarations of love.
Nisekoi Official PV
---
Final Thoughts
Romeo and Juliet is the ultimate teen tragedy. Kishuku Gakkou no Juliet might disappoint purists, but the anime is a fun action-comedy with a healthy dosing of romance. Love is never easy, and LIDENFILMS's series lives and dies by this mantra. While waiting for the next episode, these six anime should fill that hole in your heart!
Is there any other anime that you would recommend for fans of Kishuku Gakkou no Juliet? If so, please leave us a comment below with your recommendations
---