Vampires suck, right? Well, yes, that's true. But luckily, vampire anime doesn't. With Kizumonogatari I: Tekketsu-hen, the movie diverts from the traditional style of the series with a less dialogue-heavy script and a focus on the artistic style. It's still very much a supernatural anime with a male protagonist, Koyomi Araragi, who has been brought into the surreal (by becoming a vampire) and must come to grips with his new reality. There's a dark and eerie feel to it, but not in a super dark and depressing way. There's good humor there too and that's what we've tried to come up with in this list.
The anime recommended here take on the supernatural in a variety of ways but have similar themes of vampires (or other supernatural beings), dealing with new realities and the occasional death. Excluding the obvious related anime series and parts 2 and parts 3 of Kizumonogatari, here are six anime you might enjoy if you liked Kizumonogatari I: Tekkestu-hen.
Similar Anime to Kizumonogatari I: Tekketsu-hen
1. Servamp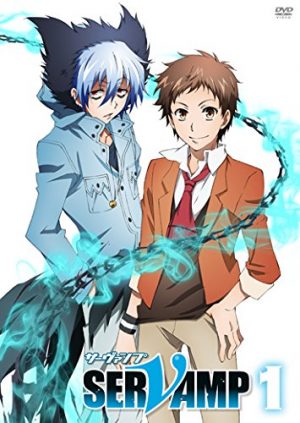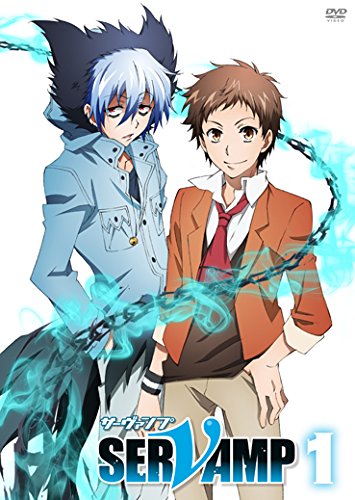 Episodes: 12
Aired: July 2016 – September 2016
In Servamp, we meet Mahiru Shirota, a 15 year old high school student who likes to live life by avoiding anything troublesome. He comes across a stray black cat, who he then takes home and names him Kuro. It turns out Kuro is a vampire representing one of the seven deadly sins and also has similar views on life as Shirota; to avoid unnecessary stress. The two 'accidentally' enter contract where Shirota becomes Kuro's "Eve". The two must unite with Kuro's other siblings and their 'Eves' to fight against Tsubaki, the so-called 'eighth brother'.
Servamp is similar to Kizumonogatari I: Tekkestu-hen in that they both deal with the supernatural (vampires) and that supernatural force brings the main character into a new reality. Both also have the vampire in the care of the main character. In the case of Kizumonogatari, Koyomi has to look after the Kiss-shot in her child form and Kuro is taken in by Shirota as his 'pet' cat. There's more comedy and humor in Servamp than there was in Kizumonogatari, but both deal with vampires in a less than conventional way, i.e. not as pure evil beings or as the 'enemy'. The characters in both anime also have to team up with others to defeat their enemy. In the case of Kizumonogatari I, it's the hunters after Kiss-shot and in Servamp it's against Tsubaki.
SERVAMP PV
---
2. Tokyo Ghoul

Episodes: 12
Aired: July 2014 – September 2014
Not quite a vampire story, but it still deals with the supernatural and a protagonist brought into a dark world by a creature that's not what she seems. Tokyo Ghoul is set in a world where 'ghouls' exist in the human world but are able to blend in with society. 'Ghouls' are bloodthirsty creatures with an appetite for human flesh. The story follows Ken Kaneki, a college student who befriends a girl named Rize. They meet at a cafe they both go to often and they discover they have similar interests. The encounter between the two results in Kaneki transforming into a half-human half-ghoul being.
Both Kizumonogatari I and Tokyo Ghoul have supernatural and mystery themes. The supernatural being the 'creatures of the night' aspect, while the mystery comes in the form of the unknown enemies and challenges they must face. There's also a similar dark and psychological feel to both of them. There's quite a bit of gore as well, especially in Tokyo Ghoul where it's used heavily for the 'shock factor'. The characters are brought into a darker world by a female they encounter and must cope with their new dual identity. In Tokyo Ghoul, Kaneki struggles to keep his humanity whilst controlling his Ghoul urges, while in Kizumonogatari I Koyomi has to adapt to staying out of the sunlight.
Tokyo Ghoul Trailer
---
3. Dance in the Vampire Bund

Episodes: 12
Aired: January 2010 – April 2010
More in tune with "traditional" vampire stories (think Van Helsing, Underworld, or *whispers quietly* Twilight), this follows a similar formula of vampires and werewolves. But as the title suggests, this one comes with a twist. It's a different take on the vampire/werewolf genre. Mina Tepes is the "Queen of Vampires" and uses her wealth and influence to allow her to build the Vampire Bund, a sanctuary for other vampires. Enter Akira Kaburagi, who isn't sold on the existence of vampires, but a meeting with Mina triggers memories from the past. It seems Akira is Mina's werewolf bodyguard and must protect the Queen at all costs.
The similarities between Dance in the Vampire Bund and Kizumonogatari I are that they both have the same supernatural and dramatic themes. Both also have contracts/promises between the male and female leads. In the case of Kizumonogatari I, Koyomi becomes Kiss-shot's underling, while in Dance in the Vampire Bund Akira is Mina's sworn protector. There's also a similar feel to both. They're a bit darker than say, Servamp. Dance in the Vampire Bund certainly has a more romantic side to it than the rest.
Dance In The Vampire Bund Trailer
---
Any Anime Like Kizumonogatari I: Tekketsu-hen ?
4. Angel Beats

Episodes: 13
Aired: April 2010 – June 2010
Slightly straying away from the vampires now but still very much in keeping with the supernatural, Angel Beats follow Otonashi after realizing he is dead. He wakes up in the afterlife and meets Yuri, leader of the Afterlife Battlefront, who are fighting an enemy called Tenshi. Not believing this unassuming-looking girl is evil, Otonashi approaches her but things don't go as planned. Otonashi soon begins to understand the world of the afterlife and becomes more and more drawn to Tenshi. There's mystery, there are supernatural elements, humor, and a bit of guitar too.
Angel Beats and Kizumonogatari are not immediately similar but both have their male characters waking up realizing they are no longer human. In Kizumonogatari, Koyomi wakes up next to Kiss-shot in her child form explaining his new reality. While in Angel Beats, Otonashi wakes up next to Yuri who explains to him he's now in the afterlife. By nature, Otonashi likes to help and protect others, which eventually leads him to develop a sort of relationship with Tenshi. Similarly, Koyomi must protect Kiss-shot. There's also some drama and action elements in Angel Beats though not quite as much gore as Kizumonogatari.
Angel Beats Trailer
---
5. Shiki

Episodes: 22
Aired: July 2010 – December 2010
The death of fifteen-year-old Megumi Shimizu triggers the start of a vampiric epidemic in their village. Natsuno Yuuki, a friend of Megumi from the city, struggles to accept the sudden death of his friend. Toshio Ozaki, a doctor in the village, begins to question the disease. He concludes that to find the truth, he must abandon his humanity. The pair work together to save the village of Sotoba from becoming a village of vampires. Shiki deals with survival in a world where the boundaries of good and evil are blurred and what it means to be human.
Shiki and Kizumonogatari may not seem immediately similar to each other, apart from both having vampires in them. However, both do deal with dark forces and two unlikely characters joining together for good. Both also challenge the idea of humanity and what is good and what is evil. There's a similar dark and psychological theme to both as well, giving Shiki similar thriller and mystery themes as Kizumonogatari.
Shiki Part Trailer
---
6. xxxHOLiC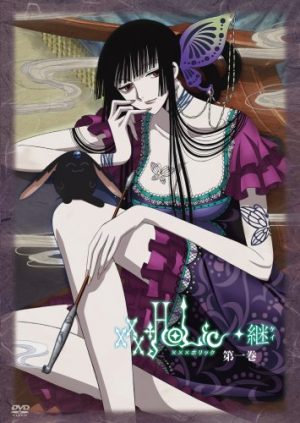 Episodes: 24
Aired: April 2006 – September 2006
This one is an older anime, but still quite relevant. xxxHOLIC does away with vampires but keeps the supernatural. Here, Kimihiro Watanuki, has the ability to see spirits and other supernatural creatures. An ability he doesn't wish to have. On his way home one day, Watanuki finds himself in a strange house where he meets a strange woman named Yuuko. She tells Kimihiro she has the power to take away his ability to see the supernatural, but for a price. He must work for her, granting people their wishes.
xxxHOLIC isn't as dark as Kizumonogatari but both have similar supernatural themes. Watanuki, the male lead, also finds himself working for the mysterious female lead, Yuuko; much like how Koyomi is taken in by Kiss-shot in Kizumonogatari. Both have the main characters struggling with their supernatural abilities and having to adjust their lives. xxxHOLIC has a more light and humorous approach to the supernatural compared to Kizumonogatari, and more romance as well.
xxxHOLiC (Trailer)
---
Final Thoughts
The anime suggested here play on similar supernatural themes as Kizumonogatari. They also have similar relationships between the two main characters, be it male and female or through some sort of contract. They are quite different from each other but hopefully if you enjoy one you'll enjoy the others. If you have any other recommendations of anime similar to Kizumonogatari let us know in the comments section below.
by Motormouth
---