También puedes leer este artículo en:Español
Koe no Katachi, or "A Silent Voice," is a feature-length film released in 2016, based on the manga of the same name. Koe no Katachi tells the story of two Japanese students, Shoya Ishida, a young delinquent boy, and Shoko Nishimiya, a deaf girl who is bullied by Ishida and her other classmates. When Nishimiya transfers schools to get away from the constant torment of her classmates, they treat Ishida as a scapegoat and ostracize him the same way they ostracized Nishimiya.
Ishida's circumstances stay the same through high school and are so bad that he even contemplates suicide. However, after a sudden encounter with Nishimiya, he discovers that she, too, is still a lonely outcast and that in order for both of them to move forward, he has to make amends for their past. Ishida plans to reconnect with their old classmates whom Nishimiya never had a chance to befriend. They end up a motley crew indeed, each with their own deep-seated issues, regardless of their outward appearance or social circumstances. They decide to work on a film for a festival, and along the way are forced to acknowledge their flaws. Initially reluctant to do so, Ishida lashes out at his new friends and tries to isolate himself again.
Nishiyama feels a misplaced sense of guilt and is so overwhelmed that she attempts suicide. Ishida manages to save her, but seriously injures himself in the process, and is hospitalized for an extended period. After recovering, he reconciles with his friends, and they finish working on the film, which they consider a success, despite its failure to impress at the festival.
Koe no Katachi is a dramatic, high school story based on a shonen manga, with a balance of moments both comedic and somber as the characters gain greater insight into who they are, and who they want to be. It is a coming of age story with a poignant message regardless of age. With that in mind, here are 6 anime like Koe no Katachi!
Similar Anime to Koe no Katachi
6. Ano Hi Mita Hana no Namae wo Bokutachi wa Mada (anohana: The Flower We Saw That Day)

Episodes: 11
Aired: April 2011 – June 2011
Anohana is a mouthful of a series that centers on Jinta Yadomi, a recluse who lives in happy isolation and spends his days skipping school and playing video games alone in his room instead. In the middle of a hot summer, Jinta is surprised by the sudden appearance of his childhood friend, Meiko "Menma" Honma, who starts pestering him about a promise he made long ago to grant her wish. Jinta pays her no mind, much to her annoyance. After all, she died years ago, so why should he concern himself with his imagination?
Although he initially believes Menma is just a heat-induced hallucination, he eventually convinces himself that it's actually her ghost. Jinta tells his childhood friends, who all lost touch after Menma's death, about his visions. They reluctantly reunite to try to put her soul to rest, and in doing so must grapple with their own baggage in order to move forward.
Anohana has a lot to love for fans of Koe no Katachi. While there's a supernatural bend to the story, it tells a dramatic, slice-of-life story about a wayward group of former friends who must reunite, and grapple with the past in order to have any hope of moving forward. Another coming of age story, Anohana doubles down on similarly valuable lessons as Koe no Katachi, and should not be missed.
Anohana ~ The Flower We Saw That Day PV
---
5. Ao Haru Ride (Blue Spring Ride)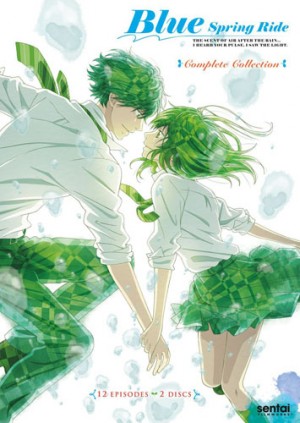 Episodes: 12
Aired: July 2014 – September 2014
Futaba Yoshioka was ostracized by her female classmates who were jealous of her attractiveness, and popularity with the boys in junior high school. She was able to take it all in stride because of her close friendship with Kou Tanaka, a classmate with whom she gradually grew close to after a chance encounter taking shelter from the rain. In summer, she plans to meet him and confess her romantic feelings at a summer festival but is distraught when she realizes he abruptly moves to Nagasaki to live with his mother. She finds herself entering high school friendless, and resolves to change.
Rather than act the cute, demure high school girl, she draws attention to herself by behaving like a tomboy and emphasizing her wild style. Things change when a transfer student enters school, and she is shocked to discover the same boy she loved before; Kou, going by his mother's surname and acting completely different from when they were friends. When they both apply for positions on the student council, their feelings for each other are further complicated by the relationships they develop with their other classmates.
Like Koe no Katachi, Ao Haru Ride centers on former friends who reunite years later in different circumstances. It is another slice-of-life, high school drama peppered with budding romances and moments of comedy. Like Koe no Katachi, the relationship between the two central characters is the backbone of the narrative, and they must reconcile their past feelings with their present circumstances in order to grow as people.
Ao Haru Ride Trailer
---
4. Kokoro ga Sakebitagatterunda. (The Anthem of the Heart)

Episodes: Movie
Aired: September 2015
Jun Naruse is a young girl known as a chatterbox, the type of person who says whatever they're thinking, regardless of the consequences. One day, she sees her father coming out of a love hotel with an unknown woman, and she tells her mother about it, which results in their parent's divorce. Rather than take responsibility for his own actions, her father blames her for the divorce. Heartbroken, Jun's voice is sealed away by a fairy so that they won't hurt anyone ever again.
In high school, Jun tries to stay out of the limelight, which is surprisingly easy when she's unable to speak. However, her homeroom teacher signs her up for the charity committee, along with three other misfits. Unable to come to a consensus, Jun speaks up after years of silence, only to come down with a terrible stomachache. When one of the committee members, Takumi, is revealed to be an excellent singer, Jun thinks she might have a workaround for the fairy's curse, and begins to write a fairy tale musical detailing the events of her past.
To reveal more of the plot would be to spoil a rather interesting twist toward the end, but it's obvious that Kokosake is an easy recommendation for fans of Koe no Katachi. While it initially seems to have a supernatural spin, it's actually an important meditation on psychology, and the importance of being honest. It is another high school drama that leans heavily on the romance between its four main characters, and although it takes itself a little more seriously than other entries on the list, it has an important message to convey to viewers.
The Anthem of the Heart-Beautiful Word Beautiful World- Trailer 4
---
Any Anime Like Koe No Katachi?
3. Tamako Love Story

Episodes: Movie
Aired: April 2014
The follow-up film to the series, Tamako Market, the story centers around Tamako Kitashirakawa, a high school student in her final year who is clueless, but makes up for it with her boundless energy. With the end of high school just around the corner, and mind focused on performing excellently in the yearly marching competition, Tamako comes face to face with the fact that, unlike most of her friends, she has no plans or ambitions for the future.
At the same time, shy student Mochizou Ooji plans on leaving his hometown behind to study at Tokyo University. He has secretly loved Tamako from afar for a long time, but he can't seem to work up the courage to tell her, and so, feels his only option is to leave his feelings far behind in pursuit of his future. Will he be able to confess his feelings to the oblivious Tamako before he leaves? Will Tamako realize her potential and dream of a bigger future?
Even though Tamako Love Story is a follow-up, it's a great watch for long-time fans and new viewers alike, since it has a self-contained story. Like Koe no Katachi, it is a slice-of-life story about two central characters who have a hard time defining their relationship, and expressing their inner feelings. It is less dramatic than other entries on the list and veers more toward comedy. Although it is humorous, it is still a poignant coming of age story about dealing with the uncertainties of the future.
【Movie】Tamako Love Story (Trailer)【English subtitles】
---
2. K-ON! Movie (K-ON! The Movie)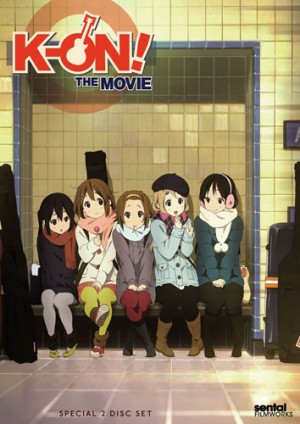 Episodes: Movie
Aired: December 2011
The girls of the Light Music Club at Sakuragaoka High School are at it again in the film follow-up to the popular K-ON! anime series. With only a few weeks left of their final year of school before graduation and their inevitable parting of ways, the members of the Light Music Club decide to make the most of the time they have and take an unforgettable trip abroad. After much debate, London is chosen as the perfect destination for one final adventure.
While there, they visit many iconic British landmarks and perform live music for eagerly anticipating Londoners. They stumble from place to play, eating egregious amounts of food and making memory after memory. Once the music stops and the curtain calls, will the members of the Light Music Club be able to pursue their own, independent lives?
A bit of a change of pace from other entries on the list due to the focus on music, K-ON! is still easy to recommend for fans of Koe no Katachi. Once again centered on a group of friends in the twilight of their high school days, this slice of life comedy is sure to please longtime fans of the series, and provide an easy entry for new viewers. With less overall drama, the charming nature of the friendship of the main characters is the true heart of the story.
【Movie】K-ON! MOVIE (Trailer)【English subtitles】
---
1. Kimi no Na wa. (Your Name.)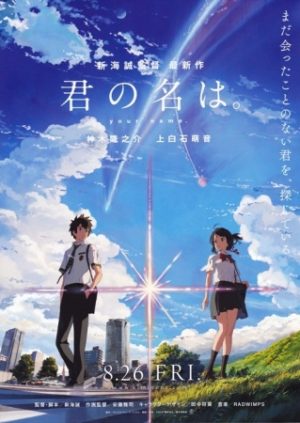 Episodes: Feature-length Film
Aired: August 2016
It's no surprise that in our number one spot is the film that has taken Japan by storm since its release, Kimi no Na wa. The film tells the tale of Mitsuha Miyamizu, a high school girl who lives in the countryside and dreams of an exciting life enjoying the hustle and bust of Tokyo. In the city, Taki Tachibana spends his time balancing his academic life with his part time job, with dreams of becoming a successful architect.
However, all isn't quite as it seems. One day, Mitsuha wakes up in a room that isn't hers, in a body that isn't hers! Inexplicably, she and Taki have switched bodies, and in their search for answers, they're forced to search for each other. What consequences will their actions have on each other as they experience lives completely foreign to their own?
Without spoiling anything, Kimi no Na wa is an incredibly successful blockbuster, perfect for fans of Koe no Katachi. Although there is a bit of a supernatural element in its premise, it is ultimately a tale about the connection shared by two people, and the important perspective provided by stepping outside of one's comfort zone, and experiencing another side of life. It is a story with nearly universal appeal and is essential viewing for fans of the genre, and anime in general.
Your name is
---
Final Thoughts
With that, our list of 6 anime like Koe no Katachi comes to a close. Although high school is arguably overly romanticized in anime, with so many excellent selections with deeply emotional narratives, it's easy to see why they have such a dedicated audience. Are there any high school-based stories that fans of the genre should add to their must-watch list? Sound off in the comments and share the wealth!
---