También puedes leer este artículo en:Español
If there's nothing more relaxing to watch than slice of life anime, we don't know what is. Kuma Miko is technically a seinen comedy, but it has enough qualities to also include it in the slice of life genre that seems to be full of laughs this Spring anime season! Kuma Miko is indeed full of laughs, ridiculous characters, and all that slice of life goodness that, of course, we'd want more! Oh, you can't forget there's a miko.
Each episode has been silly to say the least, but what do you do between air dates? What do you watch when it's all over? Where do you go from Kuma Miko? Well, lucky for you guys, we're here to answer those questions. Without further ado, here is our list of 6 Anime Like Kuma Miko!
Similar Anime to Kuma Miko/Anime Similar to Kumamiko: Girl Meets Bear
1. Shirokuma Cafe (Polar Bear's Café)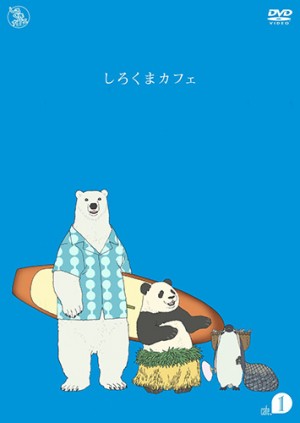 Episodes: 50
Aired: April 2012 – March 2013
Shirokuma Café is the story of one Canadian white bear who was once picked up from an iceberg by a human couple. Shirokuma has opened up a cafeteria by a zoo after quitting his old job. Although Shirokuma has no contact with his family in Canada, the customers at the café now act as Shirokuma's family. Everyone, from humans to animals, are drawn to Shirokuma's café, keeping it packed, because of Shirokuma's charismatic personality.
Not only is the protagonist a bear, much like Kuma Miko's Natsu, Shirokuma Café shares the life of a Shirokuma who creates an unusual family blended with humans and animals alike. Although everyone is different, they create a support system for Shirokuma, similar to the way Natsu and Machi do for each other. They share laughs, stories, ambitions, and their hopes for the future. Shirokuma Café and Kuma Miko show that families come in all shapes and sizes, but that doesn't make them any less of a family.
"Shirokuma Cafe" CM
---
2. Non Non Biyori

Episodes: 12
Aired: October 2013 – December 2013
Welcome to the countryside of Asahigaoka where it may appear boring, but is home to five students who, despite their age differences, go to school together. Miyauchi Renge may be the youngest, but Renge is clever and her catchphrase is: "Nyanpasu!" The Koshigaya siblings consist of three kids: Suguru the silent 9th grader, Komari the 8th grader, and Natsumi the rather mischievous 7th grader. Lastly, our newest arrival is Ichijou Hotaru in the 5th grade who moved from Tokyo and seems a bit mature for her age. Here we get to see just how extraordinary the countryside really is.
Non Non Biyori is a slice of life anime set in the rural countryside, much like Kuma Miko. Although everyone equates the country to boredom, Non Non Biyori shows that it is everything that you make of it. In Kuma Miko, we have Machi who wants to move to the city, in Non Non Biyori, we have Hotaru who is moving to the Asahigaoka from the city. We can compare Machi's determined attempts at moving to the city to Hotaru's attempts to adapt to the countryside. Perhaps, the countryside isn't so bad? Well, we do have fun kids like Renge, Suguru, Komari, and Natsumi while Kuma Miko has Natsu. There are a lot of antics going on in the countryside. How could anyone ever say the countryside is dull?
[PV] TV anime "Non Non Biyori" PV 2nd!
---
3. Tamako Market

Episodes: 12
Aired: January 2013 – March 2013
Tamako was raised on mochi; she knows everything that has to do with it! Tamako spends her free time creating new types of mochi for her family's mochi shop, Tama-ya. Unfortunately, life is more complicated outside of mochi and Tamako is going to need the help of her best friends Midori and Kanna to figure things out. Life only gets more complicated when it comes to love and her best guy friend, Mochizou who runs the rival mochi shop in the shopping district. Now, there's a bird that speaks Japanese entering Tamako's life. Just how will she be able to handle it all?
Tamako Market is a slice of life anime that follows Tamako as she grows up, much like Machi. Tamako discovers she cannot live a peaceful life and has to make hard decisions, which Machi must do as a miko and a maturing young girl. Not only are our main characters the same, both Kuma Miko and Tamako Market have talking animals! How can anyone forget Dera? Tamako Market takes on a slightly more serious approach than Kuma Miko as Tamako's life becomes more complicated, but that doesn't mean you can't enjoy them all the same.
TV Anime "Tamako Market" Bansen CM 30 seconds ver. (TOKYO MX version)
---
Any Anime Like Kumamiko: Girl Meets Bear/ Any Anime Like Kuma Miko?
4. Himouto! Umaru-chan

Episodes: 12
Aired: July 2015 – September 2015
Doma Umaru is beautiful, elegant, graceful, intelligent—Umaru is the perfect high school girl. When Umaru goes home and the front door closes behind her, Umaru is another person entirely. At home, Umaru is cloaked with a hamster hoodie and becomes a chibi who is just too lazy to do anything including any of the housework. Umaru only has time for junk food, video games, and anime, while forcing her onii-chan, Taihei to take care of the rest. Umaru isn't always at home, but when she hangs out with her friends or competes against her rival, Sylphinford, Umaru knows just how to have fun.
Himouto! Umaru-chan is just a comedy about the life of a teenage girl who just wants to do what she wants, just like Machi. Umaru may not have the responsibilities that Machi does, but she sure has the determination. Taihei acts as Natsu and must rein in Umaru and attempt to teach her the right ways. Taihei and Umaru bicker the same way Machi and Natsu do, but in the end, they are both always there for each other. Himouto! Umaru-chan is a great anime for laughter and enjoyment!
"Dried fish sister! Umaru-chan "PV 2nd
---
5. Barakamon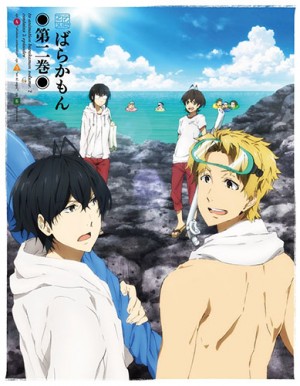 Episodes: 12
Aired: July 2014 – September 2014
Handa Seishuu is good looking, skilled, and youthful. To top it off, Seishuu is a narcissist and a calligrapher. Seishuu has won an award for one of his works, but a seasoned calligrapher deems it unoriginal, setting Seishuu on a downhill course. Seishuu is sent to the Goto islands to reflect on his actions! As Seishuu adapts to the rural lifestyle, he attempts to find inspiration in between all of the fujoshi students, noisy children, and old men that drop in to visit. While he may want to get his work done, Seishuu is learning more than he ever imagined in this rural town.
In Kuma Miko, Machi had her heart set on moving into the city, while Seishuu wants to get out of the countryside to get back to his work. However, as time progresses, Seishuu sees there's more to the countryside than meets the eye, which we see Machi slowly realizing. The countryside may seem boring, but both of our protagonists are learning the true benefits of living in it. Barakamon may seem like the serious type, but don't let the plot fool you. There's plenty of laughs to be had and some slice of life fun for all of your Kuma Miko fans!
---
6. Gochuumon wa Usagi Desu Ka? (Is the order a rabbit?)

Episodes: 12
Aired: April 2014 – June 2014
Hoto Cocoa was looking for her new boarding house when Cocoa comes across the Rabbit House café. Eager to cuddle with all the rabbits, Cocoa enters only to find that it is an ordinary café with a single rabbit named Tippy, a strange rabbit that hardly acts like one. Kafuu Chino is the young girl who works in the café. As it turns out, the Rabbit House is the same boarding house Cocoa will be living in and working as the new waitress. From work to school, Cocoa is getting used to her new life in a new town, making interesting friends and learning about customer service all in the Rabbit House.
Lastly, we have Gochuumon wa Usagi Desu Ka?, a slice of life anime that revolves around the lives of young school girls and a talking rabbit. Sound familiar to you? Cocoa is much like Machi with her perseverance, hard headedness, and the way she expresses her emotions. When Cocoa wants something, she will not falter! Gochuumon wa Usagi Desu Ka? follows a similar plot, but the story is set in a coffee shop. Cocoa makes new friends, finds new rabbits, and tackles her new life. It's a story of how Cocoa grows up and it couldn't be more enjoyable.
---
Final Thoughts
Kuma Miko is a funny anime around the everyday life of a school-aged miko who is just trying to grow up while her kuma guardian by her side. If you're looking for that strange type of slice of life comedy, hopefully our list will be able to satiate that thirst. If you have any suggestions that you want to share, please do share so we can all enjoy some slice of life fun!