También puedes leer este artículo en:Español
Finishing an anime always seems to leave you feeling like something is missing, but with Kyoukai no Kanata, coming to the end of the series is especially emotional. This isn't surprising, considering the delicate art style and animation characteristic of Kyoto Animation, the realistic, expressive cast of characters and poignant commentary on human (and not-so-human) relationships that form the base of this anime. Add to that a brilliant balance of fantasy fighting scenes and laugh-out-loud comedy skits, and it's easy to see why this series is as popular as it is. If you've found yourself hooked and aren't sure where to go for your next fix, read on to discover six other similar anime series.
Similar Anime to Kyoukai no Kanata / Similar Anime to Beyond the Boundary
Similar Anime to Kyoukai no Kanata / Similar Anime to Beyond the Boundary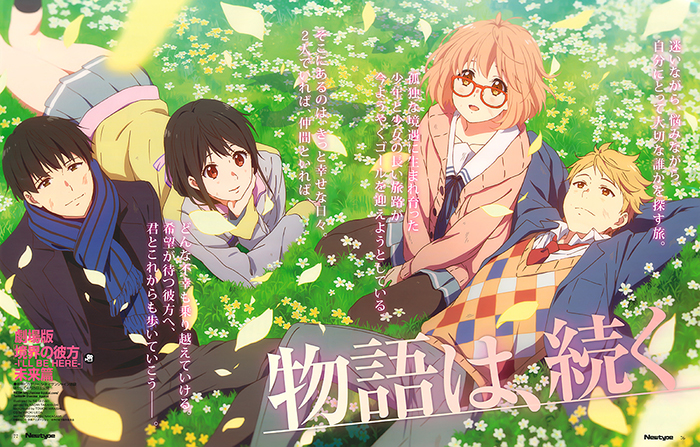 1. Noragami

Episodes: 12
Aired: January 2014 - March 2014
It is a god's duty to protect humans from the dangers of the far shore, a world where virtuous and vicious spiritual beings reside. To do so, they employ the use of Shinki, weapons created from spirits of the dead. But not all gods are omnipotent - in fact, some are just plain poor. Take for example Yato, a penniless yet ambitious minor deity without a shrine to call his own. With no roof over his head and despised by his Shinki, he soon finds himself alone and having to do odd jobs unrelated to the spirit world. That is, until he is saved from being hit by a bus by Hiyori Iki, an accident that forces this regular human girl's soul to frequently separate from her body. Hiyori has no choice but to turn to Yato to fix the issue, but can such a small-time god really help her? Or will she end up helping him?
Both Noragami and Kyoukai no Kanata explore elements of the supernatural, with characters having to fight evil spirits in order to protect humans and each other. Yato and Mirai both do so for money, in order to make ends meet. However, it's not all action - these anime also deal with the relationship between the human world and the spirit world, and the social issues that occur when they collide. The male protagonists Akihito and Yato also share similarities in that they have playful and seemingly frivolous personalities, but secretly struggle with their past. But the thing that really connects these two series is the balance between the heart-wrenching emotional struggles of the characters and the bright comedic elements, making Noragami a great follow-up to Beyond the Boundary. With not only one but two completed seasons, it's sure to keep you entertained for a while!
TV Anime "Noragami" PV 2:
---
2. Hyouka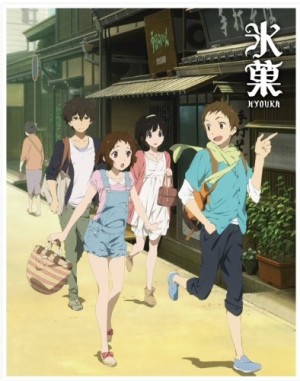 Episodes: 22
Aired: April 2012 to September 2012
Houtarou Oreki hates exerting effort. His main aim in life is to conserve energy and avoid anything troublesome, which proves rather difficult when he's forced by his older sister to join the school Classics Club. There he meets the ever-curious Eru Chitanda, a girl with a love of mystery who is quick to discover Houtarou's extraordinary analytical skills. In awe of his sharp mind, she frequently pesters him to get involved with and solve various mysteries around the school along with the other members of the club, Satoshi Fukube and Mayaka Ibara. As they work together to solve the mystery of Eru's long-lost uncle, each of these characters begins to grow - but will Houtarou change his ways?
Fans of Kyoukai no Kanata will instantly spot the similarity between these two series - namely, the production company. Both by KyoAni, the art and animation style quickly pulls you in, and you know you can expect quality. But that's not all - the main focus of Hyouka and Beyond the Boundary is human relationships, and how they develop. With a shared school setting, both are centred around group activities - namely the Literary Club and the Classics Club - which form the base for these developing friendships and romances. Although Hyouka is more mystery than fantasy in genre, there are some elements which lean towards the fantastic, notably when Eru becomes extremely fixated on something she is curious about. If you enjoyed KnK's unique characterisation and development, make Hyouka the next on your list.
TV Anime "Hyouka" PV:
---
3. Angel Beats!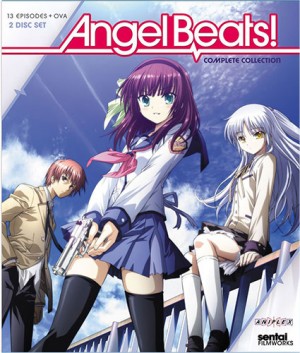 Episodes: 13
Aired: April 2010 - June 2010
Yuzuru Otonashi is dead. Or so he's been told by Yuri Nakamura, leader of the Shinda Sekai Sensen (Afterlife Battlefront) - he himself doesn't have any memory of who or where he is. Yuzuru soon learns that he is apparently in the afterlife, where the dead battle with god through targeting the president of the Afterlife School, Angel. Yuri also explains that if he wants to survive, he must join the SSS and help fight against the enemy. Of course, this information is all a little hard to swallow. That is, until Yuzuru approaches Angel in an attempt to talk to her, only to be stabbed to death and come back to life once more. Forced to face reality, what decisions will Yuzuru make? And how can you survive in a world where you are already dead?
The first thing that may sound familiar from this anime is the scene where the male main character is stabbed by the female main character, only to survive and reveal to the audience that his is immortal. But the similarities don't stop there. The main couple in both series must work together with other characters to survive in a world where their lives are almost constantly in danger, creating intense dramatic tension which explodes into thrilling battle scenes. Another thing that makes Angel Beats! and Kyoukai no Kanata alike is the way that the action does not detract from the delicate portrayal of individual characters, and the way friendship and romance is strengthened through hardship. If you're after an anime with both tense battles and touching moments, look no further than Angel Beats!.
Angel Beats Complete Series Collection Trailer
---
Any Animes Like Kyoukai no Kanata / Any Animes Like Beyond the Boundary ?
4. Mahou Shoujo Madoka★Magica (Puella Magi Madoka Magica)

Episodes: 12
Aired: January 2011 - April 2011
A new student has transferred into Madoka Kaname's class. This should have been their first meeting, but Madoka has seen Homura Akemi before - in a bad dream the previous night. Homura also seems to know Madoka, if her mysterious warning telling her not to change is anything to go by. Their connection becomes harder to deny when Madoka's nightmare replays itself in reality, and she discovers that magical girls don't just exist in fiction. They're real, and she could become one herself - all she has to do is form a contract with magical creature Kyubey, and promise to fight witches. If she accepts, she will be granted one wish. It's a tempting offer, but with Homura so against Madoka accepting, what will she decide to do?
Mahou Shoujo Madoka Magica shares the same dark fantasy vibe as Kyoukai no Kanata, with plenty of fantasy fight scenes to boot. In both series, the magical-girl style protagonists must fight enemies in order to stay alive, whilst at the same time having doubts about the system they're working under. It follows characters who are isolated from others due to their power, and how said power develops through as they build friendships and connections with others. Human emotions form the foundations of these anime, which explore the loneliness of those who are different from others and how they cope when forced to make difficult choices. With well-rounded characters and exploration into meaningful relationships, Mahou Shoujo Madoka Magica is sure to cause that familiar tug at your heartstrings.
Puella Magi Madoka Magica Trailer
---
5. Bakemonogatari

Episodes: 15
Aired: July 2009 - June 2010
After a brief stint as a vampire, Koyomi Araragi has regained his humanity thanks to spiritual expert Meme Oshino. However, not everything has gone back to normal - thanks to his temporary vampire status, Koyomi now heals almost instantly when injured. As if that wasn't weird enough, he also regularly runs into girls who have their own spiritual baggage. One of said girls is Hitagi Senjougahara, who he saves from falling down the stairs, only to discover she is practically weightless. Despite her threatening him into silence, he offers to take Hitagi to Meme and help her solve the mystery behind her "incurable disease".
With its roots in Japanese mythology and folklore, Bakemonogatari is jam-packed with the same supernatural ambience as Kyoukai no Kanata. Both series share a sense of mystery not only regarding the plot, but also the characters' pasts, especially those of main characters Koyomi and Akihito. These two are also similar in that they are only part-human, have special powers, and share an incurable compassion for others. With a fast-paced storyline, a lively mix of drama, action, and comedy, and seven seasons to boot, if you're a fan of Kyoukai no Kanata, Bakemonogatari has a lot to offer.
Bakemonogatari Trailer
---
6. Chuunibyou demo Koi ga Shitai! (Love, Chunibyo & Other Delusions!)

Episodes: 12
Aired: October 2012 - December 2012
One type of chuunibyou, literally translated as ""Middle School Second Year Syndrome", leads young teenagers to believe they have special powers, which they eventually grow out of and look back on with regret and embarrassment. Such is the case for protagonist Yuuta Togashi, who is determined to start his life afresh now that he's started high school. However, sometimes it take a little longer to heal, or so Yuuta learns when he comes into contact with Rikka Takanashi, the holder of the Tyrant's Eye. Rikka, who knows of Yuuta's dark past as Dark Flame Master, forces him to form a "contract" with her. Desperate to keep up an appearance of normalcy but unable to turn Rikka away, will Yuuta be able to drag Rikka back to reality? Or will he be forced backwards into former delusions?
Here we have another Kyoto Animation classic to round off the list. The plot of Chuunibyou demo Koi ga Shitai! is reminiscent of Kyoukai no Kanata in that it follows a male main character being pursued by a persistent female lead character, much to his irritation. The development of the relationship between these characters is also alike, as this annoyance slowly and naturally changes and develops throughout the series. Although the fantasy in Love, Chunibyo & Other Delusions! is within the characters mind, this anime is still full of exciting fight scenes, and as with KnK, the comedic playful element does not dull down the importance of the characters' emotions. This series also has two seasons, so if you're hoping to put off that end-of-an-anime depression a little longer, this is a good one to go for.
TV Anime "Chuunibyou demo koi ga shitai!" PV:
---
Closing
If you couldn't get enough of Kyoukai no Kanata's clever characterisation, dark fantasy feel, or poignant plot, fear not. From useless deities to powerful magical girls, half-human guys to regular high boys, this list is packed full of individual characters fighting common enemies, as well as themselves. Whether it's a mystery to solve or slice-of-like romance you're craving, any of the anime from this list are bound to keep you captivated - just make sure to keep a box of tissues handy for the inevitable tears.
If you've got any other recommendations or remarks, go ahead and let us know in the comments below!